The 2015 Lucas Oil Pro Motocross Champions have been crowned, and they are Red Bull KTM's Ryan Dungey and Yamalube/Star Racing Yamaha's Jeremy Martin, both from Minnesota. They emerged from the twenty-four motos of their respective classes as the stars of the whole series, but there were other standout performances that we wanted to single out as a way to wrap up The List. Here are a few of the top efforts from the field over the course of summer, in no particular order, from Hangtown to Ironman.
GARED STEINKE: Yes, he rode a KTM 125 two-stroke in the 250 Class, and that alone was worth a round of applause. However, it was the way that "Stank Dog" attacked the track every time he was out there that caught our attention. He would launch wall jumps, blast berms, and just ride with an all-out abandon that made him the perfect match for his bike. The fans responded and he became an underdog hero, not for just what he rode, but how hard he rode.
PHIL NICOLETTI: After Weston Peick became the unlikely contender in supercross, it was AutoTrader.com/Toyota/JGR teammate Phil Nicoletti's turn to make things happen at Glen Helen when he went out and finished a career-best third in the first 450 moto. It was a long overdue rise to the front for Filthy Phil, a New York native.
ALEX MARTIN: It's got to be tough to have a faster little brother, as everyone from Tyson Vohland to Christian Bayle might tell you. Alex Martin has been in the shadow of his little brother since Jeremy turned pro, but this season he broke out and made his own headlines, even winning an amazing moto at Budds Creek when Jeremy stalled and the CycleTrader.com/Rock River Yamaha-backed Alex got in front of him, giving him his first-ever moto win. Alex will now join his brother on the Yamalube/Star Racing Yamaha team, having earned his way onto the best current squad in the class.
JUSTIN BARCIA: Speaking of Budds Creek, his second-moto win in the mud was epic in its own right. He rode with a smile under his helmet, hooting and hollering and just accepting the fact that it was a mudder, and that enthusiasm carried him all the way to the checkered flag.
SHAUN SIMPSON: Let's give it up for the man who won the Belgian MXGP on a Sunday, flew to America and signed up for Unadilla six days later, then went out and finished a solid fourth overall. The Scottish rider's crazy week was just one big motocross adventure and he rode it well.
MARVIN MUSQUIN: The Red Bull KTM rider had many moments of greatness, but his dominant performances at Glen Helen, where he won both motos, seemed to have him in the driver's seat as far as the championship goes. Glen Helen is no easy track, but Musquin rode it with superb technique and smoothness that day back in May.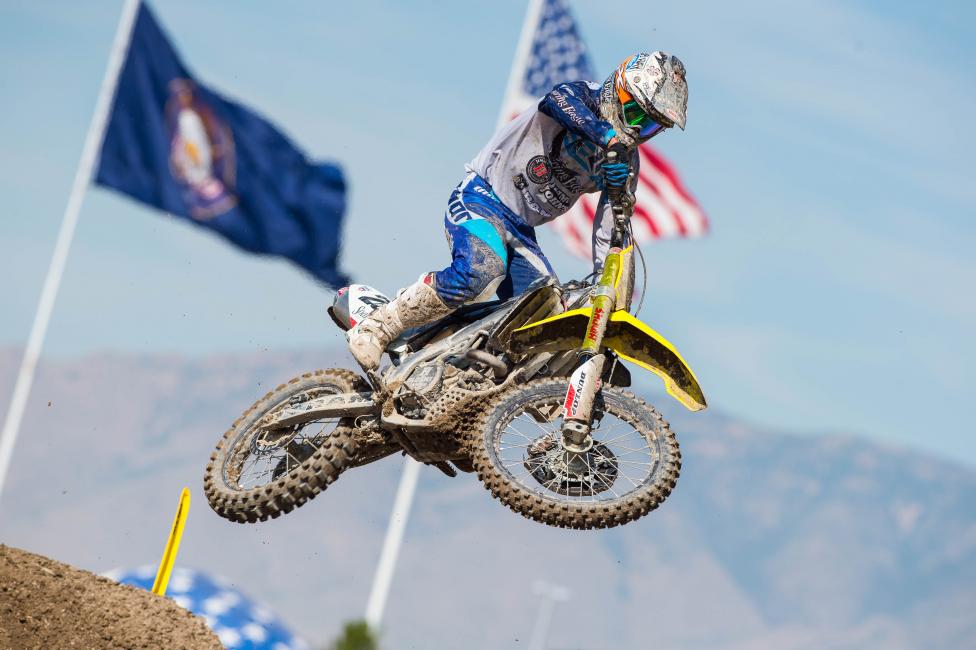 BROC TICKLE: Ken Roczen's teammate on the RCH/Soaring Eagle/Jimmy John's Suzuki team, Tickle put in a fantastic effort in Utah in the first moto, reaching the box along with Roczen and Dungey in his best effort of the summer. A solid, hard-working, and fast veteran, he did well in a sometimes-turbulent summer for the whole team.
PEDRO: He's not a racer; he's Jeremy Martin's mechanic, Richard Sterling, who they call Pedro. When Martin's bike wouldn't fire just before the start of the first moto at Glen Helen, he couldn't leave the staging area—the gate had been closed and the sighting lap was underway. After kicking and kicking and kicking and pushing and bump-starting and more, Pedro led a band of Star Racing Yamaha and factory personnel in getting the seat and gas tank off and replacing the fuel pump, even while the race started without them. Jeremy started behind everyone and still salvaged a fifth-place finish. Had he not gotten the bike running in another minute or so, Martin would not have been able to start the race—he would have been a lap down and thus unable to start. Those points would prove very valuable on the last day of the season.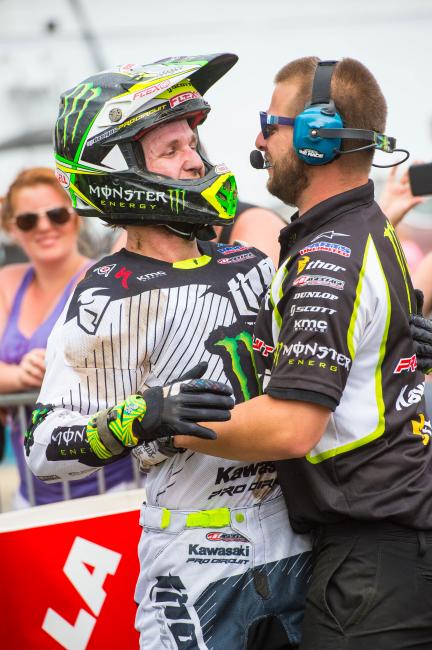 JOEY SAVATGY: With his hard work at Unadilla for 2-2 finishes, Joey Savatgy saved summer for Mitch Payton's vaunted Monster Energy/Pro Circuit Kawasaki team. They had been left out of the winner's circle all year long, both in SX and MX. Adam Cianciarulo and Tyler Bowers were hurt, Arnaud Tonus had been battling an illness, and Chris Alldredge was doing his best to make something happen, but it was Savatgy who finally broke through at Unadilla for an overall win.
KYLE CHISHOLM: Good ol' #11 finished eleventh in the final 450 championship standings, but that doesn't tell the full story of Chisholm's season, because he was out there practically on his own, a highly respected but under-supported privateer. He's a veteran, but he's still got as much desire to compete and win as anyone else out there.
AARON PLESSINGER: One year ago in August he was graduating from Loretta Lynn's; this time he was putting the finishing touches on his first win, basically at what was a home race in Indiana. The Rookie of the Year won the Ironman National on a remarkably rough track where he put his long legs to good use. With the victory, he joined teammates Martin and Cooper Webb as a race winner.
COOPER WEBB: And speaking of Webb, he was out of the title chase after just one day, having damaged an ankle at Hangtown. When he returned, he immediately shook things up at the top, even winning not only Martin's backyard race—literally, his back yard!—but also Washougal. His work at Utah was also pivotal, as his second-moto rundown of Musquin, and then a move over for his teammate, gave Martin the points lead back after he lost it in the first moto.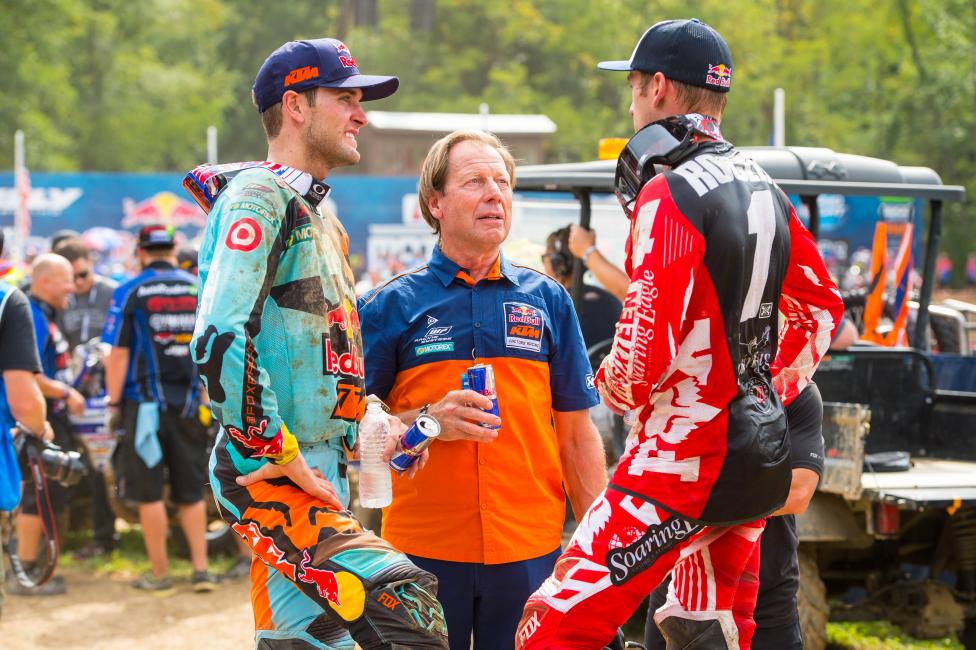 JEREMY MARTIN: To put it simply, he saved the championship in the first moto at Utah when he crashed off the start, then battled all the way back for third in the moto. Even more so than the Glen Helen effort, Utah was the race that he saved his #1 plate.
ELI TOMAC: For five and a half motos, GEICO Honda's Eli Tomac was the absolute fastest man on the planet. He dominated Hangtown and Glen Helen with big leads, and was well on his way to doing the same in Colorado before a high-speed crash cost him his summer. But man was he going fast!
RYAN DUNGEY: It's hard to pick any one of his wins as a standout from the others, as the ever-steady Dungey never wins with style points. Rather, he just wants solid points. But in a moto he actually lost—the last moto of the year at Ironman, long after he'd clinched the title, and even knowing he had the overall in hand—Dungey tore after the leader Roczen, nearly tracking him down from way back. It was an exceptional, emotional performance for the normally stoic Dungey, and it showed that even after nearly a decade as a pro, Ryan Dungey might just now be starting to peak. With all that's in store for 2016, it was a great time to remind everyone of the sheer speed that he has at hand.
Which moments do you remember as standout efforts? Let us know below.