FIM Releases Motocross of Nations Pre-Entry List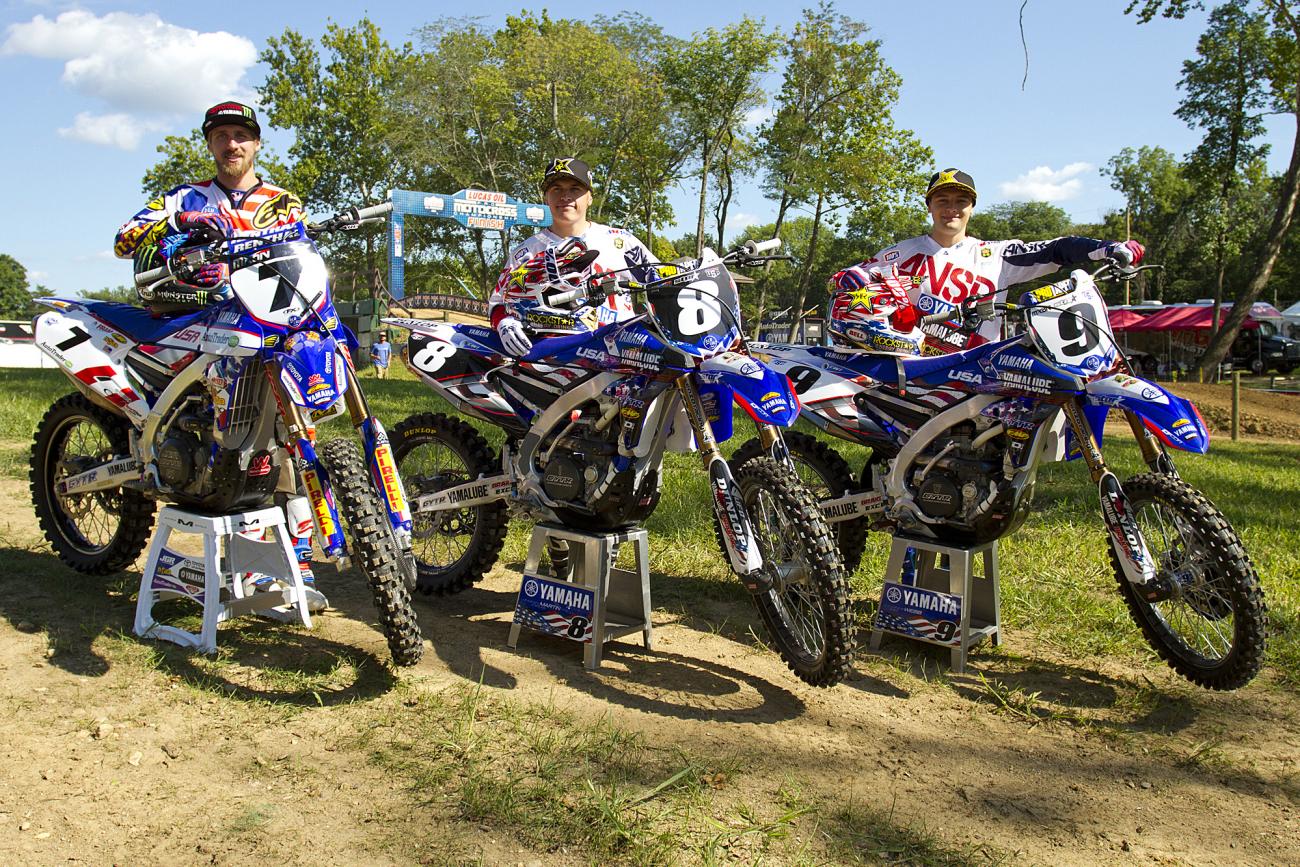 Raymond Demy
Ernee

,

France
Motocross of Nations
Motocross of Nations
The FIM has released the first official pre-entry list for the 2015 Motocross of Nations in Ernee, France, on September 27.
It's important to note that this list will undergo changes between now and race weekend. For example: Belgium is searching for a replacement for Kevin Strijbos, who was injured last weekend at the MXGP Lombardia and is not expected to return until 2016.
Also, Switzerland has named Arnaud Tonus to the team, but we still don't know if Tonus, who has battled an illness for the majority of 2015, will be healthy enough to compete.
Check out the entire list below.
COUNTRY
NUMBER
RIDER
CLASS
FMN
MOTORCYCLE
TEAM MANAGER
FRANCE
1
PAULIN Gautier
MXGP
FFM
HONDA
FINOT Pascal
2
MUSQUIN Marvin
MX2
FFM
KTM
3
FEBVRE Romain
OPEN
FFM
YAMAHA
BELGIUM
4
STRIJBOS Kevin
MXGP
FMB
SUZUKI
SMETS Joel
5
LIEBER Julien
MX2
FMB
YAMAHA
6
VAN HOREBEEK Jeremy
OPEN
FMB
YAMAHA
UNITED STATES
7
BARCIA Justin
MXGP
AMA
YAMAHA
DECOSTER Roger
8
MARTIN Jeremy
MX2
AMA
YAMAHA
9
WEBB Cooper
OPEN
AMA
YAMAHA
GREAT BRITAIN
10
SIMPSON Shaun
MXGP
ACU
KTM
PRINCE Neil
11
ANSTIE Max
MX2
ACU
KAWASAKI
12
WILSON Dean
OPEN
AMA
KTM
GERMANY
13
NAGL Max
MXGP
DMSB
HUSQVARNA
NAGL Hubert
14
JACOBI Henry
MX2
DMSB
KTM
15
ULLRICH Dennis
OPEN
DMSB
SUZUKI
ITALY
16
MONTICELLI Ivo
MXGP
FMI
KTM
TRAVERSINI Thomas
17
CERVELLIN Michele
MX2
FMI
HONDA
18
BERNARDINI Samuele
OPEN
FMI
TM
SWITZERLAND
19
TONUS Arnaud
MXGP
AMA
KAWASAKI
CLÉMENT Diego
20
SEEWER Jeremy
MX2
FMS
SUZUKI
21
GUILLOD Valentin
OPEN
FMS
YAMAHA
RUSSIA
22
BOBRYSHEV Evgeny
MXGP
MFR
HONDA
PARSHIN Evgeny
23
BRYLYAKOV Vsevolod
MX2
MFR
HONDA
24
BARANOV Ivan
OPEN
MFR
KTM
ESTONIA
25
LEOK Tanel
MXGP
EMF
KAWASAKI
ROOSIORG Lauri
26
KULLAS Harri
MX2
EMF
HUSQVARNA
27
KRESTINOV Gert
OPEN
EMF
HONDA
NETHERLANDS
28
BOGERS Brian
MXGP
KNMV
KTM
HARTMAN Marcel
29
POOTJES Davy
MX2
KNMV
KTM
30
COLDENHOFF Glenn
OPEN
KNMV
SUZUKI
SWEDEN
31
BENGTSSON Filip
MXGP
SVEMO
HONDA
ENGDAHL Jonte
32
ÖSTLUND Alvin
MX2
SVEMO
YAMAHA
33
JÖNSSON Jesper
OPEN
SVEMO
HUSQVARNA
LATVIA
34
IVANOVS Dāvis
MXGP
LaMSF
KAWASAKI
SEGLINŠ Mareks
35
JONASS Pauls
MX2
LaMSF
KTM
36
KARRO Matīss
OPEN
LaMSF
HONDA
PORTUGAL
37
GONÇALVES Rui
MXGP
FMP
HUSQVARNA
RILEY Ross
38
PEIXE Sandro
MX2
FMP
HONDA
39
BASAULA Hugo
OPEN
FMP
KAWASAKI
AUSTRALIA
40
WATERS Todd
MXGP
MA
HUSQVARNA
BENN Gary
41
WILSON Jay
MX2
MA
YAMAHA
42
FERRIS Dean
OPEN
MA
HUSQVARNA
DENMARK
43
LARSEN Nikolaj
MXGP
DMU
HUSQVARNA
CAPRANI Mikkel
44
KJER OLSEN Thomas
MX2
DMU
KTM
45
KJER OLSEN Stefan
OPEN
DMU
KAWASAKI
FINLAND
46
MALIN Valtteri
MXGP
SML
KTM
VEHVILÄINEN Jussi
47
HAAVISTO Jere
MX2
SML
HONDA
48
SIHVONEN Miro
OPEN
SML
KTM
CATALA Gabriel
PUERTO RICO
52
REYES Juan E.
MXGP
FMPR
KAWASAKI
53
LEIB Michael
MX2
AMA
KAWASAKI
54
ASTUDILLO Jason F.
OPEN
AMA
KAWASAKI
IRELAND
55
BARR Martin
MXGP
MCUI
KTM
SPENCE Laurence
56
IRWIN Graeme
MX2
MCUI
SUZUKI
57
EDMONDS Stuart
OPEN
MCUI
HONDA
SLOVENIA
58
GERCAR Klemen
MXGP
AMZS
HUSQVARNA
JAKOLIC Herman
59
IRT Peter
MX2
AMZS
HUSQVARNA
60
GAJSER Tim
OPEN
AMZS
HONDA
SPAIN
61
BUTRON Jose Antonio
MXGP
RFME
KTM
ALONSO Josep
62
ZARAGOZA Jorge
MX2
RFME
HONDA
63
VALENTIN Ander
OPEN
RFME
YAMAHA
JAPAN
64
OGATA Makato
MXGP
MFJ
HONDA
SERIZAWA Naoki
65
TOMITA Toshiki
MX2
MFJ
HONDA
66
KOJIMA Yohei
OPEN
MFJ
SUZUKI
NEW ZEALAND
67
TOWNLEY Benjamin
MXGP
MNZ
HONDA
LILLY Howard
68
LAMONT Kayne
MX2
MNZ
YAMAHA
69
COOPER Cody
OPEN
MNZ
HONDA
LITHUANIA
70
RUKŠTELA Nerijus
MXGP
LMSF
KTM
BENEDIKTAVICIUS Robertas
71
BUČAS Vytautas
MX2
LMSF
YAMAHA
72
JASIKONIS Arminas
OPEN
LMSF
KAWASAKI
CZECH REPUBLIC
73
ROMANCIK Jaromir
MXGP
ACCR
SUZUKI
CEPELAK Jiri
74
NEUGEBAUER Filip
MX2
DMSB
KAWASAKI
75
MICHEK Martin
OPEN
ACCR
KTM
BRAZIL
79
VILARDI Thales
MXGP
CBM
YAMAHA
HERMANO Manuel Carlos
80
SANTOS Fabio Aparecido
MX2
CBM
YAMAHA
81
RAMOS Jean Carlo
OPEN
CBM
YAMAHA
POLAND
82
LONKA Lukasz
MXGP
PZM
HONDA
ZUPA Marian
83
CHETNICKI Gabriel
MX2
PZM
KTM
84
WYSOCKI Tomasz
OPEN
PZM
KTM
SLOVAKIA
85
KOHÚT Martin
MXGP
SMF
KTM
PREDANOCY Dušan
86
ŠIKYŇA Richard
MX2
SMF
KTM
87
ŠIMKO Tomáš
OPEN
SMF
HONDA
UKRAINE
88
MOROZOV Roman
MXGP
FMU
KAWASAKI
TARASOV Volodymyr
89
ASMANOV Dmytro
MX2
FMU
KAWASAKI
90
TARASOV Volodymir
OPEN
FMU
KTM
GREECE
91
KOUZIS Panagiotis
MXGP
AMOTOE
HONDA
PAPADOPOULOS Konstantinos
92
TOURATZIDIS Ioannis
MX2
AMOTOE
YAMAHA
93
KONTOLETAS Dimitrios
OPEN
AMOTOE
YAMAHA
CROATIA
94
LELJAK Marko
MXGP
HMS
KTM
BOŽIC Danijel
95
KELAVA Matija
MX2
HMS
KTM
96
JAROŠ Matej
OPEN
HMS
KAWASAKI
LUXEMBOURG
97
TABOURAING Eric
MXGP
MUL
SUZUKI
KOHL Marc
98
CASOLI Daniel
MX2
MUL
HONDA
99
FRANK Björn
OPEN
MUL
HONDA
VENEZUELA
103
BADIALI Carlos
MXGP
FMV
YAMAHA
ROJAS Aristobulo
104
RODRIGUEZ Hector Anthony
MX2
FMV
YAMAHA
105
LOCURCIO Lorenzo
OPEN
FMV
YAMAHA
NORWAY
106
WAHL Henrik
MXGP
NMF
HONDA
KLINGHSEIM Gunhild
107
KLINGSHEIM Magne
MX2
NMF
KAWASAKI
108
LASSE Christoffersen
OPEN
NMF
SUZUKI
AUSTRIA
109
NEURAUTER Lukas
MXGP
OeAMTC/OSK
KTM
HATHEYER Engelbert
110
RAUCHENECKER Pascal
MX2
OeAMTC/OSK
KTM
111
SCHMIDINGER Günter
OPEN
OeAMTC/OSK
HONDA
MOROCCO
121
SOULIMANI Abdelhalim
MXGP
FRMM
YAMAHA
LARAICHI Abdallah
122
EL MEJJAD Said
MX2
FRMM
YAMAHA
123
GABARI Houmame
OPEN
FRMM
KAWASAKI