Since the Rocky Mountain ATV/MC Amateur National Championship at Loretta Lynn's, we've seen the likes of Marshal Weltin and Chase Marquier make their pro debuts. Another rider out of Loretta Lynn's to make his professional debut was Darian Sanayei. Instead of racing the final three pro nationals in the Lucas Oil Pro Motocross Championship, Sanayei decided to do a race in Canada and then make his American debut at the Ironman National.
Sanayei was consistent in his American debut and finished fifteenth in each of his motos. Although he had a successful amateur career and was a contender in nearly every race he entered on his Monster Energy Kawasaki Team Green ride, Sanayei is still unsure about his future and where he will end up racing next season. We caught up with the Washington native turned Club MXer to get his thoughts on his amateur career, his debut, and what the future holds.
Racer X: What's going on, Darian?
Darian Sanayei: Not too much. I pretty much just went to Ironman just for fun. I've had quite a few things that I have been trying to work out before Loretta's. It's all taking a little longer to go through, so I just thought I'd go race and have some fun.
Are you talking about a potential ride that you are trying to work out?
Yeah, I was talking to a GP team [in the FIM World Motocross Championship]. I'm not sure if that is going to go through 100 percent. I'm still trying to figure something out with other people too.
You're looking at taking the Thomas Covington route per se—instead of taking a non-factory ride here, you're looking across the pond?
It's pretty much the same thing. I don't think we would be on the same team though.
I would like to get a ride in America, but there aren't any available rides on the factory teams for the A guys coming up. My thought was that if I can't get on a premier team here, then I may as well get on one over in the GP series. There are a lot of things that come with it though. I have to move to a different country, figure out what I'm going to eat, and what I'm going to do. It's pretty difficult. In the meantime, I'm just trying to figure out what would be the best fit for me. I'm talking to other teams to see what I can get going.
Let's go back to Loretta Lynn's and your week there. I know you wanted championships, but you were consistent and you ended up second overall in both of your classes. As far as standout A riders go, you were one of them.
My expectation going into Loretta's was to win. I was a little bummed out that I didn't get to reach my goals. I still had fun there. I won a moto, and I was on the podium a few times. The thing is nobody really cares about second. It's kind of like Ricky Bobby—"If you ain't first, you're last."
Yeah, but at the same time you proved that you are consistent and that you can win motos. Do you feel like you're being overlooked and that you should have an offer to ride here?
I do. I really didn't think I would be in the predicament right now and trying to figure out what I'm going to do. I was putting in the hard work and getting the results, and I figured something was going to come to me. At the same time, in this sport nothing is handed to you. You have to work for everything that you get. I guess now this gives me more motivation to kill it.
How was your final amateur year in your eyes? Maybe step away from the riding aspect a bit. Was it bittersweet in knowing that this was the last time you were going to be doing the circuit?
Yeah, it was, especially at Loretta's. I had been going there for the past ten years, and it doesn't look like I will be going next year. I just tried to make the best of everything. My entire family came out and we had a great time at the track. I had all of my buddies there, too, and it was definitely a fun experience.
This year in all, I had two championships and two second places at Mini Os. I finished second at the Monster Energy Cup in the All Star class, got two championships and a third at Ricky Carmichael's Amateur Supercross, a third and fourth at Mammoth, and then [two seconds] at Loretta's.
"I'm pretty blessed to do what I have done so far. I wouldn't want my life to be any other way. Hopefully the future holds some more."
Do you feel like if you had raced at Unadilla and Utah that you would be more on the radar? I mean, we didn't even know that you were going to be at Ironman until the day before the race.
I made it like that on purpose. I didn't want to make a big deal out of it. I didn't expect to race my first pro race by myself with my amateur bike. Ironman was a last-minute decision. I think it was the Wednesday beforehand that I told my dad that I wanted to do the race. He didn't even know if I could still sign up, so I went and figured it out and got in. We left Thursday morning. I just wanted to go and have some fun on my dirt bike. I didn't want to have any pressure or expectations.
It was another consistent race for you. You finished fifteenth in each moto at Ironman, fourth in each moto up in Canada, and had those two Loretta's podiums. You're a rookie—you aren't supposed to be consistent yet!
In the amateur ranks my starts are great. If I can rip a holeshot on a 250, I know where to go from there. At Ironman, those factory bikes were a little bit better than mine, I guess. I'm not making excuses, but I was in front of pretty much every other privateer off of the start. The only bikes that were in front of me were like twelve or thirteen factory dudes. I started up front with those guys and basically raced my own race from there. I know where I'm at, and I know where my speeds at, so it was relatively easy. I would have liked to been around the twelfth-place spot, but I had some problems with my ignition. My bike was bogging a bit, but it was still fun. I guess 15-15 is decent for my first race.
The cool thing about Ironman was that I went there for my regional last year. It was before anyone really got to ride the track. I had that in mind. I liked the track. It gets really rough and rutted, and this year it actually had some big jumps for the national. It was a lot different.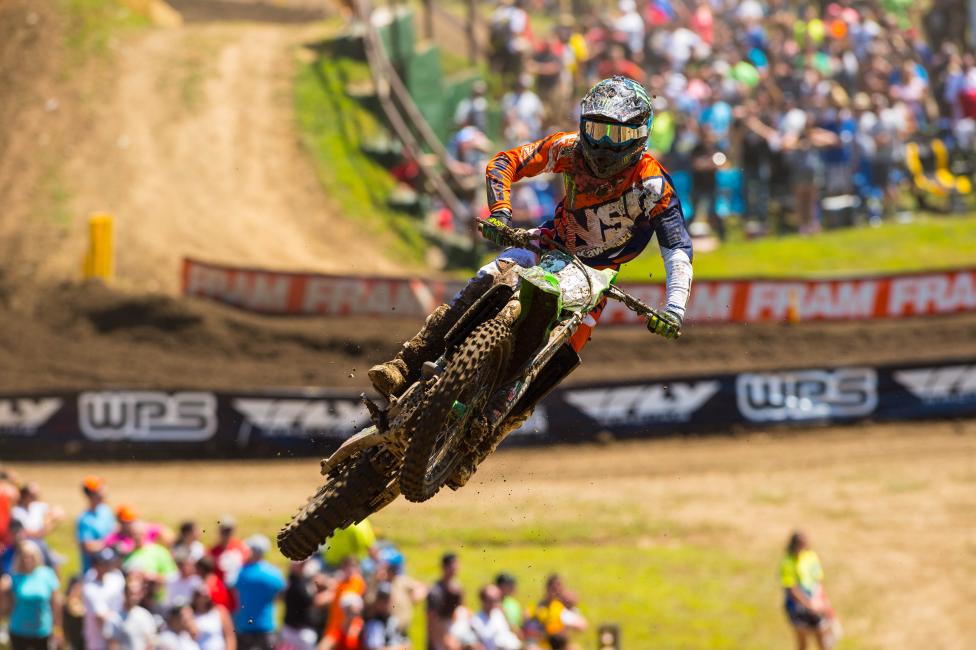 Last year you battled a lot with the guys who are doing well in the 250 Class of the Lucas Oil Pro Motocross Championship. At times you beat Aaron Plessinger, RJ Hampshire, Jordon Smith, etc. Did that give you a lot of confidence coming in, knowing that you've done well against those guys before?
I definitely feel like if I have a good bike under me that I can run up front in the pros. I want to win and I want to be on the podium. I won't stop until I get there.
You've been living at Club MX for a while now. What is it like to be involved with that facility? A lot of the guys who train out there have very good results.
In January, I will be there three years. We have a lot of fast amateur and pro guys, and it's good training with everybody. It has a lot of different dirt, which is good. I think Brandon [Haas] kind of hit a gold mine when he was digging in different spots. He has some red clay, sand, and normal base dirt. It has everything. We all have the same goal in mind, and it's cool to be around that mindset.
You've raced arenacross, up in Canada, amateur events, and now pro. You're now looking into the MXGP series. You have a pretty diverse background in racing.
I'm pretty blessed to do what I have done so far. I wouldn't want my life to be any other way. Hopefully the future holds some more.
Your life is so consumed in accomplishing goals and riding all of the time. Do you ever find time for fun? What do you do away from the sport?
I don't really know honestly. Motocross is pretty much it. I'll ride my road bike, work out, eat, breathe, sleep, and moto, I guess [laughs]. I hang out with everyone from Club MX. I've been living here full-time since before Christmas. I've been training non-stop. I might go home soon though. I'm not sure when my next race will be. If it's supercross, it won't be until January or sometime, depending on which coast I do. Now is the time to go home and relax a little bit. I'll go home and hang out with some friends and do some go carting. The normal kid stuff, I guess.