Crawfordsville, IN
Indiana
Lucas Oil AMA Pro Motocross Championship
The second annual Ironman National is set to take place this weekend in Crawfordsville, Indiana. Last year's inaugural event was looking to be an incredible day…right up until the night before racing began. A huge storm hit the area overnight and throughout the morning, leaving the track absolutely flooded. It was a shame, as the press day videos made the track look to be one of the best of the year. Although the races still ran, I think 2015 will show what this track is truly made of.
Being in the Midwest, the track is made up of tacky soil mixed with some sand to add consistency. It has some elevation and fast sections, along with some bigger jumps to keep everyone on their toes. It has a bit of everything, and for national championship motocross, that is exactly the goal. The biggest question is how the track will shape up under a full national schedule? The mud from last year didn't lend much in the way of data acquisition for teams coming into this season. The track should get rough, much like RedBud tends to. I'm thinking there will be less sand than RedBud, though, and that will lead to sharper bumps than we see in Michigan. Time will tell, I suppose.
As for the contenders, the 250 Class is surely the talk of the weekend. Jeremy Martin comes in with a 2-point lead over rival Marvin Musquin. That gap remained constant last weekend in Utah, even though it took a heroic effort by Martin to keep the status quo. A horrific start but terrific comeback ride in the first moto relegated him to a third-place finish. Moto two looked to be smooth sailing until the red flag flew just into the second lap. Fate just seemed to be making J-Mart's life tougher than he would like. Showing championship resiliency, he shrugged it off and fought through a decent restart to run away with moto two. It wasn't the picture-perfect day that he hoped for, but it certainly turned out better than it looked at the five-minute mark of moto one.
Marvin, on the other hand, had a great chance to take the red plate. While he rode an excellent first moto, he just couldn't match Martin's pace in the second. He still has a great shot at this title, but it's going to be a dogfight to say the least. His biggest edge has to be in the first hundred yards of the race. He has consistently gated in front of Martin and has taken advantage of his starting prowess. The biggest question mark going into Indiana for Musquin is if he can match the blistering pace that Jeremy has. If they both start well, Marvin has to find a touch more speed if he wants to win this title. High drama—that's for sure.
Ryan Dungey clinched the 450 title last weekend in Utah after an incredible summer. It looked to be an uphill climb at the hands of Eli Tomac, but injury claimed the GEICO Honda speedster and opened the door for the Dunge. I'm not sure if Dungey could have found the pace that Tomac had, but as many have said before, you have to be in it to win it.
In any case, once Tomac went down, Dungey took over the reins and never looked back. His points lead hasn't really been challenged for a month or two. Although Ken Roczen kept him honest for a while, even winning motos and an overall—and then later Justin Barcia got in the mix—Dungey never even cracked the door for the competition. It was another dominant performance down the stretch for Ryan Dungey.
Ken Roczen was much, much better at Utah than he had been lately. He led for quite a while and seemed to have plenty of speed to fight for the win. Dungey's fitness looked to be the difference, but it was refreshing to see Kenny on form again. Much has been said about Roczen's season of change, his back injury, and struggles in the results column, but as we saw last weekend, he can go as fast or faster than anyone on Earth when feeling right. Hopefully this weekend brings more progress for Kenny and we see another battle to the checkers with Dungey and co.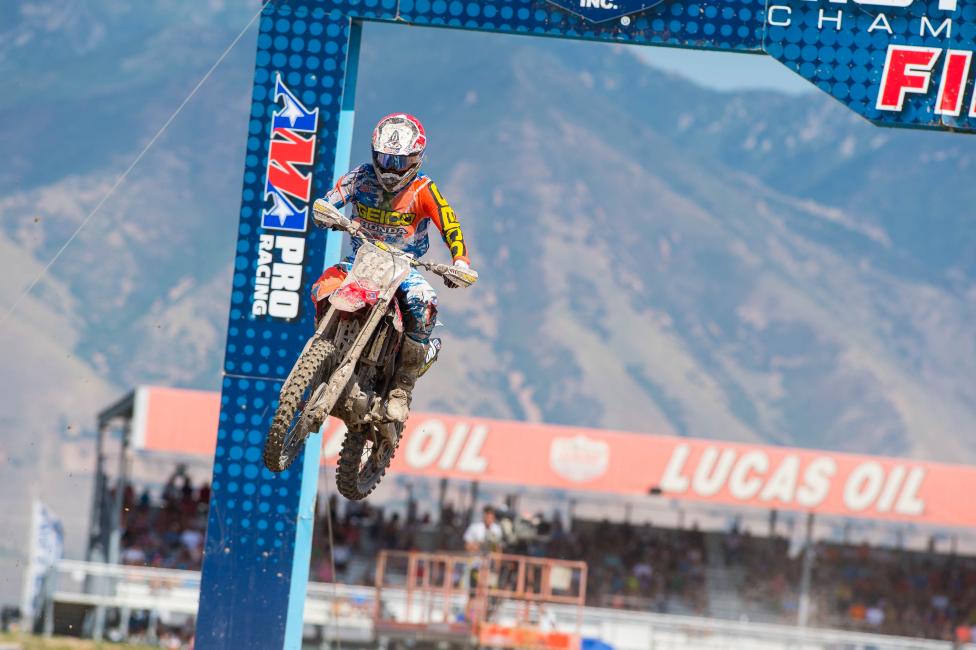 Who's Hot
Sigh. I get bored listing Dungey here, but he simply deserves my acknowledgement. He just keeps on winning races week after week. Even with all these titles and wins, this guy is still hugely underrated in my opinion.
RJ Hampshire was thisclose to getting his first podium finish in a moto last weekend. I'm not sure if I've seen heartbreak that close to the finish line since Sebastien Tortelli ran out of fuel at RedBud in 2001. He is coming on strong, though, and this weekend is another chance.
Cooper Webb may not be winning races, but he is riding very well and making Marvin Musquin's life difficult. He may be the deciding factor in this championship on Saturday.
Jeremy Martin is still your point leader and is fighting through adversity to keep that red plate. This upcoming weekend may be the biggest weekend in his career.
Ken Roczen has rebounded from his mid-season struggles and is back into the fight for wins. The guy is so talented; it was only a matter of time before this ship turned around.
Who's Not
Chris Alldredge had a rough weekend in Utah after a moto podium at Unadilla. He is struggling to find consistency this season. Crashes are common for rookies, but crashes lead to injuries and injuries lead to more bad things.
Weston Peick had a couple serious get-offs in Utah. Weston is one tough dude; he's been in about a dozen crashes this season that could have taken him out of contention.
Justin Hill has had a rough season and it got worse with a mangled pinky. He is done for the outdoor season and is probably looking for a non-broken finger to hit the reset button with, anyway.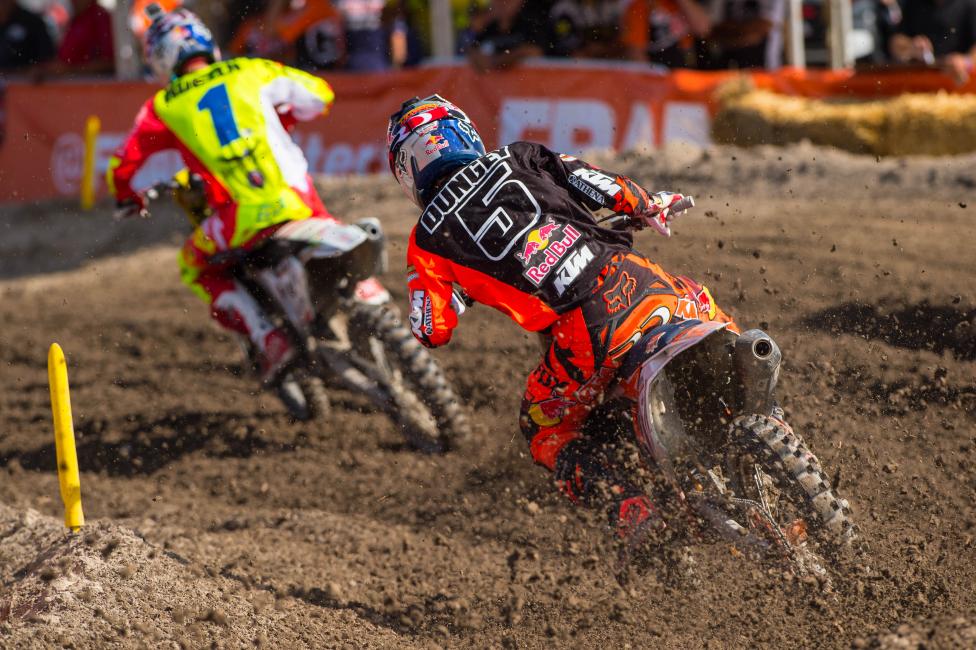 Bold Predictions
Jeremy Martin wins the national championship after a very dramatic day.
Dungey wins again.
Roczen does a karaoke rendition of Madonna's "Papa Don't Preach" on the podium.
In the Legends race, everyone goes very fast for about 2.5 laps and then very slow for another 2.5 laps. At the checkers, everyone is smiling and asking for oxygen masks.
Justin Barcia grabs another holeshot and does just enough to hold off Roczen's late-season charge for second in points.
My Picks
450
Ryan Dungey
Ken Roczen
Justin Barcia
250
Jeremy Martin
Marvin Musquin
Cooper Webb