Miller Motorsports Park
Tooele

,

UT
Utah
Lucas Oil AMA Pro Motocross Championship
Jason Weigandt contributed to this article.
By now you know what happened at the Zions Bank Utah National. You know Ryan Dungey streaked to a perfect 1-1 to clinch the 2015 Lucas Oil Pro Motocross 450 National Championship, and you know Jeremy Martin and Marvin Musquin emerged in the exact same points situation they were in before the race even started—Martin still leads Musquin by two points. What you don't know is what happened behind the scenes that led to today's results. Let's jump into Saturday Night Live to find out.
Let's start with what might be the biggest question mark of the weekend. Did Cooper Webb intentionally allow Martin to pass him in that second moto to gain points on Musquin? Webb left almost immediately after the race to catch a flight so we didn't get a chance to ask him about it, but we did ask Martin if there were team orders and he said no.
"He [Webb] was nice out there. He saw me come up on him and he just let me take it and he filed in behind me. I was thankful for that," Martin said. "There wasn't a team plan or anything, and there never has been. He's won a championship before and he knows what it's like. It's really tight between Marvin and I. I have a ton of respect for Cooper and I think he has a ton of respect for me. He was just being nice."
We also asked Musquin about it. "It's been a couple races where I've battled with Cooper, and I didn't feel there were team tactics before, but now, maybe yes," He explained. "I don't know if Cooper made a mistake in that second moto, but it looked like he let Martin pass. Martin was faster and would have gotten around anyway though. But in that first moto Plessinger saw me coming and he was in his line, and he just jumped out of his line to cut inside of me. Obviously I got around him, but I think when they see the KTM coming they try harder, and to hold me up. But that's the way it is, it's racing. Last weekend in Unadilla Jessy Nelson fought really hard to stay in front of Jeremy, so I feel like he was maybe thinking of me. I'm not sure, they might talk to Cooper for the last round, but my tactic is to just do my best. You never know what might happen."
To cap things off, we also spoke with Yamalube Star Racing Yamaha team owner Bobby Reagan, who denied any sort of team plan or orders. "Management of this team decided the riders could work it out between themselves," he explained. "We didn't want to participate in any plan, and I don't know what happened out there on the track, but whatever it was it was the riders deciding what they wanted to do. It surprised me how fast Martin got around Webb, but whatever call they made is between them. We're only here to support them and make sure they have what they need on the racetrack."
Even without the drama of team orders, fictional or not, there was still plenty happening in the 250 National Championship. Martin got a horrible start in the first moto when he got trapped behind a fallen Joey Savatgy, but streaked from outside the top thirty into fourth. Martin admitted this was partially his fault, because he had the first gate pick thanks to earning the Bud Light Fast Qualifier Award, but he selected the very inside gate and quickly got pinched off and then trapped behind Savatgy. He was gifted with third place when RJ Hampshire went down exiting the final turn on the final lap. If that wasn't enough, there was a restart in the second moto when Tevin Tapia went down hard and Martin saw his holeshot turn into a seventh or eighth-place start while Musquin took full advantage and nabbed the holeshot. You might expect Musquin to be bummed about getting passed by both Webb and Martin after that, but he said he's not great on this track, so to leave without any damage in the points was actually great for him. Musquin can hold up last year's results at proof: Martin went 1-1 here in 2014, and he went 4-5.
Elsewhere in the 250 Class Luke Renzland had a day he'd likely rather forget. He crashed hard in the first lap of the first moto, dislocated his shoulder, and that was it for the day. No word yet on whether or not the Cycle Trader.com Rock River Yamaha rider will be back for Indiana.
Speaking of bummer days, Mitch Oldenburg had one too. After qualifying well he got wrapped up in a first-turn crash with Joey Savatgy and that was it for him. He went 39-39 for fortieth overall. Savatgy on the other hand, remounted and came from thirty-ninth to fifth in the first moto. That's incredible! He ended up going 5-11 for ninth overall.
Great debut for Motosport/GPI/Honda rookie Chase Marquier, who went 14-19 for sixteenth overall in his first race as a pro.
As mentioned above, we knew Dungey was going to clinch the championship today. Sure, he stood a very slight chance of not wrapping it up, but c'mon, did you really think The Dunge was going to flounder? Despite only needing to finish in second place (if Barcia was in first) to clinch the championship, a fact he later confirmed he knew, Dungey continued to push hard for the win. "The opportunity to grab the championship was there, but there were still two motos to be raced. As much as you want the championship, you still have to do your job," Dungey said afterward. "My mentality coming into this weekend was to get off the gate good and get two solid moto wins. If we could do that in the first moto the championship would be there, but I didn't want to get caught off guard in the second one—I wanted to go out there and win that one too. It doesn't look very good if you don't. It looks like you're slacking off. Every race and every win is important."
Ken Roczen's recent resurgence continued, as he followed a strong second in Unadilla's second moto with a 2-2 ride here. He led early in both motos and showed great speed, but Dungey was able to track him down each time. For the 2014 450 National Motocross Champ, that's still not the best day, but it's progress when you consider he had not finished in the top two in the previous nine motos. Roczen's been doing a lot of testing on his Suzuki and mentioned that he's starting to feel a lot more comfortable with his bike.
After the race Justin Barcia joked that he was on suicide watch after qualifying great, starting great, but ending up third overall. Earlier in the year that wouldn't have been the case, but now he's bummed when he's not winning. It's amazing how big of a difference standing in the winner's circle makes!
Blake Baggett was back to podium-level form at Miller Motorsports Park after two sub-par rides at the last two races, where he went 5-12-13-7 in the motos. This time he went 4-4, which tied him in points with Barcia for the day, and Barcia got the edge via the second-moto tie breaker. Baggett told us Unadilla is probably his least-favorite track on the circuit, which explains his sub-par ride there. He didn't get off to good starts at Utah but worked his way up from the back of the top-ten each time. "The funny thing was, all of the guys I was battling were guys I raced as amateurs or have raced for a long time," Baggett said. "Felt like a big amateur national out there."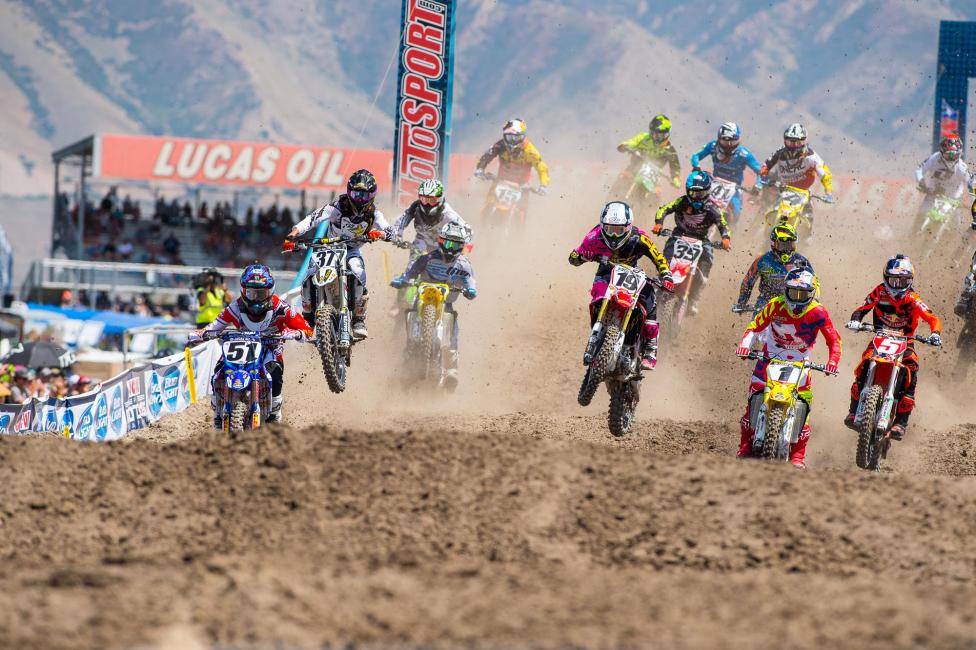 The second moto was a huge shot in the arm for Red Bull KTM's Dean Wilson, who went 10-5 for the day. "It was awesome, that's what I needed, I had that fight at the end that I haven't had in awhile," he said. "I'm quite happy with myself, to be honest. First one I didn't have a good start and had to come through, but the second moto, I passed Trey (Canard) on the last lap." Wilson, who has been plagued by arm pump for the last few years, was thrilled that he actually didn't pump up in the second moto. This could be a sign that Dean has finally turned the corner. "Usually at the end of the moto I can't even hang on, so to actually have a push, it makes me proud. I felt good that second moto and I just need to carry on like that."
Weston Peick didn't have his best day today. After crashing out of the first moto he lined up for the second, probably because he wanted to punish the track, but went down again after two laps and ended up pulling out. No word on whether or not he went back out at the end of the day and beat the track senseless with large chunks of reinforced concrete.
As long as we're on the subject of DNFs, we'd better mention Fredrik Noren, who pulled out after breaking one of his right knuckles in the first moto. We saw him later and he was in a cast that went almost all the way to his elbow. He's not sure if the injury will require surgery or not, and even though he was bummed he was still smiling.
Road racer Jake Gagne raced today and he did remarkably well (twenty-second in the first moto), especially considering it was his first professional motocross race. Unfortunately he had a previous injury flair up, and since he's on the verge of wrapping up a road race title he decided to play it safe and pull out of the second moto.