Miller Motorsports Park
Tooele

,

UT
Utah
Lucas Oil AMA Pro Motocross Championship
Coming into the Zions Bank Utah National it was pretty clear Ryan Dungey would clinch the 2015 Lucas Oil Pro Motocross 450 National Championship. The only question was if it would be in the first or second moto. The title picture in the 250 Class was much less clear—only two points separated title contenders Marvin Musquin and Jeremy Martin, but if something drastic happened today it could give one of them a big advantage heading into the finale next weekend in Indiana. So how'd it all shake out? Read on to find out. For chronological order, start at the bottom of the feed and work your way up. To jump straight to the motos, start directly below.
450 Moto 1
No surprises on the start of this one when Justin Barcia holeshot with Ken Roczen and Ryan Dungey in tow. It looked like there could be a battle of the heavies, but it didn't exactly pan out. Roczen took the lead on the first lap and started checking out, and several laps later Dungey passed Barcia for second. At this point Dungey was in a championship-clinching position, but that didn't stop him from twisting the throttle. He slowly chipped away at Roczen's lead and with ten minutes to go he was knocking on the door. They were side by side in spots, but Roczen was able to temporarily inch back out. But with four minutes to go Dungey made a move stick and immediately gapped Roczen and went on to take the win, and the 2015 Lucas Oil Pro Motocross 450 National Championship.
Behind them Broc Tickle rode brilliantly and eventually caught Justin Barcia for third. Blake Baggett was blazing fast in this moto too, and came from a ways back to finish fourth. He wasn't far off Tickle at the end either.
Jason Anderson, Trey Canard, Christophe Pourcel and Justin Bogle had a fierce battle going for fifth at one point, but that ended for Bogle when Anderson got bounced around in some ruts and careened into Bogle's front wheel and took him out. Weston Peick also had a crash in this one, but his was severe enough that he left the track sitting in the back of the Asterisk Medical Mule. No word yet on whether or not he sustained injury.
450 Moto 2
The final moto of the day kicked off with a holeshot by Phil Nicoletti, but Ken Roczen quickly took over and Ryan Dungey and Justin Barcia followed him through. But just like in the first moto, the three-way battle never materialized and the trio got spread out. Then Dungey picked up the pace, caught Roczen, and started applying the pressure. A small mistake from Dungey sent him temporarily off the track, but it wasn't long before he was back on Roczen and breathing down his neck. They battled hard for several laps, but it ended when Roczen had a slight mistake and Dungey took the lead and disappeared. Dungey went on to win, capping his 450 National Championship with a perfect 1-1 day.
Behind the top three was Wilson in fourth. He held that spot all by himself for quite a while, but started sliding a bit in the second half. First it was Blake Baggett who went by, then it was Trey Canard. It looked like a charging Broc Tickle, who started well outside of the top ten, would be next, but Wilson found some speed at the end of the moto and even put in a run to pass Canard back for fifth on the final lap.
250 Moto 1
This moto was all kinds of crazy. Jordon Smith nailed the holeshot, while Jeremy Martin got a terrible start and started in near dead last. In fact, had there not been a first turn crash involving Joey Savatgy and Mitch Oldenburg he would have been in last. Webb also got a terrible start, while Marvin Musquin started okay and was running sixth after a few laps. Up front Jessy Nelson and RJ Hampshire were battling for the lead, with Hampshire eventually taking the spot. A few positions back Musquin and Webb were absolutely ripping, and it wasn't long before they had slashed into the lead and were putting on one of the best battles of the season. Unfortunately it ended when Webb had a little tip over in a corner. Musquin went on to win the moto.
Martin, meanwhile, had an incredible pace going but he was so far back it was looking like he was going to take a big hit in points. But he kept charging and picking off riders, and as the race was winding down he found himself behind teammate Aaron Plessinger, who pretty much just surrendered fifth to him. Martin then went to work on Nelson, who fought hard but ended up crashing huge over a jump. It seemed that was as far as Martin could get, but then Hampshire crashed on the last lap about forty feet from the finish line, handing two more valuable points to Martin. Musquin now holds a three-point lead over Martin, but it could have easily been much, much worse for Martin.
250 Moto 2
Jessy Nelson took the holeshot in this one, but Jeremy Martin was right on him and made the pass almost immediately. Marvin Musquin was in about eighth, so things were looking good for Martin to get some points back after giving up a few in the first moto. It didn't last long though—a red flag came out when Tevin Tapia had a big crash and the starting gate was re-racked. Tapia was able to get up eventually, but Martin's growing lead had already been nipped in the bud.
On the restart the tables were turned when Musquin holeshot, with Martin in about eighth. The Yamaha boys went to work right away though, with Cooper Webb taking the lead away from Musquin on the first lap. Martin got on the move too, and about six minutes in he was into third and started inching up on Musquin. It didn't take long either, as Martin was on an absolute rampage and was consistently logging ultra-fast laps. At just past the halfway point Martin made the pass on Musquin and went after Webb. When Webb took a look over his shoulder he saw it was Martin behind him and seemed to just let him by as he pulled a tear-off. But whether or not it was on purpose, it probably wouldn't have mattered—Martin was faster than everyone in this moto and ended up beating Webb by over eight seconds. When Webb crossed the line, the two exchanged a very rare fist bump. Martin, who trailed Musquin by three points after the first moto, now leads him by two points going into the finale in Indiana.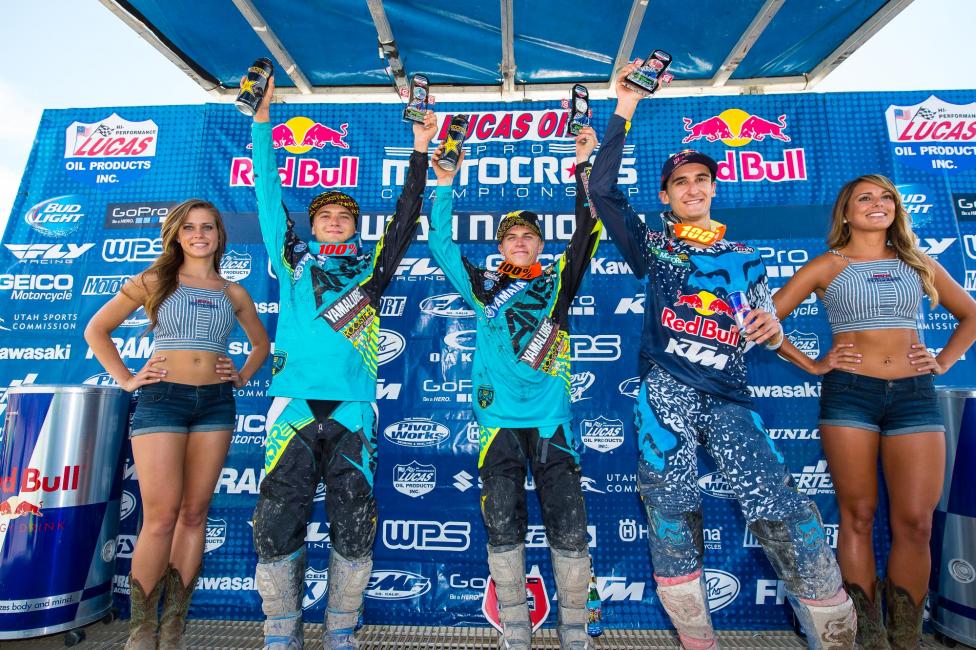 qualifying
250 Practice 2
Joey Savatgy and Cooper Webb alternated fast times at first in this one but it wasn't long before Jeremy Martin displaced their times by roughly a second. Below him the order continued to get shuffled around, but nobody was getting close to Martin's time. But then Martin absolutely dropped the hammer on his last lap out and beat his already sizzling time by about a second, finishing the session over two seconds faster than title rival Marvin Musquin.
450 Practice 2
This session was probably the most interesting one of the day. Blake Baggett was fastest right away, with guys like Weston Peick, Ryan Dungey, Ken Roczen, and Trey Canard all trading spots below him. His time finally fell to Dungey after several laps, but Baggett immediately responded by beating Dungey's time by a couple tenths. Then, out of nowhere, Christophe Pourcel dropped into the 1:56.564 range. It looked like it would hold too, but then Dungey crossed the line, notching a 1:55.623 on his final lap.
250 Practice 1
No surprise in this practice when Marvin Musquin set a fast time that looked like it would hold, but Jeremy Martin threw down a heater on his final lap to edge Musquin's time by over a second. Musquin's fastest time ended up not mattering anyway because it got invalidated for some reason. Cooper Webb, who's been unhappy with Musquin at the previous two rounds, was third. Depending on how the starts shake out, we could be in for quite a battle between these three.
450 Practice 1
Trey Canard was fast initially in this one, but just like in the 250 practice his time was knocked off on the final lap. Justin Barcia, who is normally not the greatest in qualifying, set a blazing final lap to take the top spot. Jason Anderson set a fast one his last lap out too to take second. Good showing from Kyle Cunningham in this one, who qualified fourth fastest. If you're following the motocross debut of road racer Jake Gagne, he was twenty-first in this session.
Morning Report
Let's tackle the elephant in the room first thing. Ryan Dungey is going to clinch the title today. The only question is whether or not he'll get it done in the first or second moto. He's got a 79-point lead at the moment, so if he finishes second or better in the first moto the title will be his. If that doesn't happen, he'll just have to wait until after the second moto to do a celebratory burnout. Interestingly enough, it was at this very track last year that Ken Roczen clinched the 450 National Championship over Dungey.
In the 250 Class things aren't nearly as wide open. In fact, with Jeremy Martin leading Marvin Musquin by only two points, about the only way the title could get wrapped up was if Musquin somehow didn't show up for work today, and you know that's not happening. With such a small gap between the two, today is pivotal—if either Musquin or Martin is able to put a significant amount of points on the other they'll have a big advantage next week at the finale.
The bikes are rolling out for practice now, so check back soon for a report on today's qualifying.