Davi Millsaps had already been through hell when he signed with Monster Energy Kawasaki a year ago, but his Monster Energy Cup win seemed to signal a rebirth. The worst was actually yet to come, though, via a bout with the Epstein-Barr virus, and then later Kawasaki released him from the team when they found a controversial substance in his locker.
He's back in rebuilding mode again, now with the BTOSports.com KTM team, which signed him last week. Millsaps brought his own sponsor to the deal, Creative Sports Concepts, to help expand BTO's program to three riders (Andrew Short and Justin Brayton will remain on board). Davi even came to Unadilla to hang out with his new team and talk to people like us.
Racer X: This was surprising news. We heard a lot of talk about you building your own team and suddenly you're on BTO. How did this all come about?
Davi Millsaps: With the whole team-building thing, I started watching my bank account draining from buying all the stuff. I had to get things in perspective. I've got a family to support, and draining my own account really wasn't helping that. So as much as I wanted to, it was something that I really wasn't in the position to do. With Creative Sports Concepts and myself coming in together, we started searching. Forrest [Butler] called me up and we jumped all over it. I brought Creative Sports Concepts to the team, and it all kind of just came together within a couple weeks and the announcement happened on Monday.
This wasn't in the works for very long?
No. My goal was to race Monster Cup on the Suzuki and after that was just kind of trying to figure things out. I was going full privateer, show up in the sprinter van, and just do Monster Cup and go from there.
Were you hoping that would be like an audition? Did you want to do you own team long term, or were you hoping you could ride it a few times and then get picked up?
My goal was to do it long term. I really wanted to. I thought it would be fun. I thought it would be different. I think it would be kind of cool. But when Forrest and the BTO team approached me, it was kind of a no-brainer for me.
Set the record straight on the KTM thing. Two years ago, everybody heard "Dude, Millsaps hated the KTM." Where are we at?
I don't even know where that came from.
You didn't ride it all year, so I don't know.
I did ride it, but I never raced it. There was no interview out there that claimed that I hated it.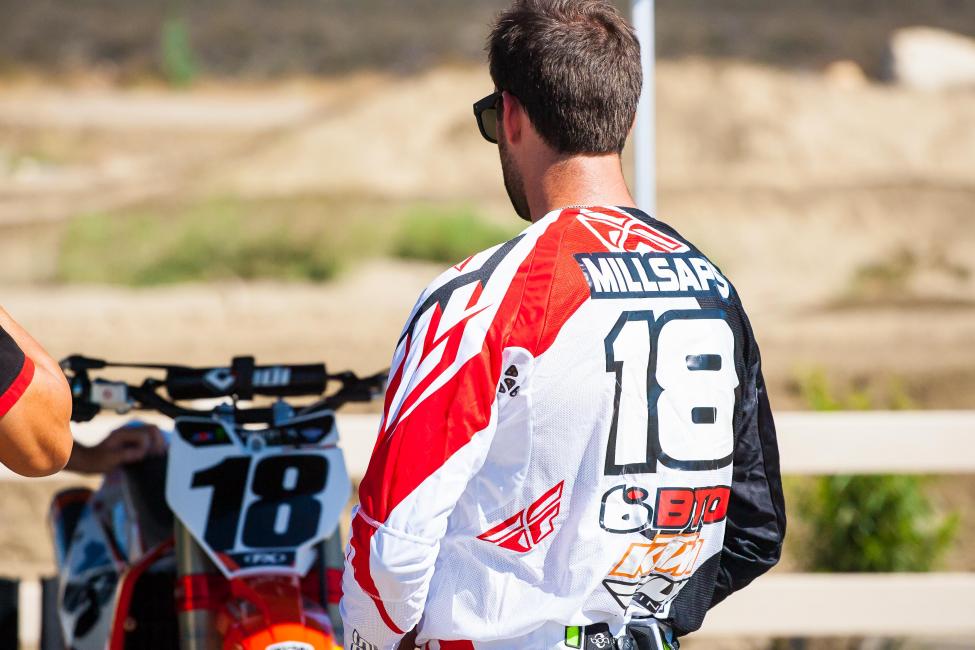 But I heard at least one-hundred people in these pits say it.
Of course. But that's just the fact because I went from the '13 season on Suzuki doing so well to then not riding the KTM when they [Rockstar team] switched brands. But realistically, I had six surgeries that year. I think I had actually ten surgeries in 2014 total. From '13 to '14 I had ten surgeries. What part of that season was I able to ride?
So you were not looking for excuses to not race it?
No, I really just couldn't. I came to ride and I would ride for a couple weeks and then something would happen. It's not like I wanted it to happen. I don't like being in pain. Nobody likes being in pain. And it happened and I would get it checked out, and oh, we've got to operate. Well, then, if this is the time to do it, you might as well do it. So to set the record straight, no. It had nothing to do with the bike. It had nothing to do with the team. It all had to do with the fact that my body was telling me no.
We saw some pictures of you on the BTO bike last week. Have you ridden much?
I rode it two days. The third day doesn't count; I was only able to ride it for a little bit, then I had to fly here. I rode it for two full days.
So you made the deal just because of the reputation of the team? You weren't testing the bike before you made the deal?
I didn't ride the bike before I signed. So, to set the record straight, when I signed, I still had no idea how the bike was. So, even if you were going off of '14's rumors, I still didn't know if it was that much of a different bike for '16. We've heard what everyone has said [about the new KTM]—"Oh, the bike's so different." Well, you hear that about every manufacturer that changes bikes. A lot of times they might make changes, and the bike is actually not so good. So I didn't know.
There was never PEDs. Let alone, what part of my season was performance enhanced?
If you hated the old KTM that much…
I wouldn't have signed.
Can you tell us anything about how your ride with Kawasaki ended?
It's just all water under the bridge now. I let it take its toll and let my riding and my results show for it.
Can you at least tell us…. It wasn't like you were doing something so gnarly and crazy that you've had to change your life completely since leaving the team? This is just one small thing, right? I'm asking because, here's the problem when you get let go in that situation. People will say, "Oh, this guy must be on the gnarliest regimen of PEDs of all time."
There was never PEDs. Let alone, what part of my season was performance enhanced?
[Laughs] Good point. Explain how the season was going. It wasn't to plan.
No. Going into the season in late November I found out that I was a having a lot of issues and I couldn't do anything. I couldn't do anything during the day. I didn't know what was going on. So I went and got blood work done, and it came back really bad. I ended up having Epstein-Barr a month before Anaheim 1. So I had to stop doing pretty much everything. My liver function was down; my adrenal function was down. My testosterone levels were way down. It was crushing everything. So I had to stop doing everything and figure out what to do with my body to get it right. So I didn't ride really much during the week. If I went and rode, it was doing starts or one or two laps here and there. So I didn't train during the week at all. I only went to the weekends and raced. And during the races, it was really bad. Sometimes the jumps would move on me, with my vision. My motor skills would start shutting down.
You weren't just getting tired?
No. It was getting to the point to where I didn't want to race anymore because it was dangerous for myself and for everyone else out there. But I didn't want to miss any more races. I didn't want to miss any more seasons. So I went through that whole thing. I started getting better and started getting better. I kind of had a little bit of a relapse after I got better. It kind of came back after I started training again, so then I had to slow it back down and get it under control, which I did. And then obviously I got let go.
In the brief time where you've actually felt good since 2013, is it still there? Are you confident that you can go back to where you were?
The brief time I felt good was Monster Cup!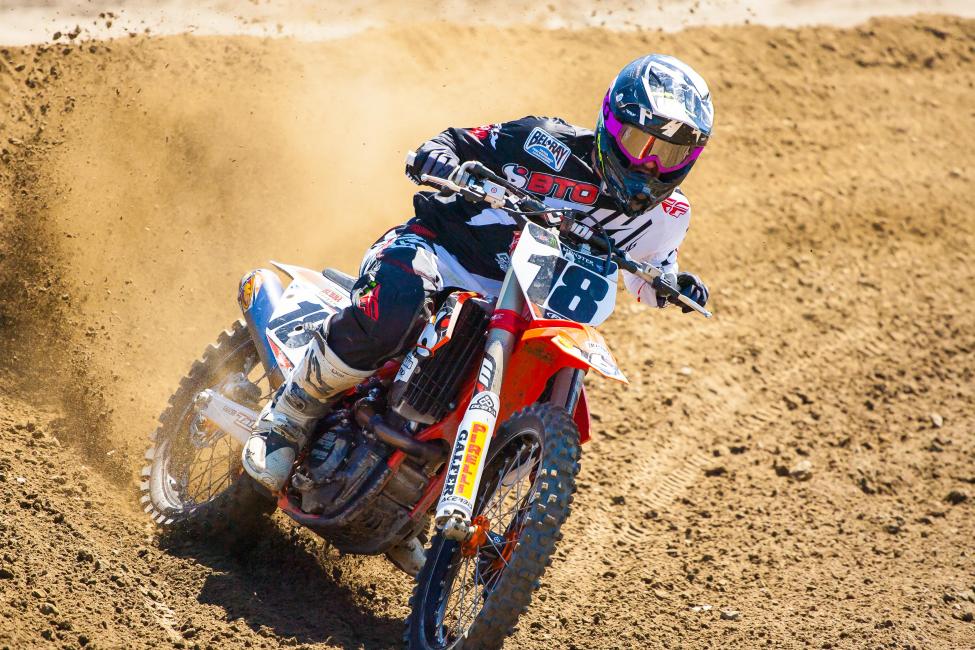 And you won.
I felt really strong going into Monster Cup, and then after Monster Cup it kind of went downhill for me, just training and getting sick and having the surgeries in the past. It was kind of everything put together with my riding, my training, and all the antibiotics I had taken and didn't really watch my blood, and that's how I ended up with Epstein-Barr. You can't really point your fingers at anyone except for just the people that were maybe around me, myself included. I should have paid more attention to it and taken care of it. That is my responsibility. I take blame for that. It was just a crappy situation and I'm glad it's over. I'm healthy now after having time off and I'm ready to go.
So anything results-wise we saw in 2015, you were never where you were supposed to be?
No. When you get Epstein-Barr and you talk to some doctors that know all about it, they don't want your heart anywhere over 130. And in this sport you can't do that. So when my heart rate would be in the 180s—stuff was killing me.
So what's the plan here? Is this supercross only? Do you know?
Right now, it's supercross only. Not my decision. It's kind of the way the whole thing worked out. We'll revisit the outdoors during the season. I think the main purpose of that is I'm 27. I'm not old; I'm not young. My body's been through hell and back, and I would like to be around for another five years. I think there's a lot of belief that if you ride supercross only, you can focus on it, keep your body healthy, and then you have some rest. But at the end of the day I would love to race outdoors, and I would love to be part of it, but it's not really up to me at the end of the day.
How motivated are you right now? If you were going to build your own team, you clearly want to race bad. So you clearly are very motivated right now.
Yes. Everyone says, what happened to [racing on your own team] outdoors? Well, I had a lot of back issues come up, and I had to take care of them. In order for me to continue to race Monster Cup I really had to take care of my back, and then outdoors kind of fell out of the picture because of that. So for me, having the opportunity that I have right now with BTO KTM and all the guys over there, it's almost like make and break again. I have to go out and I have to do good and I have to be motivated to do good. And I have to be happy. So right now I'm just super thankful to even have a ride and be able to go out there and hopefully shut up all you haters [laughs].