Unadilla MX
New Berlin

,

NY
Unadilla
Lucas Oil AMA Pro Motocross Championship
Monster Energy/Pro Circuit Kawasaki has been besieged by bad luck this year. By the second moto of the Red Bull Unadilla National, four of its five riders were off the track with injuries or illness. But the one remaining rider was out front, trying to get the mighty squad its first win of the season. At one point, Joey Savatgy was shoved back to second overall, but when Cooper Webb crashed in pursuit of Marvin Musquin, Joey slid back into second to get the overall with 2-2 scores. He talked about the emotions of the day in the post-race press conference.
Racer X: Joey, congratulations on a great day for you. Paint us a picture; give us the overall. How'd it go?
Joey Savatgy: Can't complain. It's good. Practice was so-so. Qualified, I think, sixth. The main thing for me was getting off the gate. Like I said, Millville was good; we made some gains. Unfortunately, Washougal was one of those deals where partially my fault, didn't put things together and it's muddy. Things are out of control when it's muddy. It was a bummer because we figured a lot out with the bike during that off-week, and I felt really good with the bike and the team and everything. So that was kind of a disappointment.
Going back to the Farm for the weekend off, had two solid good weeks with Ricky and Jeannie Carmichael. The bike's amazing, man. We're putting all the pieces to the puzzle together. To get the overall, the first one ever, is kind of an unreal feeling. It felt good. Like I said, we learned a lot in the first moto. I was able to lead almost until the end. Jeremy [Martin] got me with, I think, four laps to go. And then that [second] moto led again for a while, and Marvin and Cooper were going faster than what I could go. Can't take anything away from them. They were ripping. I knew that was my only hope [for the overall] was once Cooper passed me was [that he had] to catch Marvin and get in front of Marvin. I knew that was my only chance at the overall. And then I came over the hill and I saw Webb down. I had to do a quick math stop in the air to figure out where everyone was. At that point I was like, Oh man, I think I'm going to win! And then I came around two laps to go, and then the last lap Justin, my mechanic, wrote first overall. It's a crazy feeling. I'm pumped for the team, for Mitch, for Bones, for Adam, just everyone behind the scenes that puts in the hours with me. It's all worth it on weekends like this.
I'm curious to know from two perspectives, how did you mentally handle leading those laps and then when you knew that you were in a position to win the overall, how did you respond? Did you surprise yourself at all?
Leading laps is one thing. I knew sooner or later I'd be able to lead some. For me, I think it's all about getting that feeling and knowing how to lead laps. I feel like we did that this weekend. We led, I think, ten laps the first moto and nine the second. So we led a lot of laps. Honestly, it feels good. Like Mitch told me, it's one of those feelings that when you get you don't want to let it go away anymore. So I kind of have an idea as to what to do and I'm excited. But once I figured out where everyone was, that last lap was nerve-racking. I didn't even know—my mind was running 1,000 miles an hour. Coming around over the catapult I knew that I was in the homestretch coming around the mechanics area when I saw that he wrote first overall. It was one of those deals where I was pumped. I don't really have a lot to say besides that. It feels good. Long time coming and keep building on it.
A year ago at this time I think you were trying to fight to make sure you even had a ride for this year, then you got a great one with Pro Circuit. Talk about some of the lows you went through when you first turned pro and to get all the way back up to this level.
I went pro with JDR [a now defunct KTM team] and we ran that through supercross. Actually got Supercross Rookie of the Year which was good for me. Toward the end of supercross, I think with two rounds to go, actually I think we were three rounds in and they told us that the team was going under. They didn't have any more funding. That was one of those deals where I was like, man, I don't know what I'm going to do. I don't have a job. Roger DeCoster was good enough to me and believed in me at the time to put together that Orange Brigade team to kind of have a stepping-stone. We did that for outdoors, and I think I actually had a top-five at High Point. And then from there Rockstar came to me and offered me a ride. I got hurt before supercross with something small, but something that takes a long time to heal, so I missed all of supercross.
And then the week of Glen Helen, I crashed at Glen Helen and broke my collarbone, so I had it plated and I rode one time before Hangtown. Went there and struggled. Painful—just bad. Last year, I was just building all year, getting better and better and better and learning about myself and what I need to do to mentally be in the right place. All year just got better and better and better. Struggled here last year, but then we went to Indiana and it was a mud fest and we did good there. It was second overall. It was an up and down year, but I actually had a few offers, which surprised me because I didn't think I did that great. I had a few offers, but when I got that offer from PC, for me, everything else didn't matter. That was the team I wanted to ride for. That's been my dream team since I was on a 50. I just want to ride for Mitch at least one time to get that feeling. It's amazing to have Mitch behind me, and he believes in me. He really does. I don't really know what else to say. There's a lot of emotion right now. I'm happy and pumped, but I also know we still have two more to continue and to keep going.
You mentioned working at Carmichael's place and working with his mom. That's rare. It's not like every rider gets to go through that program. What's that experience been like?
I made the change this year before supercross. I just think it's best for me. It's few people. There are a few of us that go there—there's only four or five. There's a good group of guys down there. Obviously, Jeannie, she raised Ricky and Ricky knows how to ride a dirt bike pretty well. So to have her on my side and to also have him, some days he gets dressed and rides with me. It's crazy to see that somebody who doesn't ever ride can still go that fast. But to have them in my corner with all the knowledge and all the winning that they've had makes me feel like I'm in a better place all around. So I'm happy. They do a lot for me. She stands out there every day in the blazing-hot sun and we put in work. And when I want to quit she's there to remind me that quitting's not going to get you anywhere. It's been a crazy day.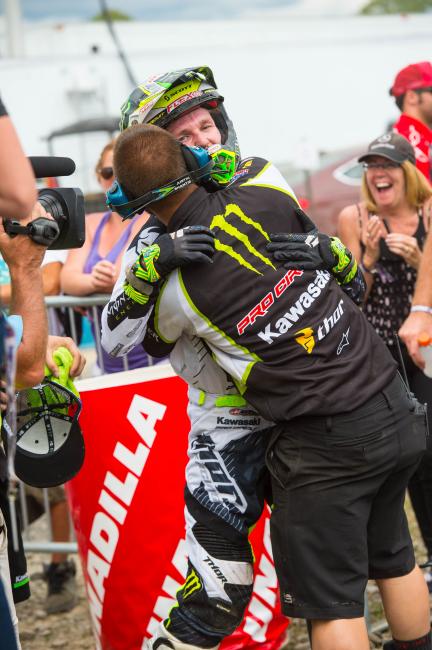 Can you describe Unadilla a little bit?
Unadilla is...I don't even know how to explain it. The fans are crazy. I think the environment and just the scenery—it's a good place to be. Like I said, the fans are crazy. The track is really good. They know how to prep the track here. Year after year the track seems to be one of the best tracks that we race on. The dirt is good. It's a little rocky, but it gets good ruts and it's challenging. I think that's kind of what separates the top five or so. I think it's what helps spread the gap out when the track's challenging. So I like this place. Obviously I like it more now that I won, but it's good.
Did you talk to Mitch? What did he say after you got the win?
A little bit. He's happy. Like I told him, I know there's been a lot of people telling me that the last time Mitch hasn't won a race all year was 2000 or something. So that's been laying on me a little bit. I want to get a win for not only me, but for him, especially for how much he believes me and how much work he puts in. I see him at the office late at night and up early the next morning back to work grinding away and always thinking. He's always thinking about what we can do to make things better. He never wants to settle. So to get a win not only for me, but for him, is good. He's pumped and will order some pizza for the boys on Monday.
And what about this week coming up? What's the plan?
Back to the Farm.
Treat it like anyone else even though you got the overall?
Jeannie told me that if I was on the podium both motos this weekend that I could take Monday off, but you don't want to change anything now that you've kind of got things figured out. We won't be changing anything anytime soon.