From just starting to race motocross in 2010 to racing his first professional season this summer, John Short has come a long way in a very short period of time. He raced the Super Mini classes in 2010, Schoolboy in '11, B classes in '12, sat out injured in '13, and raced the A class last season. John made his professional debut last year at the Ironman National and raced Utah as well in the 250 Class.
This season, the Pilot Point, Texas, native has spent the summer racing the 450 Class out of a box van. Despite not being able to make it to the first two California rounds, Short has been very consistent with his results. He has found the speed to run around the twentieth-place mark and has shown that he has the speed to run with the top fifteen on occasions. Add in the fact that he is doing his own bike work makes and his story a lot more rewarding.
Short has taken the opportunity to see the country on his way to the national tracks and is making the most out of the experience. We caught up with John as he was on his way to the track to get his take on his rookie season.
Racer X: You're on your way to the track right now?
John Short: Yeah. I'm on my way to where Merge Racing does their suspension testing in Marietta, Oklahoma. They've got a pretty nice track. It's probably the closest thing to the outdoor tracks that you are going to get around north Texas. I'm heading up here, and I'll probably work on the bike a bit and do a few motos to get ready for Unadilla.
Nice. Is this your normal practice track?
Yeah, I usually head up here two or three days a week, and then I'll probably ride at Oak Hill one day. All of the tracks are about an hour from my house. I have four or five tracks that are an hour away. It's pretty nice.
An hour isn't really that far, but props to you that you have to drive that everyday to go practice.
I'm so used to driving. I drove to all of the Nationals this summer, besides Washougal. An hour to me is a luxuriously short drive for me now.
It's been a pretty solid national season so far for you this summer. You've been pretty consistent with your results. It's your rookie season, and you're doing it on your own in the 450 Class. How are things going in your perspective?
Every weekend, it seems like I'll have one consistent moto and one non-consistent moto. It seems like the second moto always goes better than the first moto. I think it has to do with the fact that I have never been to any of these tracks. It's almost like I'm learning the track as the weekend goes on. All of the other guys in the 450 Class have pretty much been to all the tracks. My goal coming in was to be in the top twenty every round and then move up to the top fifteen. My overall scores haven't reflected that, really. I did get a top-fifteen moto at Budds Creek and a sixteenth at Millville. I know I'm capable of the top fifteen as long as I get a decent start and stay off of the ground. If I can eliminate all of the little mistakes, I think I can do it. The season has gone pretty well in my eyes though. I didn't know where I was coming into the season compared to the other guys in the 450 Class. It's my rookie season and I was also racing guys who have never raced the Nationals. Overall, I'm happy with it. I'm just trying to learn and improve each week.
You have proven that you can run the pace of the top fifteen. Does it all come down to whether you get a good start or not?
Yeah, kind of. I keep making these little mistakes too. At Millville, in the second moto, I stalled it in the first corner and I started in last. That's when I worked my way up to sixteenth, and I should have gotten twenty-fifth off of the start. I mean, I should have started way better than in last. So I need to eliminate these little mistakes. I've had a big issue with stalling the bike. The past four rounds, I've probably stalled the bike in three of the motos. It's cost me a couple of spots. I've got to work on some little things, improve my speed, and get a little more consistent with my riding.
Despite the mistakes, you've been very consistent. What are you taking from your rookie season as a whole?
I'm happy with it. Like I said, I didn't know where I stood coming into it. I'm definitely a top-twenty guy. I just want to build and carry the momentum into next year. With this being my rookie season, I'm pretty happy with it. I'm doing as well as I thought I should be doing. Overall, I'm excited about the season and excited to put in all of the work.
What has the experience been like for you traveling to all of these races on your own this summer?
It's been pretty cool, really. I'm kind of glad I drove to most of them this year. I had Cheyenne Harmon with me earlier in the series, and we had a deal that we put together with a box van. We drove to Muddy Creek, High Point, and stayed at Club MX. We are just seeing the country and things you don't normally get to see. I've never really been outside of Texas that much. It was cool to see states like Michigan, Maryland, and South Carolina. When I got into the mountains, it was cool because Texas doesn't have any mountains. When I saw them I was freaking out, and it was so cool because I had never seen anything like that. It's been a great experience, and I'm glad I did it, even though we are driving to every round in a box van. This is something I'll never forget, and that's why I did it.
For a while Pilot Point was a hot spot for motocross. You had the Wharton brothers, Matt Lemoine, Hunter Hewitt, and now you.
Blake [Wharton] only lives a few miles away, and Lemoine lived a couple of miles, but has since moved back to Collinsville. We've definitely had a lot of guys in the area. Before the outdoor season started, Lemoine, Kyle Cunningham, Mitchell Oldenburg, and some of the fast amateur kids would all get together and ride. We would go every Tuesday, Wednesday, and Thursday, and hit up our usual tracks. It was pretty neat.
You're also another Short that lives in Texas.
I met Andrew last year, and I went down to ride with him, so it was kind of cool to meet and hang out with him. I always looked up to him when I was a kid. He's a cool guy.
You chose to ride a 450 for your rookie season. Is that because you are more comfortable on the bigger bike?
I think I've always ridden a 450 better, just because I'm a smoother, calculated rider. I really would have rather have ridden a 250 because all of the kids that I raced at Loretta Lynn's growing up are in that class. It would have been more familiar to me. I just wanted to go racing. It was a little cheaper to ride the 450, so we went that route.
It looks like you made the right decision. I'm sure you rip on a 250 as well, but scoring points in your rookie season in the premier class is quite an accomplishment in itself. Are you going to make it to the final rounds?
Yeah, the Cycle Trader/Rock River Yamaha team offered to take my bike to Washougal and Unadilla for me. Those rounds were spread so far apart that I wouldn't have made them myself. I thank them a lot. I'll fly to Unadilla and then drive to Utah and Indiana.
Out of these last few nationals, what would you like to see out of yourself?
I'd like to see two points-paying motos every weekend. I want to get a better finish than twentieth overall. Like I mentioned before, anytime that I would have a fifteenth or sixteenth, the next moto would be a DNF or a twenty-third. Two consistent motos is my goal entering the final three rounds. I want better overall scores as well.
Who is John Short away from his dirt bike?
Honestly, I haven't had any time for anything else this summer. Going from the gym to riding my bicycle, running, riding, and being my own mechanic kind of takes up a lot of my time. I just like to hang out with my family enjoying their company. I like to hang out with my buddies and go mountain biking. Anything that involves being outside I love to do. I'm a real active person.
Please tell us that you have a good road-trip story from driving all summer.
I have a couple good ones. Cheyenne brought a mechanic along with him, and he would want to sleep until noon everyday. I would get up at 7:30. We were all in that little box van, so when I got up everyone had to get up. One morning I had a few Black Cats and I lit them and threw them up in his bunk. He wasn't too happy about that to say the least. I don't know it was funny [laughs]. He didn't expect it.
I don't think anyone would expect that.
I saw him kind of look over, and I could tell he wasn't going to get up. So I lit them and threw them up there. With three of us in a box van it got pretty hectic at times. On the way home from Minnesota I drove by myself. I plugged in my generator at a Cracker Barrel and there were a lot of sketchy cars driving around. I would get inside the van and the generator would shut off. I would go out and turn it back on and it would shut off again. I thought someone was outside messing with it. It was freaking me out. Turns out that that generator was just low on oil. I was peeking out the windows and everything.
Pretty exciting times on the road this summer for you then! What do you have planned for the upcoming off-season?
I do online college classes, so I'm still in school and doing that as well. I was thinking about being a radiologist or something in that area. I also thought about being a firefighter or EMT. I graduated high school in December of 2012 and started college courses in the fall of 2013. I've done about four semesters in college and usually take three or four classes. I can take my school with me when I race and travel. This fall, I'm going to actually take some classes on campus because it's the off-season. I'm going to have all my classes on one day so I can still train for supercross. I'm at North Central Texas College.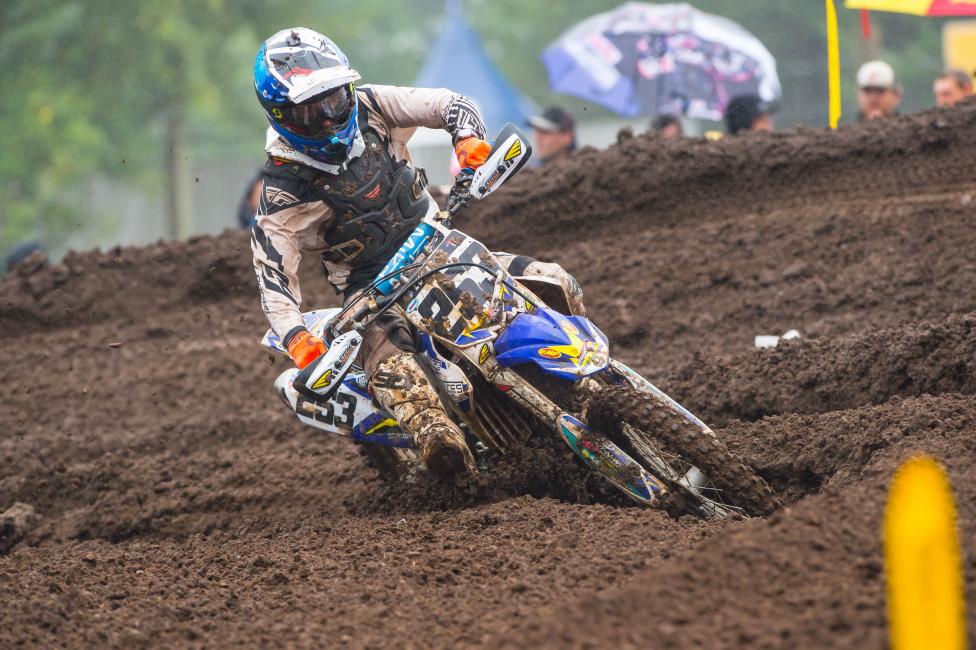 I believe you are classmates with Blake Wharton?
Yeah, I might be. I think I am.
Who would you like to thank for helping you out this year?
I want to thank everyone who has made this season possible for me. I have a great group of people helping me: the Morris family, ACM Services, The McWhorter family, Mark Ary at A Ary Co., my mom, dad, and grandpa Steve, as well as my entire family, my girlfriend, Adrenaline MX, Jim Lewis at Merge Racing, Max at Fly Racing, Scott goggles, Fit-N-Wise, Chase Perry at CP Trucking, Dunlop, Mika Metals, dt1, Atlas Brace, OCD Graphics, Rekluse, Jeff at Oak Hill Raceway, Sidi, Galfer, Motorex, Compound 77.
I want to especially thank my trainer Beau Boynton at Fit-N-Wise. They have a sports medicine team in Decatur, Texas, and a specific motocross-training program. They also have a mobile medic team, including an X-Ray unit, on-site physician, athletic trainer, and a rig at the amateur national events.