The Smartop/MotoConcepts team doesn't like to be called a privateer outfit. It's not like they are exactly roughing it out of a pickup truck. However, without any factory support, the team fits the definition.
Vince Friese has found a family-like home aboard the Mike Genova-and Tony Alessi-run organization. This year, the team has allowed him to pick and choose what races he wants to compete in. So far it has worked out pretty well for the Missouri native. He's won an overall in Canada, raced at Mammoth Mountain for fun, and contested three Lucas Oil Pro Motocross Nationals.
Over the weekend at Washougal, Friese took home eleventh overall via 10-10 moto scores. It was his best result in the USA this summer. It's been a while since we had heard from Vince, so we decided to call him up and get his take on his summer while he's on vacation in Idaho with his team.
Racer X: What's up, Vince?
Vince Friese: I'm up on the lake in Idaho. Mike Genova has the team come up here every year to his lake house for a week vacation.
Nice. Are you guys having a good time?
Yeah, for sure. We were all just joking around a bit ago saying that we all needed some time to just do nothing [laughs].
You've been busy this season and racing a lot of different races. How's the year been in your eyes?
This season has been okay. It's had its ups and downs, especially in supercross. Supercross wasn't great for me, and I had a bunch of injuries. I got hurt over in Sweden before the season even started, so that put a damper on the beginning of it. I couldn't do all of the 450 rounds that I wanted to do out west. At the first round of the East Coast, in the heat race, I was leading and was landed on. I broke a couple of my ribs, and it was a struggle from then on. I tried to ride injured, and I got a couple of sixth-place finishes. I led some laps and stuff, but it wasn't what I wanted, and then I got injured again. Usually, if you try to ride injured, you end up getting hurt again. I crashed and separated my shoulder. I raced a few more rounds with the injured shoulder, and then I said enough was enough. I went home and healed up.
Outdoors has been okay. I had a couple of issues at Hangtown and Glen Helen. I had some issues going on with myself, and I wasn't quite ready. I didn't have much time to get my bike the way I wanted it. I was struggling to get my setup correct. Also, my team wasn't there at those rounds to help. It was up to me to go do it on my own. Mike [Alessi] was over doing his races in Europe, and I decided not to go there. Then the team came back and we went up to Canada. I had my bike working where I was comfortable and the support from the team. I felt great and I ended up winning the 450 class at Calgary.
You ended up racing at Mammoth as well and came away with some bears. How fun was the mountain?
I had never been to Mammoth before, but they have a good pro purse there. I was trying to make some money more than anything. It's not too far from where I'm at in Southern California, and it was a lot of fun. It was nice to just hang out, race, and make a bit of money. I brought my mechanic and my girlfriend and made a week out of it. I won some races and got some confidence. It was good.
It's an interesting deal that you have with the team where you guys aren't connected to one series. Can you basically race anywhere you want to?
Yeah, it's a good deal. I know this is called the Privateer Profile, but this is a full-blown team deal. It's not factory supported, but we are a big race team. They've done a great job this year. I'm talking everybody; Mike Genova and Tony Alessi have been great. The bike has been amazing. I think this summer has worked out well for me considering all of the injuries I had at the beginning of supercross. It was nothing big, but it was a bunch of nagging injuries. It's good to have an abbreviated summer to let myself heal up. I can only go race when I'm feeling good.
We don't mean any disrespect at all when we call upon the team for this feature. These days the term "privateer" basically just means without any factory support. We look at it that way, even though MotoConcepts has a great setup and some good resources.
Yeah, and that was the point I wanted to get across. Even though we don't get support from the factory, it's still a high-level program. I think that it showed this past weekend. I was the first non-factory bike in there. We also proved it in Canada when I won the race up there. The program is top notch. We even have some custom parts on our bikes that the public can't buy. It's not from the factory in Japan, but you can't just go buy it at the store. Mike and I have had our ups and downs this year, but we've been having fun. I think what we are doing is good. We have a lot of good parts. Tony Alessi isn't a dummy when it comes to dirt bikes and how to make them work right. He's got some good connections and he's a smart guy. He knows what is good and what is not. I think we have the best non-factory equipment, and I'm definitely enjoying it.
You've also been a member of MotoConcepts in the past as well as this season. You are on vacation with the team as we speak. It seems like it's a family atmosphere.
It's like a family environment. I think that's the reason that Mike brings us up here to his lake house. We all hang out and have meals together, and then we go Jet Skiing and boating. We get closer to each other.
It's an interesting strategy. It's not like you hear of many other teams vacationing together.
Exactly. It's a smaller group of guys, and it makes a huge difference. I think that's Mike's strategy. It's been good. I'm still working really hard though. It's not like I'm just showing up on race day. I'm still doing the same amount of riding if I were contesting the entire series. On Saturdays, if I'm not going to the races, I go and practice. I'm enjoying making my bike and myself better. Going to a race is mentally tough and draining. It makes it harder on you to do all of those rounds the entire season.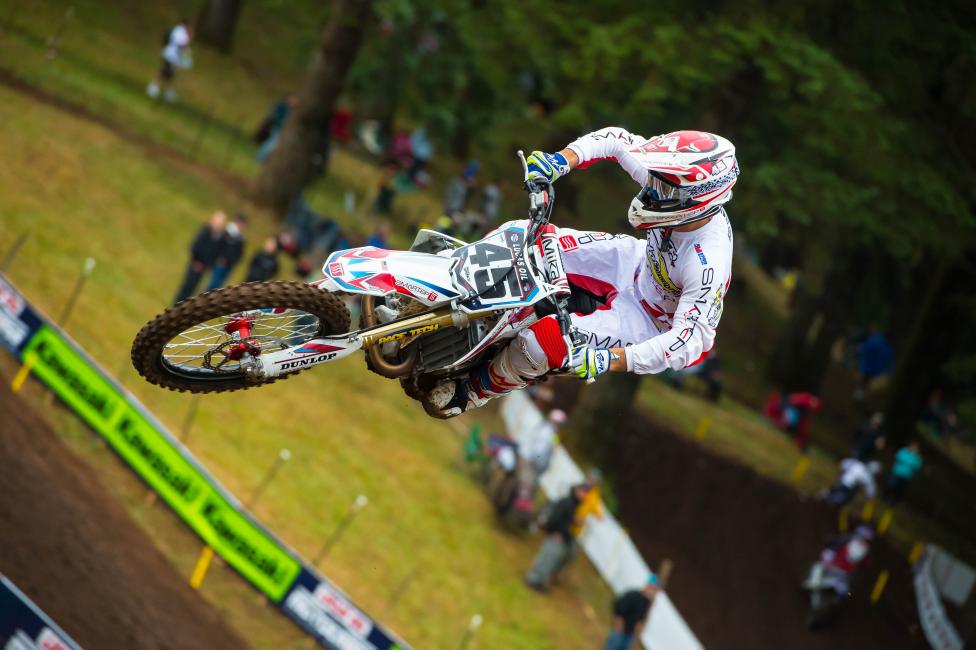 What are the pros and cons not being committed to racing one series this season from your perspective?
I think the pros are that I get more time between races to prepare. I get to have my bike the way I want it, and I can be rested. It gives me more time to work on what wasn't right at the last race. Say, if I come away from a race and my suspension or corner speed needs some work, or I need to fix my starts. Usually, I would only have three days to work on improving that, and then it's off to the next race. Now I have a lot of time to make everything right. The cons are that you can build momentum racing every week. You can see where you fit in with the other guys, and you can gauge your pace. You can use them as a benchmark to get better every week. Race pace and race fitness is different than practice. I would say that's the main con, in which I don't get to build.
Let's touch on Washougal here for a minute. You had a consistent day finishing tenth in both motos and ended up eleventh overall. How were the sloppy conditions?
The track was pretty tough to ride. It had every aspect of being a rough racetrack. It was rutted and super-slippery. It only got tougher as the day wore on. In the first moto, we were kind of going slower because it was sloppy. The second moto, the track was almost just as slippery, but it had more ruts. That caused the pace to go really fast. Our times were only a few seconds off of the normal Washougal times. We were just doing it on a really gnarly track. It was tricky, but I like those types of conditions. It seems to suit me better. I think that shows my fitness and my bike setup. It puts guys in their place the harder the track gets. I always like Washougal, and it's one of my favorite tracks no matter what the conditions are.
Washougal is a longer weekend then most. You raced at the Thursday night PIR race as well. Alessi and yourself ended up on the podium. How did that race go for you?
It was good. I've always gotten seconds and thirds at that race, and I've never won it. I seem to always get a bad start. They put up that big holeshot money at the race, and I think Mike and I wanted it a little too much. It's a concrete start, and both of us spun pretty badly. We had to come from the back. It was a good race, and I made some money, which never hurts.
How's it looking for next season for you? Do you think you'll stay put at MotoConcepts?
I'm a free agent right now. I'm talking to MotoConcepts about next season, as well as a few other teams, but nothing is set in stone.
What does the schedule look like coming up for the team? Are you guys hitting any other nationals? What about the GP at Glen Helen?
We are still kind of working on the plans for the rest for the year. Whenever we are done Jet Skiing here, we'll decide when we want to go ride dirt bikes again. We'll let you know as soon we know for sure.
Are you guys putting in some hard motos on the Jet Skis?
Oh, yeah. Mike is doing his morning workout on it.
How are his holeshots on that bad boy?
He's got one serious motor underneath him right now. It's probably the biggest one money can buy. He's doing fly-bys by us right now and probably going around 75 mph across the lake [laughs].
Thanks for taking the time out of your vacation to chat, Vince. I'll let you get back out on the boat.
Yeah, for sure. Tony, Mike [Genova], and I are sitting up here on the dock watching Mike [Alessi] rip around on a Jet Ski right now. He's splashing everybody down there on the dock having a good time. I just want to thank Smartop/MotoConcepts for all of the support this season and for everything they do for me on and off of the bike.