Washougal MX Park
Washougal

,

WA
Washougal
Lucas Oil AMA Pro Motocross Championship
BTO Sports is your number one source for all of your motocross parts, gear, accessories and apparel. BTOSports.com is a motocross company who is truly dedicated to the sport and to the customer. Proud sponsor of your Racer X Podcasts and the BTO Sports race team.
Washougal is one of the best nationals of the year for everything but actually watching the race. I went on and on last week about how I feel Millville is the best track on the circuit, RedBud might be the best race overall, and Lakewood is sneaky-good, but Washougal, well, this place is simply epic. The Pacific Northwest is an awesome part of the country, and after dealing with the brutal Midwest heat the last few rounds, the cool ocean air of Washougal is a nice change.
It's not a great track—much of the dirt has gone away now (although I heard there was an effort to dump some fresh stuff on it as well as add some sand this year, but weather made it impossible to judge these changes) and it's tough to see much of the track no matter where you are. Even when, in years past (not this year though—I wasn't allowed up there),I was up in the announcers tower, I still couldn't see much of the track. Your best bet as a fan is to wander around the facility, climb horsepower hill, and watch from all the different spots.
Around Muddy Creek, I was talking to Scott goggles John Knowles (best goggle guy in the business, and that signature is trademarked) about how, for the most part, the Lucas Oil Pro Motocross Championship had avoided the massive mud races that we'd seen in the past. There have been plenty of threats, but Indiana last year was really the only true mudder in the last two or three years. Back in the day, when I was a mechanic, it seemed like there would be two or three a year, and most likely, one of them was at High Point.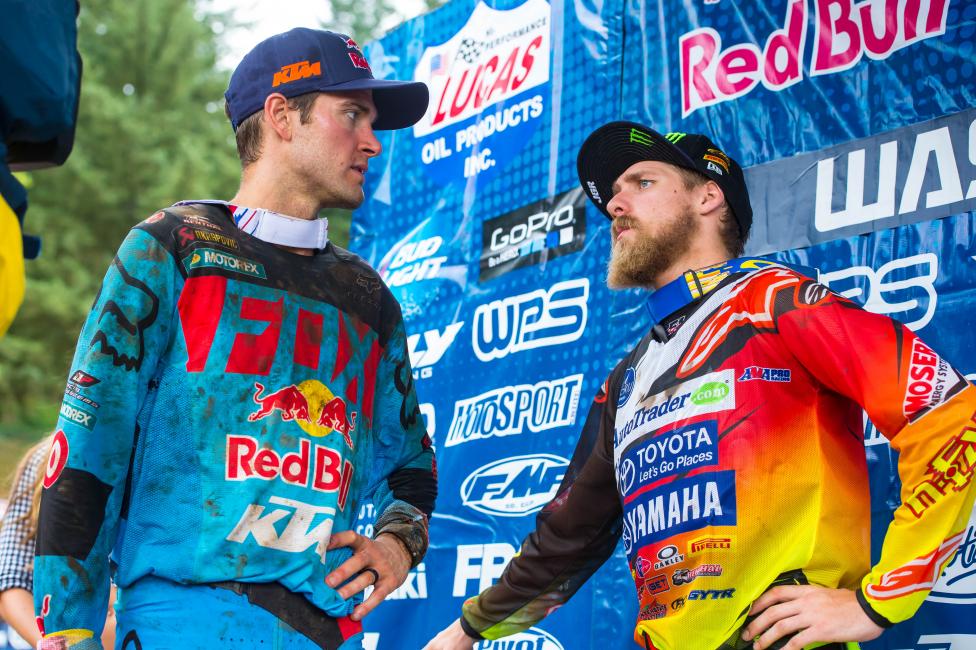 Well, scratch all that—Budds Creek a while back was pretty bad, and this weekend in Washougal, practice and the first motos were terrible. A nice steady stream of rain came down starting around 8 a.m. and probably ended around 2 p.m. It wasn't a downpour—just a nice misting. Think about it like one of those patio misters at the local restaurant, but turned up to about eleven.
The first motos were gnarly—no doubt about it. Pretty much everybody tossed their goggles at some point, or had to come in and stop for new ones. The track was brutal, the riders had to be hating life, and it was as bad as Indiana last year, maybe worse (I've been told that I'm drunk for having the above opinion, so there's that). The second motos, especially the 450MX one, were pretty good. The rain had stopped and the dirt dried out a bit. Although that made a tough track to pass on a little bit tougher. It ended up being a decent day, but, man, those first motos though…
Justin Barcia could've, should've, and would've gotten both holeshots, led every lap, and won both motos at Washougal. We should be, could be, and would be typing all about Bam Bam and his tremendous day in the woods of Washington.
Unfortunately for Justin, with four and a half laps to go in the second moto, he got a bit cross-rutted in a turn and toppled over. He had about a four-second lead on Ryan Dungey, but he couldn't get going in time and that was all she wrote. Perfection turned into poop for Barcia, and Dungey took the overall win via 2-1 scores to Barcia's 1-2. That one mistake for sure cost Barcia $50,000, and probably cost him closer to $100,000. After the race, Justin looked pissed, and I would be also.
Dungey took the win, and he'll take it as he marches on to a third 450MX title with six motos left. He's got to be tired of looking up after the start and seeing the #51 Yamaha right there (or maybe the #46 Yamaha of Phil Nicoletti or perhaps the #23 Yamaha of Weston Peick), as Barcia's gotten ten holeshots (most of them in the last eight motos) out of the eighteen gate drops. There's no doubt about it—the Yamahas have shown that they have the horsepower thing down. Last year, when Brayton rode for the JGR guys, I had a top rider (who was beating Brayton most of the time) tell me that it was so frustrating racing against Brayton because they would out-brake him into the turns, gain some time on him, and then lose all of that time when Justin would crack open that YZ450F throttle. The bike is a monster, and Dungey's had to deal with it quite a bit lately.
Despite the outdoor motos being thirty minutes plus two laps, the start is still a massive part of the race, like Godzilla-size massive. And the Yamahas have something over everyone else in the class—this much is clear.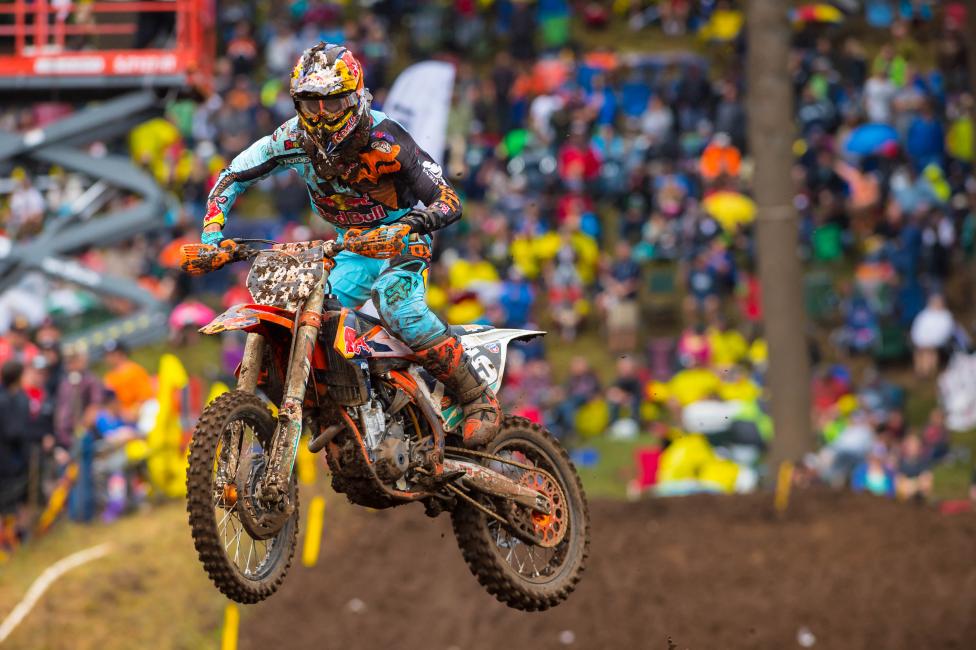 In the 250 Class, this race was huge for Marvin Musquin. He dominated Washougal last year, and after a couple of races where he lost big points to Jeremy Martin, he needed to bounce back at a "good track" for him. And although he didn't win, he split motos with Cooper Webb to tie for the most points and narrowed Martin's lead to just 4 with six motos left. Marvin told me his wrist was better this week (he's now wearing a brace on it, by the way), and with the week off, he'll be even better at Unadilla.
Cooper Webb won again. It doesn't look like much is going to stop him from here on out. Of course, he has no shot at the title, but when things start getting tight with the other two dudes, Webb can relax and just ride like he knows he can. And that's pretty good!
What happens with Webb when it gets down to the end of the season and his buddy teammate Martin needs some points? Well, I think at some point, maybe the last moto of the year, if Webb's in front of Martin and Jeremy needs the points to win, Webb may move over. Or maybe not. Mitch Payton doesn't believe in doing anything to help a teammate win a title, and he's shown that over and over. I don't think we'll see blatant moves by Webb/Yamaha to help Martin, save for the last moto of the year. Keep an eye on this. Of course, I don't have to tell you that big Yamaha boss Keith McCarty was caught on camera telling his rider Bob Hannah to "Let Broc bye" in order to help Broc Glover win the title.
This isn't a rookie class that will stand out like the Jeremy Martin/Cooper Webb class of a couple of years ago, but Aaron Plessinger, RJ Hamsphire, Jordon Smith, and Luke Renzland have been pretty solid this season. Plessinger scored his first motocross podium at Washougal with some incredible rides. There were times he was up to ten seconds a lap faster than the dudes around him. I don't mean the leaders, because Aaron couldn't keep it on two wheels long enough to make a run at the front runners, but 5-4 scores were great, and he sits seventh in the points.
Hampshire and Smith have been a bit inconsistent but fast, and Renzland doesn't make typical rookie mistakes out there. Just wait, this group may end up being special before it's all said and done. I can see potential in each one of these dudes, and they're on good teams and have good bikes, so I think they'll figure it out soon.
Let's take a look at the results, shall we?
250MX Results
1. 17 Cooper Webb; Newport, NC; Yamaha YZ250F; 2-1 – As anyone on the Internet knows, Webb wasn't happy with Musquin after the first moto for what he thought was cross-jumping on him by the Frenchman, and said he was going to "put him down" the next moto. Yeah, it's probably not cool for a dude to express that he's going to commit a violent act on another racer, but whatever, he was heated, showed some emotion, and then apologized after the moto. I like Webb. He's got that chip right there, and even though he said what he did at the end of the moto and was yelling at Musquin on the starting line, I still think Webb is awesome and needed in the sport.
2. 25 Marvin Musquin; France; KTM 250 SX-F; 1-2 – Poor Marvin. He told me after the race that Webb called him a lot of bad things but then apologized. Marv seems like the type of guy who perhaps had never heard the words that Webb had used before. Probably scarred him for life. Marv said he should know about the French Motocross of Nations team in the next week or so, and a team of Musquin, Romain Febvre, and Gautier Paulin would be no joke.
3. 157 Aaron Plessinger; Hamilton, OH; Yamaha YZ250F; 5-4 – I feel like Plessinger has been a bit overshadowed this year. Remember he made a podium in supercross, and there were many times he was ripping through the pack to a top-five. Outdoors, he's been solid. We had him on the Pulpmx Show, and he said that his doctors told him he might grow some more yet. He's already pretty big for 250F, right?
4. 68 Christian Craig; Plymouth, MN; Honda CRF250R; 4-5 – Craig was checking out in the first moto in the mud and was gone. If he hadn't fallen—and I understand that's a huge if—I think he would have won. Craig came off the couch to do well at Lakewood and then sucked at Muddy Creek, which made a few eyebrows raise up. Then he came back and showed that Lakewood was for real. He hurt his shoulder at Millville, and you would think that would take some wind out of his sails, but it didn't, as Washougal was great. My point is that I think the "old" Christian Craig might not have handled these bouts of adversity like the "new" Christian Craig has.
5. 1 Jeremy Martin; Millville, MN; Yamaha YZ250F; 9-3- Martin's fate was sealed with a bad start in the first moto. It was too muddy, and there weren't enough places to pass for him to get up there. In the second moto, he was riding great and in the lead before crashing late. These lost points could turn out to be huge in the end.
6. 28 Jessy Nelson; Paso Robles, CA; KTM 250 SX-F; 6-8 – Nelson, a California dude, seems to be quite good in the mud, as evidenced by this ride (solid) and his incredible rides last year in Indiana. Nelson needed this finish to get some confidence back.
7. 40 Shane McElrath; Canton, NC; KTM 250 SX-F; 11-6 – Shane had a nice charge going on in the second moto. He came from around thirteenth or so to get Alex Martin late in the moto for sixth. It was a nice ride for McElrath.
8. 52 Mitchell Oldenburg; Alvord, TX; KTM 250 SX-F; 8-9 – Freckle's best ride for the Lucas Oil/Troy Lee Designs KTM team comes in the mud. This kid can ride the mud, and for more proof, his third-best moto finish this year has come at Budds Creek, where it was also muddy.
9. 16 Zachary Osborne; Abingdon, VA; Husqvarna TC250; 7-11 – You'd think that Osborne, with all the GP and GNCC experience, would shine in the mud, but you'd be wrong. After his great day at RedBud, Wacko Zacho's gotten three straight sevenths and then an eleventh in the second moto.
10. 200 Arnaud Tonus; Switzerland; Kawasaki KX250F; 3-20 – Remember this guy? The "Swiss Miss" could be his nickname since he's basically been MIA all season long due to injuries and viruses. But Tonus is back. He rode to a strong third in the mud, but didn't do so well in the second moto. I'm eager to see how he can do in the last three. Like, what's his potential? I have no clue.
11. 31 Alex Martin; Millville, MN; Yamaha YZ250F; 15-7 – Never mind Alex's day at Washougal. My two highlights were him giving me a blueberry muffin before practice when I was starving and also telling me that a random fan suggested to Filthy that he really needs to start taking anti-depressants.
12. 80 RJ Hampshire; Hudson, FL; Honda CRF250R; 10-15 – And the wheels on the bus go up and down, up and down…
13. 32 Justin Hill; Yoncalla, OR; KTM 250 SX-F; 13-13 – I bet Hill was very bummed it rained on his local national. Going 13-13 isn't too bad considering the conditions, but I'm sure he was looking to do better than this in front of home fans.
14. 718 Toshiki Tomita; Japan; Honda CRF250R; 17-12 – What would Washougal be without an appearance by a Japanese factory rider? The guys over there are very used to the mud, so Tomita's results aren't really surprising. He's staying over for the next two rounds as well.
15. 38 Matthew Bisceglia; Tualatin, OR; Honda CRF250R; 35-10 – Matt's bike blew up in the first moto. Or something happened to it, anyway.
16. 55 Kyle Peters; Greensboro, NC; Honda CRF250R; 16-16 – I spoke with Peters after the race, and he was limping pretty good from Osborne hitting him in the leg. He's hoping to stay with the Motosport.com/GPI Honda guys for next year, but nothing is done there as of yet.
17. 37 Joseph Savatgy; Thomasville, GA; Kawasaki KX250F; 12-21 – Joe Dog had to stop for goggles in the first moto and still made it up to twelfth. In the second moto, when the track was much better, Savatgy was much worse.
18. 126 Jordon Smith; Belmont, NC; Honda CRF250R; 28-14 – Not a good day for Smith in the slop, but in true Jordon Smith fashion, he still has one moto that is significantly better than the other. That inconsistency is consistently there, folks.
19. 273 Conner Elliott; Tumwater, WA; Yamaha YZ250F; 14-28 – Don't know Conner that well, but he's a local boy who has done well. Nice to see. Jason McCormick and Ryan Huffman are proud of you, sir.
20. 343 Luke Renzland; Hewitt, NJ; Yamaha YZ250F; 18-18 – I was talking to Renzland and A-Mart in between motos, and Luke had an idea that maybe, with the need for more traction behind the gate, he and Alex should abandon their start hooks for second motos. Although it dried out, Luke didn't heed his own advice, didn't get a good start, and then on the crashed opening lap. Getting twentieth overall with 18-18 moto scores in the 250 Class is rare. Sometimes that kind of consistency will get you a twelfth overall with these kids.
450MX Results
1. 5 Ryan Dungey; Waconia, MN; KTM 450 SX-F FE; 2-1 – If you want to see sheer riding perfection, check out Dungey's pass on Christophe Pourcel in the first moto. That's some serious talent right there.
2. 51 Justin Barcia; Madison, FL; Yamaha YZ450F; 1-2 – After the race, Barcia jokingly said (at least that's what I'm telling myself) that he loved reading Racer X, but hates reading my "sh-- talking" columns. Hasn't been much "sh-- talking" about Justin here lately, as he racks off win after win. But guess what? When he was struggling, there was "sh-- talking" in this very space. When are riders and teams going to realize (and Justin's far from the only guy) that I'm not a cheerleader? I don't care one way or another how they do. I go to the races and I write about what I saw and heard. I know most motocross media people treat these riders and teams with kid gloves so they can keep being buddies with them, but I'm not one of them. Yes, I've got buddies in the pits, but some of them don't like me from time to time. Oh, well, the crusade continues.
3. 377 Christophe Pourcel; Groveland, FL; Husqvarna FC450; 3-5 – Good day for Pourcel, as he got a start in the mud, and you know with his skills, he can ride the slop. The mud and the throttle control when it dried out made for the perfect mixture for CP—you knew he would be strong. In other news, he said that he signed a two-year deal to stay with Rockstar Energy Racing Husqvarna for full 450SX and MX.
4. 1 Ken Roczen; Germany; Suzuki RMZ-450; 7-3 – Roczen had a nice second moto, but let's face it—after his win in Indiana last year, you would think he would be better despite his not-so-good start. As I wrote last week, he's not pumped on his bike, and the team spent last week in SoCal testing with Kenny. I did notice that he went back to a spring fork for Washougal, so that's something to keep an eye on.
5. 46 Phillip Nicoletti; Cohocton, NY; Yamaha YZ450F; 4-6- Filthy got filthy and continued his strong summer with a couple of nice rides. I think JGR and him are still talking contract for next year, but I'm not sure Phil wants to do the fill-in thing for supercross anymore. Let's see if these two can strike a deal.
6. 23 Weston Peick; Wildomar, CA; Yamaha YZ450F; 12-4 – I saw Peick at the Fly Racing 2016 gear launch in Portland on Friday night, and he slapped me hard on the back while telling me he doesn't know how I keep a job in the industry. We laughed about this, but a nice comeback would have been "I don't know how you ever got actually good at racing a dirt bike." Ha! BOOM! Take that, Weston!
7. 39 Fredrik Noren; Sweden; Honda CRF450R; 9-7 – Fast Freddie was, well, fast in both motos. He was pretty far back in the first moto and just worked and worked to get into the top ten. Noren was on the factory bike with Honda HRC's Cole Seely out, but his bike had Motosport.com/GPI graphics on it. And I could never get a straight answer out of anyone at Honda why this was done (I assume because Motosport is a local sponsor), but every time I said, "No, serious, guys—why?" someone at Honda would just make fun of me.
8. 41 Trey Canard; Edmond, OK; Honda CRF450R; 8-9 – Hey, look who's back! The Duck comes roaring back for his first national of the year at a track that's bit him before. He showed good speed but had tip-overs in both motos. He'll be better in a couple of weeks.
9. 4 Blake Baggett; Grand Terrace, CA; Suzuki RMZ-450; 5-12 – Blake fell opening laps of the second moto and was basically last, so salvaging a twelfth wasn't too bad on a track that's not easy to pass on. In the first moto, he was strong.
10. 33 Joshua Grant; Riverside, CA; Kawasaki KX450F; 11-8 – Grant was fast again in practice, and he's spending the off-weekend testing and riding with his new team in the hopes of doing something a little better at Unadilla. By the way, the Kawasaki guys are doing the USGP with JG. With the apathy of the event by then hitting many riders, I think Grant can actually win the thing, don't you?
11. 45 Vince Friese; Cape Girardeau, MO; Honda CRF450R; 10-10 – Nice return to the Nationals for Friese. He won the Calgary Canadian National about a month ago, and at Washougal he got great starts and ran up front in both motos. There's nothing wrong with this finish. It seems that he wants to keep racing, so we'll see what happens and if he shows up at Unadilla or not.
12. 11 Kyle Chisholm; Valrico, FL; Kawasaki KX450F; 13-11 – The bad news for Chiz is that Washougal was muddy and it sucked. The good news for Chiz is he flew in early, raced the PIR race on Thursday, and won the whole thing for a payout of $2,700.
13. 21 Jason Anderson; Rio Rancho, NM; Husqvarna FC450; 6-37 – I thought Weege did a good job with his Unsung Hero column because Anderson was very fast at Washougal. Come to think of it, he's been very fast many, many weeks with not much to show for it. Oh, and last week I said that I thought it was surprising that Anderson was forced to use mousse inserts outdoors when he was getting flats. Well, I can now report that he is running the mousse inserts.
14. 130 Thomas Hahn; Great Bend, KS; Honda CRF450R; 15-14
15. 10 Justin Brayton; Fort Dodge, IA; KTM 450 SX-F FE; 14-15
16. 29 Andrew Short; Colorado Springs, CO; KTM 450 SX-F FE; 19-13 – After the race, Short said that he's optimistic that he'll be much better at Unadilla with the week off. He said his goal is top ten, and "a thirteenth is closer to tenth than a nineteenth." Andrew is good at numbers.
17. 58 Killian Rusk; Durango, CO; Yamaha YZ450F; 18-1 – Rusk got the fill-in spot with the CycleTrader.com/Rock River Yamaha team for outdoors, and it's been a mixed bag. When he hasn't been crashing, his bike has broken a couple of times. Well, in Washougal he held it together for both motos—that's something to build on from here.
18. 20 Broc Tickle; Holly, MI; Suzuki RMZ-450; 16-20 – Terrible day for Tickle. He tossed his goggles in moto one (along with pretty much every other rider), got a rock in his eye, and crashed his way back in the second moto.
19. 42 Ben LaMay; Wasilla, AK; Husqvarna FC450; 23-17 – LaMay usually rides Washougal well, but like many others, once the rain came, the whole thing was up in the air.
20. 84 Jesse Wentland; Elk River, MN; Honda CRF450R; 17-38 – Wentland has been sneaky good this summer, and I bet after him spending some time up in Canada the last couple of years, people are wondering who he is. At Washougal, he was higher up in the second moto when he got a rock in the case and DNF'd. With some good rides, Jesse has a chance to get inside the top fifteen in the points by the end. That's not too shabby, right?
Thanks for reading this column. I have a lot of fun typing it up each and every week. Want to chat about this race or anything else? Send me an email matthes@racerxonline.com and let me know what's on your mind.