Washougal, WA
Washougal
Lucas Oil AMA Pro Motocross Championship
Welcome to Breakdown. This week, I want to talk about Justin Barcia's second moto ride. It was incredibly impressive for about twenty-eight minutes, and it was also interesting to see the difference between his recent riding and the Bam Bam we have grown to know.
For most of Justin's career, he has been known for one thing: aggression. Of course, he received the "Bam Bam" nickname for commonly making contact with other riders. His aggression was a sore subject with some riders, and it didn't always pay dividends. The type of aggression I'm more concerned with, however, is in his technique.
Back in his 250 days, he was able to win races and championships with his high-revving, high-intensity style. The 250cc machine responds well to this type of attack, and Barcia had it dialed. Even back in those days, though, many wondered if this style would translate well to the 450 Class. The 450 has so much more torque and overall power that it becomes very difficult to actually transfer that power into forward progress.
Where the 250s lack of power could be aided by high rpm, riding the 450 in this manner just creates an excess of wheel spin and subsequent unpredictability. The two bikes require a different technique to ride at the highest levels, and for many, Justin's ability to adapt was a question mark. In the past couple of years, many experts, such as David Vuillemin, pointed to his tendency to override the conditions as to why he wasn't winning races. Barcia's über-aggressive style just wasn't translating to the bigger bike.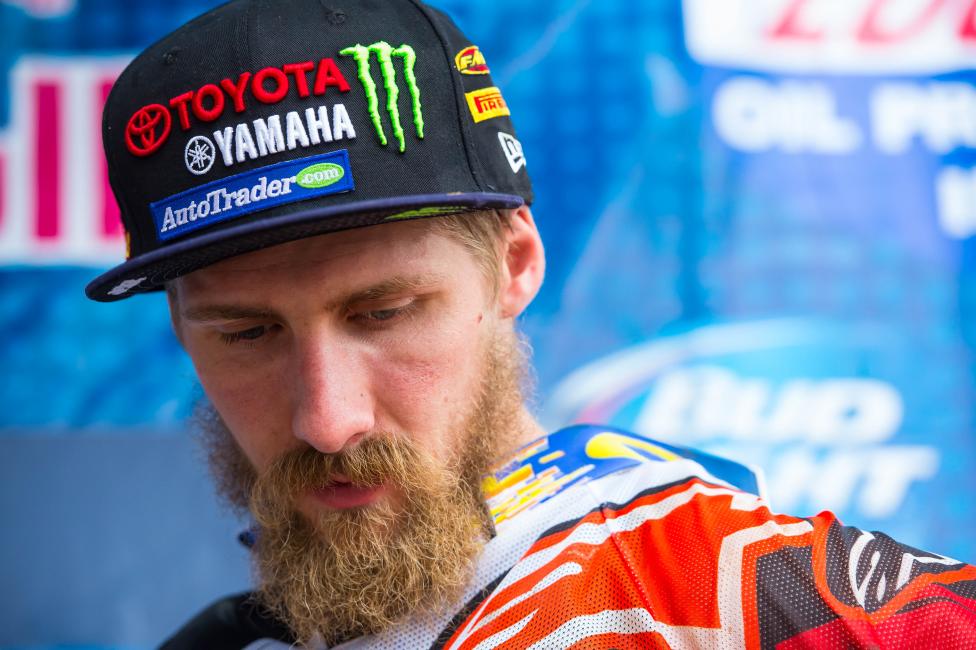 In recent weeks, though, he seems to have sorted something out. Starting with his second moto win at Budds Creek, things have turned around for the AutoTrader.com/Toyota/JGR Yamaha rider. He's been at or near the front in every moto since, battling for race wins and giving points leader Ryan Dungey all he can handle.
This past weekend at Washougal, I felt it was the ultimate test for Barcia's technique. With rain falling down, the notoriously slick Washougal must have felt like an ice skating rink. As Barcia ran away with the first moto win and was leading the second, I could both see and hear him adapting his riding to the conditions. He wasn't revving his bike to the moon, bouncing off the rev-limiter in classic Barcia style. He was applying power where possible and trying to carry his momentum across the slippery sections. He was doing all of the things that so many had criticized him for neglecting. That is, until he fell.
With three or four laps remaining, Justin made a small mistake, lost his balance, and tipped over. It was a very simple crash that has happened to every motocross rider worldwide.
Fortunately for most, there isn't a national-championship-level event hanging in the balance.
As Dungey rode past and Barcia quickly remounted, I was curious as to how Barcia would respond. What looked to be a 1-1 score for the overall win after an absolutely stellar day was in serious jeopardy after such a simple mistake. I watched Justin fire out of that turn and take off after Dungey with a sharp eye on his riding style.
All day he had done everything right, brilliantly riding the slippery track to its limit. Now, with his heart rate spiking and his adrenaline redlining, how would he respond?
Predictably, he resorted to his old habits, and instead of letting the track come to him, he tried to clobber it into submission. Exiting every turn involved twisting the throttle to the stop, lighting up the rear tire like a top-fuel dragster, and holding on for dear life. He rode this crazy Bam Bam style for an entire lap, avoiding some huge crashes along the way.
After nearly throwing it away again leaving the inside/outside option section, with a shake of the head, he relented. He knew that it was only a matter of time until he crashed trying to ride that aggressively, and not only that, but he was losing even more time to Dungey with all of the mistakes. All of his anger and frustration were only working against him. To have any chance to catch Dungey, he would have needed to stay incredibly calm and put in picture-perfect laps after the crash. Easier said than done, as staying calm in that situation would require some sort of zen master and possibly a Sherpa or two.
The most interesting aspect in all of this would be to know Justin's thoughts during that two-lap span. Everything was going perfectly until the untimely mistake, and then he went into a rage that almost spit him into the ground again. When he shook his head over what used to be the "Chuck Sun jump," what was he thinking at that exact moment. Was he only upset at the mistake or did he realize just how far his riding had come in recent weeks? That lap of fury was reminiscent of Barcia's 250 days. It's not the type of riding that has put him in contention for every win in recent weeks. I'm sure the moment got the best of Justin, and he was so angry that he was trying to twist the throttle right off of the handlebars. I'm sure of that because I've felt that rage before in my own racing past.
It would be interesting to hear his thoughts on it and if he was honest with himself. Did he realize the difference in technique as it was unfolding, or was he taken over by blinding madness, hoping to heroically chase down Dungey on the deteriorating conditions. In any case, I believe that furious lap, maybe even more than his recent winning, is the telltale sign of how far Justin has come. If he can continue to harness his newfound ability to ride within the conditions, he'll be a factor in every race both indoors and out.