It seems all too frequent that Grand Prix reports are mixed with news of pleasure and pain, of wins and wincing, and of injuries and the indebted. The thirteenth round of eighteen in the 2015 FIM World Motocross Championship did not dispel that trend across the old-school hard-pack of Loket in the Czech Republic—the championship's last venture on this type of terrain this year with an August month chocked with three sandy races.
For all of Yamaha Factory Racing Yamalube's Romain Febvre's brilliance, and the podium resurrection for Rockstar Suzuki's Clement Desalle and HRC's Evgeny Bobryshev, there were worrisome crashes for the likes of David Philippaerts, Tommy Searle, and Todd Waters. For the skill and bravado of Standing Construct Yamaha's Valentin Guillod, Monster Energy DRT Kawasaki's Max Anstie, and HRC Gariboldi's Tim Gajser in MX2, there was also more depressing news for Red Bull KTM, with Jeffrey Herlings' long pilgrimage through the darkest recesses of this sport.
The Grand Prix—attended by a hefty crowd, one of the biggest seen for a few years at Loket—began still fresh from the announcement that Tony Cairoli would miss only his second race since 2008. (The Sicilian sat out the second moto at his home GP in 2010 due to an injured ankle (and missed the same fixture in 2011 due to a family bereavement), but has otherwise been ever-present—one of the important ingredients in his eight world titles to-date.) The 29-year-old managed fourth place overall in Latvia a week prior to the press release from KTM, but the left fracture above his elbow was showing no sign of healing, and he made the heavy decision to miss two dates to aid the recovery process. When asked what he thought when he heard about Cairoli's upcoming absence Febvre said at Saturday's press conference: "I don't like it if someone is injured, whether it is Cairoli or someone else. I didn't change anything just because he [Cairoli] is not riding. I do what I need to do…and nothing will change."
Cairoli was already looking at a 41-point gap to Febvre, which crept up to 91 after Loket where Febvre went 1-1 for the second time this year. The 23-year-old rookie now heads every chart in MXGP (wins, podiums, moto victories, laps led) except for pole positions. He faced some opposition from Bobryshev and some repost from Desalle in the second moto—the Belgian returned from a right knee injury for his first race since the GP of Italy three rounds ago, but had only ridden the works RM-Z450 twice in seven weeks—but his blend of confidence, unfailing good starts, and attacking style is an unbeatable package at the moment.
When asked why he has been so damn effective with the YZ450FM, this was all he could offer: "It is difficult to say. I think my riding style with the bike just goes very well. I know this because I was already doing well with the standard model this winter. For sure, with the factory bike, we can adapt everything to suit me. Even if we win some races and take some GPs, we still continue to work and progress with the bike, and that is the main thing. We can keep moving forward, and it is going well."
Emphasis in the championship tale has swung to HRC's Gautier Paulin, who has been negotiating a consistent, yet unremarkable, first season on the works CRF450RW and mounting the weak beginnings of a duel to be the first French premier class world champion since Mickael Pichon took the 2002 250cc title. Paulin fell out of third place in the first moto and tweaked his right knee, although both rider and team insist it was not a big ailment. The Motocross of Nations winner instead stated that he simply couldn't find the feeling he wanted on the slippery and stony surface, even if some of his line choices were immaculate and a joy to watch. Paulin's seventh-place overall did nothing to assure spectators or even his own fans that he has something in the locker to disrupt Febvre. The Yamaha rider was able to lift the trophy in the Czech Republic and also increase his lead in the championship to 88 over Paulin.
The last time MXGP went into the sand, Febvre posted his worst result of the season (at Valkenswaard for round five, where he was seventh), and Paulin was utterly dominant for his sole triumph to-date on the CRF450RW. Paulin will no doubt be wishing for a similar outcome at Lommel.
Belgians Kevin Strijbos and Jeremy Van Horebeek took up residence in the top five at Loket, and MXGP's top privateer, Shaun Simpson, made the top six and was particularly quick in the second moto. Latvian Grand Prix conqueror Glenn Coldenhoff couldn't set the same speed that he managed in the fine soil of Kegums, and a second moto crash while closing on Paulin led to a painful neck. Searle went down twice in the same race while bearing the weight of the battle-weary KTM crew, and Philippaerts's bike stopped over a jump, meaning the Italian was lucky to walk back to the paddock banged-up, with a slight concussion, and six stitches in his right arm.
Red Bull KTM's Jeffrey Herlings once again made headlines on Saturday, and once more it was for the wrong reasons, as the Dutchman's injury curse continued and prompted the 20-year-old, who, in the past year, has sustained a broken left femur, a stomach infection, further leg surgery, an injured heel, broken collarbone, ripped left little finger, and now a dislocated right hip to state "f--k 2015" on his social media channels.
After falling and being blamelessly struck by world champion and former teammate Jordi Tixier (the Frenchman needed stitches in a gashed arm, which meant he ended up in the same hospital and repeatedly stated his regret to his ex-team), Herlings needed some thirty minutes of treatment on track and was given two saline drips to cope with the pain of his dislocation. KTM later confirmed that Herlings had not broken any bones, but it's another season-ending and championship-losing ailment for the luckless athlete.
After the shock of the episode had started to subside and KTM was coming to terms with the fact that it has only 50 percent of a six-rider roster currently active, there was little doubt that the repercussions of Saturday's ugly incident would have an interesting effect on the MX2 series for the rest of the year, with five riders split by 65 points in the standings before the gate dropped in Loket.
Valentin Guillod owned the class with a rampaging and unforgiving turn of speed. A slow tumble in the first moto dropped him out of third and a sure-fire run at Anstie, who was riding well to post his third race win on the trot. He fired back to depose Tixier for second on the last lap. Gajser was briefly in the mix until he hit some trackside banking that also flipped Jeremy Seewer into the dirt. The Slovenian was battling his own demons, with a right ankle injury from the Grand Prix of Latvia two weeks prior and a sore torso from crashing into a tree while training with a 450 in the days leading up to the Czech round. Seewer had inadvertently crunched the Honda's exhaust, so Gajser registered a DNF.
MX2 was Anstie's to lose after a second-moto holeshot, and the Brit did just that while out front after five laps. Perhaps too comfortable through the waves adjacent to the start straight, he was sent flying and was winded for his trouble. "It probably wasn't the best idea: forgetting to hold on…" he deadpanned. Guillod and Gajser disputed the lead until the Swiss checked out for this third GP win of the season. The battle for third involved six riders, but Tixier ultimately took it. Red Bull KTM's Pauls Jonass gave the Austrians some light relief with his second runner-up result in succession; the teenage Latvian remains in the hunt for MX2 honors.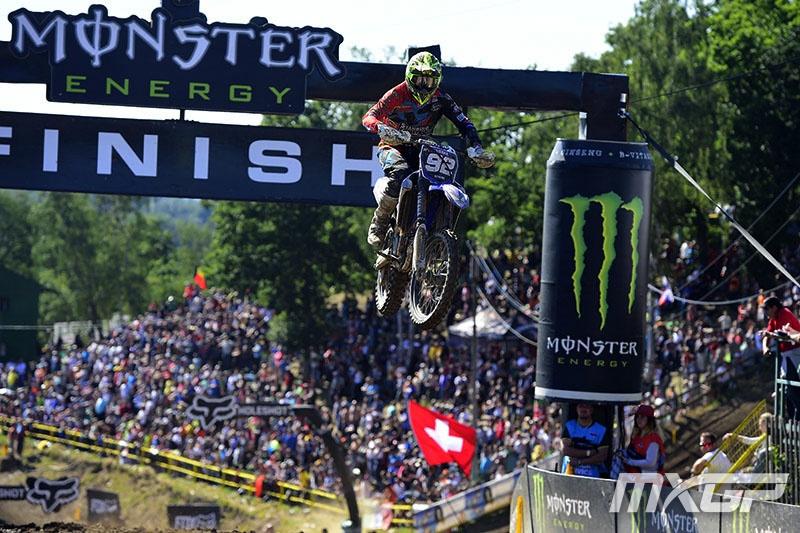 The upshot of events here and there for the 250s is that Herlings still has the red plate going to the Lommel sand where he probably would have won at a level of reasonable fitness. Gajser and Guillod are teaming up to enact a memorable duel and are tied in second on 399 points. Only 67 points split the riders down to Anstie in seventh, and with five rounds and 250 points left, this contest could end up like the 2015 WMX category.
Only 2 points (rising to 4 after the first moto) separated Livia Lancelot and defending champion Kiara Fontanesi heading into the GP. Before the second race started, on the sighting lap, Lancelot saw her KX250F conk out, and she wasn't allowed to retrieve her second bike to the waiting zone, falling foul of the rules. Holland's Nancy Van de Ven won her first GP, but Fontanesi motored to second place to toast her fourth world championship in a row.
Sand lies in store next weekend.
FIM World Motocross Championship
Round 13 - Loket, Czech Republic
MXGP Overall
1.
Romain Febvre
25-25
Yam
2.
Evgeny Bobryshev
22-22
Hon
3.
Clement Desalle
20-20
Suz
4.
Kevin Strijbos
16-18
Suz
5.
Jeremy Van Horebeek
18-16
Yam
6.
Shaun Simpson
15-15
KTM
7.
Gautier Paulin
14-14
Hon
8.
Glenn Coldenhoff
13-10
Suz
9.
Tyla Rattray
9-13
Kaw
10.
Nathan Watson
11-11
Hus
11.
Christophe Charlier
10-9
Hon
12.
Tommy Searle
12-5
KTM
13.
Jose Butron
7-7
KTM
14.
Davide Guarneri
1-12
TM
15.
Dennis Ullrich
8-4
Suz
16.
Angus Heidecke
3-6
KTM
17.
Todd Waters
0-8
Hus
18.
Filip Bengtsson
6-0
Hon
19.
Jake Nicholls
2-3
KTM
20.
Dean Ferris
5-0
Hus
MX2 Overall
1.
Valentin Guillod
22-25
Yam
2.
Pauls Jonass
18-20
KTM
3.
Jordi Tixier
20-16
Kaw
4.
Benoit Paturel
16-18
Yam
5.
Petar Petrov
15-15
Kaw
6.
Julien Lieber
14-13
Yam
7.
Max Anstie
25-0
Kaw
8.
Jeremy Seewer
10-14
Suz
9.
Brent Van doninck
12-12
Yam
10.
Tim Gajser
0-22
Hon
11.
Brian Bogers
9-11
KTM
12.
Ivo Monticelli
11-8
KTM
13.
Roberts Justs
13-6
KTM
14.
Samuele Bernardini
7-10
TM
15.
Jorge Zaragoza
5-7
Hon
16.
Vsevolod Brylyakov
8-2
Hon
17.
Davy Pootjes
0-9
KTM
18.
Harri Kullas
2-5
Hus
19.
Adam Sterry
4-3
KTM
20.
Ben Watson
6-0
KTM
WMX Overall
1.
Nancy Van De Ven
25-25
Yam
2.
Kiara Fontanesi
20-22
Yam
3.
Amandine Verstappen
18-20
KTM
4.
Justine Charroux
16-18
Yam
5.
Julie Dalgaard
12-16
Hon
MXGP Series Standings
1.
Romain Febvre
507pts
Yam
2.
Gautier Paulin
419pts
Hon
3.
Antonio Cairoli
416pts
KTM
4.
Evgeny Bobryshev
389pts
Hon
5.
Max Nagl
360pts
Hus
6.
Clement Desalle
331pts
Suz
7.
Shaun Simpson
306pts
KTM
8.
Jeremy Van Horebeek
294pts
Yam
9.
Glenn Coldenhoff
266pts
Suz
10.
Kevin Strijbos
257pts
Suz
11.
Todd Waters
250pts
Hus
12.
Dean Ferris
189pts
Hus
13.
David Philippaerts
185pts
Yam
14.
Tyla Rattray
181pts
Kaw
15.
Ken de Dycker
155pts
KTM
16.
Christophe Charlier
147pts
Hon
17.
Jose Butron
144pts
KTM
18.
Steven Frossard
128pts
Kaw
19.
Ryan Villopoto
124pts
Kaw
20.
Alessandro Lupino
97pts
Hon
MX2 Series Standings
1.
Jeffrey Herlings
423pts
KTM
2.
Tim Gajser
399pts
Hon
3.
Valentin Guillod
399pts
Yam
4.
Pauls Jonass
389pts
KTM
5.
Jordi Tixier
370pts
Kaw
6.
Jeremy Seewer
369pts
Suz
7.
Max Anstie
337pts
Kaw
8.
Julien Lieber
305pts
Yam
9.
Aleksandr Tonkov
256pts
Hus
10.
Benoit Paturel
236pts
Yam
11.
Brian Bogers
225pts
KTM
12.
Petar Petrov
224pts
Kaw
13.
Dylan Ferrandis
205pts
Kaw
14.
Roberts Justs
181pts
KTM
15.
Brent Van doninck
177pts
Yam
16.
Thomas Covington
176pts
Kaw
17.
Vsevolod Brylyakov
162pts
Hon
18.
Ivo Monticelli
130pts
KTM
19.
Jens Getteman
102pts
Hon
20.
Ben Watson
90pts
KTM
WMX Final Standings
1.
Kiara Fontanesi
260pts
Yam
2.
Livia Lancelot
242pts
Kaw
3.
Nancy Van De Ven
229pts
Yam
4.
Amandine Verstappen
176pts
KTM
5.
Ganette Vaage
150pts
KTM