Online Streaming Schedule Announced for Loretta Lynn's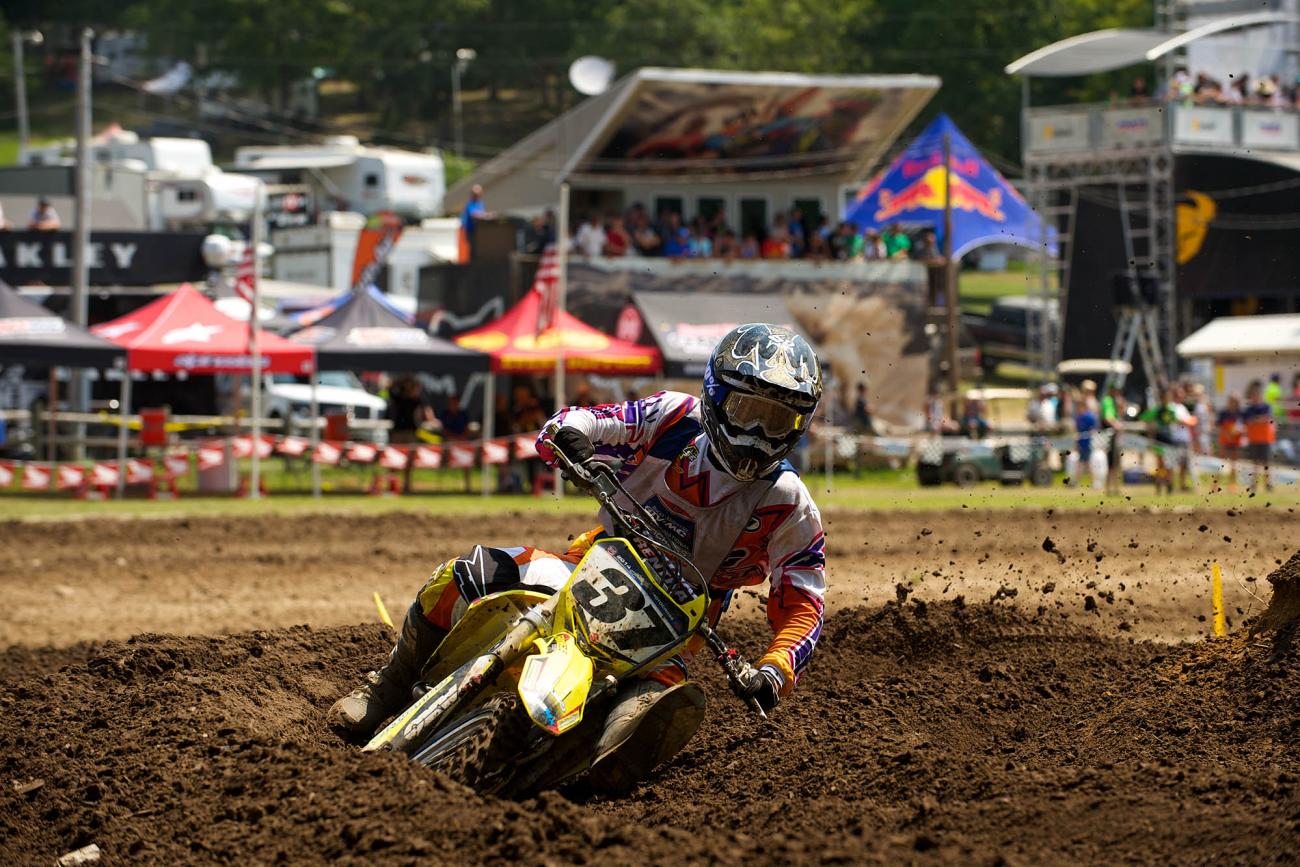 Morgantown, W.Va. - MX Sports is pleased to announce that RacerTV will stream 40 hours of LIVE racing coverage from the 2015 Rocky Mountain ATV/MC AMA Amateur National Motocross Championship, presented by AMSOIL. Race fans and family members can watch their favorite amateur motocross racers compete at the coveted Loretta Lynn Ranch at least one time between Tuesday, July 28 and Saturday, Aug. 1, courtesy of the RacerTV crew, as they follow the racing action closer than ever before.
The 85 (9-11) Limited class kicks off the week's live racing coverage on Tuesday at 9 a.m. CST/10 a.m. EST, followed by the 250 B class and then Open Pro Sport class, which features some of the biggest names of the sport like Chase Bell, Ricky Renner, Chance Blackburn, Cody Chisholm, Axell Hodges and Shelby Peterson. Tuesday's schedule boasts a total of eight hours of live coverage on RacerTV.com, including moto one of the Senior (45+) and Masters (50+), Schoolboy 1 (12-16), 65 (10-11) Limited, 65 (7-9) Limited, 450 C, 450 B Limited, Super Mini 1 (12-15), Women's All-Star (16+) and Women's (14+), Two-Stroke (16+), 250 C (12-16) Limited, Vet (35+) and 250 A.
On Wednesday, the Senior (40+) begins the day at 9:30 a.m. CST/10:30 a.m. EST, followed by the first moto for the 450 A class featuring another star-studded line-up, including Isaac Teasdale, Jacob Williamson, Jacob Rose, Cody McCulloch, and Maxwell Murphy. In addition to showcasing the top amateur motocross talent, including several riders who will make their professional debuts this season, RacerTV will also follow the youngest athletes in the sport, with riders as young as four years old. All four 51cc classes will be shown live on Wednesday following the Super Mini 2 (13-16) division.
Thursday brings eight hours of additional live racing action, including even more coverage of the "A" and "B" classes, as well as Super Mini 1 (12-15), Two-Stroke (16+), 85 (9-11) and Vet (30+). Be sure to tune-in to the ultra-competitive Girls Sr. (12-16) which is sure to showcase some intense racing between Hannah Hodges, Jordan Jarvis, Jamie Astudillo, Shayna McFarland and Shelby Benson.
Friday's schedule of live programming will begin the third and final set of motos, beginning with the 85 (9-11) Limited class. Following the 85cc class will be Open Pro Sport, all four 51cc groups, Senior (45+) and Masters (50+), and 450 B Limited classes.
Saturday picks up with the remainder of the final set of motos, culminating with the crowning of 38 National Champions for 2015. The day kicks off with Vet (35+), 85 (9-11), 250 B Limited, followed by Vet (30+), Girls Sr. (12-16) and Girls Jr. (9-13), and concludes with the final moto of the 2015 National Championship - moto three of the 250 C class.
In addition to the live racing coverage, RacerTV will feature a behind-the-scenes look at some of the National Championship contenders and their racing programs, as well as exclusive content that can only be seen through the lens of RacerTV. Two highlight shows featuring the event will air on NBC Sports Network on Sunday, October 11 at 4 p.m. and Sunday, October 18 at 4:30 p.m. EST. Live Timing and Scoring can be accessed via Trackside Results.
The 2015 Rocky Mountain ATV/MC AMA Amateur National Motocross Championship presented by AMSOIL will take place July 26 - Aug. 1 at Loretta Lynn's Ranch in Hurricane Mills, Tenn. For more information, visit the series website at www.mxsports.com or call (304) 284-0084.
See below to view the full RacerTV live broadcast schedule.
All times listed are CST.
Tuesday, July 28
| | |
| --- | --- |
| 85 (9-11) Limited | 9:00 a.m. CST |
| 250 B | 9:30 a.m. |
| Open Pro Sport | 10:00 a.m. |
| Senior (45+) & Masters (50+) | 10:30 a.m. |
| Schoolboy 1 (12-16) B/C | 11:00 a.m. |
| 65 (10-11) Limited | 11:30 a.m. |
| 65 (7-9) Limited | 12:00 p.m. |
| 450 C | 12:30 p.m. |
| Intermission | |
| 450 B Limited | 1:30 p.m. |
| Super Mini 1 (12-15) | 2:00 p.m. |
| Women (16+) All-Star & Women (14+) | 2:30 p.m. |
| Two-Stroke (16+) | 3:00 p.m. |
| 250 C (12-16) Limited | 3:30 p.m. |
| Vet (35+) | 4:00 p.m. |
| 250 A | 4:30 p.m. |
Wednesday, July 29
| | |
| --- | --- |
| Senior (40+) | 9:30 a.m. CST |
| 450 A | 10:00 a.m. |
| 450 B | 10:30 a.m. |
| Super Mini 2 (13-16) | 11:00 a.m. |
| 51 (7-8) Limited | 11:30 a.m. |
| 51 (4-6) Limited | 12:00 p.m. |
| 51 (4-6) Special Limited & 51 (4-6) Shaft Drive Limited | 12:30 p.m. |
| Intermission | |
| 250C | 1:30 p.m. |
| College (16-24) | 2:00 p.m. |
| Junior (25+) | 2:30 p.m. |
| Mini Sr. 2 (12-14) | 3:00 p.m. |
| 85 (9-11) Limited | 3:30 p.m. |
| Senior (45+) & Masters (50+) | 4:00 p.m. |
| Open Pro Sport | 4:30 p.m. |
| Schoolboy 1 (12-16) B/C | 5:00 p.m. |
Thursday, July 30
| | |
| --- | --- |
| Super Mini 1 (12-15) | 8:30 a.m. CST |
| Women (16+) All-Star and Women (14+) | 9:00 a.m. |
| Two-Stroke (16+) | 9:30 a.m. |
| 250 C (12-16) Limited | 10:00 a.m. |
| 250 B | 10:30 a.m. |
| 250 A | 11:00 a.m. |
| 51 (7-8) Limited | 11:30 a.m. |
| 51 (4-6) Limited | 12:00 p.m. |
| 51 (4-6) Special Limited & 51 (4-6) Shaft Drive Limited | 12:30 p.m. |
| Intermission | |
| Vet (35+) | 1:30 p.m. |
| 85 (9-11) | 2:00 p.m. |
| 250 B Limited | 2:30 p.m. |
| Vet (30+) | 3:00 p.m. |
| Girls Sr. (12-16) & Girls Jr. (9-13) | 3:30 p.m. |
| 450 A | 4:00 p.m. |
Friday, July 31
| | |
| --- | --- |
| 85 (9-11) Limited | 10:30 a.m. CST |
| Open Pro Sport | 11:00 a.m. |
| 51 (7-8) Limited | 11:30 a.m. |
| 51 (4-6) Limited | 12:00 p.m. |
| 51 (4-6) Special Limited & 51 (4-6) Shaft Drive Limited | 12:30 p.m. |
| Intermission | |
| Senior (45+) & Masters (50+) | 1:30 p.m. |
| Schoolboy 1 (12-16) B/C | 2:00 p.m. |
| 65 (10-11) Limited | 2:30 p.m. |
| 65 (7-9) Limited | 3:00 p.m. |
| 250 B | 3:30 p.m. |
| 250 A | 4:00 p.m. |
| 450 C | 4:30 p.m. |
| 450 B Limited | 5:00 p.m. |
| Super Mini 1 (12-15) | 5:30 p.m. |
| Women (16+) All-Star and Women (14+) | 6:00 p.m. |
Saturday, August 1
| | |
| --- | --- |
| Vet (35+) | 8:30 a.m. CST |
| 85 (9-11) | 9:00 a.m. |
| 250 B Limited | 9:30 a.m. |
| Vet (30+) | 10:00 a.m. |
| Girls Sr. (12-16) & Girls Jr. (9-13) | 10:30 a.m. |
| 250 C Limited | 11:00 a.m. |
| Mini Sr. 1 (12-13) | 11:30 a.m. |
| 65 (7-11) | 12:00 p.m. |
| Schoolboy 2 (13-16) B/C | 12:30 p.m. |
| Senior (40+) | 1:30 p.m. |
| 450 B | 2:00 p.m. |
| Super Mini 2 (13-16) | 2:30 p.m. |
| 250 C | 3:00 p.m. |