RedBud MX
Buchanan

,

MI
RedBud
Lucas Oil AMA Pro Motocross Championship
By Davey Coombs and Jason Weigandt
Yamalube/Star Racing Yamaha team owner Bobby Reagan ignited this bench-racing conversation. After a superb RedBud for Yamaha, which included Justin Barcia's 450MX win on his Autotrader.com/Toyota/JGR Yamaha and Jeremy Martin's 1-1 sweep in the 250s (with an additional assist from fellow Yamaha rider Cooper Webb), Bobby asked us if we knew the last time Yamaha had swept both national classes in the same weekend. We've usually got this stuff at the front of the mental Rolodex (Google "Rolodex," kids) but it was a tougher trivia question than we thought. When did this happen last?
Turns out it's been nearly two decades. New England legends Doug Henry and John Dowd took Yamahas to victories on the same day twice in 1998.
Now we really started thinking. What are some other great days for the brand in motocross and supercross? Sounds like we have The List!
Over the Weekend
Barcia and Martin won, Webb was super fast, and for good measure Yamaha rider Romain Febrve won his fourth-straight MXGP race to further extend his points lead over there. Yamaha's also leading the MotoGP standings via the incomparable Valentino Rossi, who recently outdueled defending champion Marc Marquez in a superb battle at the Assen TT in Holland. Valentino is like James Stewart, Chad Reed, and Jeremy McGrath combining into one body and then returning to Yamaha to win again.
Anaheim 1, 2004
Winning Anaheim 1 is always sweet, but Yamaha had been there done that with the 2002 and 2003 wins via David Vuillemin and Chad Reed, respectively. The 2004 edition was next level, though, because Yamaha swept the podium with Reed, Vuillemin, and Tim Ferry. This led Cycle News to churn out an all-time headline with "Happy Blue Year."
Anaheim 1, 2001
What better way to introduce a radical new bike than by taking a win in its first race? Yamaha of Troy's Ernesto Fonseca was handed the all-new YZ250F four-stroke and promptly won in its first supercross attempt, then went on to that year's 125 West Region SX title.
MC, Again and Again (and Again)
A "big five" conglomerate of brands can all claim AMA Supercross titles, but some are bigger than others. When Jeremy McGrath signed with the upstart Chaparral/Yamaha team for 1998, Yamaha hadn't won the SX title since, incredibly, the Bob Hannah days in the 1970s. MC won the title in his first shot on a YZ250 then followed with the 1999 and 2000 titles. Chad Reed, James Stewart, and Grant Langston won 450cc titles for Yamaha more recently, but MC really turned the brand around. He wasn't the only man on blue winning in those days.
Doug and Dowd Double
Doug Henry and John Dowd are two of the most popular riders ever due to their, ahem, blue-collar work ethic. The New England rippahs did the double twice in 1998, sweeping the Broome Tioga and Southwick Nationals, Henry in the 250 Class and Dowd in the 125 Class. Those were local tracks for them so you know the crowd was going nuts. Henry, by the way, was racing the new YZ400F four-stroke and would go onto win the 250 National Championship. Game changer. More below.
Henry in Vegas
It's very hard to explain how completely shocking and unexpected Henry's success was on these early thumpers. Four-strokes couldn't work in supercross. No way, no how. Then Doug won the 1997 Las Vegas race on the works YZM400. It all makes sense now—even though Henry's bike was white that night.
Windham and Dowd at RedBud
In 1997, Kevin Windham won the RedBud 125 National on a YZ125 and Dowd took the 250 Class. The workhorse Dowd was part of Yamaha sweeps in two different classes in back-to-back years.
Damon Bradshaw
No way you can do a Yamaha list without some Bradshaw, who did incredible things on Yamahas—white during his heyday—like podiuming in his first-ever professional supercross race. But get this, he was riding in the premier class that night, not the 125s, and was only topped by legends Rick Johnson and Jeff Stanton. He won the 1990 250SX opener as a rookie, and set the then all-time SX win record for one season (at that time) with his ninth victory in 1992, at San Jose, California. Titles, though? Yeah, let's just move on.
Jeff Emig in 1992
Yamaha hadn't won the 125 National Championship since Broc Glover's dominance in the late 1970s. And the new 1991 YZ125 was, um, not the fastest 125 ever. But credit the team folks for working, working, working until they had a capable bike the next year, and credit Emig for catching fire late in the summer. When Mike LaRocco coughed up huge points due to mechanical troubles, Emig caught up and then won the Budds Creek finale to steal the championship.
We mentioned MotoGP in the intro, and things have been going well for Yamaha there, even before the last-lap thrill ride of what was already a race-long slugfest between Rossi and Marquez at the Dutch GP.
Yamaha factory rider Jorge Lorenzo had won the previous four races, a career high for him, and before that, it was Rossi who won in Argentina, making it a six-race (and counting?) win streak for the blue brand in MotoGP. They're also dominant in AMA road racing these days.
Now let's skip the 1980s (where Yamaha had some great wins and championship by the likes of Broc Glover, Rick Johnson, and Mike Bell here in the U.S., and Hakan Carlqvist, Jacky Vimond, Danny LaPorte, and Neal Hudson in Europe) and look at the many great days of the seventies, when Yamaha sweeps were quite common in all classes of AMA Motocross. There was a truly huge run during this decade, as Yamaha won three AMA Supercross titles with Bob "Hurricane" Hannah and one with Pierre Karsmakers, and pretty much dominated the late seventies with Hannah, Glover, Bell, Rick Burgett, and more. Just look at the multi-class sweeps in '78 and '79:
1978
Hangtown: Bob Hannah (250) and Broc Glover (125)
Racing World (Trabuco Canyon): Bob Hannah (250) and Broc Glover (125)
Southwick: Bob Hannah (250) and Broc Glover (125)
St. Peters (MO): Mike Bell (500) and Bob Hannah (250)
St. Joseph (MO): Rick Burgett (500) and Broc Glover (125)
St, Petersburg (FL): Rick Burgett (500) and Broc Glover (125)
1979
Racing World (Trabuco Canyon): Bob Hannah (250) and Broc Glover (125)
Phoenix: Bob Hannah (250) and Broc Glover (125)
Omaha: Bob Hannah (250) and Broc Glover (125)
Lakewood: Rick Burgett (500) and Bob Hannah (250)
Rio Bravo: Rex Staten (500) and Broc Glover (125)
Road Atlanta: Rick Burgett (500) and Broc Glover (125)
And don't forget Heikki Mikkola, the Flying Finn who switched from Husqvarna in 1977 after winning the 250cc Grand Prix title and promptly won the next two 500cc World Championships from his nemesis and great rival Roger DeCoster.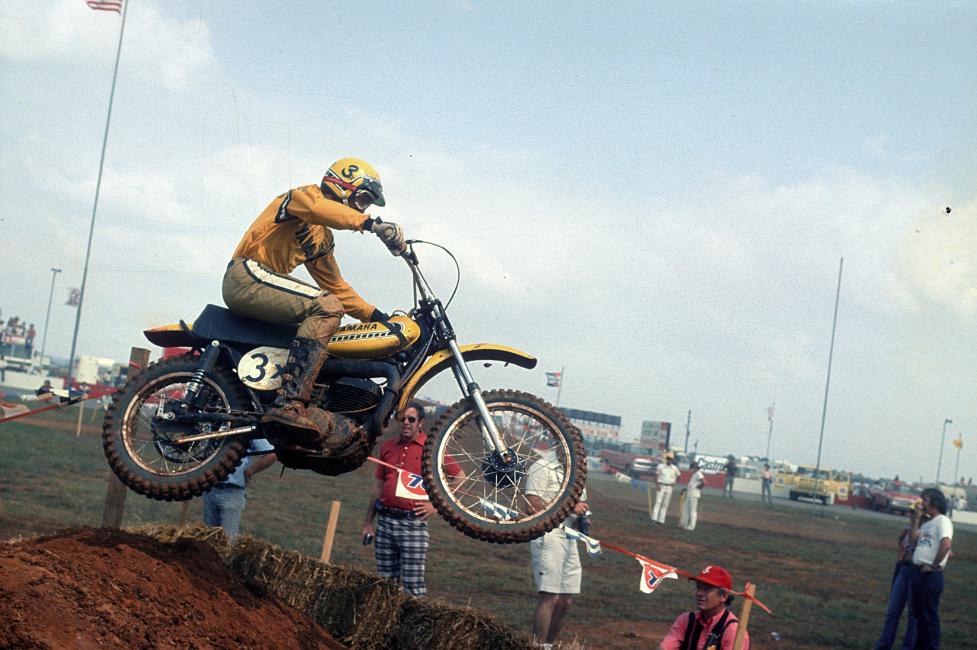 Okay, way back in 1973 Pierre Karsmakers, riding a yellow Yamaha with twin-shocks, won Yamaha their first 500 national, which happened to be the Daytona Supercross, only there was no supercross series—it was part of the outdoors. One year later, the very same Karsmakers would become the first AMA Supercross Champion, this time with a Monoshock—the bike that Hakan Andersson debuted in 1973 to win the FIM 250cc World Championship, Yamaha's first world MX title and also its first game-changer with that single-shock prototype design.
In 1972, Gary Jones won Yamaha their first 250 nationals, but maybe the biggest day (or, rather, night) of all for Yamaha was July 8, 1972, when Marty Tripes won the Superbowl of Motocross on a yellow Yamaha, giving Yamaha a victory in what would soon become known as supercross at the Los Angeles Coliseum. Yes, Yamaha won the first supercross ever. Tripes' age that night—sixteen years, ten days—remains the record for all-time youngest winner of AMA Supercross or AMA Motocross in history.