Buchanan, MI
RedBud
Lucas Oil AMA Pro Motocross Championship
Surely last week's Privateer Profile, featuring two-stroke pilot Gared Steinke, was going to be one of a kind, right? Wrong!
While Steinke is one of a kind—there is no doubt about that—we're talking two-strokes here. That's right, another rider has taken the gamble and succeeded. Cody Gragg took his YZ250 into the 450 Class at Budds Creek and used his experience in the Grand National Cross Country Series to put in the best results of his young career. Budds Creek marked the first national that Gragg qualified for this season after his first two tries at Muddy Creek and High Point didn't go to plan. He'll be racing RedBud, Unadilla, and Ironman as well.
Gragg considers Budds Creek to be his home race, although he's from Lenoir, North Carolina. That home turf confidence worked, as Gragg finished sixteenth overall on the day, including a charge from last to twenty-second in moto one, followed by a good start and a thirteenth-place finish in the second moto. We caught up with the country boy earlier in the week to get his take on his breakthrough ride.
Racer X: First off, congratulations on your Budds Creek ride. You actually have a pretty interesting story to tell involving your Loretta Lynn's regional at Unadilla and how everything has worked out for the better. Take us through the past few weeks.
Cody Gragg: Yeah, we went up there and we knew that it was going to be muddy. That's what I like. I just ended up having bike issues all weekend. It was down shifting up the faces of the jumps, it was up shifting and wouldn't down shift. I was just bummed and I didn't make it in. It was just a depressing weekend before Budds Creek. Then I just looked forward to Budds Creek because I like the track. I've been going there since I was a little kid and would race amateur day. It's one of my favorite tracks, and I knew that good things would come there. The plan was to do six outdoor nationals and then qualify for the Pro Sport class at Loretta's. I wanted to go back to Loretta's to have some fun. When Unadilla didn't work out I just tried to remember that everything happens for a reason. I'm just thankful for this weekend because I wouldn't be able to race Loretta's now even if I qualified for it. I'm not mad at all.
In the end it all worked out great for you. It's a good thing you pay attention to the rulebook.
Yeah, if you finish in the top twenty and even score 1 point with a pro license you aren't allowed to race Loretta's. You can have a pro card and still ride Pro Sport, but you can't score a pro point within two or three years.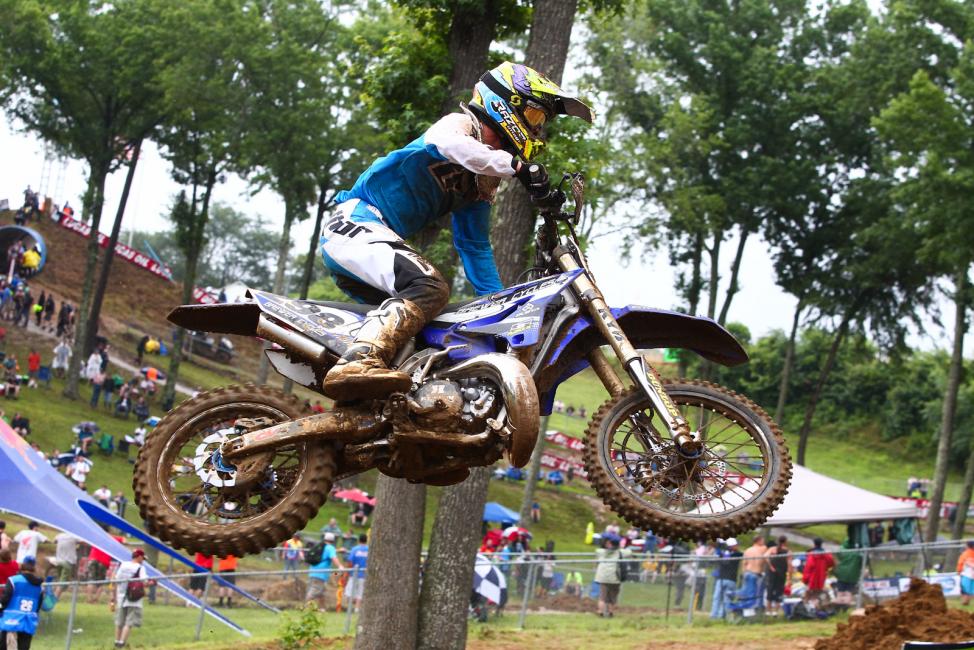 So now that brings us up to the actual race. You finished sixteenth overall on a YZ250 and crossed the line thirteenth in the second moto. That's huge.
The 250 is what I grew up on and what I raced as an amateur. In my first year as a B rider, I decided to try out the two-stroke. I was on them almost four years until the beginning of last year's outdoor season. I knew there wasn't any help with them, so I switched back to the four-stroke. I think I made seven races last year. In the off-season my dad and I were talking, and he knew that I liked the two-stroke. We then we came up with the idea that we should ride the 450 Class on one. We thought that it would be a lot of fun, so that's what we did.
I got a bike and then went to Florida to train with my buddy Jack, and that got me into shape. I wasn't able to make it in the show at Muddy Creek or High Point. I couldn't get a fast lap in and I kept making stupid little mistakes. Those will cost you here and there. I was sort of bummed when I missed qualifying at High Point. So then my goal for Budds Creek was to just make it in, honestly. I would have been happy with two motos inside the top thirty. To come out and crash in the first corner like I did, and then come back to twenty-second at the end, I was stoked on that. I knew if I could just get a good start that I could finish inside of the top twenty. It all went from there. I got a decent start in the mud. I just tried to stay up and ride as smooth as I could. It couldn't have worked out any better.
"Out of all of the things that happened, I still can't believe that I did all of that on the practice bike."
You got thirteenth.
That's a childhood dream. I honestly thought that it would never happen. It looked like it was so far away. I never thought that I could do that well.
On top of that, you proved that a 250 could still hang with the 450s and be competitive in the class.
Yeah. Also, the day before we had found that my race bike wasn't going to work out. I thought that I would be lucky to even qualify. Then I went out there and qualified twenty-fourth. Out of all of the things that happened, I still can't believe that I did all of that on the practice bike.
How stock is your practice bike?
It's bone stock. All I added was an FMF pipe, silencer, and my suspension from the race bike. It's got eighteen hours on it and I never have touched the motor.
You've got those GNCC skills to help you in the muddy conditions. How much did those come in handy?
When you go to GNCCs, you never know what the weather is going to be. At certain races it's going to rain. You just have to learn to like it because you have three hours in it. When it comes down to it, thirty minutes on a dirt bike isn't too bad [even in mud].
In motocross thirty minutes plus two laps is tough for anyone, let alone a three-hour race.
It was crazy. In both of my motos at Budds Creek, I never got tired once. Even in the first one, when I came from the back, I was never winded. In the second moto I looked back and I saw [Ryan] Dungey right behind me, and I honestly thought he was lapping me. I forgot that he had crashed, and then I fell, so he got around me. That got my heart rate up, but it went back down. I just raced the rest of the time smoothly. I raced like I know how. I hit my lines and never raced over my head. It was a smooth and consistent race. I finished thirteenth place, and I could never have imagined that.
I'm sure you had a ton of family and friends there cheering you on. As you said before, it was your home race.
Oh, yeah. I've been racing there since I was on 60s and riding the amateur day every year. That's one of my favorite tracks ever. I really like the elevation changes. It reminds me of back home. It's always been a place that I have done well at. I just tried to stay positive going into the weekend, and it all worked out.
So which discipline do you like racing better—motocross or GNCCs?
I'm definitely more into pro motocross, but there is a GNCC about five miles from my house. I grew up racing there as a kid. I actually have ended up doing six full seasons in GNCC racing, while doing Loretta's every year. I was going back and forth every weekend. I definitely like motocross more, but it's good cross-training sport. It's a good workout. It's like going to the gym, but instead it switches it up and helps your endurance out a lot. That's mainly why I've been doing it for so long. If you can ride three hours and get your heart rate going for that long, you will be in shape for a thirty-minute moto. Not a lot of people do both types of racing. I just try to have as much fun as I can. At the end of the day, if you aren't having fun you shouldn't be doing it. That's why I'm doing this on a two-stroke. It's the most fun I've ever had riding, and that's all that really matters.
Now that you have finished inside the top fifteen, have your expectations changed?
They've changed a little bit. I know for sure that I can be better than a top-thirty guy. I just need to get a good start. If I can be in the top twenty-five every moto, I think that would be awesome. Obviously, being inside of the top twenty would be my goal. I would like to get enough points to where I can get a two-digit number. I didn't think that would even be a possibility after missing the first two rounds that I tried for. Now that I made it in, and I know that my stamina and fitness are there, I can be a top-twenty-five guy every week.
What gave you that extra push last weekend to make the main show? Was it that GNCC mindset that you can do well in the rain?
Honestly, when I saw that my race bike wasn't going to work I sort of was down on myself. Then I realized that it was just going to make me ride twice as hard. I wanted to prove to myself that I could do it. I went to bed hoping that it would rain because I love the mud. I won a moto at Loretta's in Collegeboy a few years ago, and that's how the conditions were. It rained the night before and there was one main line. Everything was sloppy and greasy. When I saw the track I knew that it was going to be like it was at Loretta's. I just went out there and was the third one on the track and passed the first two people when I could. I got my laps down and did the best time that I could.
Talk about what that first moto charge was like coming from last to twenty-second.
It was crazy. When I crashed I was already down on myself. It's like, "Gosh, it's your first race that you make it into and you crash in the first corner?" So then I just got up and every lap I kept passing people. My mechanic kept telling me where I was. I was in thirtieth at one point, and I thought, "Wow, that's my goal, I'm already here and I'm not tired yet." I just kept plugging away and twenty-second was as far as I could get.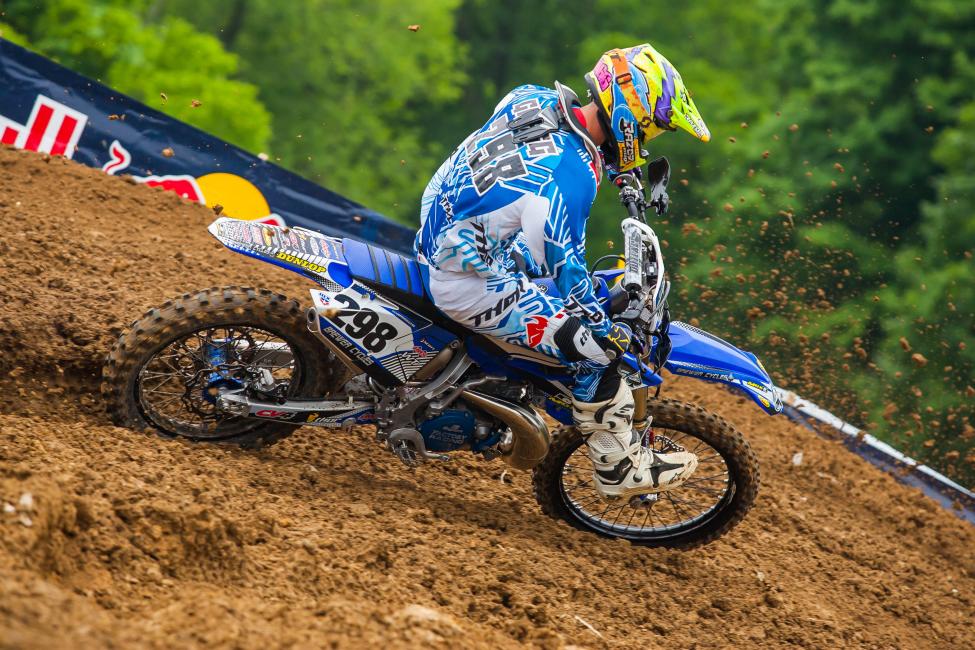 It's been a while since someone has raced a 250 in the 450 Class. How much of a disadvantage is it to race one against all of the 450s now?
Everything is different. If you were to have an entire track of two-strokes, the ruts and everything would be totally different, I think. You don't have the bottom end that the 450s have, especially with the hills and the corners that Budds Creek has. You have to keep the momentum up. It's not easy by any means. You have to carry a lot of momentum and speed to even be close with any of those guys.
What are your plans moving forward in your career, and what would you like to accomplish before you leave the sport?
I'm just having fun racing every weekend. I don't think I'll do anymore GNCC races this season. I always hit the two that are by my house, but those are in March and April. I'm just having fun doing local races anywhere I can go. I ride because I love to do it. I've ridden since I was 4 and nothing else compares to jumping big jumps. It's more than just a sport it's a lifestyle. Once you have it in your blood it's hard to stop. I don't think I'll be able to tell my parents that I'm finished racing. That'll be the hardest thing I'll ever do. As far as goals go, I want to do well enough to get my name out there and get some help from a factory team. Maybe if I keep doing well enough, I can get on a team for next year.
Who are you off of the bike? What kind of stuff do you get into out in the country without phone service?
If I'm not riding or working out, I'm on the golf course with my buddies playing and trying to keep the mood light. That's one thing I notice with all of the top guys and especially Ken Roczen. I follow him, and he's always on the lake having fun or on the golf course. I feel like that is a big help. You have to always train and stuff, but you've got to add the fun into it as well. If you're not having fun, then nothing is going well. I like to hunt, fish, and play basketball. We bear hunt in the wintertime. Anything that is outdoors I'm all for it.
You can hunt bears?
Yeah, we have bear dogs and we run them. It's a good workout because the dogs might retreat three miles away. You may have to go through mountains and rivers to find them. You've got to have fun with it, man.
How many bears have you killed?
I was 14 when I killed my first bear. I go all the time, but I haven't gotten another one yet. I've been hunting since I was five or six.
Who do you want to thank for helping you through the years?
First and foremost I want to thank God for watching over me and keeping me safe. Without him none of this would be possible. To my mom, dad, and sister as well for their support through the years. My friends, my mechanic Willy Baker, Chris and Tyler Brewer from Brewer Cycles, James and all of the people at Thor, Joel and Lil D at FMF, James Saylor at JMS for the awesome motors, Dubya, Pit Posse, Dunlop, Boyesen, Bionix, Wicked Thunder, Brett at ICW for the awesome radiators, John Knowles and all of the guys at Scott, CV4, MGX Unlimited, G2 Hand Guards, Liquid Performance, Hyperlite Wakeboards, Mike from Razor Imagine for the sickest helmets out there, and everyone else thank you so much for your continued support. Nothing would be possible without you.