Mounted on the very potent R&D Racing Suzuki RM80, Buddy Antunez made a name for himself as one of the fastest mini-bike riders on the planet during the mid 1980s. His speed as a youth was good enough to land him a factory Suzuki ride for the latter part of the 1989 season, and within a year, Antunez was finishing on the box in the stadiums.
Antunez would go on to have a long career as a professional racer, competing until 2003. His career trajectory wasn't traditional, as he reinvented himself (and his results) on more than one occasion. In fact, he's one of only a handful of racers who went from factory ride to full-blown privateer and back to a factory ride. The experiences and skills he picked up along the way helped him transition into retirement.
Today Antunez lives with his wife and two children in Temecula, California, and trains amateur and professional racers, including JGR/Toyota Yamaha's Weston Peick and Justin Barcia.
Racer X: What are you up to now?
Buddy Antunez: Well, I'm now coaching motocross full time, which is something I've been doing since 2008. I first started with four or five kids, including Nick Paluzzi, Brandon Scharer, and Dylan Schmoke. Nico Izzo and Eli Tomac were also part of the program when they were in California. From that humble beginning, I've grown my program to where it is today. Right now I'm working with about ten kids who are doing the amateur nationals. We ride twice a week, and I've designed a program for each of them around their goal of being a professional racer and living their dreams while also going to school. I'm also working on the pro side with both Weston Peick and Justin Barcia.
What was your connection with the Tomacs back then?
Well, I started working with John [Tomac] at the end of my professional career, he became my trainer. So I got to know them pretty well when Eli was still really young. Then, as he was coming up through the ranks, Eli was in and out of my program, mostly because they were in Colorado, which made made a full-time deal hard. When Eli turned pro in 2010, I started working with him more, even though I had turned my focus to amateur guys only. But because I had a good relationship with them, they asked me to come in and help with supercross since being a rookie in that series can be so hard. I started doing more with them, and we won the [supercross] championship. That evolved, and now today I'm also working with both Weston Peick for the past few years as well as Justin Barcia, which has only been since Glen Helen. So now I have both a professional and amateur program with my coaching.
You have both of the JGR guys. Is that something that came through the team, or was it just coincidence?
No, it just so happens that both riders were with the team, but working with both guys isn't something that was organized directly by JGR. I was already with Peick and was around the team quite a bit, but my deal isn't officially associated or contracted with them. We all do work together, and everyone is on the same page, so it really works out well though. One of the things that I love about what I do is seeing results—for example, taking Weston forward with his results and getting Barcia back on track to winning.
Speaking of back on track, your guy Barcia pulled out a win this weekend. That was really big, but if you've been watching him over the past few weeks, he has been slowly getting better.
Oh, for sure. That was huge. But the things we work on, well, it really comes to process. Diving into his program, we needed to dig out from some things, and from there he has been taking off. His speed and ability have been showing at the practice track, and now it has come over to the racing side, and we got a win.
How about some specifics with regard to what you are working on? Everyone always speaks in big picture terms, but what are some of specific things you guys worked on?
Well, with Justin, I wanted him to get back to being BamBam. I wanted to get some confidence back into him and into what he is doing. On a technical level, he was struggling with two things: not shifting as much as he should and overusing his clutch. So we dove in and chipped away at those two things. From there, there are all kinds of smaller technical things that looked at, and it all seemed to come together.
With Weston, he's a big guy and spent a lot of time moving dirt, meaning he came up short on jumps, he clipped things, and was just really a big bull dog. We had to create some finesse and get him to smooth out, so we worked on what he was doing in turns and on the jumps. Also, with Weston, he had no structure in his day, so I made a program that said, "You're going to do this many laps in segments of 15-20 minutes, then go to the gym and do these work outs." It was basically just adding in some structure to the whole day and getting him to ride smoother. He has the speed, so that wasn't as much of the issue.
How is Weston's year going?
It's been up and down. He needs to put together his whole weekend, but now he has the team and structure in place to do so. But he's reaching speeds and places that I didn't think he would a year or two ago. He won a heat race in supercross; he was close to fastest qualifier a few times. So he had some good weekends in supercross, but we aren't there yet in outdoors, and we're just focused on trying to find that dynamic. And the difference this year is that now he's in the part of the wave, meaning he knows and wants to be up front, but isn't there right now. We're trying to get to that that click point where he finishes where he knows he can. It's all about finding the combination and balance though.
Going back to Barcia's win, did you expect that?
It was a little bit of a surprise, but you know, the pieces were there. He led some laps at Mt. Morris, but you could see that he wasn't totally comfortable out front. My big thing is to really make him believe that he can win; I was really preaching that to him. The plan coming into this weekend was to lead some more laps and get some confidence, but then when he got out front and gapped everyone a little bit, everything seemed to switch. He was doing what we all knew he could and he had found that spot.
What does a typical day look like for you?
So, I live in Temecula. Normally, I'm at the track by 9 a.m. Some days it's the amateur kids and some days it's the pros. Usually, I take a lunch break in the middle of the day when it's hot, and then we're back at the track in the afternoon and doing the afternoon shift. But basically I'm either at the track during the week or at the races on the weekend. I've learned that when things are good, you have to run with it. I really feel that those that work the hardest get the best results, so you have to put the time in. That includes being a coach or a trainer. As for the tracks that I work at, I am usually at Pala, Milestone, or Glen Helen, but it varies. For example, today I'm at Perris with the guys, but this isn't always on my schedule.
You turned pro in 1989, but it wasn't until 1990 that you got some good results.
Yeah, it was kind of crazy—and very exciting. I got off a supermini in April of 1989, and then I raced my first supercross in June. I'd only been a 125 for two months.
No way. That's unheard of today!
Yeah, I went straight from 85cc to 125cc supercross. Today everyone wants to ride B class, and that's all good, but I'm a real advocate of not holding the kids back. But it's different now, but you can still have some kids that have the raw speed.
How did it go those early years as a pro?
One of the first races I did on a 125 was racing USGP in Hollister. The 500s were racing the GP class, and they had a 125 support race. I led the second moto. Then Suzuki wanted to send me to the last five nationals. Man, that was an eye opener. When I got to the first one, it was Washougal and was a 125/500 race. [Rick] Johnson and [Jeff] Ward went by me so fast in practice—it really shook me up. I had arm pump for the rest of the day. But I chipped away, and finally at Budds Creek I got a seventh, which was my best result to that point. Then in 1990, I scored a second place in what was my second supercross race. That was awesome, and I wasn't expecting that. [Jimmy] Gaddis was in front of me and I grew up racing with him. That relaxed me, and I was able to pass him. Mike Craig won, and he wasn't that far in front of me, so it gave me the confidence that I was missing.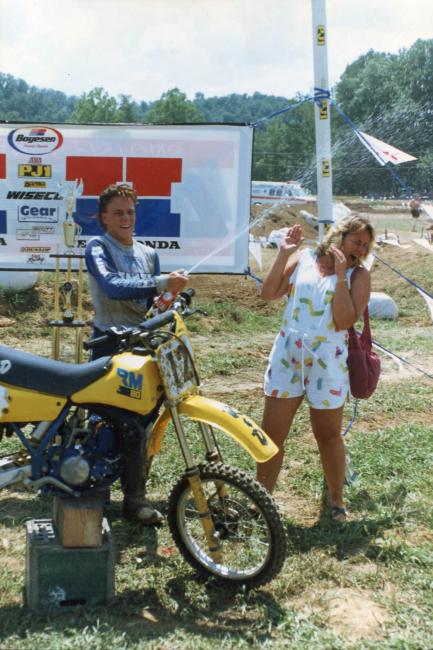 How was the factory Suzuki program back then?
It was good. But, man, we had so many guys on the team. I think there was seven guys. It was me, Denny Stephenson, Ronnie Tichenor, Steve Lamson, Guy Cooper, Larry Ward, and Mike LaRocco. Ron Heben was the team manager, and the bikes were pretty good, and we really had pretty good time. It really set a tone. But we had a few comedians in there, including Denny and Larry. But that team was also where I met Denny, and our friendship really took off. In fact, the first time we really hung out was in Houston, 1990.
We were at the Residence Inn, and we shared a room. We ended up staying together a lot that season and hanging out. We have been friends ever since. And we were together a lot—getting ready during the off-season, testing, we just rode and rode. Everything was trial and error back then. You would hear what someone else was doing for training, and you would just copy it. Certainly not like it is today.
In 1992 you went to Mitch Payton's team. How was that?
I had a great year. I was second to Jeremy [McGrath] all year, and he was hard to beat for obvious reasons. Maybe the big mistake I made back then was bumping up to the 250 class for the 1993 season. I was at the San Jose Supercross and was 3 points away from pointing out of the class. Mitch came to me and said I could take McGrath's deal the following year, but that I needed to hold back and make sure to not score those 3 points. I kind of thought about it but then decided I was good and wanted to move up, even though I was odds on the favorite to win the following year and would have a good contract. So I raced and got the points. But then I didn't get a ride like I thought I would, and I was a privateer for several years. Those privateer years made me develop a lot of character and really helped me in life.
You were a privateer from what, 1993 through 1997?
Yeah. It was a real struggle, a real 180 from the factory program that I had. In 1995, I got some results, and also the birth of my daughter changed some things, and I got some better results. In 1996, I was on that Great Western team, and despite all the stories of craziness, that team really helped me. I had some good guys around me and had a good season. I got fourth in the 125 outdoors and landed on the podium at a race. I was riding well and training coming into the 1997 season.
But then you moved over to arenacross, and things started over in a way.
Yeah. I had an offer to race arenacross, and that series was really starting to pop. Stephenson told me it was time to start making money for the family since I now had a young daughter. That was a whole new chapter in life and racing for me. I raced arenacross from 1997 through 2001 and won five championships in a row. It was a game changer, for sure.
You then turned those five championships back into a factory ride for supercross and outdoors.
Being away from supercross as long as I was, it was good. It brought back my eligibility to race 125 class. At the end of 2001, Cole Gress came to me and asked me how I could do in supercross. I said I would do well and felt like I was a winner. And at that time, I was training with John Tomac, and my fitness and confidence was really good. So Cole Gress gave me the shot, and Roger [DeCoster] gave me a ride. After five consecutive arenacross championships, I needed the challenge, and it all came in a full circle. Quoting Jerry McGuire, "It completed me." It sounds cheesy, but it's true.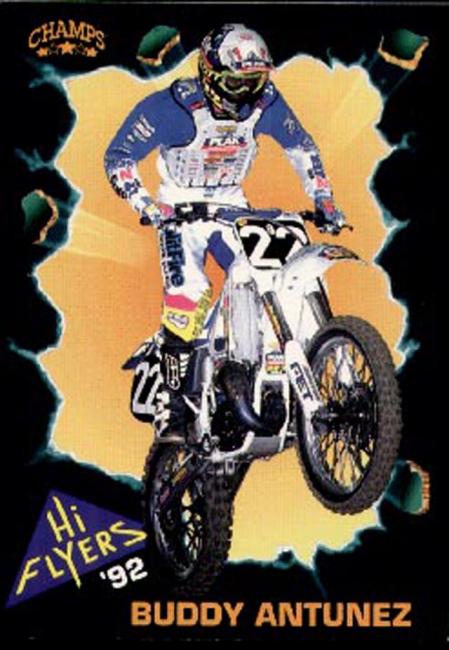 How did you do?
I was on the podium. I would have finished third for the year, but [Branden] Jesseman won the last round and beat me by 1 point. Outdoors, I really started to hit my stride. I had a whole pile of top-five finishes. It was looking like I would get hired back again for the same program, but then Suzuki didn't win the arenacross championship that year. I really wanted to stay in supercross and motocross, but Suzuki wanted me back to win in arenacross. Also, I had taken a pretty big pay cut to ride the SX/MX deal, so I just went back to arenacross. But I do wish I could have done another year. It would have been cool, and I think I would have been a legit contender.
How was the money for you?
It was great. I tell all my guys, when it stops it stops. Those privateer days helped mold me. I really appreciated it when I started to make money racing arenacross. But you know, I was coming up from being a punk kid on an 80cc to full on pro. I didn't have a lot of things in place, so when things finally went right down the road, the money was much more appreciated and respected in the right way.
What do you think the Ricky Carmichael Road to Supercross program?
I think it's a really good thing. Look at [Aaron] Plessinger; he did well in arenacross and then came across to supercross. The racing is a little different, but the obstacles and vibe are the same. I think it's a great way to get the guys started.
What about your family life away from the track?
Well, I'm married to my wife Shelly—we have been married for twenty-two years. My daughter Bailey is now 20; she just recently graduated from Paul Mitchell school of cosmetology. She's setting up her own business right now. We also have a son; his name is Boston and he is 13. He's really into theatre, singing, and acting, which is something that's totally new to me, but is very cool. Boston never showed any interest in riding, which was fine by me.