Budds Creek Motocross Park
Mechanicsville

,

MD
Budds Creek
Lucas Oil AMA Pro Motocross Championship
It was the "braap" heard around the world, and the High Point faithful loved every minute of it. Gared Steinke, a 23-year-old from Woodland, California, finished twenty-seventh at High Point on a two-stroke. This won't be the last we see of the two-smoker, as he has a deal in place with Cool It Thermo-Tec to also ride the Yamaha YZ125 at Budds Creek and RedBud.
Steinke was the first rider to put a 125cc machine into the big show since Ricky Renner did it at RedBud in 2012. He was also the first rider to put a two-stroke inside the top thirty since Brett Metcalfe in 2005. It's a solid reminder of the way things were.
We caught up with the Steinke after the off-weekend to get the scoop on his summer vacation with the Thermo-Tec team in Ohio and to chat about his year in Amsoil Arenacross.
Racer X: You put a 125cc in the main show in the 250 Class. Not only that, but you are ripping it up and you're consistent.
Gared Steinke: Yeah, thanks. The 125, I've always been a fan of them. I have a 2005 and 2007 YZ125 at home, and I try to ride them once a week. I've ridden them since I was 16 years old and I'm 23 now, so that's seven years on a 125. I've had them since I was able to be on a big bike. I love them. There is not a better bike than that. It's the best bike around.
You've had them all of this time, too? So what took you so long to sign up and race one?
It was just kind of an idea that Jeremy from Thermo-Tec and I came up with. We were at the Nashville Arenacross this year. He came up to me and said, "You know, I have a pretty sweet 125 at home," so I said, "Well, I'm actually pretty fast on a YZ125." So he asked me if I wanted to race High Point, Budds Creek, and RedBud. I said, "Dude, let's do it!" It just all came together perfectly.
So what was it like racing that bad boy at High Point against all of the 250s?
It's a lot different. Those guys on the 250s have a lot more torque. I'd say that our bikes are pretty similar in speed on the top end. They just got me in the torque department coming out of the corners and a little bit coming into the corners. I try to ride it a little more aggressive than the 250F. I like to hold it wide open and keep it on the pipe. You have to hold it on a little longer, and I try to sweep all of the outsides of the corners and stay out of the deep ruts.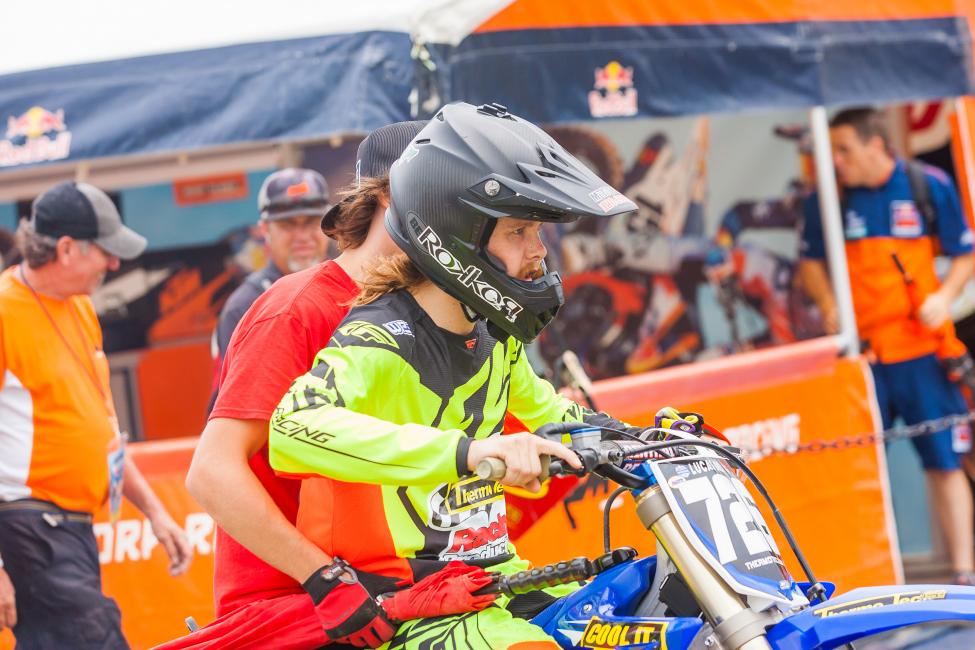 Basically, just having a lot of fun.
Oh, yeah. I'm just having a lot of fun right now. I'm not in a spot in the sport to make a bunch of money right now, even if I was on a 250. This whole 125 thing is a good plan for future sponsors and hopefully other moneymaking opportunities.
It's definitely a good idea. People are posting pictures of their 125s to you, and it's cool to see everybody so excited.
I've gotten over twenty Facebook messages of people and their bikes. They are all like, "Check out my bike, man, it's freaking sweet!" Everybody is a fan of the two-stroke, and anybody who messaged me on Facebook, I wrote them back. I'm just trying to pay my dues to them.
You finished twenty-seventh in both motos at High Point. Consistent is cool.
Yeah, I was consistent in both of the motos. The first time I actually got to ride the bike was in the first practice at High Point. I had never even ridden the bike. It had five hours on the hour meter. I felt amazing on it right away. I qualified thirtieth, and I was hoping to qualify in the top thirty-six, so I didn't have to ride the consolation race. That would have been a struggle. I'm happy my speed is there, and hopefully I can carry it on to Budds Creek and put it in the top forty again.
How tough was it on the start, especially at High Point where it's uphill?
They had about two bike lengths on me in the first fifteen feet on the start. I had to just tuck to the inside. In the second moto, I got a terrible jump, and I think my bike even bogged. I looked up and these guys were already two bike lengths in front of me. I ended up around twentieth, and I faded from the first lap to around thirtieth. I just raced my own race from there. I did what I could without getting tired. I'm having so much fun right now that I don't even get tired while I'm racing. I'm definitely underpowered on the start, but I'll give her hell.
This actually has been a really great year for you. You won your first arenacross overall, and you were in the race to the championship again.
It was a really good year starting in arenacross. I was riding for Motosport.com/Haeseker Racing/Hillsboro and Fly. All of those guys are a big part of my program for arenacross. They really helped me succeed. I finished with two main-event wins and my first overall win. I finished ninth overall in the points. I was disqualified at one of the rounds for riding a different bike the second main event. If I had not been disqualified, I would have wound up fourth overall in the championship. Now I have my deal with the Cool It Thermo-Tec guys, and now I'm out here having some fun.
The competition in the arenacross series was on another level this season. You had a lot of new contenders as well as the Ricky Carmichael's Road to Supercross guys to contend with.
In Las Vegas, I like to think that I got pretty lucky with Kyle Regal and Jacob Hayes taking one another out. The competition was very tough this year. We lost Tyler Bowers, but I feel like he was replaced by like four guys who are just as good. We had Bobby Kiniry, Gavin Faith, Matt Goerke, and Chris Blose. It was very good competition. This year, Jordon Smith came through and was impressive. In previous years we had RJ Hampshire, too. All of those young guys are pretty crazy and fast.
You just raced all those younger guys again, only this time on a 125.
Some of them came up to me at High Point and said that I was a crazy animal [laughs]. They are all pretty cool kids and are very respectful.
You sound like you are 40 years old right now. You are one of the kids too.
I'm a kid too, but I like to think in my head that I'm older than what my body is. I'm young at heart for sure.
You have a fundraiser going on right now that potentially could lead to you racing more rounds, right?
Yeah, the guys over at Vurb Moto threw together an art piece for me, and we are going to try and sell some t-shirts. We've talked about doing every round after RedBud except for Utah and Washougal because of our bike location. Maybe with Vurb we can work something out, but it's not 100 percent yet. Everyone needs to buy them up.
I know the fans will be out in full force at Budds Creek; however, when you rev your bike on the Fourth of July at RedBud everyone is going to lose their minds.
RedBud is going to be the big party one. I can't wait for that one. We have a few surprises for RedBud actually. It should be an interesting weekend.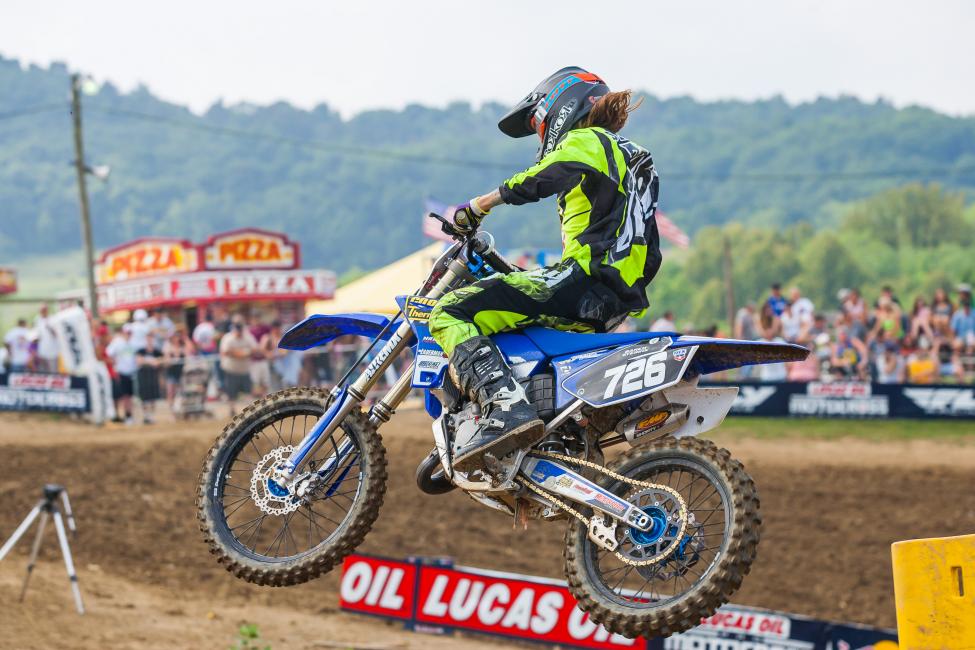 Can you give us any clues?
Just an all-around better bike and some party animals for sure. Just picturing how crazy all of the fans are going to be when I go by gives me chills. High Point was crazy too, but RedBud is the ultimate party race and the fans love it there. Just to hear a two-stroke coming by, they are going to lose it and so am I.
You'll have to throw a whip over the infield tabletop every lap, or they will have a fit.
I'll throw down some Bubba [James Stewart] scrubs for sure, every lap. From one-footers, whips, fender slaps, heel clickers, to whatever, I'm doing it all every lap.
What have you been doing with your summer vacation?
Jeremy here is the plan maker, and he has been taking care of us pretty good here. He's into doing some dirt-tracking and sprint cars. We met up with Zach Ames at one of the races we went to and hung out with him a little bit. We drive go-carts; we have these things called crazy carts that are like electric razor scooters. You sit down in them, but they have an e-brake so you can drift them. We do those at least probably about two hours a day. We have a fishing pond here too, and I'm on the pond four hours out of the day.
Are you catching anything good?
Oh yeah, sickness [laughs]. No, just some large-mouthed bass. When I'm at home I don't get to live this luxury and play this many games. I'm having a great time right now. It's been a great summer vacation. I want to tell everyone to go out there and buy a two-stroke, keep it ripping, and have fun. That's what it's all about. It's not about money; it's all about having fun.