Budds Creek Motocross Park
Mechanicsville

,

MD
Budds Creek
Lucas Oil AMA Pro Motocross Championship
The 2015 Hangtown Motocross Classic marked Adam Cianciarulo's first national moto since August 24, 2013, at Lake Elsinore. Coming off a devastating shoulder injury, he entered Hangtown unsure of his speed and stamina; he finished the day eighth overall with 9-11 moto finishes—respectable if not earthshaking. That was six weeks ago, and AC currently sits fourth in Lucas Oil Pro Motocross. A lot has happened to the 18-year-old Monster Energy/Pro Circuit Kawasaki pilot, who is now well on his way to completing his first full professional season. We caught up with Adam in his native Florida to see how things are going.
Racer X: Adam, what have you been up to today?
Adam Cianciarulo: Right now I'm on my way to grab some dinner. Today we had a nice bike ride this morning and then a couple of motos at the track. It's been pretty hot here in Florida the past couple of weeks, so it's definitely been good training for Budds Creek and RedBud. You know, the hot ones.
Speaking of Budds Creek, this will be the first national track you'll visit in 2015 that you've actually competed on before.
You're right. It is. It's a little bit harder to learn a new track when you haven't raced on it before and you have to learn it. At the same time, I kind of like that aspect of racing. I like learning a new track, especially in supercross where you have to learn the track with the limited amount of time you're given to practice. At the same time, I'm looking forward to going back to familiar territory.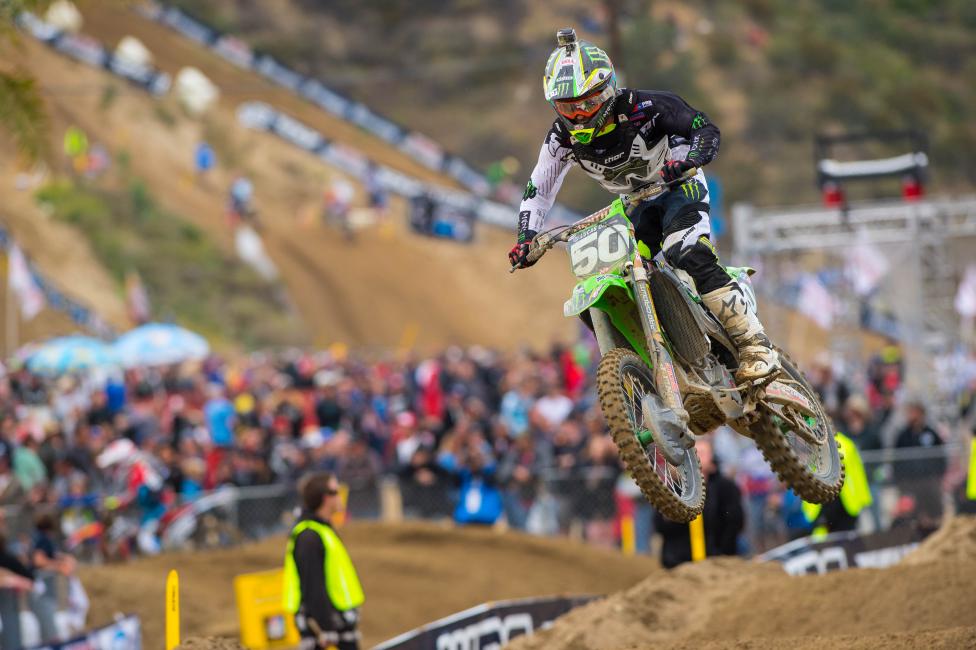 We're five rounds into this 2015 outdoor series, and you're a solid fourth in points and only 3 points out of third. Is everything going to script for you? You told me back at Hangtown that you were going to warm into this thing and that's what appears to be happening.
Yeah, points-wise were pretty steady, and my finishes have gotten a lot more consistent as of late. I think in the first couple of races I made some mistakes; I made some little mistakes that really haven't been brought on by me riding over my head necessarily. They were just a couple little mistakes or little technical errors I made that kept me from reaching my potential at some of the races. Of course it's a bummer, but at the same time you have to look at the positives and the fact I haven't been racing this series for quite a while. Right now I feel pretty confident with my progression and feel like I have a lot more left to give. Everything is on the up, and everything is going according to plan.
I definitely want to win. I want to win more than anything. It's nice to be on the podium like I was at Colorado [AC went 5-4 for third overall], and was able to get another moto podium at Muddy Creek and High Point. That stuff is nice, and I realize that Jeremy [Martin] and Marvin [Musquin] are pretty much veterans and they're both champions and they're both going to be really hard to beat.
With that being said, that doesn't change my goals, and my goals are to win. I have it in me. We just need to keep the progression and to keep striving to be the best. I think when you get beat, especially with my situation in coming back, it's easy to find yourself okay with just being on the podium. In the end of it all, though, I believe that I can be just as good as anybody, and that's where my mind is right now. I'll take the podium finishes; they're a huge step in the right direction for me right now. At the same time, when I'm at the practice track or at the races, it's always in the back of my mind that I want to win, and that's not going to change.
"Sure, there's bad motos and you have off weekends where you get kind of down on yourself, but at the same time, that's what I love about the sport. You, yourself, can control your own destiny every weekend."
You ran to a very strong second in the opening moto at Mount Morris. You're right there and knocking on the door.
Yeah, I think that was a good moto. I think it took me a little bit more time than it should have to get into second, but Marvin rode a great race and I was able to keep a little bit closer than normal—which is a great sign for me. I looked back at the film of the moto, and there definitely were some lines that I wasn't executing like I should have. I think that's the good thing about a moto like that: You can take positives and you can see things that you could have done better. I believe I can be up there and battling for the win. Hopefully, in these next few races I can be right up there.
It seems like in the modern era that the guys are getting a little older and gaining more experience before they make a full-on run at a championship. What's your take on that?
I think experience is invaluable. The class, the way it is now, is so deep in talent. I think when it comes to racing for the championship, it's never going to be a blowout. There's always going to be somebody there on your heels. There is always going to be someone as good as you or the same as you right there. Someone is going to be battling you all the time, and that's where that experience comes in to win championships. Yeah, those guys are older, but we've all been through the same process. They may have a few years on me, but my goal remains the same, and that's to beat them. They could be 45 for all I care.
What will it take for you to chase down and beat guys like Marvin Musquin and Jeremy Martin?
Well, of course the start. You have to be in the top five, because if you're out of there, there's going to be guys who aren't going to let you around, because when you're up in the top ten, those are factory riders most of the time and they're not going to let you around. By the time you get around those guys, the leaders will have a little bit of a cushion built up and can manage the race from there.
After the start, you have to race them and you have to pass them and you have to prove you're right there with them and prove that you're in it for the long haul. A lot of the times this year, excluding a few times as we've seen come from behind motos from both Jeremy and Marvin, but they do their best when they get that start, and normally one of them gets it and gets that cushion, and they lead all the laps and win the race. I think you just have to be up there with them and be in attack mode all full-time. Right now, they're so mentally strong because they know they're the best guys. The goal for me, and the goal for everybody else, is to show them we're closer than they think.
What sort of feedback are you getting on your season thus far from Mitch Payton and everyone else associated with you and the team?
Everybody involved with the team is happy with how it's going. They believe in me and believe that I'm a winner. They believe I can win races, and I believe the same thing. They tell me good job and they're supportive, but at the same time they want me to progress, and they'll point out the things they see that I can do better. That's all part of the process, and that's what I love about it. It's a family atmosphere, but at the same time, they tell me the truth. The mood with the team has been unbelievable. They've been really supportive.
Do you feel like you're back to 100 percent now, and what's your masterplan for the second half of the outdoor season?
We had a short amount of time to get ready for the season, and it's tough to build a base mid-season. I feel better every weekend. I just want to stay out of trouble. I've had a few crashes and a few bad starts, and when you're using that much energy back there, you get a little bit fatigued. I'm stoked to bring on the rest of the season. We'll have these next few races—Budds Creek and RedBud—that might be a little hot. Then there will be Millville and Washougal, which is one of my favorites. I'm really looking forward to the rest of the season. I've been having a lot of fun so far. Sure, there's bad motos and you have off weekends where you get kind of down on yourself, but at the same time, that's what I love about the sport. You, yourself, can control your own destiny every weekend. Every moto you can change somebody's perception of who you are as a rider. I'm looking forward to having that challenge all the way to August 22 in Indiana.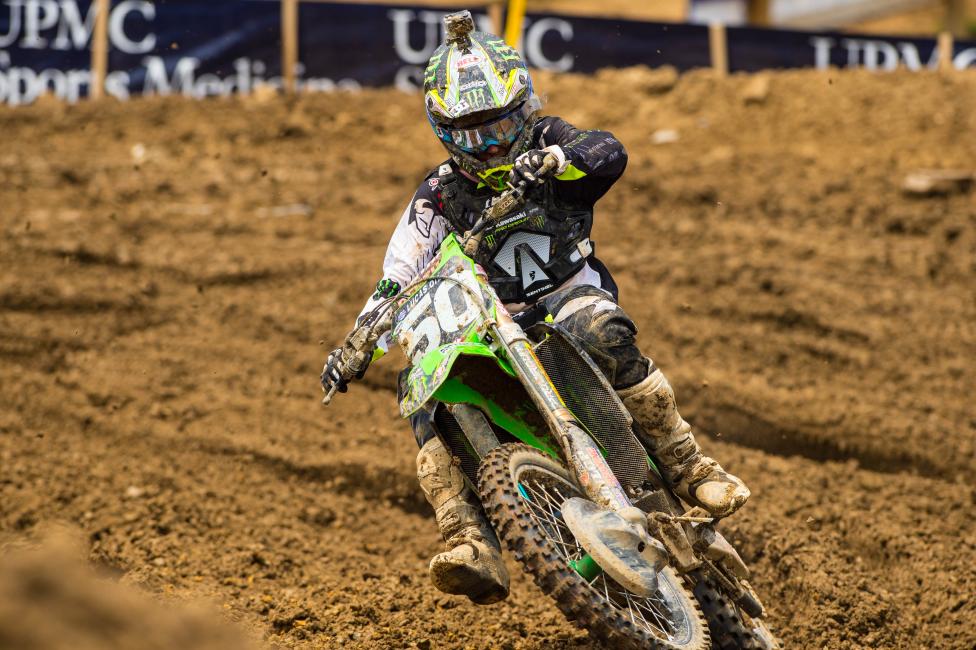 Come the last national at Indiana, where do you want to be in the grand scheme of things?
Top three in points would be nice. Of course, I'm quite a few points out of the lead, so that's a bit unrealistic right now [Cianciarulo is 76 points out of the lead]. You can set goals for yourself—top three or top five or whatever—but for me it's all about getting to that eventual goal of being a champion. I want to prove to myself that I can win races and win consistently. I haven't had a full season before, so this is all-new to me. I just want to keep the enjoyment in it and I want to win races. That'll be the goal.
You're only 18 years old and you're going in the direction of where you want to be this year. Having said that, looking back, would you change anything as far as how you entered the sport as a professional?
No, I don't think I would have. I think there were some things that came up that were unfortunate, but that's life. You can only do it once, and all the things that I've been through since I've been pro… You know, having all those expectations on me and not performing that first year, and then coming back and winning supercross when nobody thought I could, and having a championship in my grasp and then getting hurt, made me a completely different person than I was a year and a half ago when I went pro. Motocross aside, all that in itself was worth all the trouble I had gone through. It taught me a lot more patience than I thought I could have ever thought I could have. It all prepared me for different things in life. It all made me a stronger person. As a person I feel ten times stronger after all the adversity that I've been through. I wouldn't change it for the world.