Muddy Creek Raceway
Blountville

,

TN
Tennessee (Muddy Creek)
Lucas Oil AMA Pro Motocross Championship
By Jordan Roberts and Jason Weigandt
Jason Anderson, Rockstar Energy Racing Husqvarna, 2-4 for Third Overall in 450 Class

Jason Anderson: Today went pretty good. I usually don't do very good here at Muddy Creek, so I was really excited to get that first moto and had a pretty solid second there. That second moto I got a horrible start and came from way back to fourth, which was really cool. I felt like I was riding good. For one of the semi-hotter races so far, it's been the hottest one so far, I'm pumped to feel as good as I did through the end of the moto. I'm from New Mexico, but I've been down in Florida training, so I guess that's helping me a lot. I'm acclimating to it and just trying to get used to living in a swamp.
This is your second podium already in the 450 season. I don't know if anyone saw that coming so quick.
I definitely feel like I'm surprising people somewhat with my speed, and especially that first round podium. And even [surprising] me too. I always feel good outdoors, but I feel like last year I could have made a good run at the outdoors series. I just had a bunch of issues. I've never felt like I've had a good solid try at doing good outdoors. I feel healthy coming into outdoors. My last weekend at Lakewood wasn't too good, but for the most part I feel like I've been a top-five guy the other three rounds, so it's going to be nice coming out here with a podium. Just going to try and keep the momentum going and hopefully do good at both supercross and motocross.
Talk about that second-moto charge. You were way, way back there, and that's pretty much what got you up on the podium today.
For sure. I felt good on the track all day, and obviously you always want to rip a start. I don't know what I was doing on the gate. It just wasn't good and I was pretty far back. It wasn't even a mediocre start; it was just horrible. I just put my head down and just started picking off guys, and I found myself up in fourth place, and I was really happy with that. I knew I could get a podium with that. It was a good day, and that second moto charge did right for me. Really kind of made it even better.
What are your thoughts going into High Point and the track?
High Point is a good one for me. I always seem to do pretty decent there. Last year I got a podium in the Lites class. Just going to try and hopefully just stay up front. I like High Point, and I'm really looking forward to the East Coast tracks, like RedBud, and the softer tracks, like Budds Creek and Millville. But I feel really good going into this next weekend and excited to race High Point. –Jordan Roberts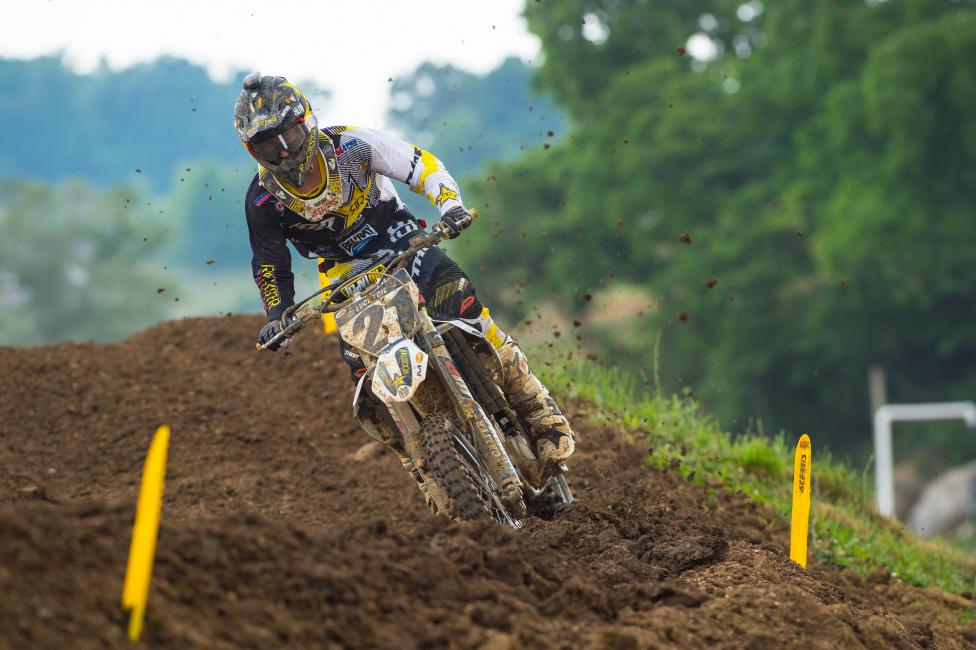 Justin Barcia, Autotrader.com/Toyota/JGR Yamaha, 9-6 for Eighth Overall in 450 Class
Racer X: Superb day for you?
Justin Barcia: [Laughs] Yeah. Awesome. Get a holeshot and then crash on the first lap, go from like twentieth to ninth. It was a good charge, but ninth doesn't show anything. Second moto, went off the track second lap while running third, and then just rode like crap.
Does that kind of come-from-behind charge take more out of you, energy-wise?
I mean, it was tough, but I'm in shape, so, no. I just didn't ride good. I'll line up again right now!
Okay, that first-moto, first-lap crash. Was it that the track was watered?
Oh, it was juicy.
You went down when you hit the brakes?
No, actually, I did a wheelie and as soon as I set the front end down...whoop! It just went away. No brakes, just landing the wheelie as soon as it touched back down; it was like flipping a pancake. –Jason Weigandt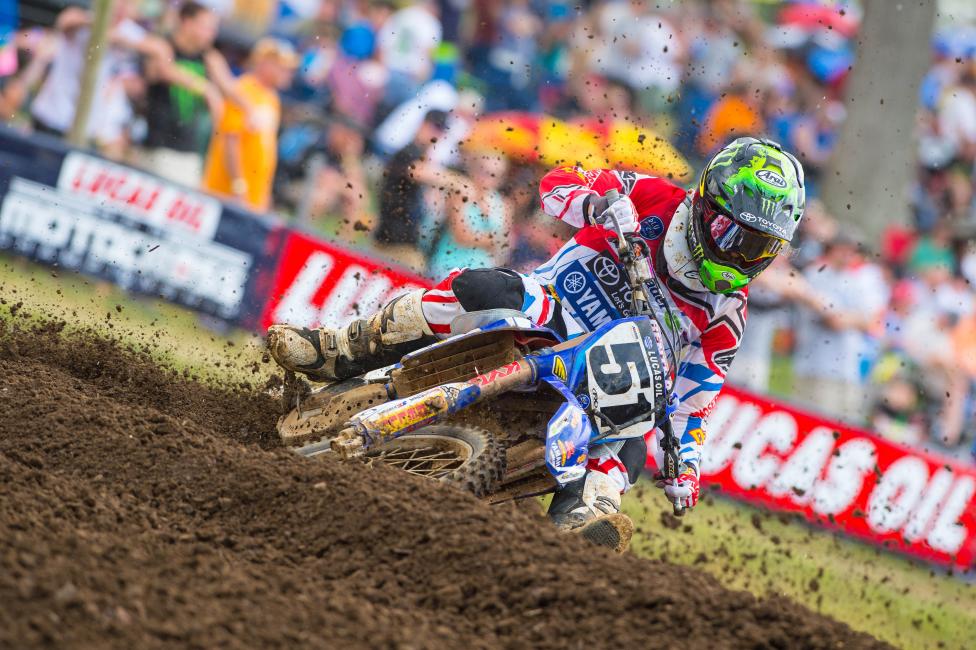 Weston Peick, Autotrader.com/Toyota/JGR Yamaha, 6-11 for Ninth Overall in 450 Class
Seemed like you were way back early in both motos.
First moto, start was good, but I just didn't have a flow and kind of got passed by a few guys. Then I finally got into a flow and passed back to sixth. Second moto, I got a decent start, crashed, and kind of struggled a bit from there. Really didn't have the best second moto. I've got to move on to next weekend and just move on. Off day. Track was rough—it was good—just an off day for me.
I gave you the chance to use bad starts as an excuse.
I don't like to blame stuff like that. –Weigandt
Jeremy Martin, Yamalube/Star Racing Yamaha, 2-1 for First Overall in 250 Class
Jeremy Martin: The day was a little bit different. They switched the program up a little bit, so the 450 guys were first. I felt like I was kind of stalling out today. I kind of like what they did in the first couple rounds. I liked the track being rougher for us. But it was a good day today. In the past I haven't done very good, and this weekend I was able to turn it around.
The track was definitely slick underneath the topsoil. We all know it got worse throughout the day as with any motocross track.
This track, I think it's been here for a little bit, and it's just like with any track. My parents have the issue [owning Spring Creek MX in Minnesota]. That topsoil starts to go away a little bit. And then, as the day progresses, it can get more and more slick. You really had to make sure you took some good lines because there was some choppy stuff, and that's how [Adam] Cianciarulo went down in front of me in moto one. I got up on him trying to get him for second. He got on the gas a little too hard. So I come in, and then there was a slick spot coming out, and it just sent him sideways. As soon as he let off he got ejected. He got right back up and he was okay. I was happy for that. You just had to keep an eye on the track, and you had to change with the track.
In regards to racing the rest of the competition, do you prefer a smoother track, or do you prefer a rougher track?
I prefer a rougher track with ruts. I like the loam like at RedBud and Millville, Budds Creek. All the tracks are good. What I really like is every track is different, and it truly brings out the best in you. Some tracks you know you have more strengths; other tracks you have more weaknesses. I think I'm a lot more solid this year on some of the tracks where I have struggled at a little bit. In the past that was kind of this place. I improved a lot this year. For me, I'm happy to see that.
First moto, you were just sort of hanging back in second or third for a little bit.
Those guys, they're getting better, and I'm getting better as the season goes. The gap will close a little bit, so I've got to keep working and keep improving. In the first moto there, I guess I just waited too long to get going and Marvin [Musquin] was gone. He just was like a rocket ship. He was flying in that first moto. I had a hard time getting around [Jessy] Nelson and Cianciarulo. I think that's part of why he was able to get away. And then in moto two I made sure I tried to get a better start, made sure I was a little more aggressive and get around those guys so I could ride my pace and set the tone.
Looking forward to next week?
Yeah, definitely looking forward to next week at High Point. It's a hometown race pretty much for Racer X and a lot of guys. Looking forward to it. –Roberts
Marvin Musquin, Red Bull KTM, 1-4 for Second Overall in 250 Class
Marvin Musquin: Obviously, that first moto was perfect. It was hard to win today because the crash I had in Thunder Valley last Saturday was pretty hard. I raced the second moto pretty good, but I was not able to ride this week except on Thursday a little bit. My hand was swelling really bad the next day after Colorado, and I couldn't move my wrist. Me and my wife [Mathilde], we did so much treatment on that wrist to get it better and better every day. It was getting better, and I tried to ride and tape the wrist. I rode a little bit on Thursday, so coming into that race it was pretty tough mentally. Practice went actually pretty good. The wrist was a little sore, but it was getting better and better, and obviously in that first moto it was great. A great start. I was really happy about it and tried to pull away from those guys. When you do that and you get a good gap and then you just control the gap that you have, that's the best time right there. So I was really happy about that first moto. And obviously that second moto, I wanted obviously to do the same thing, but it didn't work out. I didn't get a good start. I was in, I would say, top five or something, and then I went down in that second turn. It was really close between me and Jeremy. We came into those ruts and I crashed. I thought I could pick up the bike really quick and just go, but actually someone else's bike was on my rear wheel so I couldn't get up, and then I stalled the bike. So it took me a while to get up. It was a tough moto, that's for sure. I pushed really hard, and when you're trying to come back like that it's a lot different. You've got to pass those guys and you go left, right, and you try different lines. When you're by yourself leading the moto it's the best feeling and you don't get too tired. I pushed really hard, and then at the end I was tired. I felt like I could get third, but it didn't happen. So a fourth wasn't too bad for sure.
How was the wrist after the crash?
No, I had a really small crash in the rut, so it was nothing.
We were watching as you were coming back from the second moto, and whenever you were passing guys it seemed like you were finding smooth lines out there. Other guys had a lot of back-wheel chatter over some of the bumps exiting the corners, but every time you seemed to find a smooth line, and the bike would just smoothly exit the corner. How were you able to find those on the fly?
The track was actually pretty good for passing. There were many ruts and many lines. I was actually pretty happy about myself. I was, like you said, trying to find new lines. I made the passes; I made it happen. I had to push really hard and make a little bit of contact with those guys sometimes. So I was really happy because I was pushing and I was going confidently. I was not scared of passing those guys. You pass those guys, but then at one point there is a gap when you get close to the top five. There is a gap, and then you're by yourself. You don't bother trying to look where is the next spot. But then at one point you're like, oh man, it's tough. You've got to make time. I tried my best—that's all I can say. The last three laps were pretty tough, and it was humid and my legs started to get tired. Also, I trained a little bit this week, but I didn't ride, so that's why I'm still happy to get those results.
You think the wrist will be even better for next weekend?
Yeah, because the swelling is gone now. We're going to keep doing some treatment for sure, and it's a lot better. I think this week is going to be a good. I like High Point. It's kind of like the same track as here. Technical, there's a lot of jumps, and I won over there a couple years ago. So it's a good track. But like I said, after Glen Helen and after last weekend I want to be consistent and be on the podium at least. Obviously, last weekend I went down in the first moto, but it was going to be a good weekend again for me. So I just want to be consistent and fight for the first place. –Roberts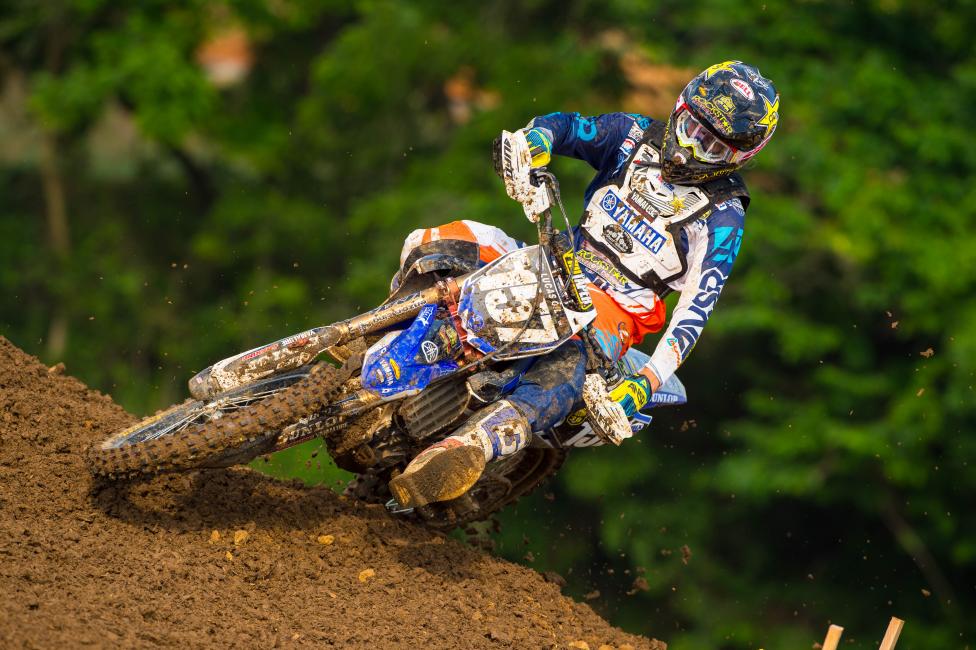 Aaron Plessinger, Yamalube/Star Racing Yamaha, 8-7 for Sixth Overall in 250 Class
Racer X: What's it like to lead a national?
Aaron Plessinger: It's amazing. Got off to a great start and ended up passing Nelson right at the finish the first lap. It was definitely an experience. Definitely want to do it again soon. So I'm going to go back and put in the work and come out swinging next week.
You had to hold off your teammate Jeremy and then later on Nelson. After that, it has to be rough to set the pace of a race.
It's definitely different than what I'm used to. It's amazing. It's crazy to just lead a pro national. I've dreamt this all my life, and hopefully here soon I'll be up on that box at the finish.
I think you definitely surprised some people for supercross. I don't think anyone really expected you to be that good in the first season. How have your expectations been so far this season for outdoors?
A little under what I would like, but it's been a good season so far, so I'm going to try and keep it in the top ten, maybe top five, and just plug along. –Roberts
RJ Hampshire, GEICO Honda, 11-5 for Eighth Overall in 250 Class
RJ Hampshire: I did all I could. I was working hard. I felt good today. Second moto, started fifth, went back to sixth, got Joey Savatgy back for fifth. I felt good all moto. Then Musquin passed me. I made a mistake. Then I closed back in on him and was close all the way to the end. I was trying to get him back. I felt good. First moto, I had a crash off the start, was dead last, did all I could, went 11-5. Really feel like I'm making improvements.
What's the difference, you think?
I get to be back home on the East Coast now, work with my trainer every day. But my team has worked hard making me comfortable, getting my bike where I like it. We worked hard out in California, did a lot of testing—it really paid off. I like my bike setup now; we've just got to keep going every weekend.
So no more bike changes; now it's training and riding?
Yeah, pretty much. The first two rounds I really struggled with that, but I've ridden this track a bunch of times as an amateur, so it was good to be back in an atmosphere I'm comfortable in. Being on the East Coast is good. Flights are short. It's all-good. –Weigandt