Muddy Creek Raceway
Blountville

,

TN
Tennessee (Muddy Creek)
Lucas Oil AMA Pro Motocross Championship
Red Bull KTM's Ryan Dungey isn't letting off the gas now. He has the points lead thanks to Eli Tomac's huge crash last weekend in Colorado, and he further extended it with another overall victory on Saturday at the Red Bull Tennessee National, where he went 1-2 to edge his title rival Ken Roczen. The victory gave Ryan, who sits third on the all-time wins list, his fortieth career win—quite the milestone.
Better yet for him, bike changes seem to make him more comfortable than ever. He talked about it in Muddy Creek's post-race press conference.
Racer X: Our overall winner today going 1-2 in his motos and winning his fortieth combined AMA pro motocross overall. He's third on the all-time list, second behind James Stewart. Congratulations on a great race today. Would love to hear the story about how your day went, especially about moto two and what happened at the top of that hill to slow you down just a smidge.
Ryan Dungey: Overall the day was really good. Practice went really well. We got some new stuff suspension-wise that we came into this weekend with that they were able to work on. And so we started with that, and things were good right away, right off the bat. I felt comfortable. The bike was much more to my liking, especially the rear. The balance was really nice too. So a little bit of adjustments in practice, and we got the fastest time, which was nice. The first moto's start was better than the second one. The second one I really got off the gate not so hot. That was the reason I lost so much time in the beginning. That's not ideal, but I tried to make a charge and come through the pack as quick as I could. I was making some ground on Kenny [Roczen] little by little and getting into some lappers. They were really heavy today, I don't know why. One just slowed down. I was coming in on the inside and he stood me up and high-sided me. Unfortunate, but we gained a little ground back. Overall it was a good day. We put in two good hard-charged, hard-fought motos. I was really happy with my performance as well as the bike. The team did a good job. We made more progress this week, and it's good to get another overall.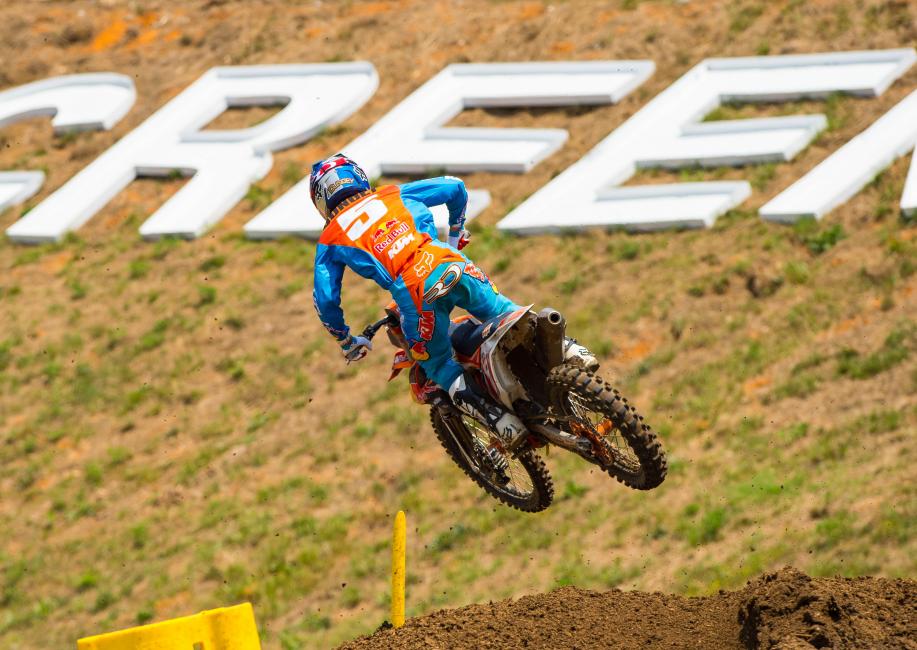 This track was a little bit different than it has been the past couple of years. I don't think they watered it that much coming into it, maybe because of the overcast skies. How was it different riding this track than more of the rutty tracks in the past couple years?
They did a little bit of maintenance to the track before our first moto, so it was a little smoother than what we were used to the first three rounds. I don't think it got as rough at the end of the day, but it still got pretty rough that second moto. I think there was so much rain in the forecast, or so they thought, that they didn't put a ton of water in it. I think they ripped it really deep, but it was missing all that water they usually put in over the years. But second moto got pretty rough. The lines were developing. It seemed like the base was a little bit harder this year than previous years. That's what's probably keeping it from the lines and the ruts and stuff like that. But it still was good. The track was challenging but more down to that hard base—slippery, spinning on that shale. That was the tough part of it. Everything else was good. Ruts were rough and everything, but there was a lot of hard spots on the track, and struggled for traction, all of us, I think.
Can you expand a little bit more on your new suspension? Can you get into a little bit more detail about what those bits are or what they've done to get the motorcycle more to your liking?
Internally, I leave it up to them. I never ask. It's just a feeling. I feel like, mainly for us, it was the rear shock, and the change helped the balance of the bike a lot more. Around the whole track it followed the ground better and it's just a feel. When you're getting kicked or when it's getting stiff and it's getting hard, there's things they can do to make things better. So everybody goes to work and you try testing stuff, but actually [in this case] it was Ryan Morais—he works for the team, he's kind of our test rider. Jim [suspension man from WP] calls him our secret weapon. So they went out with Morias this weekend and tried some stuff. I told him what I felt, and he agreed and they were able to get that better and make some big changes. It just follows the ground more, better traction, more comfort. The list goes on. I felt like I could charge the rough stuff today, and before it didn't feel as comfortable in those parts of the track. So I was pretty happy with that.
Now with [Eli] Tomac out, it's pretty much—I don't want to say it's just you and Roczen, but he's pretty much your main competitor right now. Everyone knows that you're not going to take a break by any means, but are you able to stay a little bit more relaxed than what you were over the first two rounds?
No. Unfortunate what happened with Tomac, with him being hurt, but my approach hasn't changed. I come into the race knowing that Eli was going good, and now Ken's going good, and other guys. But my approach, I've got to focus on myself at the same time coming into every race. Does me no good to be thinking about the other riders on the track and not focusing on myself because I need to get the most out of me. So the approach hasn't changed. With every race I give it my all, give it my best. That's my goal, and I try to put myself in good positions and win as well. But there's still a lot of racing left to be thinking about. Just taking it one at a time, and that's all I can do. Can't take the focus off myself and what I'm doing. That's it.