Thunder Valley Motocross Park
Lakewood

,

CO
Thunder Valley
Lucas Oil AMA Pro Motocross Championship
GEICO Honda's Eli Tomac hasn't just won the first four motos of the Lucas Oil Pro Motocross Championship; he's dominated them. But it's a long series, and no matter how big the gap at the finish, a moto win only pays 3 more points than a runner-up finish.
We dug into the Racer X Vault to find previous strong starts to the season. Most riders ended up as champions, but a few lost titles in heartbreaking fashion. As for Eli, well, we'll know by the end of August.
500/250/450MX
2013: Ryan Villopoto 5-0 | Won title
When RV won the 2011 title, he started a little slow, with Ryan Dungey and Chad Reed getting the drop on him. He didn't make the same mistake in 2013, coming in healthy and winning right from the start. Villopoto won the first five motos of the year before crashing in the second moto at Muddy Creek, allowing Dungey to slip past and take the moto and overall win. Villopoto still won the title though.
2012: James Stewart 4-0 | Injured at Thunder Valley | 11th in championship
Stewart switched from JGR Yamaha in supercross to Yoshimura Suzuki for the outdoors, which he had not raced full-time since his 2008 undefeated season (he'd raced with a supercross-only contract from 2009-2011). His return and team switch started brilliantly, with moto sweeps at Hangtown and Freestone. Then a photographer ran across the track in the fifth moto at Lakewood, and Stewart, while leading, crashed. Ryan Dungey took the win and took off in the points.
2008: James Stewart 24-0 | Undefeated | Won title
Stewart was leading the AMA Motocross points in 2007 until a knee injury ended his year. After ACL surgery kept him from supercross, he came back to win every moto in 2008. It was Stewart's last foray with Kawasaki.
2005: Ricky Carmichael 4-0 | Won title
Carmichael switched to Suzuki and the new RM-Z450, and he won the first four motos of the season before crashing in the first moto at Southwick, handing the win over to Chad Reed. Carmichael won moto two to seal up the overall. He won all twelve overalls, but merely twenty-two of the twenty-four motos. Yeah, the guy was really slipping.
2004: Ricky Carmichael 24-0 | Undefeated | Won title
Carmichael lost a few motos and overalls to Kevin Windham in 2003, as Windham was on the new CRF450R Honda four-stroke and Carmichael was still on his old CR250R two-stroke. After missing all of supercross in 2004 with a torn ACL, Carmichael chose the 450 for the Nationals that summer and promptly won every single moto for the second time.
2002: Ricky Carmichael 24-0 | Undefeated | Won title
The first perfect season, setting a new standard. Carmichael, in his first year with Team Honda, demolished the field every weekend on his CR250R.
1996: Jeremy McGrath 6-0 | Lost title to Jeff Emig by 10 points
MC was enjoying an epic 1996 season, winning fifteen of sixteen supercrosses and then the first six motos of the 250 Nationals. Just like Rick Johnson ten years earlier, High Point ended his streak. McGrath uncharacteristically faded back to fifth in the first moto, then came back to win moto two. Jeff Emig took the overall via 3-2 scores. McGrath held a big points lead for most of the season before hurting his foot at Millville just as Emig was hitting his stride. Emig made up the points and beat McGrath for the title at the final race at Steel City.
1986: Rick Johnson 6-0 | Won title
Johnson won the 1984 250 National Championship for Yamaha, lost it to Ward in 1985, then came roaring back with Team Honda in 1986. Johnson swept the first six motos of the season before Ward edged him in the first moto at High Point, but RJ came back to claim the overall that day. He won the title by 46 points over Bailey.
1985: Jeff Ward 4-0 | Won title
Wardy and his Kawasaki were dialed in this year, as Jeff not only just edged Broc Glover for the 250 supercross title, but also won the AMA 250 National Championship over Johnny O'Mara as well. Ward won the first four motos before Rick Johnson went 1-1 at round three in Las Vegas. Ward won the title over O'Mara, 446-428.
1984: David Bailey 8-0 (500MX) | Won title
Bailey versus Glover was the de facto 500cc national battle of the 1980s, with Bailey's glorious works RC500 Honda against Glover's old air-cooled YZ490. In 1984 Bailey got the jump on Glover, winning the first eight motos of the season before Glover finally got a moto win at round five, at High Point. Bailey still won the first eight overalls (of ten rounds) and went on to win the title.
1983: Bob Hannah 4-0 | 3rd in championship
Hannah won the first four 250 motos of 1983 on his factory Honda but then got sick before the third round at Gatorback Cycle Park in Florida. That opened the door to his Honda teammate David Bailey to win the overall with the unlikely score of 2-5. Second overall was Yamaha's Rick Johnson with a 7-2. Why all the confusion? First-moto winner Scott Burnowrth of Team Suzuki suffered a second-moto DNF, and second-moto winner Billy Liles was thirteenth in the first moto!
After a few down years trying to come back from a broken leg with Yamaha, Hannah was clearly back at the top of his game during this season after switching to Honda. But "Hurricane II" ended too early. Bob broke his wrist at the Orlando Supercross and ended up losing both the supercross and 250 national titles to his teammate David Bailey.
1979: Bob Hannah 8-0 | Won title
Hannah won the first eight motos in 1979 in the 250 Nationals before going 2-DNF at Southwick MX-338. Suzuki's Kent Howerton won that round. Hannah hit a fence post and broke his finger in the first moto, yet he was winning the second moto when, according to Cycle News, "his normally reliable Yamaha ground to a halt with a broken transmission." Hannah went on to win the title for the second year in a row.
1978: Bob Hannah 10-0 | Won title
In 1978 Hannah was on a twenty-two-moto winning streak that stretched across the Florida Winter-AMAs and AMA Supercross, as well as the first five rounds of AMA 250 Motocross. He won every moto of those five rounds before finally losing the first moto at the sixth round at Sears Point in Sonoma, California. Honda's Marty Tripes beat him in the moto, though Hannah still won the overall with 4-1 moto scores. He would win again in St. Louis to go seven-for-seven in overalls. At that point the Hurricane was slowed by an injury, and he didn't even race the last two rounds—he had already wrapped up the title.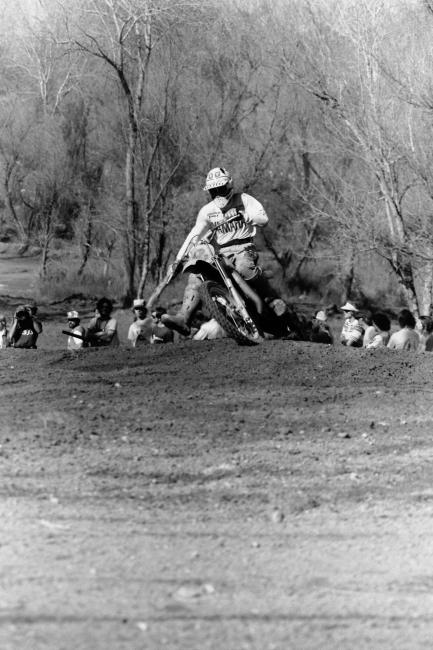 125/250MX
2014: Jeremy Martin 5-0 | Won title
J-Mart shocked everyone by dominating the first four motos of the year, but a crash in the sixth moto at Thunder Valley resulted in a sixth, ending his streak. He'd still go on to win the championship.
2004: James Stewart 9-0 | Won title
Despite racing a KX125 against a pack of 250Fs, Stewart won the first nine motos of 2004. He crashed in the first turn of RedBud's second moto, ending his streak, and Mike Brown won the RedBud overall that day. Stewart came back to win every single moto for the rest of the season. Not quite 24-0, but 23-1 ain't too shabby.
2001: Grant Langston 4-0 | 2nd in championship
Langston's move from Europe to the US couldn't have started any better, as he swept the first two 125 nationals at Glen Helen and Hangtown. Then he had bike troubles at the starting line at round three at High Point, ending his streak. Langston hurt his shoulder at Southwick, battled back, and led the points until the final moto at Steel City when a broken wheel cost him the title.
1987: George Holland 4- 0 | 2nd in championship
Honda's George Holland took the first four motos of the 1987 AMA 125 Nationals from teammate and defending champ Mickey Dymond, but then got a couple of bad starts at the third round in Southwick and let Dymond get back in the hunt with his own 1-1 sweep. From there Dymond would take over and successfully defend his title. Holland's turn was coming, though, just one year later.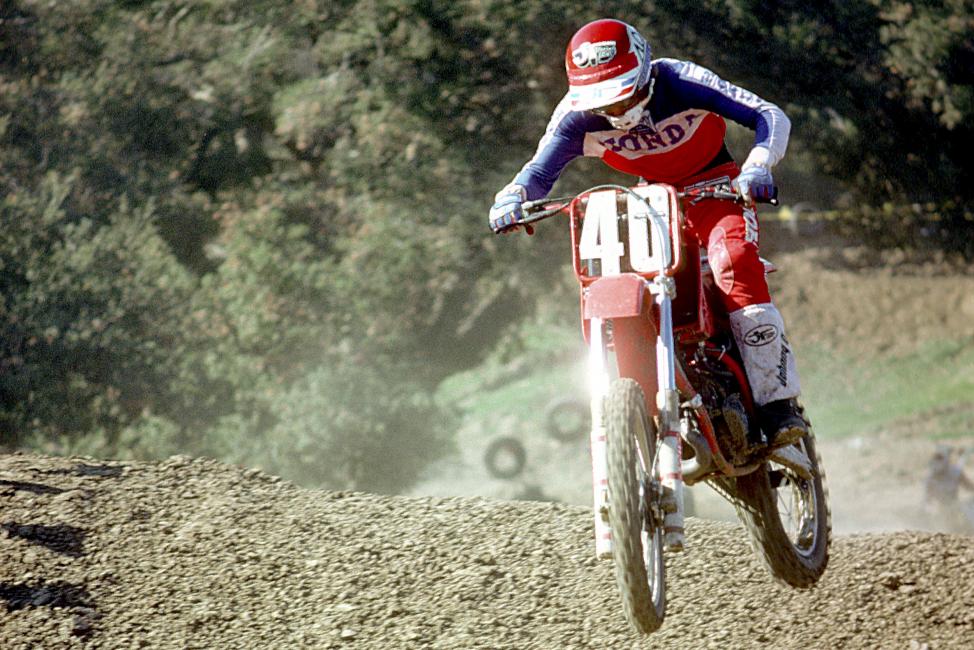 1981-82: Mark Barnett | 14-0, 4-0 | Won titles
In a near summer of perfection Mark Barnett started the 1981 AMA 125cc Motocross Championship with seven straight overalls and fourteen straight moto wins. All he had to do to have the first perfect season in history was win the eighth and final round at Carlsbad Raceway to wrap it all up. But on the Tuesday before the race Barnett crashed while practicing and broke his collarbone. That ended his run at perfection and opened the door to two first-timers: Honda's Johnny O'Mara won his first-ever 125 national overall that day, and Yamaha's teenage rookie Rick Johnson won his first-ever moto, the last moto of the season.
Barnett started out 1982 perfect as well, at least for four motos. Then the Bomber was leading the Texas round at Lake Whitney Cycle Ranch when he got into a "tank-slapped-turned-endo" and crashed back to third. He then had to stop and straighten his bars, eventually finishing fifth. Kawasaki's Jeff Ward won the moto, ending Barnett's streak. Mark won the second moto, but the overall winner was Wardy, for the first time in his AMA Motorcycle Hall of Fame career.