Lakewood, CO
Thunder Valley
Lucas Oil AMA Pro Motocross Championship
After riding a 450 in Monster Energy Supercross, an FIM World Championship, Tevin Tapia decided to switch things up for the summer. Rod Tapia, Tevin's father, joined together with Daniel Tuengel to create a team for the Lucas Oil Pro Motocross Championship and beyond. The team switched from a Suzuki RM-Z450 to a Yamaha YZ250F for the summer.
Tapia will only be racing the West Coast rounds this summer because of limited funding, but he already plans on racing next year no matter what. Tapia is one of only a few true privateers to have scored points in two of the first four motos. We caught up with the rider to get his take on his first two nationals and his new team setup.
Racer X: What's going on, man? Are you getting ready to go do some motos right now?
Tevin Tapia:Yeah, I'm out at Milestone right now. I'm getting the ball rolling on my end-of-the-week motos. I'm heading out to Colorado tomorrow morning. It's going to be a long drive.
What do you have planned today for your motos? Are you working on anything specific?
I've got to do two thirties and do a little testing with the race bike.
In supercross you were on a Suzuki 450, and now for the outdoors you're on a Yamaha 250. Why did you decide to switch?
We wanted to change it up a bit, more so for next year. I'm going to probably be riding a 250 next year. I wanted to get the ball rolling on that. I'm just seeing how things go and see what I like. We were looking at KTMs, but we ended up going with Yamaha. I'm super happy with it, and I love riding that bike. I feel like it suits me well. When I wake up in the morning I just get amped to go ride.
Let's talk about the first two rounds a bit. You've scored points in two motos. Is that how you wanted things to be, or did you want better results?
I mean, we for sure always want better. It's a good starting point, I guess. I'm struggling in my first motos, and I'm trying to point a finger at what's wrong with them. I've got to figure that out for this weekend. I keep falling down and putting myself in bad positions in the back of the pack. I've just got to figure that out. My second motos are really strong and I know that I'm fit. I've been working really hard, so I know I can last through my motos. I just have to put myself in the right position so I get points in both of my motos. It'll make my sponsors happy and me happy.
I saw your setup on your Instagram. The bike is looking great with the canopy and everything you have. Did you put together this team yourself?
No, actually Daniel Tuengel and my dad, Rod Tapia, put together this team. It's called TNT Racing, which stands for Tapia and Tuengel. My dad does suspension work and motor work and other mechanical stuff out of the garage at home. He's been a part of my program since forever and still to this day. Daniel Tuengel with DTMX came in at the East Coast rounds of supercross to help me out. They just merged together and wanted to build their own team. It's a Christian-based team and we're just trying to bring all of the right people together and make good things happen. In a way we want to try and change the way that some teams function in motocross and supercross.
It's cool to have a team, but when that team has a mission and knows what it wants to accomplish both on and off the track, that's even cooler.
Yeah, it's awesome. We're still trying to make things happen as far as getting more sponsors and funding. Obviously we couldn't get anymore funding this summer. I'm only going to race the West Coast rounds, which are Hangtown, Glen Helen, Thunder Valley, Washougal, and Utah. It sucks because I've really been training my butt off to do the whole series and stuff, but it is what it is. I'm happy with the blessings that I have been given this year. I wanted to do something really good and kind of open some teams' eyes. You know, the bigger teams, and maybe get a fill-in ride the rest of the year. I just want one opportunity. I've never had that shot before, and I've been racing pro for six years. I've yet to get that one chance with a team. So hopefully I can keep working and open some eyes this weekend. Maybe something will come about.
You were one of maybe three true privateers that actually scored points at Glen Helen, so that's good for showing your worth.
It's cool, you know, but I've been doing this for a long time. Like I said, it's my sixth year and I should be scoring points, you know? I'm supposed to be. Realistically I should be in the top fifteen hunting down the top ten. I just have to keep working. I know where I need to be; I just have to get there.
Coming off of the 450, do you feel more comfortable on the 250?
The way my dad raised me I can pretty much jump on anything and go pretty decent [laughs]. I could go race a KTM or a Husqvarna next week and do just as well. The way I was raised I used to practice on flat tires and stuff, just because my dad wanted me to be tough. Anyone that knew me growing up knew that I didn't have the best equipment. I've been known to snap a few frames in half. I just pin it I guess [laughs].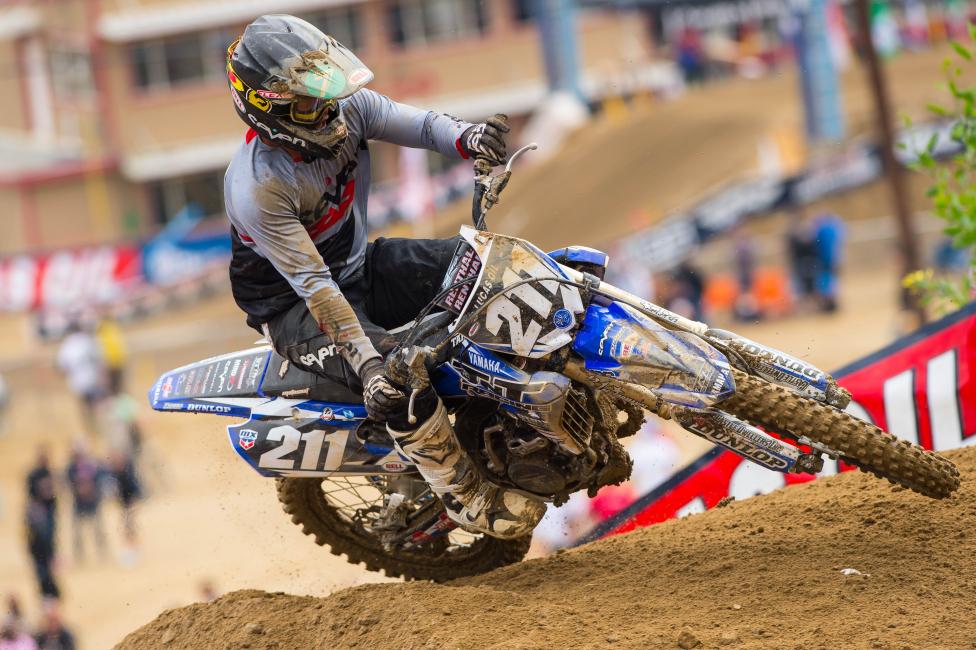 What keeps you coming back to this sport? What do you want to accomplish in racing when it's all said and done?
I want to race until I can't anymore. I'm going to keep this thing going until I run out of money, which I have plenty of times [laughs]. I don't know, I'm just not done. I love this sport so much, and I wake up every morning wanting to ride. That will never leave my blood. I want to prove that I can be a top-ten guy. All of the guys that are in the top ten, I grew up racing with them. There's no reason that I can't be up there with them. I just have to keep growing, maturing, and keep working.
You're wearing Seven gear now. I know that you've been friends with the Stewart family for a while now. Not many people get to wear that gear.
Yeah, it was a tough decision, as far as switching from Fly. I've been with Fly my whole life. I just felt like it was time for a change. Malcolm [Stewart] always gave me a hard time for not wearing Seven. Roger Larsen and I sat down and figured some stuff out, and they put me in the gear. I'm stoked and I love the stuff. I'm pretty sure I'm the only pro out there wearing it right now. I'm trying to represent the stuff the best that I can. Malcolm knows that I should be a top-fifteen guy, so he's always being motivational towards me during the weekends. He wishes that he was racing and I wish he was too. I'm stoked to be a part of Seven.
Who do you went to thank for helping you out this year?
TNT Racing, 3t Performance, DTMX Racing, Yamaha, Blu Cru, Bell, Dragon, Seven, Alpinestars, DCR, No Toil, Dr. D, Ankle Savers, Fusion Graphics, Rekluse, Mind FX, Risk Racing, VP Gas, coreMX, Redline Oil, MotoSeat, Dunlop, Joe's Sushi, Brian Gray, Solice Electric, Castle Dwellers, Rad Wheels, REC MX, Rod Tapia, Daniel Tuengel, and Rockwell Watches.
If anyone is interested in helping out Tevin you can email him at Tapia211@hotmail.com.