Hangtown Motocross Classic
Rancho Cordova

,

CA
Hangtown
Lucas Oil AMA Pro Motocross Championship
The first round of the Lucas Oil Pro Motocross Championship has come and gone, and it was a welcome change after seventeen straight rounds of Monster Energy Supercross. The sun was shining and the bikes were revving—motocross at its finest! The opening round is always an interesting day for teams and riders, with plenty to learn as the day progresses. It's an exercise in trial and error and, for some, simply hoping they guess right.
When a track gets as rough as Hangtown did, the motorcycles' handling characteristics rule the conversations throughout the paddock. For many teams and riders, this is their first outdoor race together. Sure, they've done countless hours of testing, but it's impossible to replicate race conditions at the practice track. The intensity of racing is simply higher and the bike is pushed harder than it is during the week. This causes some head-scratching on Saturdays, as a setting that felt perfect on Wednesday may feel horrific at the twenty-minute mark of that first moto.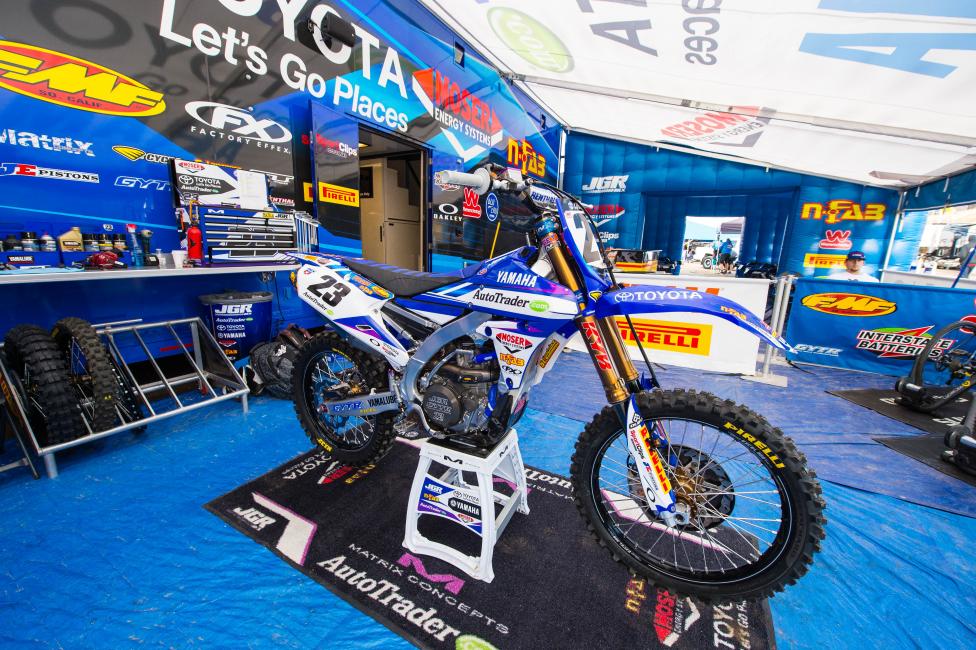 Watching Weston Peick in his first moto, I could see that scenario unfolding. He was pushing extremely hard and was surely going fast, but he wasn't comfortable doing it. I saw the bike react in a manner that he didn't anticipate more than once, and those unexpected moments took a huge toll. He was undoubtedly holding on too tight, fearing what the bike would do next. That leads to arm pump and a march backward. His entire moto was affected by that escalation, and he wasn't alone. Many riders suffered from this same problem; I did, too, many times in my own riding career. It's not a fun way to spend thirty-five minutes.
The intermission between motos provides a great opportunity to fix problems. The technicians will have watched the bike and should have a rough idea of what needs to be addressed. They'll also have film from the race to watch, which can also help guide them. The tough part for the rider is giving accurate feedback: with so many options on the table, it can get confusing. For instance, Weston could have changed the clamps, races (inside the clamps), fork compression, fork rebound, linkage, shock compression, shock rebound, sag level, wheelbase length, ECU settings (power delivery and traction control), tire compounds, etc. There are endless combinations to consider. The biggest challenge is avoiding unwanted side effects.
For instance, if Weston felt the forks were too stiff, causing arm pump, he could easily soften the compression. Problem solved, right? Not so fast. When the forks are softened, that directly affects how the shock responds. Your forks are under a tremendous amount of pressure coming down those nasty Hangtown hills. Softening the compression on the forks will improve plushness, which Weston would want, but will also decrease the bike's stability down the hills. Less compression means the forks will ride lower in the stroke, allowing the shock to have more influence. The forks play a crucial role in keeping the shock in check. As Weston comes screaming down one of those many hills with softer forks, the shock could potentially rebound more violently, decreasing predictability and Weston's confidence along with it.
This is the conundrum teams and riders face when they change settings mid-race, and Peick was one of many dealing with that between the motos on Saturday. In a perfect world, one problem would require one solution. In racing, that problem usually requires compromise, and success isn't guaranteed. This is what keeps chassis experts awake at night.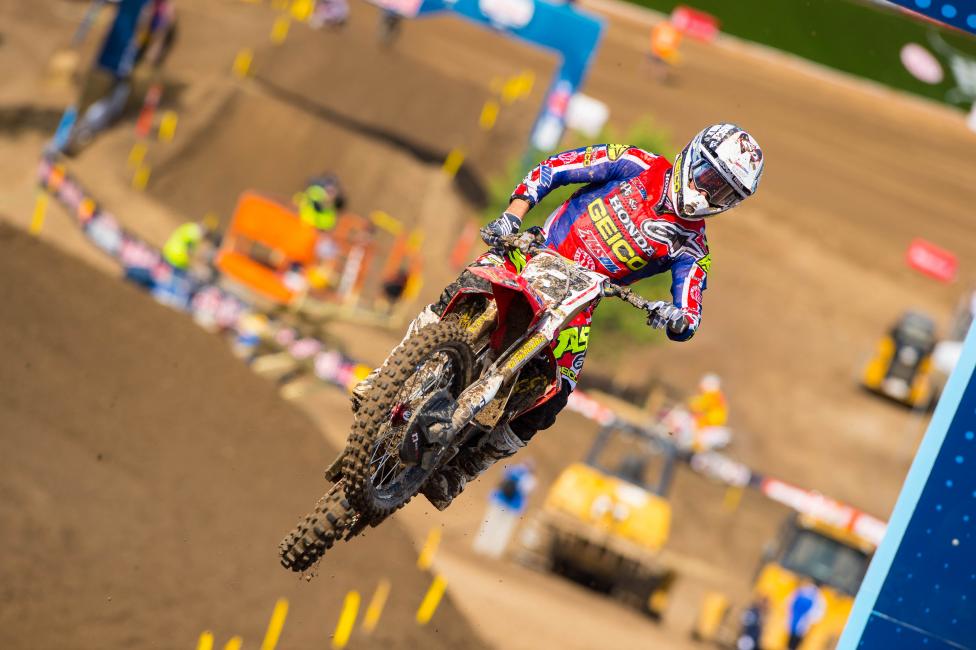 Sometimes two plus two equals five, and in an engineering world that has to be frustrating. Many teams, such as RCH Suzuki, have spent big money to maximize data acquisition and analysis. All that money can seem wasted when the data says one thing and the rider feels something completely different. That dynamic happens on every team in the pits. Engineers and riders can't always agree on the right adjustment. One side is based in data and computer readings while the other is based in real-world twisting of the throttle. Worse, motocross makes for an especially difficult game because the track changes every lap, and riders can also change lines and hit different bumps, holes, and ruts throughout a race. It takes teamwork and communication to overcome these hurdles.
The top three in the second 450 moto all said they made significant changes during the day. Eli Tomac struggled with settings in the first moto and then made a change, and we all saw how great he was in the second moto. Ryan Dungey, on the other hand, hoped to make a positive change but went backward on his settings. Peick fared much better and was able to charge forward in moto two, the opposite of his arm-pump-induced fade in the first moto.
They were all a bit unhappy with their first-moto setups and looked to right the ship for moto two. Tomac and Peick certainly appeared to move in the right direction, while Dungey may have guessed wrong. That's the ebb and flow of outdoor motocross. Settings are constantly changing. It's an interesting "race within a race" to see who can take all the available information and apply it the most efficiently. As we saw at Hangtown, it can make a huge difference in the results.