Rancho Cordova, CA
Hangtown
Lucas Oil AMA Pro Motocross Championship
GEICO Honda's Eli Tomac didn't just win the opening round of the Lucas Oil Pro Motocross Championship; he dominated it. Crushed it. Killed it. He went 1-1 in the 450 Class at the GoPro Hangtown Motocross Classic and won the second moto by a whopping minute and thirty seconds over Ryan Dungey, making for the largest margin we could find since Ricky Carmichael lapped the field in a mudder in 2006.
Maybe worse yet for the competition, Eli said he felt like he was comfortable at that pace! He talked about it at the post-race press conference.
Racer X: Congratulations on the win today. Why don't you start off by telling us how the day went, because from where we were sitting it looked like an incredibly dominating performance.
Eli Tomac: Round 1 is always unknown coming in here. A lot of guys prep and train in California and test, and I was out there at one point, but I wasn't out here leading up to here. It's always a guessing game when you come into here. For me the day just started out well in practice. I was top qualifier in there, and then going to the races themselves I got good starts. I don't know what to say. I was just connected on the bike today and had good lines, didn't have many mistakes, and held on for both wins.
In both motos you were obviously getting away, big leads. I guess it took a little while longer the first moto than the second, but at any point did you think of backing it down?
As a rider sometimes if you are pushing the edge you do back it down a little bit, but I was at the point today where I was just riding at a comfortable pace. I was just doing my thing. That wasn't the plan really to take it easy. Early on you try to go out there and attack and get as many points as you can.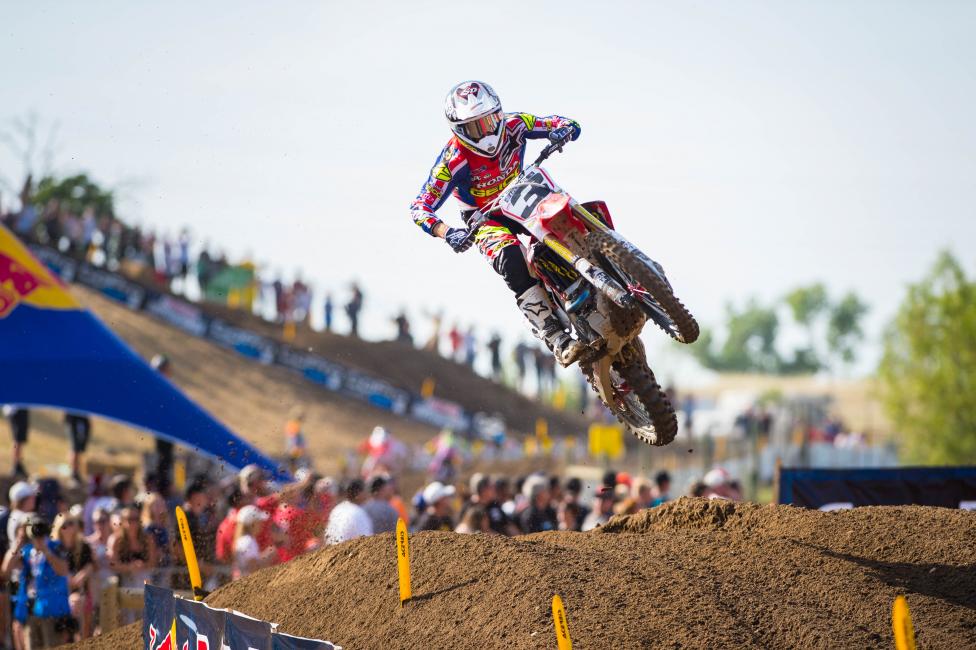 Your first career victory was here at Hangtown in 2010. Fast forward five years and you start off the 450 2015 season with a moto win here at Hangtown. Tell me about the track and the memories of that first victory and how you felt today.
I would say this round is normally one of the roughest tracks that we have. It's a West Coast track, and it gets a little bit dry and edgy. Actually, this year it was… I would say the least amount of that [type of condition] that I've had since I've been here, just because the rain I think from the past couple days. I don't know what to say. The past couple years here I thought I've actually struggled a little bit comparing that to the 2010 race, so this year for me was a huge improvement.
Tell me about the Fly Racing 150 [150-foot jump]. You were launching. The crowd was going crazy. It's now the longest jump on the series. Are we going to rename that thing? We had LaRocco's leap at RedBud; is it going to be named Tomac's Triumph? What are we going to call that thing?
I don't know if I deserve that. There's a lot more guys doing it than just myself. It was a cool jump. It was just wide open. I think I was in fourth gear on a 450 on the seat. It was big.
We head to Glen Helen now. You have the 6-point lead. What do you think of that track? How do you normally do there? Do you like it?
I haven't raced a professional outdoor national there, so that will be a first for me. I wasn't there last year and that track, I think, is by far the gnarliest track on the circuit, so we'll see how it goes. It has gigantic hills and they always prep it way differently on practice days there.
You said you haven't raced a professional race at Glen Helen. Have you spent much time there in the amateur days, or do you have much experience with that track?
I've had plenty of Thursdays there riding on open days and the occasional regional in amateur stuff. I've raced it, but I know that they always prep that thing totally different for the pro event, so it'll be a good one for sure.
We obviously know Ryan Dungey's a super consistent guy and he can podium you to death. What's it going to take to make your season a little bit more consistent than say supercross like you've done in the past or some other seasons?
It's just not making those stupid little tip-overs like I had in supercross. It's going to take wins too. Dungey got eight wins in supercross; I got three. That'll work you over too, and podiums do also.
We know you felt a lot more comfortable this year with your bike in supercross. You were pretty good at the end of the year outdoors. Do you feel your bike's way better than it was outdoors last year, or is it just a continuation of late last season?
I think I found a little bit again in the second moto again today. I think I improved it a lot. I won a race last year, but I never won a moto by a minute-twenty, so I think my bike is even better. It's exciting.
Can you explain why you have the Hangtown Dirt Diggers logo on your jersey? What's that all about?
That was actually Johnny's T's [Eli's dad, John's] idea. It's cool to show support for local organizations for the tracks.
Looking ahead to next week, we knew you dominated—obviously it was pretty clear. But is there anything that you discovered about the bike from riding these two races that you're going to carry into the next event?
Yeah, you're always trying to search and make things better. I found a better setting for the second moto and it was good. So as of now I'm going to stay where I'm at. I'm happy, so not much changes between here and Glen Helen.