Hangtown Motocross Classic
Rancho Cordova

,

CA
Hangtown
Lucas Oil AMA Pro Motocross Championship
Before we get too deep into this, just know that this is a story about injuries. It's not a commentary on riders getting too much too soon, taking things for granted, not having heart, or turning into rock stars. Although, if things don't work out, that is surely what we will hear. Right now Ken Roczen and Adam Cianciarulo are merely coming back from injuries. Everyone comes back from an injury at some point, but Roczen and Cianciarulo don't represent just anyone. One year ago they were the heirs to the throne, the next "it" guys, the superstars to take the baton from Reed, Stewart, and the Ryans. In fact, if you looked far enough into the future and squinted really hard, you could actually see these two challenging each other for 450 supercross supremacy.
The future is on hold, and the present just became much more important. These two are in comeback mode heading into this weekend's Lucas Oil Pro Motocross Championship opener at Hangtown, and the competition has not waited around for them. "It" status is back up for grabs, making this summer very critical.
They're just 21 and 18 years old, which shows how much of a young man's sport this still is and how fickle injuries can be. Things have changed very quickly for the duo. Just months ago, Roczen won two of the first three Monster Energy Supercross races and had silenced any criticism of his off-season switch from KTM to Suzuki. An ankle injury later and KTM has flipped the script. Now it's Ryan Dungey winning everything and making that new 450SX-F (the one Kenny chose not to try) look oh so good. Now that Dunge is "the guy" again, the favorite heading into this outdoor campaign, the one getting the compliments and congratulations, the one having to absorb "Hey, once Villopoto left we all knew Dungey would win," which is an insult to Ryan and an even bigger one to Kenny, because it implies the Roczen challenge wasn't ever really a thing. But at Anaheim 1, it was. It was a year ago, too, as Roczen lined up mano a mano with Dungey for the 450MX championship and came out on top.
Things have changed so much that Roczen comes into the summer as both the defending champion and also somehow under the radar. There will be much to prove here, because any sense of slippage from his amazing rookie campaign will be seen as a referendum on his team switch, the bike brand, the team itself, or Kenny's commitment. Remember, Kenny moved away from the Aldon Baker program while Dungey moved toward it, so there'll be much to discuss if things don't work out as well as they did last year.
Winning every title you line up for isn't easy, but these are the standards of the superstar. Losing is never quite accepted and doesn't go unnoticed. Once the Ryans ripped the titles away from Reed and Stewart, they never gave one back, not a single one, from 2010 until Roczen broke through against Dungey last year.
Dungey got the supercross title back. So we can sit here and overanalyze, wondering aloud about Kenny's team or trainer decision. But really, the walls aren't crumbling like they seem. Kenny made one dumb move at the Oakland Supercross, trying to jump a triple from the inside, and he cased it and hurt his ankle. Had that not happened he would have won three of the first four supercrosses. Not to take anything away from Dungey this year—he was incredible, full stop—but overcoming Kenny's fast start was no guarantee. Roczen has even greater skills outdoors, and the RCH/Soaring Eagle/Jimmy John's Suzuki team around him is chock full of experienced hands even if the team itself has never operated at this level. Yes, Aldon and that new KTM have worked wonders with the Dunge, and Ryan is always a front-runner in every moto, every year. You can't sleep on Kenny's talent though. A year ago, he was a 20-year-old 450 rookie facing proven champions like Dungey and James Stewart. He emerged as champion.
The Cianciarulo story is more complicated. Last April an amazing story was building at Villopoto's property down in Florida. RV himself was leading the supercross standings again, his protégé Roczen was perhaps his closest threat, and Cianciarulo was leading the 250SX East Region points in his rookie season. They shared hugs on the side of the track after successful nights in supercross. The stories emanating from the Villopoto property were good ones. Kenny and AC were the young energy, the fun-loving kids who dueled on Instagram, while Villopoto put in the work for work's sake and continued to climb the all-time ladder. It was all a perfect match until Cianciarulo busted his shoulder in Toronto, and Villo got burned out hurt his knee and exited stage right—or, actually, he took the stage with him, selling his Florida property.
When Baker put down his own stakes for his own place, Kenny and Adam came over. Then Cianciarulo hurt himself again at the Geneva Supercross, and Kenny decided to part ways with Baker. The band was no longer together, and Dungey, Marvin Musquin, and Jason Anderson, not even in this conversation a year ago, had seats at the table.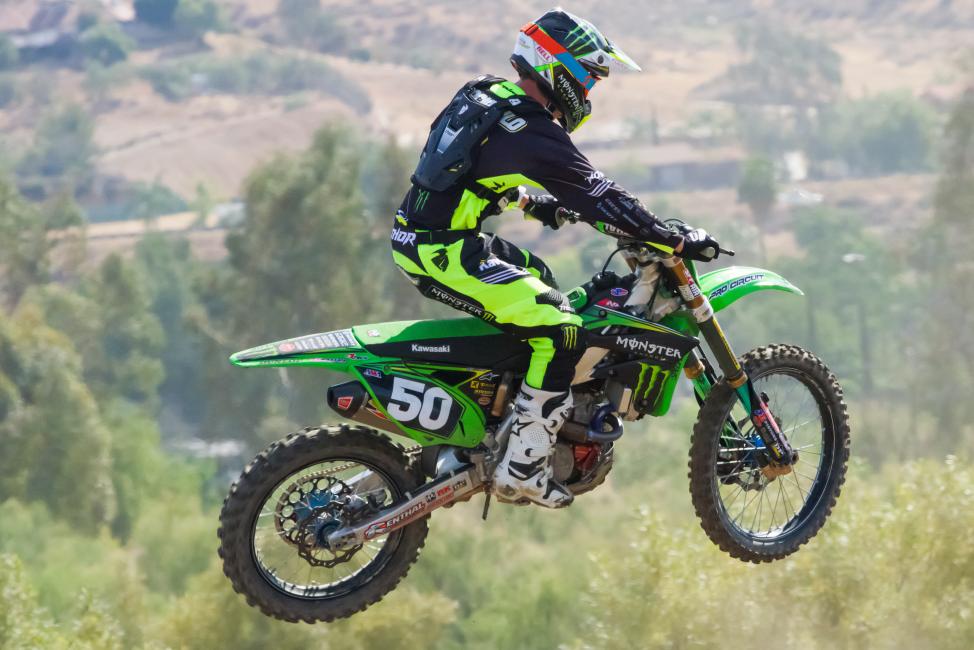 Cianciarulo is still a Baker client, though, and he's still on the same team. This might just amp up the pressure. While Roczen's team switch will be questioned if he doesn't perform this summer, Cianciarulo's team is already being questioned. It has been a horrible year for each of the three entities named in Monster Energy/Pro Circuit Kawasaki. Through both the 250 and 450 classes in supercross, and with Villopoto's experiment in the GPs, those brands haven't won much of anything (RV did get one GP win, but expectations were much higher than that, and Chad Reed was the lone Monster athlete to win a supercross). With Villopoto hurt, Davi Millsaps gone, Wil Hahn coming back from another big injury, and Arnaud Tonus recovering from an unexpected illness, Kawasaki has had it rough. And does anyone even realize that Monster's big US client is supposed to be Justin Barcia?
It would be treacherous enough for Cianciarulo to return to the Nationals if he were just coming off of a year of shoulder trouble. While Roczen has faced a bump the road, Cianciarulo has been down in a damned ditch, and there's that quiet murmur saying, "We've seen shoulder injuries ruin careers before." That's scary. And now those shoulders have to carry the fortunes of his sponsors—Kawasaki, Monster Energy, and Pro Circuit need to something to work out and Cianciarulo's the best hope. That's a lot on an 18-year-old who hasn't even raced a full Lucas Oil Pro Motocross schedule yet.
For his part, AC has tried to temper such expectations. He told me point blank in Vegas that he thinks he'll be an eighth-place guy when the Nationals begin. That's all he's saying—eighth. That's not enough to be a savior, which shows how badly he wants to avoid the label of savior in the first place. He's just an 18-year-old about to embark on the twelve-race schedule for the first time.
Unfortunately it's not quite that easy. Internally Roczen and Cianciarulo can race for themselves, set their own expectations, and make their own decisions. But when you have this kind of profile and this kind of talent, you'll be questioned at every turn that doesn't involve pulling away from the competition. It's not fair, but that's the sport. Their future in it continues right now.