Johnny Campbell Racing Honda's Chris Bach probably wasn't voted most likely to end Kailub Russell's win streak in the Amsoil Grand National Cross Country Series presented by Maxxis. Actually, no one was voted likely to do it, because KR, the two-time and defending GNCC Champion, was pretty much dominating the series, with five wins in five rounds. Then Bach suddenly logged the race of his life at Sunday's Tomahawk GNCC in New York to take his first career win and end Russell's bid for a perfect season.
How did he do it? Even he's not sure!
Racer X: I hate to start this with the most cliché question ever, but how does it feel?
Chris Bach: I don't know. I've been chasing what happened Sunday for literally twenty years. I started racing at 7 and I'm 27 now, so twenty years of expectation and…in terms of the race itself, you almost get that feeling like, "Oh, that's it?" Just twenty years of build up and hard work, and when you cross the finish, it's just over. It's awesome, yeah, but I think what's coolest is just the reflection on it personally more than just that moment when you win the race.
I've heard the same thing from every single first-time GNCC winner I've ever spoken to. It's always, "It actually seemed so easy out there." Never do they say, "I just rode harder than I've ever ridden" or "I just put more miles in on my bicycle than ever before." Instead, it's just, "It seemed easy." Are you going to say the same thing?
That was the very first thing I said as soon as I got off the track.
Of course.
Yeah. The biggest thing, and this is no joke, the last GNCC in Indiana, I finished seventh, and I rode ten times harder. I rode myself into the ground. I had more aggression, more energy output, more everything. I mean, I rode my ass off in Indiana for a seventh! Then I rode much easier on Sunday and I got the win. So I don't know.
And you didn't do anything crazy different between races?
For the most part, yeah. I changed it up a little bit over the last month or so. I'm back home in Indiana now, and I've been working on my riding, doing a lot on my turn track, but nothing out of the norm. I came to this race just hoping to be a podium guy and I ended up winning.
Take me through the race.
My biggest thing this year is, on lap times, I'm pretty close, not to Kailub [Russell], but to everyone else, like third place. But I've been getting bad starts, so whenever I get to that lead group, third, fourth, whatever it is, I'm down maybe thirty seconds or a minute, and I can't close it down. It's so hard if you can't see them. I'm riding really hard and putting in a lot of effort to match their pace, and then I have to exceed it, and that's even harder. So I focused super hard on the start and…I didn't get one. I was next to last off the line [laughs]. I blew that, pinned it, got into sixth, then I was just riding. Johnny [Campbell] and I had a game plan, and that was to just ride my own race and do my own thing and just ride the track. I know that sounds cliché too—that's what everyone says. But that's pretty much what I did.
Is that different than most races for you?
I want to say no, but in most races, I do ride my own race and put myself in a good position. But then you see that guy in front of you, and you want to get that guy, and you make that final push, and sometimes that final push leads to a crash, or a mistake, or getting stuck. We've got thirty-minute laps here; that's a lot of time to make a mistake. Usually I find myself making more mistakes when I try that push. I tried to ride at 95 percent pace all day and never made that push, never went over 100 percent. I think this track lent itself to not overriding. I went back and watched the archive of the live broadcast, and I'm really surprised how far back I was. I got myself in the mix, we stopped for fuel, and they told me Kailub was right in front of me and he was in the lead. We swapped around for the lead a little bit, and then he crashed right in front of me—it was a pretty good crash. Realistically, the whole next lap when I was in the lead, I was just waiting for him to catch me. I was just waiting for him to put in this massive charge and just roll right by me. It never happened. I got a pit board that said "plus-five," then "plus-eighteen," then "plus-thirty." I think when I got the "plus-thirty" is when I realized I had the chance to win. I just kept going. I wanted to push harder, but I knew I got to that position by not pushing harder. I just kept riding my pace and it worked out. It was kind of uneventful.
Yeah, but I have to give you credit—this is your first win and Kailub was undefeated. To just be cool under pressure like that, to feel like it was uneventful, is impressive.
Seeing the #1 stalking you in the grass tracks is intimidating. The grass tracks would double back and I'd see him looming back there. But the gap never really shrunk. I almost think his dominance in the first five races helped me a little bit. Because if he blew by me on the last lap, it's not the end of the world, because he's been beating everybody. If you lose, it's not the end of the world because no one expected me to win. I think that made it all a little less daunting.
Okay, but you changed your strategy a little bit and it worked. So maybe you've really found something here.
Well, we definitely found something with the bike setup. We made some changes on Saturday and it made the bike a little better—bike was already good though. Reality is I've had the speed to run with second and third, and that's cool. This weekend, if you look at the lap times, I was going pretty fast. So maybe it just comes down to me doing what I need to do and not worrying about the race so much. I hate to say it—it sounds so cliché.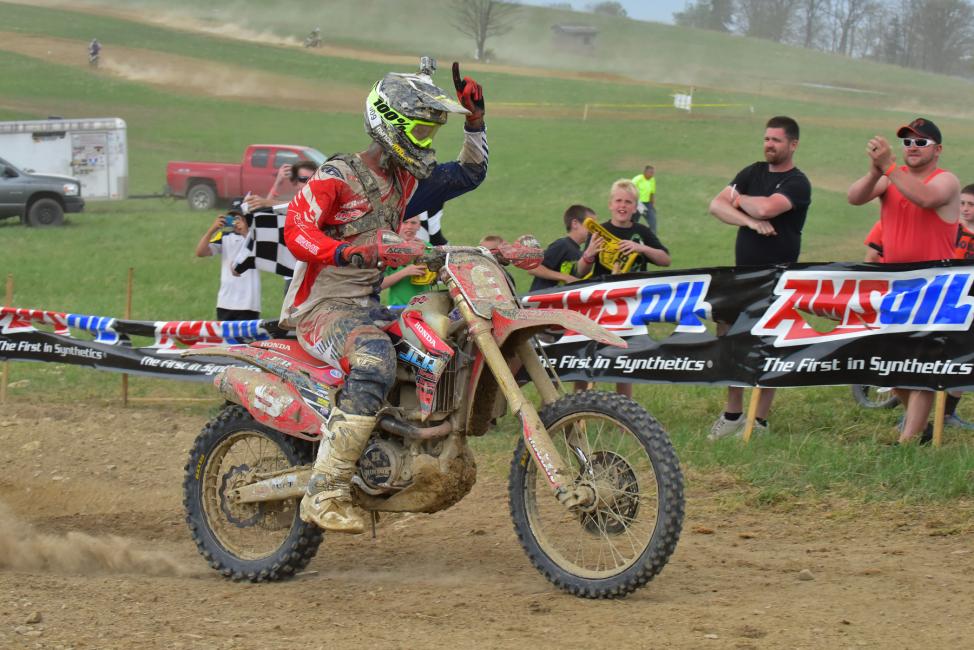 This is a factory Honda effort—they've changed their whole program from the Baja days to this and you're the only guy. There had to be some pressure there.
Yeah, this is the first factory Honda effort in GNCC since Scott Summers, and I don't know if he had a full Honda effort like this one, at least when he made his comeback maybe ten years ago.
Well, I think that was him using his previous connections with Honda and approaching them. I don't think they decided on their own to come to GNCC like they did now.
Yeah, exactly. So I went to California during the off-season and we had a meeting and they said their expectations are to get podiums and to win. Those guys believed I could do it. I believed I was a podium guy, and maybe if I got lucky I could get a win. Now I've done it. I don't think Kailub was having any issues, at least not that I know of, so I just need to tell myself in my mind that he didn't so I can take the confidence from it [laughs]. The biggest thing was I never felt like I was overstretched in my riding. I think the track helped and my bike was good, but hopefully I can do it again.
Yeah, but you know how this business works. Just one win is a big, big thing.
Oh, yeah, it's a big weight off of my shoulders. I was talking to Chris Borich [GNCC ATV Champion] last night, and we were talking about the rollercoaster of racing at this level. That's the sweet spot for me about this win. It's cool to win and be the guy that stopped the streak, but for me, I go back to the South Carolina race last year. That was rock bottom. I was ready to walk home. I was so frustrated with myself and racing, and I was putting in a lot of effort and we were struggling. We turned it around and we became top-five guys, maybe even podium guys if we didn't have some issues. This year we podiumed right out of the gate. Things were getting better. Then the last race I was riding as hard as I could, and I was losing fifteen seconds a lap. I was so angry and so frustrated. I was putting in the effort, you train, you work on your riding, your fitness, you eat the right foods—you do all the right things to prepare. And then you ride where you feel is 100 percent effort and you don't get a good result. Then I change nothing and I win. So the last two years, from lowest of the low, to a mediocre high, to another low, to the highest of high. So that's pretty cool, but at the same time it makes me wonder if I'm out of my mind for doing this as a profession. Putting myself through that mental and emotional anguish is tough, but twenty years of trying for three hours of glory? That's worth it.