Regal Wins Title in Dramatic AX Showdown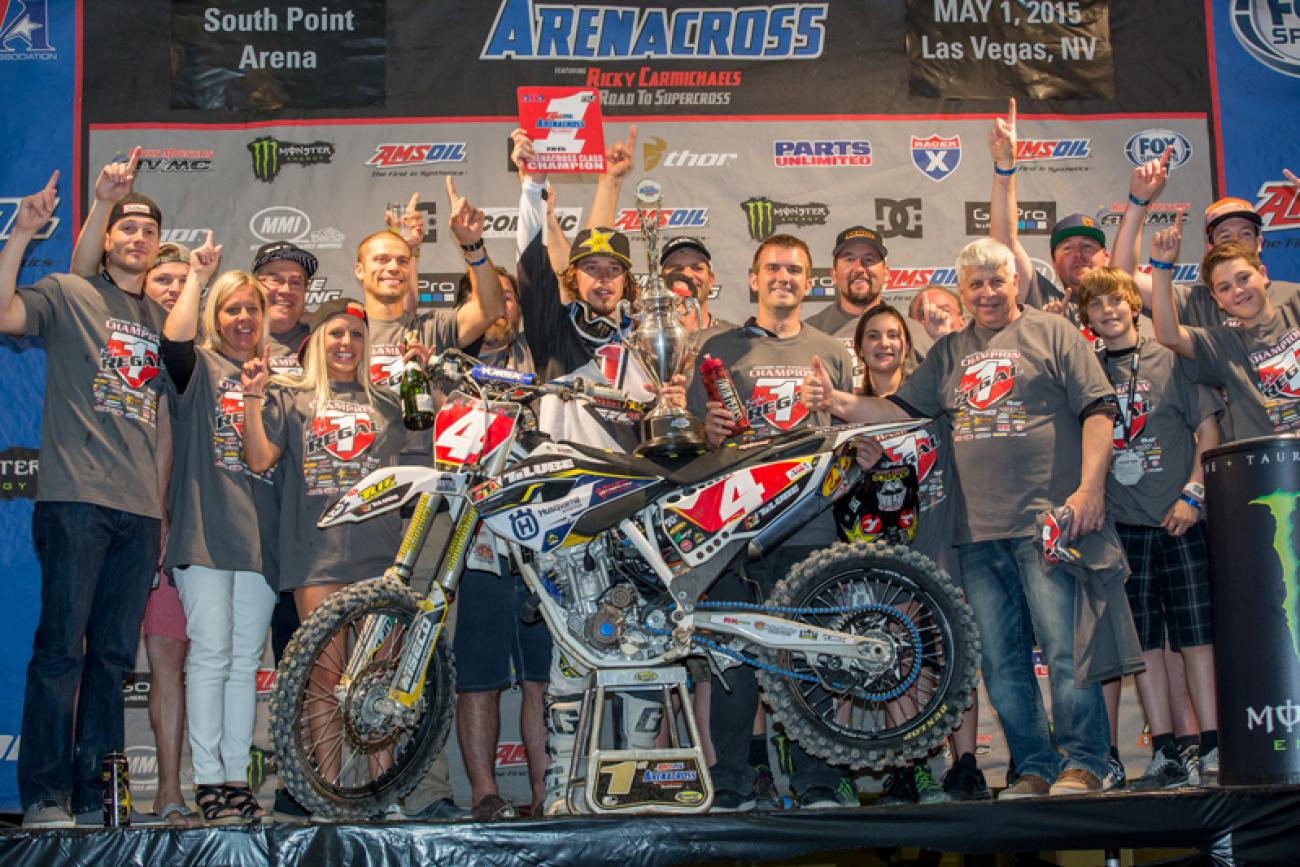 It ended the way it should have ended with an AMSOIL Arenacross Title on the line--a block pass ended it all. Monster Energy Babbitt's Kawasaki rider Jacob Hayes and Rockstar TUF TiLube Husqvarna were tied going into the final Race to the Championship event of the year. The series finale came last night at South Point Casino, and Hayes ended up winning a chaotic first main event of the night, just edging Regal. That gave him a one point lead heading into the final main of the year, and Regal started just ahead of him. Hayes then tried the blockpass to end all block passes, and took Regal down, but also smashed the water pump on his own bike. Coolant spewed everywhere, and soon Hayes bike expired. That gave the title to Regal, who calmly got back up and worked his way forward. Here's the full AMSOIL Arenacross PR below:
LAS VEGAS - AMSOIL Arenacross, featuring Ricky Carmichael's Road to Supercross, brought the 2015 season to a dramatic conclusion on Friday night with its first ever season finale inside South Point Arena. The sixth and final round of the Race to the Championship featured a tie atop the point standings coming into the evening between Team Babbitt's Monster Energy/AMSOIL Kawasaki's Jacob Hayes and Husqvarna TiLUBE TUF Racing's Kyle Regal, making it the closest title fight in history. When all was said and done at the conclusion of two Arenacross Class Main Events, Regal emerged with his first career AMSOIL Arenacross championship. In the inaugural Arenacross Lites Class East/West Shootout, Preston Plumbing Yamaha's Ryan Breece took the first win of his career with a wire-to-wire performance.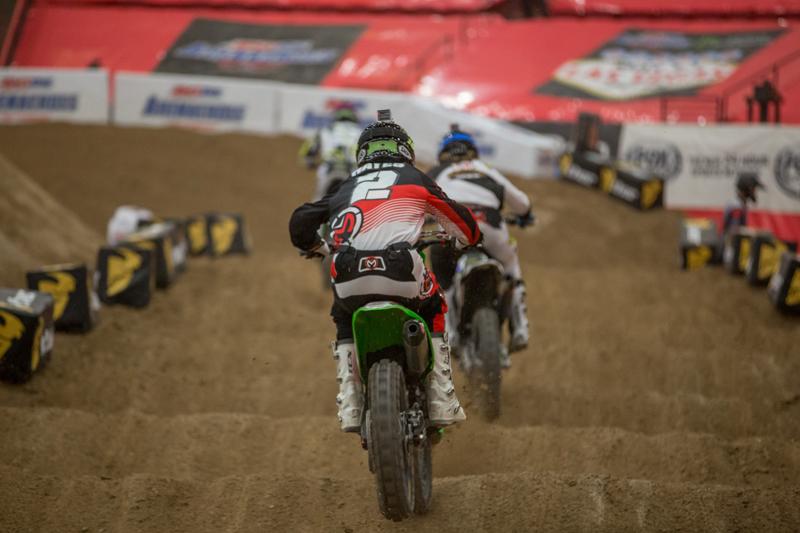 The action for the evening got off to an exciting start with stellar competition in the RMATV/MC Head 2 Head Challenge in which Team Babbitt's Monster Energy/AMSOIL Kawasaki's Matt Goerke edged out Regal for the win and pivotal championship bonus point, giving him momentum heading into the Main Events.
As the Arenacross Class field launched out of the gate for the first of two Main Events, a handful of riders got together and went down, including championship contenders Goerke and Husqvarna TiLUBE TUF Racing's Gavin Faith. Getting a clean start out front with the holeshot was Team Babbitt's Monster Energy/AMSOIL Kawasaki's Chris Blose, with Regal tucked in close behind. Motosport.com/Haeseker Racing KTM's Gared Steinke was third, fending off the early advances of Hayes in fourth.
Hayes wasted little time in getting around Steinke and moved into third on lap one. He then slowly closed in on Regal for second and just after the duo crossed the line to start Lap 4, Hayes attempted to make a pass on the inside, only to have Regal close the door. At that point, Regal picked up his pace and pulled away from Hayes while subsequently closing in on Blose. On Lap 6 Blose bobbled coming out of the whoops and crashed right in front of a hard-charging Regal, taking him to the ground as well. That allowed Hayes to slip past both riders and take control of the Main Event, with ThermoTec/FMC Racing Yamaha's Bobby Kiniry moving into second and Regal managing to quickly remount in third. Blose was unable to continue.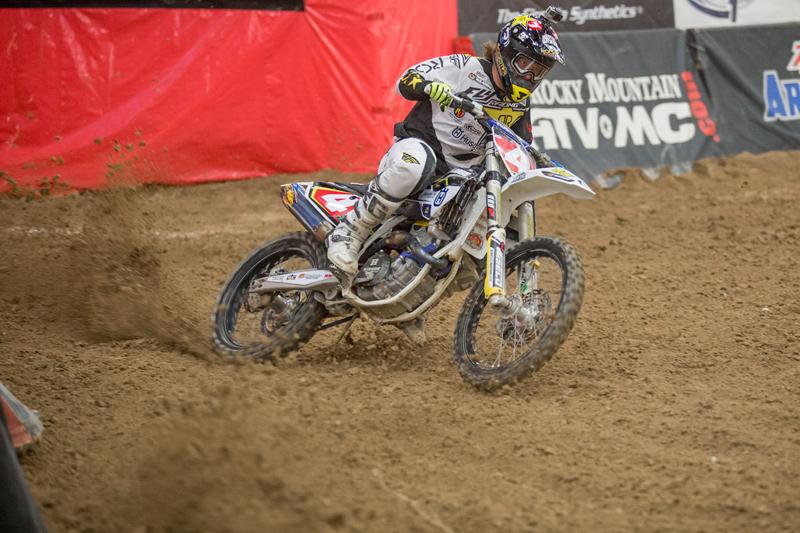 Knowing he needed to keep pace with Hayes, Regal put on a charge to pass Kiniry for second on Lap 10 and continued that push over the closing laps to close the deficit to Hayes. The two were just a couple bike lengths apart coming to the white flag and Regal set up a last lap surge through the whoops to get alongside Hayes in the final corner. Regal didn't have the momentum to make the pass and Hayes took a crucial Main Event win that ensured he would earn a season-ending tiebreaker, if necessary. Regal followed in second with Kiniry third, Steinke fourth and TZR Woodstock KTM's Travis Sewell fifth.
Another pileup out of the gate started the second Main Event, which allowed Steinke to claim the holeshot ahead of Faith and Slaka Wear KTM's Steven Mages. Both Regal and Hayes emerged unscathed as well and were nose to tail as the field settled in. Before they were even able to begin the first lap, the championship took a major turn as Hayes made heavy contact with Regal in the turn, forcing him to the ground. While Regal was left to pick up his bike and salvage the best finish he could, white smoke billowed out of Hayes' bike as he crossed the finish line. The Kawasaki rider rode around for a few laps until a broken water pump officially ended his night and his hopes of a championship.
Out front, Steinke had to keep both Faith and Mages at bay as the top three were separated by about a second for much of the early portion of the race. Faith attempted to make an inside pass on Steinke as they came to the line to start Lap 4, but lost traction, allowing Mages to take over second. That slight bobble allowed Steinke to open up some breathing room. Faith put the pressure on Mages over the next lap and was able to get back by Mages for second. Faith kept Steinke honest, but the KTM rider rode a clean and consistent race to earn his second Main Event win of the season. Faith was second, with Mages third. Regal stayed out of trouble and brought home a ninth-place finish, securing the title.
The wild night of action ultimately produced the seventh different overall winner of the 2015 season as Steinke's 4-1 results garnered him his first career overall victory in AMSOIL Arenacross, capping off a career night. Regal's 2-9 finishes gave him the runner-up position to go along with his championship, while Mages rounded out the top three (9-3).
Season Finale Broadcast Alert:
Las Vegas broadcast will premiere on FOX Sports 1
Sunday, May 10, at 10:00 a.m. PDT / 1:00 p.m. EDT
Arenacross Class Results - Main Event 1
1. Jacob Hayes, Liberty, N.C., Kawasaki
2. Kyle Regal, Grand Prairie, Texas, Husqvarna
3. Bobby Kiniry, Holland Patent, N.Y., Yamaha
4. Gared Steinke, Temecula, Calif., KTM
5. Travis Sewell, Westville, Ind., KTM
6. Daniel Herrlein, Bethesda, Ohio, Honda
7. Willy Browning, Pleasantville, Ohio, KTM
8. Cory Green, Nowata, Okla., Suzuki
9. Steven Mages, Sardinia, Ohio, KTM
10. Matt Goerke, Temecula, Calif., Kawasaki
Arenacross Class Results - Main Event 2
1. Gared Steinke, Temecula, Calif., KTM
2. Gavin Faith, Fort Dodge, Iowa, Husqvarna
3. Steven Mages, Sardinia, Ohio, KTM
4. Cory Green, Nowata, Okla., Suzuki
5. Chris Blose, Phoenix, Ariz., Kawasaki
6. Daniel Herrlein, Bethesda, Ohio, Honda
7. Willy Browning, Pleasantville, Ohio, KTM
8. Travis Sewell, Westville, Ind., KTM
9. Kyle Regal, Grand Prairie, Texas, Husqvarna
10. Bobby Kiniry, Holland Patent, N.Y., Yamaha
Arenacross Class Results - Overall (Main Event Finishes)
1. Gared Steinke, Temecula, Calif., KTM (4-1)
2. Kyle Regal, Grand Prairie, Texas, Husqvarna (2-9)
3. Steven Mages, Sardinia, Ohio, KTM (9-3)
4. Cory Green, Nowata, Okla., Suzuki (8-4)
5. Gavin Faith, Fort Dodge, Iowa, Husqvarna (11-2)
6. Daniel Herrlein, Bethesda, Ohio, Honda (6-6)
7. Travis Sewell, Westville, Ind., KTM (5-8)
8. Bobby Kiniry, Holland Patent, N.Y., Yamaha (3-10)
9. Willy Browning, Pleasantville, Ohio, KTM (7-7)
10. Jacob Hayes, Liberty, N.C., Kawasaki (1-14)
RMATV/MC Head 2 Head Challenge Results
1. Matt Goerke, Temecula, Calif., Kawasaki (2 points)
2. Kyle Regal, Grand Prairie, Texas, Husqvarna (1 point)
3. Chris Blose, Phoenix, Ariz., Kawasaki (1 point)
4. Cory Green, Nowata, Okla., Suzuki (1 point)
5. Gavin Faith, Fort Dodge, Iowa, Husqvarna (1 point)
6. Ryan Breece, Athol, Idaho, Yamaha (1 point)
7. Jacob Hayes, Liberty, N.C., Kawasaki (1 point)
8. Steven Mages, Sardinia, Ohio, KTM (1 point)
Arenacross Lites Class East/West Shootout Results
1. Ryan Breece, Athol, Idaho, Yamaha
2. Daniel Herrlein, Bethesda, Ohio, Honda
3. Steven Mages, Sardinia, Ohio, KTM
4. Dave Ginolfi, Boston, N.J., KTM
5. Daniel Blair, Lodi, Calif., KTM
6. Axell Hodges, Encinitas, Calif., Kawasaki
7. Jake Locks, Dixon, Calif., KTM
8. RJ Wageman, Newhall, Calif., Yamaha
9. Jonah Locks, Dixon, Calif., Kawasaki
10. Scott Zont, Algonquin, Ill., KTM
Final Race to the Championship Standings (Race 6 of 6) (R2C Main Even Wins)
1. Kyle Regal, Grand Prairie, Texas, Husqvarna - 164 (2)
2. Jacob Hayes, Liberty, N.C., Kawasaki - 160 (3)
3. Gavin Faith, Fort Dodge, Iowa, Husqvarna - 147
4. Cory Green, Nowata, Okla., Suzuki - 146
5. Matt Goerke, Temecula, Calif., Kawasaki - 145 (2)
6. Chris Blose, Phoenix, Ariz., Kawasaki - 140 (3)
7. Travis Sewell, Westville, Ind., KTM - 131
8. Bobby Kiniry, Holland Patent, N.Y., Yamaha - 119
9. Gared Steinke, Temecula, Calif., KTM - 118 (2)
10. Steven Mages, Sardinia, Ohio, KTM - 102