Reliant Stadium
Houston

,

TX
Houston
Monster Energy AMA Supercross Championship
In a world where many will say they're doing things "for the good of the sport," the Houston Supercross can actually point to a resume flush with good deeds. Houston isn't an attention-getter like Anaheim, Daytona, or Las Vegas. It might be one of the Lone Star State's races, but this isn't AT&T Stadium and the home of the Cowboys. It's not the Texas King Ranch. It's not all puffed up with a ten-gallon hat, a hubcap belt buckle, and a mirror-finish on the boots. This is a workhorse, a race willing to do the dirty work. The Houston Supercross moves around the schedule as needed, pitches in for east or west duty, and hands the riders superb dirt and creative track designs. Houston doesn't usually jump out on the must-attend list, but ask any rider about it, and they're quickly reminded of how much they enjoy the race. That's kind of the way the Houston Supercross rolls—respected, reliable, and helpful to all.
But Houston is much like any other hard-working ranch hand. It'll wake up early and grind away late. But when that day is done—whenever that is—it's not afraid to kick back with some beers and have some good times.
That's the real secret sauce of this event. The last decade has seen a ground swell of special activities, some planned (like industry ride days) and some not (the Holiday Inn across the parking lot from the stadium hosts the last-man-standing of post-race parties).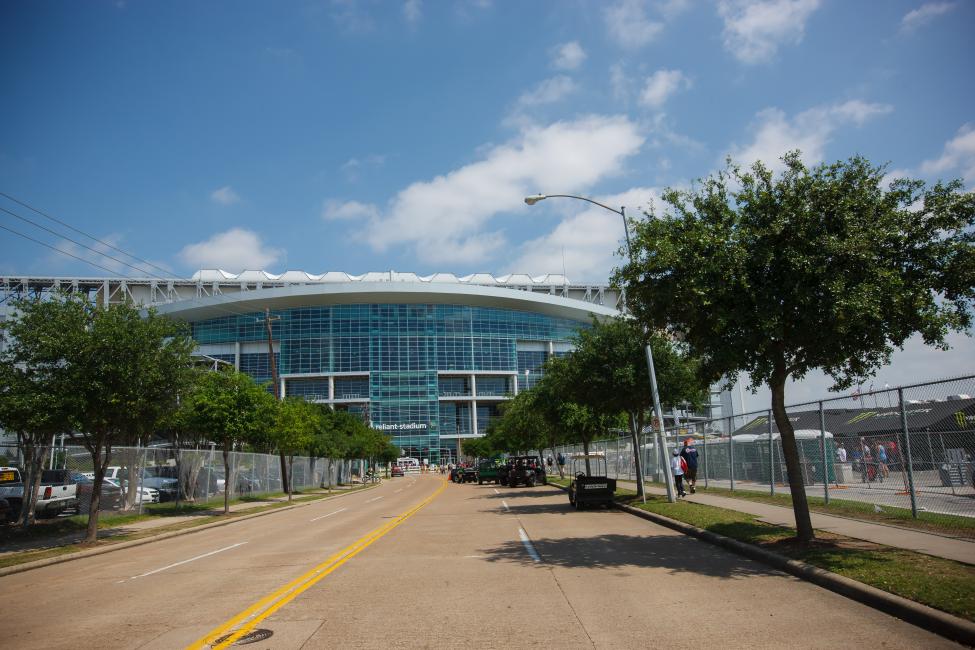 That's the fun stuff, though. First, let the Houston Supercross check in for duty with the following cold, hard accomplishments.
Houston has hosted a supercross race every single year that the championship has existed—only Daytona can say the same.
Houston was holding supercross races before they were called supercross races. The first-ever championship season for this series, consisting of just three races in 1974, was called the Yamaha Super Series. It featured Daytona, Houston, and Los Angeles.
But Houston goes even further back. Prior to dirt bike racing's emergence in this country, the old Houston Astrodome hosted indoor flat track and TT races. That's a distant cousin of supercross, but you can say, "Houston hosted the first indoor motorcycle races on dirt" without being wrong.
Ah, yes, the Houston Astrodome. First roofed building big enough to host baseball games. It was called the eighth wonder of the world when it opened in 1965, but it looks tiny now sitting next door to the modern NRG Stadium. The Astrodome is long past its prime and doesn't hold events anymore, but it remains in place as a historical landmark. When the Cowboys moved to new digs, their old place, Texas Stadium, got the dynamite treatment, but the Astrodome isn't going anywhere.
Houston is one of the few cities that hosted supercross doubleheaders back in the day, with races on Saturday night and Sunday afternoon.
Houston has hosted races in January, February, March, and April. Whatever supercross needs, Houston can handle.
Houston is one of the few venues to host combined East Region and West Region 125 races. In the early days of 125 regional SX, a few races in the center of the country would be combined rounds, and the best of the best would square off. This was before the Las Vegas East/West shootout became "the thing."
Houston has awesome dirt. Houston has seen some creative track designs, like this year's course that runs a rhythm lane in two different directions (one way off the start, the other for the rest of the laps). One year, they let Kevin Windham design the track and he built a huge double that went over the start straight. He also won that race and the fans went nuts—more on that in a moment.
These are just cold, hard facts. What about the fun stuff? Well, Toyota is a long-time backer of supercross and has always enjoyed a big presence in Texas (the company is even moving its corporate HQ from California to Texas now, and Tundras are built near San Antonio). A few years back, Toyota started hosting industry ride days on Friday before the supercross at Three Palms Action Sports Park. I got to come ride there a few times and the tracks are superb, and you get to see some VIPs put in some laps, like Todd Jendro, who is an overlord of Monster Energy Supercross from Feld and has serious game on a bike. No other supercross has an industry ride day tied in like this.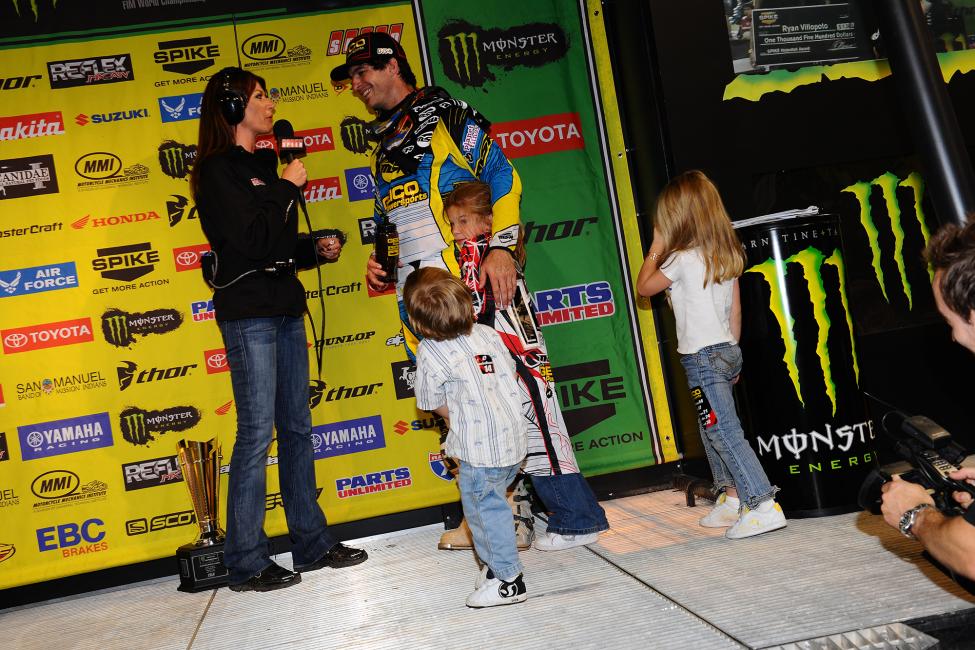 Now Toyota has taken things in another direction and hosts a mountain bike ride on some trails closer to the city. Again, no other race has anything like this.
For the real insiders, there's a secret party on Friday night where everyone celebrates Roger DeCoster being "The Man." Roger is big wherever the races go.
But that's just insider stuff. Did you know Houston is one of the few races where all the barriers break down?
A few years back, Houston, always moving on the calendar, hosted the last race before the Easter break. That night, all the factory semi trucks fired up and left the pits, just like they would roll out after any other race, except they didn't have another race to go to. Instead, the rigs rolled into an auxiliary parking lot and re-parked, only now forming a giant square. The center of that square became the official place to blow off some steam after thirteen weeks on the road.
That aux parking lot is key, because it connects to a Holiday Inn, which of course has its own bar. I can't think of another stadium with a hotel/bar/pits/parking/stadium mash-up quite like this. Fans were hanging at the hotel and insiders were in the giant square, but soon each scene blended together, and you had fans and celebs rubbing elbows. These were good times. Plus, everyone was celebrating the heyday of Windham, as he was reaching the apex of his popularity—and in Houston, which is normally his home race since New Orleans only joined the schedule sporadically. And speaking of New Orleans, when it did get on the schedule, Bourbon Street became quite packed with supercross types. Just like the Circle Bars of Las Vegas are, just like New York City will be in a few weeks, just like the popular Atlanta DMXS parties. But, for pure fun, that square in the center of the Houston parking lot, with the Holiday Inn out back, can give all that craziness a run.
Oh, and you also had J-Law. Yes, Jason Lawrence (surprisingly!) didn't shy away from the post-race activities, and one night he (surprisingly!) got into it with some well-respected members of the racing community, including a former supercross champion. If you're looking to put your post-race party on the map, get J-Law to go. Luckily, this was 2008, and no one could post the vids to Instagram yet.
Houston comes after the Easter break this year, so you might not see the semi-square form in the parking lot. The trucks need to roll all the way to Santa Clara, California. But you could say there's an even bigger post-race event scheduled. MotoGP races at the Circuit of the Americas in Austin on Sunday, so expect a lot of the MotoGP elite to catch some supercross on Saturday night, and an equal number of supercrossers to head to Austin the next day. There's also a NASCAR race Saturday night at Texas Motor Speedway, so I bet some of those guys will also go to the MotoGP. Honestly, this could be the biggest two days of motorsports in one region anywhere this year.
Last year, retired MotoGP Champion Casey Stoner had to come to Austin for some PR work, so he came in early to check out the supercross in Houston. He quickly gravitated toward fellow Aussie Chad Reed, but after hanging in the Kawasaki area for a while, he met Ryan Villopoto. Soon, Stoner and Villo were BFFs, and Stoner even decided to stay in the US a little longer and took up a room at Ryan's house. A week later in Seattle, Stoner was still around, following Ryan's every move like a new puppy. It was a mash-up of motorcycling giants, and, trust me, more than a few bench racers saw the parallels between Stoner, who retired at age 26, and Villopoto, who was hitting the same age and also seemed burnt-out on racing. Surely there were some deep conversations between these two, all born of the Houston Supercross, which, like Villopoto and Stoner, is effective and respected, but never wants to draw undue attention.
Maybe it's time. Saturday will mark the forty-ninth supercross race in Houston. Think about all of this great stuff and consider paying a visit for the fiftieth next year.