Reliant Stadium
Houston

,

TX
Houston
Monster Energy AMA Supercross Championship
By Steve Matthes, Jason Thomas, and Jason Weigandt
1. What do you think will happen over the final two rounds of the 250SX West Region?
Steve Matthes: I think Yamalube/Star Racing's Cooper Webb will win his first professional title at Santa Clara. He has a 30-point lead—over a race big—so there's a chance he clinches it this weekend in Houston, but with so much time off, I feel the series kind of resets itself and the riders that were beaten down have some new life. So, maybe we see Lucas Oil/Troy Lee Designs KTM's Jessy Nelson or Monster Energy/Pro Circuit Kawasaki's Tyler Bowers grab a win this weekend or next. But, the riders have been riding a lot of outdoors and the motivation for the guys out of the title hunt probably isn't very high.
Maybe we'll see someone like Lucas Oil/Troy Lee Designs KTM's Shane McElrath take advantage of the lack of motivation from others and take a win. He ended the series on a roll and has won a couple of heat races this year. Or, maybe Monster Energy/Pro Circuit Kawasaki's Chris Alldredge—who badly needed to hit the reset button after a rough start to his season—will make a splash. He's got skills, he's on a great team, and maybe he'll take advantage of the time off.
Jason Thomas: With a 30-point lead, Cooper Webb has this championship well in hand. He should be able to go out and ride pressure-free. I truly feel he's the best rider, and the results back that up. I'm more interested to see how Jessy Nelson bounces back after starting the season so well. He made a few critical mistakes that pushed him out of title contention, but that doesn't mean he can't win these last two rounds. I look for a battle for wins between those two, and possibly Tyler Bowers as well.
Weigandt: Cooper Webb is the man in the West—I think we know this—so the odds are that he'll just win out. I mean, we've seen him overcome bad starts and even a huge (huge) practice crash in San Diego and still win. He'll be tough to stop; however, I'll vote the other way. I think something will break right and Tyler Bowers will get a win before the season is up—either here or in Santa Clara. I think he's due and maybe Webb will end up in a situation where he has to chill out for points. Bowers was sick at a few of the last West races; I think he'll be stronger now.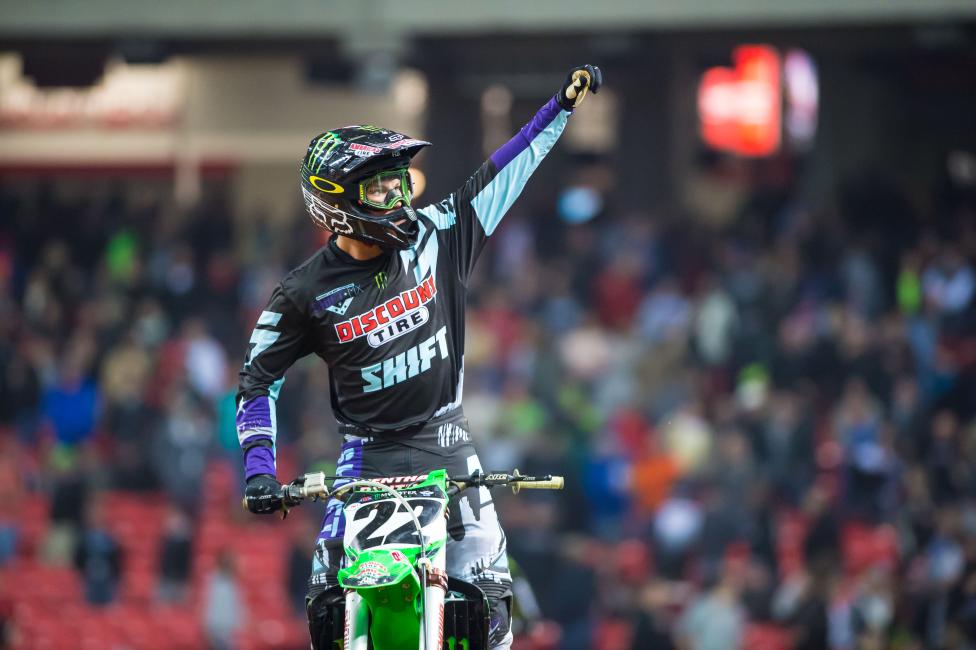 2. Chad Reed was in the hunt to win in the Atlanta and Daytona rounds. In the three races since he's lagged a bit—what do you think has happened?
Matthes: After Reed's win it did seem like he was on his way to more wins. But, then he had these weird tip-overs that hurt him, and then three straight (for him, anyway) lack-luster races. Yeah, he logged a fourth at Detroit, but we haven't seen that spark from him since Daytona. Just 15 points back of Cole Seely, Reed's got a chance at third in the series with Trey Canard injured, and even though a dude like Chad doesn't go out there to get third, if he were to secure a podium spot in the series, he might just consider it a successful year. I don't really know. But, let's hope the week off helped him and we see the "old" Chad Reed because this series could desperately use him.
JT: At Indy, he landed on his teammate on the first lap and ruined any chance at a good finish. His laptimes in that main event were actually right on the lead pace, though. In Detroit, he didn't ride with any real intensity in the main event and it showed. He was still a respectable fourth-place, but he wasn't on pace to win in the Motor City. He had a rough day in St. Louis and didn't seem to be very confident going into the night's racing. Off days happen now and again. St. Louis was an off day. I think the weekend off will do him some good and re-focus him for the home stretch.
Weigandt: I think this is what happens with the veteran guys. You'd think the first thing to go is speed, but I think it's the consistency of the speed that goes. On some days, they wake up feeling good, rested, recovered, and comfortable, and they can go for it and run with anyone. But they only go that fast when everything is right—they've paid the price too often, otherwise. You could see Reed's win in Atlanta shaping up much like the latter wins of Kevin Windham's career—when the opportunity is there and he's feeling it, he steps it up. But the days of those guys being the fastest guys all the time or most of the time are gone. Even James Stewart got a lot of hype out of jumping quads in Toronto last year, but 2014 James was the fastest/craziest guy just some of the time, not all of the time like he was five years earlier. Just look at any other sport for reference. The vets can still bring it from time to time, but being on their A-game every single night is the biggest difference once the mileage starts piling up. What's that mean for Reed? He can still win; it's just harder to predict when that win will come.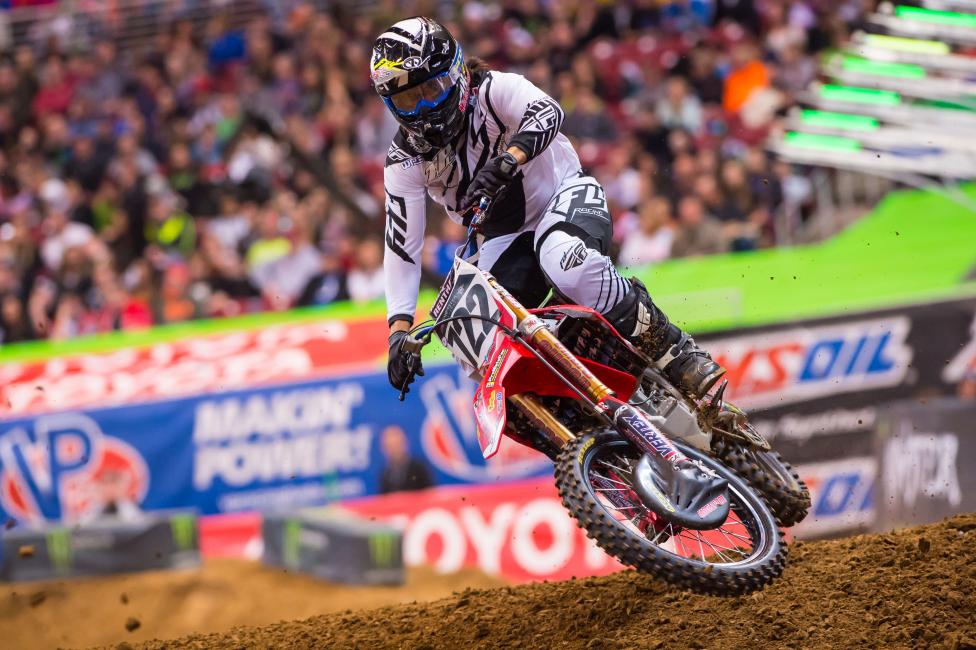 3. Injuries have thinned the 450SX field of factory riders. Which privateer has taken the most advantage?
Matthes: Looking at the points, two guys come to mind. Kyle Chisholm's results have been much better lately, and he's flirted with the top ten the last two races. Kyle hasn't been the same since his bad crash a few years ago, and it's probably due to the time off and the lack of a consistent bike and team. Well, he's taking advantage of the injuries and putting in some good rides. Just don't look at his practice times; they usually don't indicate how he's going to do that night.
Also, Killy Rusk has been "killin" it by making the main events. Rusk only made two out of the first nine main events, but with guys like Jake Weimer and Trey Canard out, he's made four in a row—good job by him. Also, everyone's favorite man-child, the Seven-Deuce-Deuce, has stepped it up.
JT: I would say that Adam Enticknap has benefited the most. He came into the season with more support than ever before. He's done such a great job with his exposure and personality that all he was really missing were results. Those results, however, were tough to come by early in the season. The field was proving tough to navigate as weeks rolled by without any main events. In the last month, however, the Seven-Deuce-Deuce has found himself safely inside the main event. For Adam, this has to be his main focus at this point in his career. Becoming a weekly main-event rider will do wonders for his financial well-being, and open doors for 2016.
Weigandt: You can clearly see what riders have started making more mains—Rusk, Ronnie Stewart, Seven-Deuce-Deuce, Ben LaMay, etc.—but I like what Nick Wey is doing. Nick was struggling to make mains when the year began, and we were all shaking our heads in the Anaheim 1 press box when he simply couldn't run down Tevin Tapia for the final LCQ transfer to the main. He made one main in the first five races. Then he started getting in regularly, and now he's become a twelfth-place guy, with the potential of a top-ten. Wey's been there and done it, and he knows how to manage the twenty laps, nerves, and pressure better than a lot of the other privateer guys. He's the only one of them that will get a start in the main from time to time. He just knows what he's doing. Now that he can get in with ease, he's going to take advantage and nail some solid finishes.