Reliant Stadium
Houston

,

TX
Houston
Monster Energy AMA Supercross Championship
Remember the 250SX West Region? You know, the series in which Cooper Webb has run off four of six and can clinch his first career title this weekend? Yeah, that series. Well, it's returning this weekend in Houston. With its last race over two months ago (February 7 in San Diego), it's hard to remember what happened in the series. We're here to help with a refresher of sorts. How did Webb garner such a big lead? Who is even riding the series? And what about the points, man!!!? We have that and more below.
Quick Recap
It wasn't always the Spider Webb show out west. In fact, after the opener, it looked like Jessy Nelson was the favorite. He dominated at A1, while Webb struggled to a seventh. Then Webb caught fire, and found a nice little rivalry with his "buddy" Tyler Bowers. Man, that was great. Webb took round two in Phoenix, and then again at Anaheim II. Malcolm Stewart bounced back from a twenty-second at the opener to win round four—the first win of his career. Webb won again the following weekend at Anaheim III and entered San Diego with a comfy lead. And then it all nearly went away. Webb crashed hard in practice (catch the video below) and was, if for a moment, questionable for the night show. He soldiered through and won again—his fourth of the season—and put himself in position to clinch the title this weekend. There's your 250SX West Region in less than three hundred words.
Main Event Results for Top Ten
| | | |
| --- | --- | --- |
| 1 | Cooper Webb | 7-1-1-2-1-1 |
| 2 | Jessy Nelson | 1-3-6-10-2-8 |
| 3 | Tyler Bowers | 3-4-2-4-15-3 |
| 4 | Zach Osborne | 2-7-4-6-4-6 |
| 5 | Shane McElrath | 6-8-10-11-6-2 |
| 6 | Aaron Plessinger | 5-5-13-7-3-14 |
| 7 | Justin Hill | 4-6-3-9-8-22 |
| 8 | Josh Hansen | 9-13-7-8-7-4 |
| 9 | Alex Martin | 8-20-8-3-9-5 |
| 10 | Malcolm Stewart | 22-2-5-1-17-21 |
Number of Wins
Rider
Wins
Round
Cooper Webb
4 wins
Phoenix, Anaheim II, Anaheim III, San Diego
Jessy Nelson
1 win
Anaheim I
Malcolm Stewart
1 win
Oakland
Number of Podiums
Rider
Podiums
Round
Cooper Webb
5
Phoenix, Anaheim II, Anaheim III, Oakland, San Diego
Jessy Nelson
3
Anaheim I, Anaheim II, San Diego
Tyler Bowers
3
Anaheim I, Anaheim II, San Diego
Malcolm Stewart
2
Phoenix, Oakland
Zach Osborne
1
Anaheim I
Shane McElrath
1
San Diego
Aaron Plessinger
1
Anaheim III
Alex Martin
1
Oakland
How it Was Won
Anaheim I
Big Moments in Video
Malcolm Crashes at Anaheim I
Bowers Boots Osborne in A1 Heat Race
Alldredge Goes for a Ride at A2
Webb Crashes in San Diego
2015 Battles in GIFS
Webb vs Bowers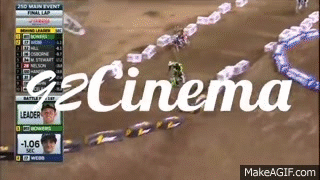 Webb vs Bowers II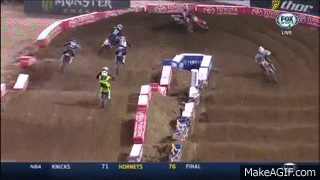 Bowers vs Osborne
Teams
Monster Energy/Pro Circuit Kawasaki
#66 Chris Alldredge 17th in points
#911 Tyler Bowers 3rd in points
GEICO Honda
#38 Matt Bisceglia 13th in points
#34 Malcolm Stewart 10th in points
Motosport.com/GPI Honda Racing
#130 Tommy Hahn 11th in points
Rockstar Energy Racing Husqvarna
#16 Zach Osborne 4th in points
#44 Zach Bell 12th in points
Red Bull KTM
#32 Justin Hill 7th in points
Lucas Oil/Troy Lee Designs KTM
#28 Jessy Nelson 2nd in points
#40 Shane McElrath 5th in points
#97 Darryn Durham 29th in points
Yamalube/Star Racing Yamaha
#17 Cooper Webb 1st in points
#157 Aaron Plessinger 6th in points
CycleTrader.com/Rock River Yamaha
#31 Alex Martin 9th in points
Motosport.com/Team 100
#100 Josh Hansen 8th in points
Strikt Slaton Yamaha
#65 Scott Champion 19th in points
#71 Cole Martinez 15th in points
#86 Zack Freeberg 14th in points
51Fifty Energy Drink Yamaha
#981 Austin Politelli 20th in points
Point Standings
| | | | |
| --- | --- | --- | --- |
| 1. | Cooper Webb | 136pts | Yam |
| 2. | Jessy Nelson | 106pts | KTM |
| 3. | Tyler Bowers | 104pts | Kaw |
| 4. | Zach Osborne | 102pts | Hus |
| 5. | Shane Mcelrath | 86pts | KTM |
| 6. | Aaron Plessinger | 81pts | Yam |
| 7. | Justin Hill | 79pts | KTM |
| 8. | Josh Hansen | 79pts | Kaw |
| 9. | Alex Martin | 75pts | Yam |
| 10. | Malcolm Stewart | 69pts | Hon |
| 11. | Tommy Hahn | 56pts | Hon |
| 12. | Zach Bell | 55pts | Hus |
| 13. | Matt Bisceglia | 40pts | Hon |
| 14. | Zack Freeberg | 40pts | Yam |
| 15. | Cole Martinez | 39pts | Yam |
| 16. | Jackson Richardson | 39pts | Hon |
| 17. | Chris Alldredge | 26pts | Kaw |
| 18. | Michael Leib | 25pts | Hon |
| 19. | Scott Champion | 25pts | Yam |
| 20. | Austin Politelli | 23pts | Yam |
Injury News
Scott Champion - Scaphoid
Champion fractured his scaphoid testing before Anaheim III. He missed the last two rounds out west (A3 and San Diego) but hopes to return for Houston.
Darryn Durham – Wrist
Another year, another injury for the likeable Pennsylvania kid. Durham bent a screw in his wrist at the season opener in Anaheim. He missed the last five rounds, but is expected to return this weekend.
Justin Hill - Ankle
The younger Hill got ran over in San Diego and injured his ankle. He is expected back this weekend.
Michael Leib - Leg
Leib had surgery following a practice crash in Oakland to repair his right tib/fib, right foot, right big toe, and left pinky toe. His status for Houston is unknown at this time. We will have more later in the week.
5 Things to Watch
Webb Can Clinch
Currently 30 points clear of Jessy Nelson, Yamalube/Star Racing Yamaha's Cooper Webb can clinch his first career 250SX Championship this weekend in Houston. With only Houston and Santa Clara left on the schedule, Webb will clinch this weekend under the following scenarios:
1. He wins: A win for Webb is the easiest way to claim the title.
2. A podium: If Webb finishes anywhere on the podium he will also clinch. If Webb were to finish third and Nelson wins, Nelson would only gain 5 points, leaving him 25 back of Webb. But, Webb already has four wins (Nelson can only win twice more, giving him three total) which means Webb would win the tie-breaker.
3. Finishes fourth: Webb could still win the tile if he were to finish off the box. In this scenario, Nelson would have to finish second or worse. If Tyler Bowers, 32 points back, were to win, and Webb finish fourth, he would still clinch the title on a tie-breaker.
Battle for 2nd

As we explained above, Cooper Webb has the championship on ice. But the battle for second is just heating up. Jessy Nelson holds a 2-point lead over Tyler Bowers entering this weekend, with Zach Osborne just 4 back. Nelson is the only winner amongst the group, but is coming off an eighth at San Diego. If Webb runs away in Houston, keep a close eye on how the battle is shaking out behind.
Another Podium

As we noted above, a remarkable eight riders have collected a podium in 2015. It's not out of the question that the number could reach double digits by season's end. Josh Hansen and Matt Bisceglia have podium speed. Rookie Chris Alldredge has shown great speed, but also a need to control it. Hansen and Bisceglia each have a top-five appearance this year and could reach the podium at the final two rounds.
Durham Returns

It's been a tough stretch for Darryn Durham. Since his first, and only, career win in New Orleans in 2012, Durham has raced just three rounds of Monster Energy Supercross. He missed all of 2013, raced twice in 2014, and once this year. Like we said, it's been a tough stretch. Let's hope Durham can get back to his old self these last few rounds.
Another Winner
Webb, Nelson, and Malcolm. Three names, three winners out west in 2015. Tyler Bowers has had his chances. If his thumb is 100 percent, you can add Osborne to the short list of potential winners going forward. What about rookie Aaron Plessinger? Yep, put him on there. And what about Justin Hill? We all thought he would have a win by now. Webb is rolling—having won four of six—but if he has a problem or rides conservatively for points, we could find winner number four.