Team Green. Orange Brigade. Red Riders. bLU cRU. The manufacturers are clearly all working to blanket the amateur ranks with professional-level support and organization. On Yamaha's end, that extends further than most, as their bLU cRU program encompasses not only support for top amateur riders, but also extends into the dealer-support and contingency segments, as well as off-road, ATV, road-racing, and even side-by-side racing. That's a lot to manage, yet Donnie Luce, a former pro rider and now Yamaha's amateur MX, ATV, and off-road coordinator finds time to stay on top of it all. Fresh from trips through Florida and Texas, he found some time to brief us on the bLU cRU efforts for 2015.
Racer X: Hey, Donnie. You've been around in this position for a while, but is your job getting busier? It seems like Yamaha's efforts on the amateur side are bigger than they once were. Does a lot of that fall on you?
Donnie Luce: [Laughs] Well, our goals are always to strive to reach a higher level. My role has definitely increased in the time that I've been here, but I'm very thankful for the opportunity that I have to share my passion for both motorcycles and ATVs, so that makes it that much more rewarding.
People in the motocross side can see where this has paid off. This Jeremy Martin, Cooper Webb, Anthony Rodriguez, and Aaron Plessinger thing, it's working.
These riders chose to be involved with Yamaha and create a little Yamaha history of their own, and we're very fortunate to be associated with them. It's pretty exciting to see guys that have come through our program and have success in both supercross and motocross. I credit Jeremy for getting us back to our winning ways, and now Cooper's on the verge on claiming his first supercross championship, plus Anthony and Aaron are having success—they're all testaments that hard work and preparation pays off.
But it's not like Yamaha didn't have amateur riders before. We've seen riders come through the ranks. Josh Hill was always a star, but was there a change where you said we're going to do this in a more focused way? Now you have the bLU cRU name and all that, and a direct landing spot with Star. Was there actually a change in the philosophy or the effort?
Like you said, we've had a long history of supporting amateur motocross and even off-road racing. We didn't change our philosophy; we just refocused our efforts to create new programs, released innovative new models, plus strengthening our relationship with Star Racing. The bLU cRU name simply puts a name to the support that Yamaha offers our consumers and riders, and hopefully makes them feel like they are part of something special and members of the Yamaha family.
The bLU cRU program was designed to motivate Yamaha riders to get more involved with the brand, and we've implemented some exciting firsts for us. For instance we're allowing those bLU cRU members to post their profiles on our Yamaha bLU cRU website. Contingency is now paid through our new bLU cRU debit cards, and we've expanded our contingency program and also our trackside support events. In addition, we have up to $500 rebates on qualifying units and 10 percent discounts available on GYT-R products. We also have an extensive library of rider, event, and technical videos online to assist all the riders. Our new website blucruswag.com is now up and running with apparel, and we'll issue a $45 credit for it for each qualified bLU cRU members. This year the bLU cRU has expanded into the road-racing arena, too.
Talk about that. Is that something on the contingency or is that just your pro guys?
No, this road-racing program is available to both pro and amateur riders. We'll offer contingency at select events, which is payable to bLU cRU debit card also, and members will also be eligible for a 10 percent discount on Graves Motorsports products. So you will see bLU cRU expanding to include road racers, so that's pretty exciting.
Back on the motocross end. I remember talking to [Star Racing owner] Bobby Regan three years ago, and he's said, "Man, I applaud Yamaha for being patient. They're not expecting titles right now. We've got young guys coming through." And here we are a few years later and the titles are really starting to come. It seemed like there was a real long-term growth plan to make this work.
We did have a long-term plan to recruit and develop these young riders into future champions, and our joint efforts and support are producing positive results. As it has been proven in the past, it takes more than a single year to build a champion and the foundation starts in our amateur program. We've had success over the last few years and we look forward to seeing this continue for many years to come.
There's a lot of competition out there. We know what GEICO Honda has done to recruit and Team Green has always been strong. Martin and Webb were not unknowns; they had other rides with other people. How did you make that happen? It's easy now when you can tell a rider "look at what we've done," but you didn't have that roadmap yet.
Yes, those are all quality programs, but we've remained focused on continuing to build our program and establishing a little history ourselves. There's no question that Bobby Regan and the entire Star Racing program, plus the introduction of the new 250F, has played a pivotal role in motivating riders to become involved with Yamaha. As I stated earlier, I credit Jeremy for getting us on the right track and setting a great example for Cooper, Anthony, and Aaron to follow. The path is much easier to follow now.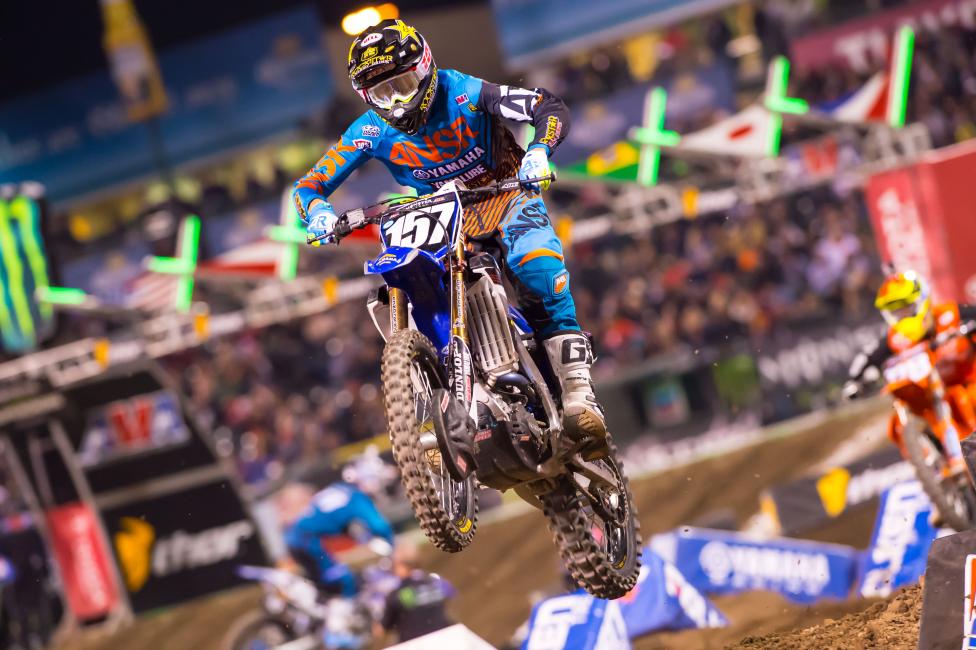 You just got back from a pretty whirlwind amount of travel with some of these big spring amateur races. You have some more stuff in the pipeline I'm sure, talent-wise.
Yes, I logged a few miles over the last few weeks! We have Ryan Surratt and Benny Bloss and Lorenzo Locurcio in the A class, and we are looking for them to add to the winning legacy left by Martin, Webb, and Plessinger. In the Schoolboy and B classes we have Chase Sexton and Cole Barbieri, who both showed great potential and won championships in Texas, as well as an extensive list of bLU cRU support riders.
I want to talk about Plessinger a little bit. Did you predict this level of success? I've known him for a while and everyone says he was a woods rider, but he actually was a good amateur motocross rider even on 85s. I just didn't know he'd get to be this good! Have you almost surprised yourself a little bit?
I don't want to say I predicted it, but I have always believed that Aaron had the potential to become a champion in either GNCC or motocross racing, if he continued to invest in himself and do the work required. I think this became more apparent to everyone after his performance at Loretta's in 2013 when he won all six motos in the B class. Winning is a great motivator and it fueled his fire, and I feel very fortunate to have seen him win both in the woods and on the track. I'm looking forward to seeing him win at supercross next.
You've got a lot of irons in the fire besides the motocross thing. I know you're still involved with off-road and even ATVs. Yamaha's really the only one, I think, that goes this deep into this many different things. Pretty much anywhere there's an AMA national title on the line, two or four wheels, you guys are there. That's a lot on you.
Yes I do, and we remain committed to promoting our complete line of motorcycle and ATVs, and I feel very fortunate that I get to work with these riders, teams, and dealers that share the same passion as I do. We're working hard to leave a championship-winning legacy, no matter if it is on two or four wheels.
It's always kind of been a Yamaha philosophy from what I can see on the outside. You don't put all your eggs in one basket of one rider or one person. Multiple series, multiple riders in multiple series, even in supercross with multiple teams.
As I stated, we're committed to supporting our brand via racing and we've worked hard to align ourselves with quality partners and riders to achieve our goals to further promote the Yamaha brands. Our amateur program was developed to work directly with our dealers to build strong relationships with riders. We currently have three regional trackside support dealers: Thousand Oaks Powersports in California, Rock River Powersports in Wisconsin, and Triangle Cycles in Virginia. The majority of our top amateurs ride for one of them. These dealers attend the majority of premier amateur motocross events representing both Yamaha and their dealerships while supporting all Yamaha riders with technical assistance and emergency parts.
Yamaha's commitment to amateur racing goes above and beyond all the benefits of the bLU cRU. Yamaha continues to invest in many of the premier racing facilities to make the experience better for everyone, not just Yamaha riders. A good example of this is the Yamaha mechanic's area at Loretta's or the announcer's tower at Gatorback, and we're looking to continue this in the future.
How far back do you go personally? You raced Yamahas back in your day, didn't you?
Yeah, actually I started out racing Yamahas. I don't know if I want to date myself that much, but actually my first Yamaha was a 1980 YZ125 and I raced locally at the intermediate level here in California. I then transferred over into ATVs and that was my main focus for a long time. But I've always been a Yamaha fan since I got involved with motorcycles.
You've got a lot of guys in that office who have been around this sport for a long time. You guys ever go to lunch and just break out into epic bench racing sessions?
[Laughs] Yes, when we can all find the time to get together, there's some epic bench racing going on from time to time. Especially when you get Keith McCarty, Mike Guerra, Jim Perry, and Ron Heben together, lunch is never boring.
Well that means your responsibilities expand too, so good luck with all that.
Thanks, Jason. Well, much like you I don't get as much sleep as I once did, but seeing Yamaha riders have success gets me up in the morning, as championships are not won—they are earned. So, it's easy to do the hard work. See you at the races!