St. Louis, MO
St. Louis
Monster Energy AMA Supercross Championship
By Jason Weigandt and Kris Keefer
Ryan Dungey, Red Bull KTM, First in 450SX
Ryan Dungey: Tonight was good. We had the fastest qualifier coming into the night show. Got ourselves a good start in the heat and rode some good laps and was able to get a heat race win. Set ourselves up good for the main. Going into the main event, I say it every time, but I knew the holeshot was going to be important. This track especially because it was really hard to get up on the inside of somebody with how fast the turns were. Fortunately we got a good start and from there I just really tried to focus on my opening laps. I saw [Weston] Peick and [Jason] Anderson behind me, so I could kind of gauge that and I tried to open the gap as much as I could. From there about halfway on I just tried to ride good, solid, consistent laps.
If you get a holeshot in your heat, you win. Short gets a holeshot in the heat and wins. You go 1-2 off the start in the main. We've talked about how good the bike is, but are the starts part of it? Do you just feel like you're on it, or is this bike better for starts than the old one?
This bike for sure they did themselves good. Hands down it's a better bike. That's the goal obviously.
Is there something with starts where you're like, this thing hooks up, or this thing doesn't wheelie?
It's a little bit of everything—chassis setup, sometimes your suspension setup, the balance of your bike. There's a lot of characteristics. But Shorty, he's doing them in third. I've never heard of that in my life and he does them amazing.
I think he has totally different gearing and everything. You can't just try it.
I think he only has one tooth sprocket bigger, which isn't much, but these 450s are pulling a lot of torque.
You and Short have been 1-2 off the start it seems like a lot. Pretty impressive.
Since Daytona, Indy, and then last weekend in Detroit, and now this. He's right there. I'm like, "All right, I've got the start. Here comes Shorty." He's been amazing with the starts. It's cool because I feel like he's riding the best he's ever ridden in his life, which for him that's awesome. – Jason Weigandt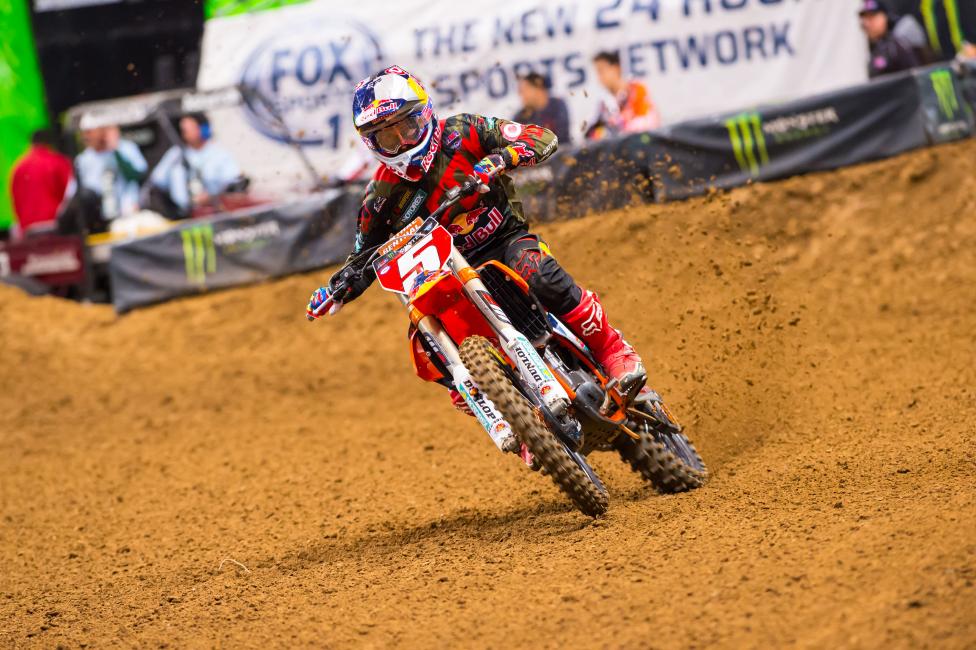 Eli Tomac, GEICO Honda, Second in 450SX
Racer X: Pretty good night for you. Come back from a little ways, rode good.
Eli Tomac: Yeah, second place. I didn't start the night well in the heat race. Got in a little ball up in this little kink and then just had to wait for a guy that was laying on the ground. Missed the qualifying out of the heat races. Won the semi and then just wasn't there on the start again in the main. Was way inside, didn't have a good position, didn't do a good start in itself. That was about it. Had a good battle with Jason [Anderson] there for a couple laps. Should have made a pass on him and made it stick earlier. Just wasn't aggressive enough and that was the last chance I ever had of even seeing the Dunge.
Seems like Anderson cut you off for the triple and got by you and you couldn't triple it.
He just made the pass back and was aggressive and I wasn't expecting it, honestly. I kind of thought he was going to let me go and he didn't at all. I know what to expect next time. Just got to keep pinning it and not let anyone slide back in there. Other than that I got him back to second and at that point that was it. – Kris Keefer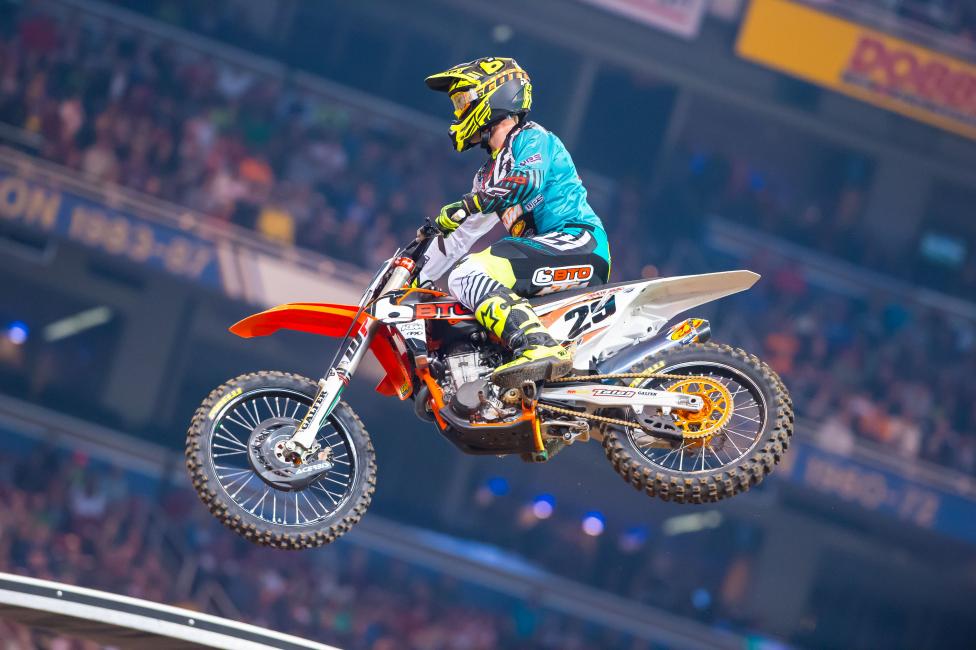 Andrew Short, BTOSports.com KTM, DNF in 450SX
Racer X: You had a good night tonight despite the crash I think, and you're walking out of here. Give us some insight on your night.
Andrew Short: All day was pretty good for me. I kind of gelled with the track. Had great starts obviously in the heat. I pulled the holeshot and was able to get my second heat race win of the year, which was really good for me and the team. Had a good feeling going into the main and got another holeshot, which was great. I think that's number five officially for the year. After that it's kind of a blur. I had a big get-off. Initially I kind of thought something happened to the bike, but now getting back here to the pits everything kind of checked out and they say it's okay, which is good news. I don't know what happened, honestly. Little sore obviously and especially now that the adrenaline's going away it hurts more. But a lot to be thankful for. I felt like I rode good today. I felt really motivated. At the same time, ready for break. Hang out with the kids and do some outdoor testing. Looking forward to what lies in the future with that as well. – Keefer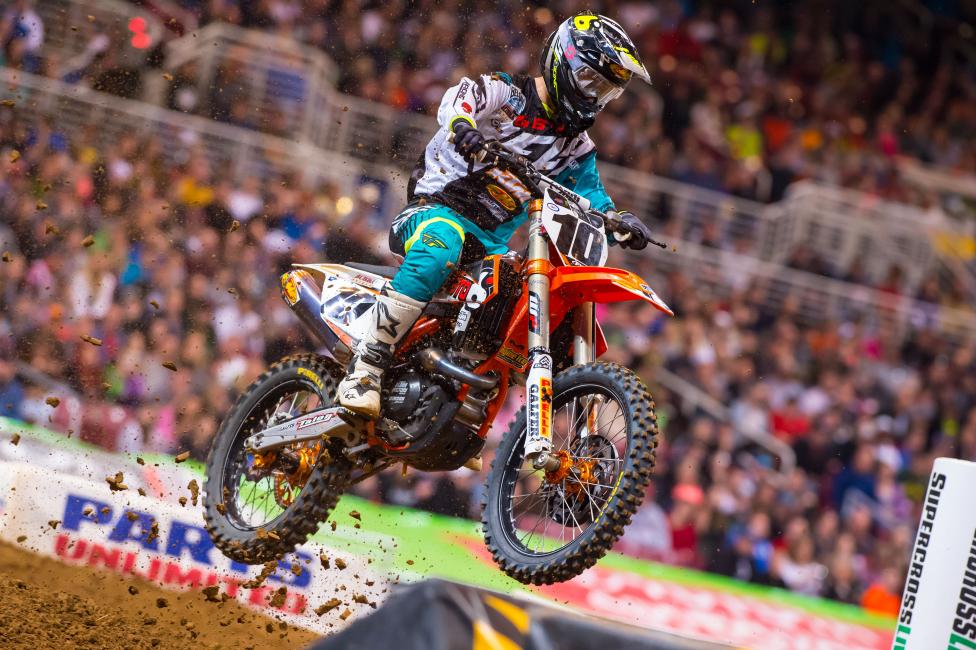 Justin Brayton, BTOSports.com KTM, Eighteenth in 450SX
Racer X: Tell us about your night.
Justin Brayton: My night was okay. Main event didn't go that great result-wise, but I felt like I made a pretty gain today with my riding. I was pretty fast in practice and decent heat race. Main event had a good start. I don't know what happened. I slid before the whoops before the finish and just went off the track and plowed into the scoring tower and was a lap down or something. I feel like my riding was pretty good today. Overall happy with that and that's all. At this point obviously there's no points involved for me, but need to get some good finishes for myself and the team. I feel like we'll be on track at Houston.
It looks like it took you a little while to get going after you hit the scaffolding. You had to go around and then come back in.
I didn't know what the rule was because I basically missed the finish and I was thinking if I just keep going that lap won't be recorded, so I needed to turn around and go back and find a decent place to enter again before the finish. By that point I was basically a lap down. Definitely a bummer, but take the good with the bad and move on. – Keefer
Marvin Musquin, Red Bull KTM, First in 250SX
Racer X: Great ride tonight.
Marvin Musquin: Thank you. Obviously we started really well with practice and we carried on all the way to the main event. It's a great feeling. It was a perfect day. Bike was working obviously really good. I got great people on the team, so we can make anything we want, adjust everything on the bike to make it better. This weekend we had great dirt in St. Louis and I really liked that track. It suits me really well when it gets rutted and stuff. I worked really hard on my starts and I got a decent start in the heat race but messed it up a little bit on the main event. I moved before the gate dropped and I had to settle down and then start again. But lucky, I was able to get second and into the lead pretty quick. Great battle with Jeremy Martin. Then when I got into the lead I knew no one could catch me and I knew I could do fifteen perfect laps as best as I can. That win was really important going to the last round. – Keefer
Jeremy Martin, Yamalube/Star Racing Yamaha, Second in 250SX
Racer X: Before the night show another rider was telling me that you are the worst starter in the sport. Terrible starter, horrible starter. That's what he said. And then you holeshot the main.
Jeremy Martin: [Laughs] That rider is Phil Nicoletti and he just doesn't know what he's talking about.
[Nicoletti walks over] Hey, some guy said that you were terrible at starts.
Nicoletti: The worst starter in history, but yet he pulls a massive start in the main.
So, Phil, is he still the worst starter or are we stepping up here?
Nicoletti: We'll see. You've got to be able to back it up.
Martin: Phil didn't get a start tonight but I did!
How good did that feel?
It was good. I wasn't happy with second tonight. I want to win, but the holeshot was a win tonight. We made a lot of progress. I did it with Ricky [Carmichael] and my practice bike mechanic, Chad. We went in the direction that some people I don't think would agree with, but I stuck to my guns and I had a game plan going into the weekend. In the heat I just made a small mistake; otherwise I would have had it there too. I'm happy with tonight. The start is the biggest thing. I was feeling good. Marvin got away a little bit. And then I felt like I was starting to find my rhythm and I felt like I was inching back in on him a little bit, and then we hit lappers. I saw many blue flags but nothing was happening. But no excuses. Marvin got through good. He's on it. It's good because it helps push me to another level and it makes me better. I appreciate the competition and it's all good and fun.
Was there any kind of rebuild after that one where you didn't make the main? Did you need to get confidence back, or did you just wipe that off really easy?
At this point I've not qualified before, and last year was a lot worse than this year. You just let it go and you move on. Obviously Sunday's your day to think about it, and once you know what you did wrong you beat yourself up a little bit and you move on.
So all this work you're doing was specifically start stuff? Changing bike stuff? You were start-specific work?
Yeah, to be honest I practiced starts a lot, but honestly not as much as most people would think. We just tried some stuff with the knowledge of Ricky and my practice bike guy, Chad. We did something and we went into the weekend and just made it happen.
So now you've got to be looking forward to all the starts. You think you maybe hit on something here. Next week I'll do it again.
For sure. Getting a holeshot is so nice!
So to know, next week maybe another one, or next time you race?
It would be good. When you get a start you can go out and ride your pace and stuff. Marvin's been on his starts. [Justin] Bogle's been on his starts. I think the series would have been a little bit tighter if we all would have been getting better starts. – Weigandt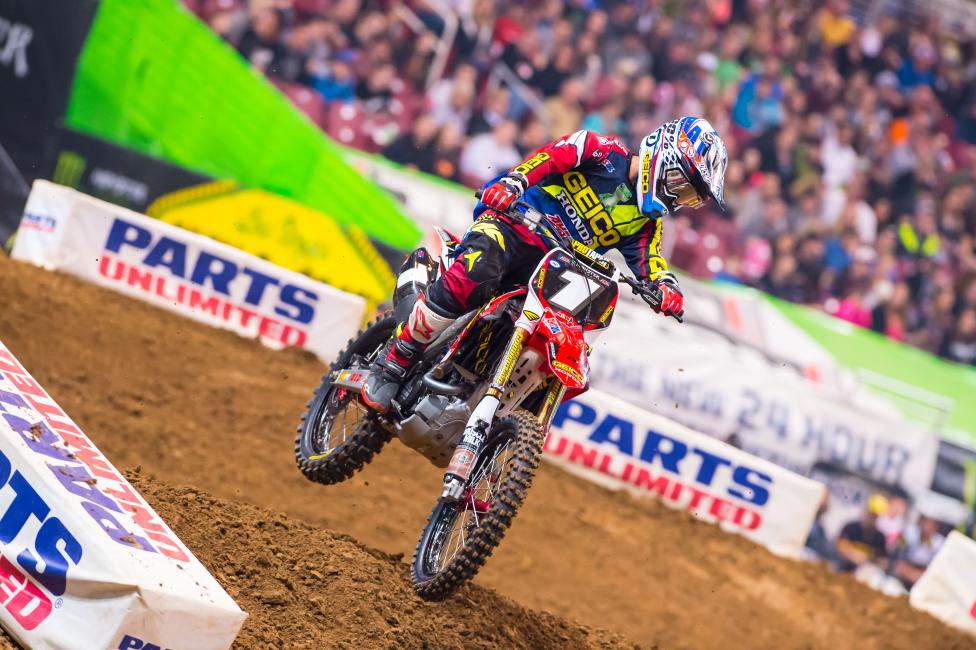 Justin Bogle, GEICO Honda, Fourth in 250SX
Racer X: How'd it go? Start wasn't that good.
Justin Bogle: Unfortunately my brother from another mother Colt Nichols has been getting terrible starts this year. I got a bad one and I looked back in the rhythm to make sure I wasn't getting landed on. There weren't too many people left behind me that could land on me. And I saw that I was back there with him and I knew that's not where I wanted to be.
You were that far back?
Yeah. I started to try to make some moves. It's all on me though, man. I fumbled on the start. I jumped when I shouldn't have. I got that one bad start I hadn't gotten all year. It hurts not being on the podium. That stings. I work way too hard for that. Unfortunately, name of the game. This is supercross racing. Nothing's guaranteed. Lucky for me we got another round and all I can do is go out there and keep it moving and try to get a win.
Do you feel you rode all right otherwise?
I felt like I rode really well actually. I just obviously spotted everybody quite a bit of time. Those dudes were ripping—there's no doubt.
It was chaos at one point. Third lap there was like seven guys around you.
Back there, wherever I was at, it was not the place that I want to be. Trying to minimize that, try to get my starts back together. – Weigandt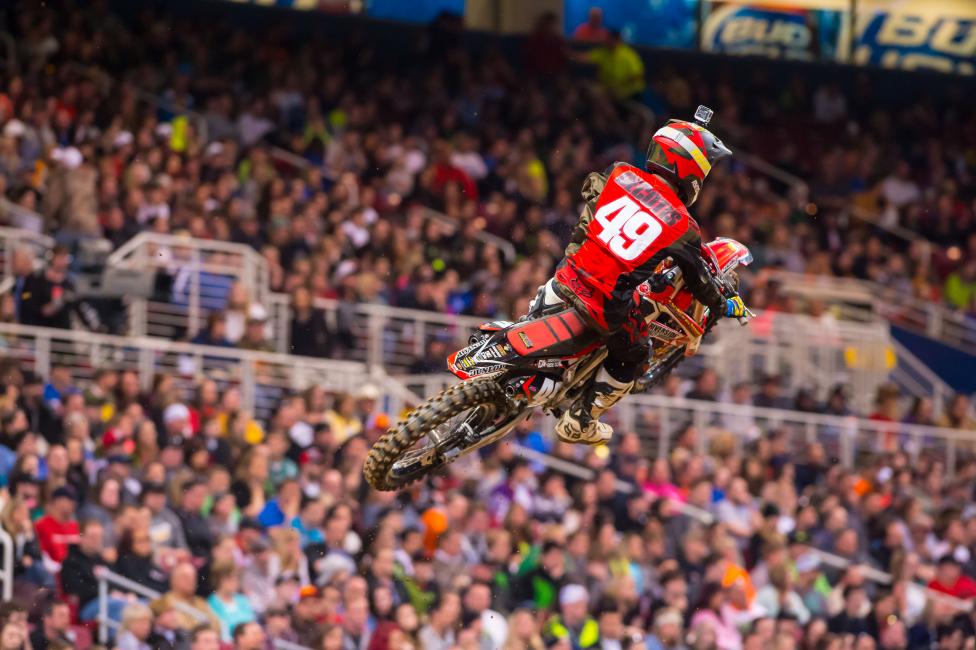 Jimmy Decotis, Riverside Harley-Davidson, Sixth in 250SX
Racer X: Tell me about your night.
Jimmy Decotis: Tonight was okay. It's starting to get to the point where a sixth is almost a little bad for me, and that's how it should be. But all day in practice I was four, five, six in all the practices. Third in the heat where I've been and it's kind of just been where I'm at. I've got a little bit to work on. I don't think a lot of it's on the track; I think a lot of my struggles have been off the track and kind of cleaning up my pit area and cleaning up my life a little bit and being a little bit more organized. That'll translate to the racing. Tonight was good I guess, but it wasn't great, wasn't bad.
Watching you in practice you're always jumping out first wanting to get out there and get some clean laps in. Maybe on paper it doesn't look so good but your riding from up above looks really good.
That's what I've been told this year. I think the biggest thing with me this year is that I'm not scared of the guys. I'm not scared of Marvin. I'm not scared of Bogle. I'll move them out of the way if I think I'm riding better than them. I'll do what I've got to do. I'm also smart and I know where I'm at in times and where I'm at realistically. I'm really realistic with this racing thing. I've still got a lot of work to do, but I'm happy that I'm seeing progress. – Keefer