St. Louis, MO
St. Louis
Monster Energy AMA Supercross Championship
Hello, everyone, and welcome to the Rev Up. The show rolls on this Saturday night as Monster Energy AMA Supercross, an FIM World Championship, arrives at the Edward Jones Dome in St. Louis, Missouri. It's already round thirteen and we are certainly deep into the dog days of the championship, with all of its ominous associations. Points are getting away and riders are falling out to injury. We sound like a broken record sometimes when we say that this is the toughest sport on earth, but no motorsport can compare to the torture of our seventeen-round championship. It's both brutal and beautiful, and only the hard and the strong survive.
We're in the final stretch, ladies and gentlemen. Red Bull KTM's Ryan Dungey can see the light at the end of the tunnel, but over in the 250SX East Region a lot can happen in a short amount of time. GEICO Honda's Justin Bogle cracked off a win at the most opportune time. If he can reciprocate before the series takes their break, he could make the championship very interesting.
We'll get back into that in a moment, but for now I wanted to share a little personal perspective on the St. Louis Supercross. I turned pro in 1996, and it was a wonderful time in our sport. Jeremy McGrath was at his peak and my childhood hero Jeff Emig was right on his heels. I entered the first supercross of my career inside the Edward Jones Dome under a crazy set of circumstances. My Pops and I drove there in my black Ford van, which we used to attack what was then called the PJ1 Arenacross Series. I'd earned Rookie of the Year and was trying to make a go of it in the big show. We weren't prepared and didn't have supercross suspension. Additionally, it was pretty much the only supercross track I had competed on. Surprisingly, I was pretty fast, but unfortunately I crashed my guts out. Four sets of Renthals later I had missed both main events (tried in both the 125 class and 250 class). Bruised, beaten, and discouraged, I made my way to the stands to watch Emig try to stop Jeremy McGrath's win streak of thirteen.
It was a moment I'll never forget watching. Mike LaRocco and Emig held "The King" at bay during the main event, and when Emig took the checkered flag I don't think I have ever screamed louder.
This weekend I will return to the same venue I had previously pressed skin and blood into the soft Missouri soil as co-host of Race Day Live! It's hard to express how humble and grateful I am to be able to conduct the twelfth show of my new career at a place that will always be so special to me. I've had the time of my life standing next to Jim Holley and learning from such a true professional. We have an outstanding show for you guys this Saturday, beginning at 12:50 p.m. local time. Headlining our guest list will be seven-time AMA Champion Jeff Ward and by far my most anticipated guest of the season, Denny Stephenson. Denny has been a mentor/guru to me since I was on 60s. My brothers and I used to pretty much stare at Stephenson and Emig in the pits at the local tracks in Kansas and Missouri. I distinctly remember Denny taking the time to pull the sand burrs out of the laces on my tennis shoes when I was hanging out by his box van on my BMX bike. Later in life, during the arenacross days, he pulled me back inside of a taxicab where I had climbed on the roof going down the highway after the after-party. True story.
Sorry to go heavy on the personal stories this week; I'm just cloaked in this affliction we all live for. I said it last week and I'll say it again: I love this sport so much. I went riding last night and my hands are literally bleeding as I type this week's column. It feels great. I'm more stoked for moto than I ever have been before.
Back to racing. What do we have to be excited for in St. Louis? Plenty. Yes, we are missing some guys; it was a major blow to lose Trey Canard and Jake Weimer in Detroit. But, the show goes on. Nobody knows this more than those two warriors and they'll both be back. Meanwhile, a couple of spots just opened up for some journeyman privateers to make their first main events of the season. This is the nature of the beast in our sport. Merciless and cruel, but it is what it is.
It will be interesting to see if GEICO Honda's Eli Tomac can bust out another victory and make Dungey stay on top of his game for as long as he can. With a 77-point lead on Tomac, "The Diesel" can realistically wrap this thing up with three rounds to go if he stays the course. Ah, but St. Louis has a penchant for series-changing events. There is no points reset—it is seventeen rounds to victory. Now it is up to Tomac to challenge Ryan to be there for the whole tour. It isn't over. Yet.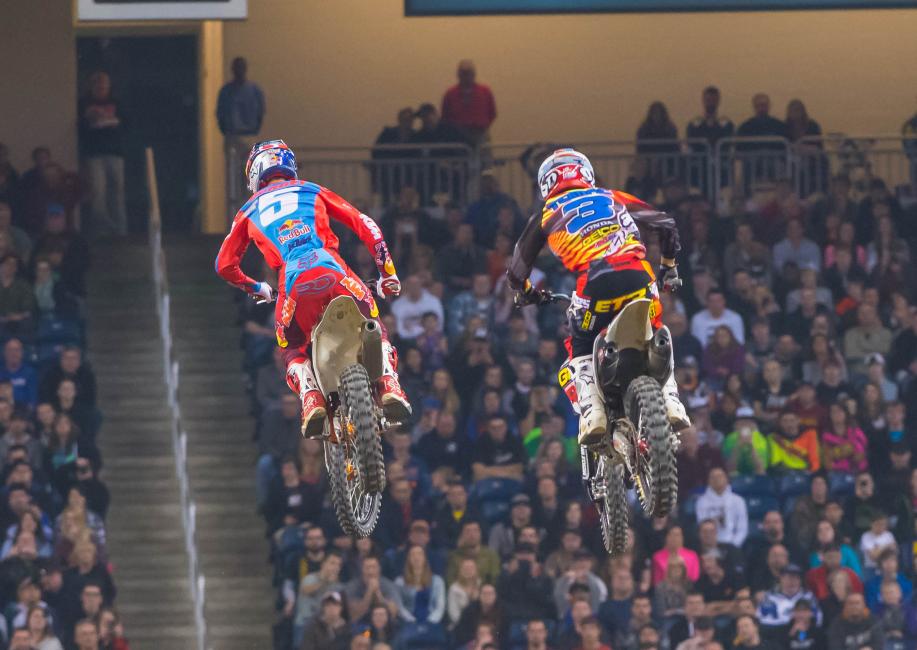 Again, the 250 East Region is very much up in the air. As dominant as Red Bull KTM's Marvin Musquin has been, Bogle is within striking distance in the event if something goes awry in a heat race, last chance qualifier, or main event. Monster Energy/Pro Circuit Kawasaki's Joey Savatgy is charging, and we never know what to expect from the round two winner, Jeremy Martin. The heat is on in this division with fifteen laps remaining before the Easter break.
But that's just what's happening specifically this weekend. My memories of St. Louis 1996 remind of how great this sport has always been and always will be, at every level. I just want to try to share the feeling I have inside about our sport. It's what I try to do every Thursday on www.racerxonline.com. I rode last night for the second time in three months, but being just a little better in the corners and being able to ride a couple more laps before blowing up are just amazing. Springtime is here and it's time to ride and race. If this sport has been a part of your life for a long while, don't ignore it. Dust off that gear bag, clean that air filter, and go hit it up. When you're driving home with dirt down your back and looking at your blisters you'll love the feeling and be glad you did it. Go ride.
Thanks for reading, see you next week.