St. Louis, MO
St. Louis
Monster Energy AMA Supercross Championship
Jace Owen has had a rocky start to his professional career. Since turning pro at the beginning of last season, it's been a struggle for him to get to the races and show his true potential. The East Region of Monster Energy AMA Supercross, an FIM World Championship, started off like previous seasons for Owen, who is footing the bill of his racing career out of his own pocket. He started the season off by not qualifying in Arlington and then followed that with three straight nineteenth-place finishes at both Atlanta rounds and Daytona. At Indianapolis something clicked, and then it clicked again in Detroit. Owen has finished tenth at the past two rounds, and he's looking for more. We caught up with him midweek to get his take on his recent breakthrough rides.
Racer X: We spoke with you in the off-season, and you said your goal for the upcoming year was to be in the top ten. It may have taken longer than you would have liked, but now you have two in a row.
Jace Owen: Yeah, definitely. Going into the season my goal was to be in the top ten every weekend. I kind of got a late start for supercross. I didn't get enough training and bike time as I would have liked. I went in a little bit unprepared and it was a little bit overwhelming for me. Last year I only did four supercross races, and in a way I feel like this is kind of my rookie year. It's been a big learning curve. At the first race I had some issues and I didn't even make the main. The next three races I was consistently getting nineteenth place. I was just riding around and not even feeling like I was racing. I was having some troubles and then I got two tenths in a row. Indy was kind of a hometown race for me, and it was good to go there and get tenth. To straight up go from nineteenth to tenth was pretty huge. To be in a battle with those guys gave me some confidence. I didn't want people to think it was a fluke so I backed it up last weekend. I think I proved I am a top-ten guy and I want to keep building. I want to break into that top-five range.
You say it feels like it's your rookie season again. Was it any easier coming into this season than last?
Last year was a bit tougher because I didn't really know what to expect at all. This year I knew what to expect, but only doing those four races it still was a transition for me. Racing in the stadium with all of the people and fans is tough to get used to.
Coming from Illinois you don't get to ride supercross unless you build it yourself. Or you could travel down south to a training facility. Supercross isn't a midwestern thing.
Right. The supercross tracks on the East Coast have been pretty tough this year—especially last weekend in Detroit. Detroit was a super-technical track. Up north in Illinois you can't ride or train for supercross, so I've been down in southern Georgia at Climax Motorsports Park. They have a couple supercross tracks and I have been able to grind it out on those. I just keep bettering myself each week.
It's paying off in the results now. Indy started off a bit rough for you at first. You crashed in practice and the heat race and had to go to the LCQ. Coming off of not qualifying and three nineteenths, you probably were thinking, "Here we go again."
Yeah, I was definitely pretty bummed. It's just one of those things where I either needed to pull my head out of my ass or hang my boots up. I needed to do something. I'm definitely not a quitter. I wanted to get this figured out, and I've wanted to for a long time. I feel like I've been struggling for a while and I've kind of broken through that you could say. At Indy I was good in the first timed practice, and in the second one they made a little track change. I ended up going down pretty big. The track got faster and it bumped me back a few spots. I didn't get to finish that practice because my bike was pretty mangled up. In the heat race I should have qualified no problem. I ended up making a little stupid mistake and stalled my bike. I couldn't get it started, but I came back to tenth and just missed getting in. In the LCQ I got a good start, and then someone had crashed, so they ended up red-flagging it. I was in second at the time. I held my composure and ended up making it through. Then in the main it was a case where I really have nothing to lose. I've put a lot of hard work in and I'm tired of sucking. That's all there is to it. I really put my head down in that main to break through that ice. It's confidence for me getting those top-tens. I know where I belong and I'm aiming for that top-five mark.
You put it that you're tired of sucking, but what else clicked for you in these past two weeks?
That's hard to answer, and nothing has really changed. It was just overcoming a few things and putting my mind to it. I want to make a name for myself and finishing in nineteenth place isn't going to cut it. I'll only get under one of those semis or get better equipment if I do something. A top-ten isn't even going to cut it, but I am a lot closer to being there than in nineteenth. I know that I can keep improving.
You're a laid-back guy. It seems like you do your best riding when you stay calm and relaxed.
Yeah, definitely for me to just stay calm, chill, and not overthinking things is when I do my best. Every time you go to the line you'll have your nerves and your adrenaline gets flowing. The calmer I stay, the better I can do.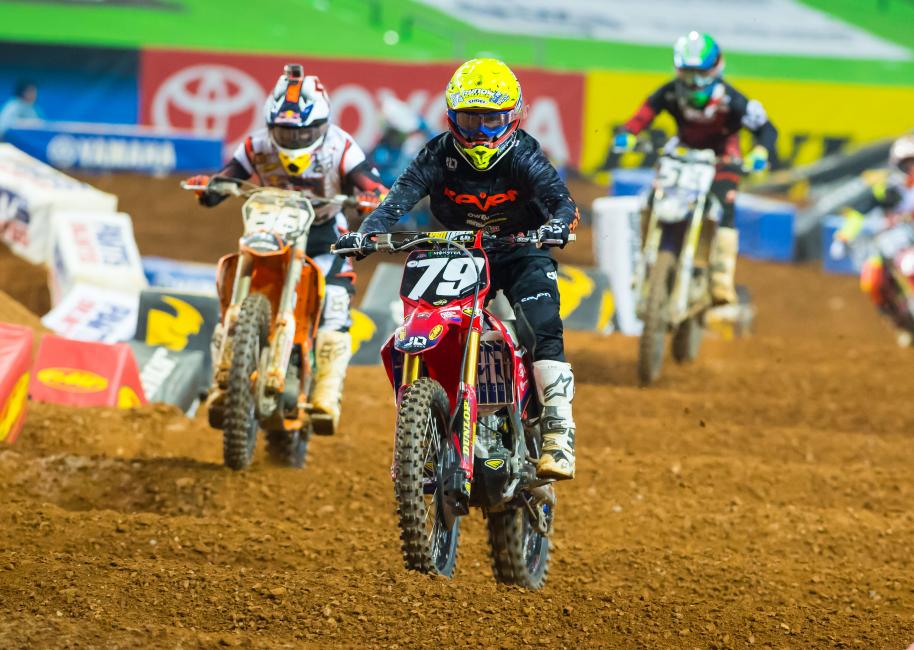 Is that the secret to you getting a top-five?
Yeah, I don't think it's unrealistic. Some people may read this and think otherwise. At the end of the day I work my ass off just like those other guys. In one week I cut my finish position in half. The competition is a bit gnarlier towards the front, and I'm not saying I'm going to get a podium. The next group of guys that are finishing 5–8 is where I belong.
What else is going to take a good start? What do you have planned for St. Louis?
I'd say a good start for sure. My speed in timed qualifying has been good, so the speed is there. The problem has been my starts, and normally I'm a good starter. I don't think I've gotten a start in a heat race or a main inside the top ten. I'm always midpack. You can't start there and catch up to those guys. For me, I need to start up front with those guys and click off fifteen consistent laps of running that pace.
Who has stuck behind you this season to make sure you get to all the races?
First off, my family, Owen Motorsports, Seven, Ryno Power, Factory Metal Works, Shoei Helmets, Scott, EVS, Rad Mfg, Cycra, Alpinestars, Spectro Oils, FMF, Dunlop, Pro Taper, Works Connection, Impulse Designs. I'd like to also thank Brad and Drew from Club 57 for helping me get this train back on track and Climax Motorsports Park for giving me a sick place to ride everyday. I appreciate all of the support that I get from everyone.