Ford Field
Detroit

,

MI
Detroit
Monster Energy AMA Supercross Championship
Dustin Pipes is a college student who has also been dedicating his life to pursuing a career as a professional racer. Pipes turned pro at the end of the 2010 season and has made countless Lucas Oil Pro Motocross appearances. The supercross learning curve has proved to be a bit steeper, but he accomplished a goal he set for himself in his first supercross season in 2011; he finally made his first career main event in Indianapolis. We caught up with the California privateer straight out of Madera to get his take on his accomplishment.
Racer X: What's going on, Dustin?
Dustin Pipes: Dude, I almost just ate it on this skateboard right now.
You're skateboarding right now?
No, I am in my apartment on my roommate's long board. I just got done doing a little bit of schoolwork. I'm about to start my day. I'm meeting my trainer to get a little gym session in. Then I'm going to go get my back worked on, and then I'll head to the track.
So, on top of being a professional racer, you're a college student? What classes are you taking and how many credit hours?
Right now I scaled back my workload and I'm only taking online classes. I'm always flying in and out and racing during the weekend, so I want to make sure I still get good grades. I didn't want to fall behind in class, so I scaled back my workload so I can ride and do everything. I'm going to school for business finance and pre-law, and so far I have a 4.0.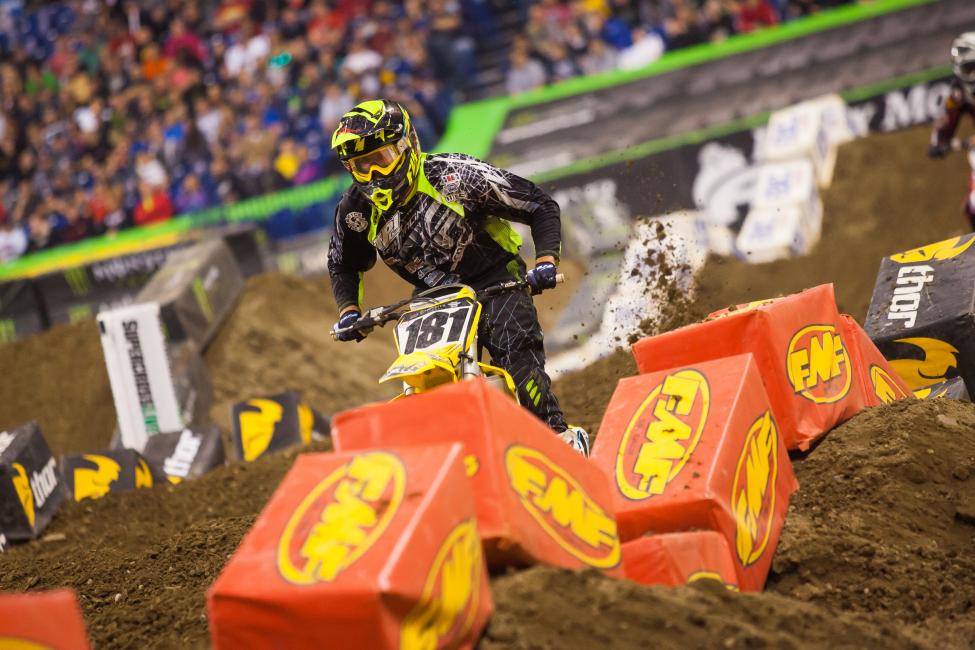 Wow, that's impressive. You're a professional racer, making main events, with a 4.0. Where do you attend?
I go to Willow International and my plan is to transfer to Fresno State next year.
Good deal. Let's talk about your first main event. It's been a long time coming, hasn't it?
It was pretty sick. I was super-nervous. I don't know, I was more scared that I was going to get in the way. My lap times from the LCQ to the main event were three seconds a lap slower. I didn't ride anywhere near where I'm capable of riding, so that kind of bummed me out. It was pretty awesome to get in there. Man, the sight lap, it was super cool. It's something I would always dream about. It's just cool to be on the line with all those guys and thinking that you belong there. That's what I want to do, is continue to get into the mains and prove that I belong there.
Your first supercross was in 2011. Talk about your journey and going to all of those races. You finally made it in! It had to have been somewhat emotional for you.
Yeah, the main thing I noticed from my first race to now is just how much everything affects me. My first year I made my first night show and did all that. It was a big deal looking into the crowd, seeing the thirty-second board girl, and seeing all of the riders—they were my heroes. It was a big deal to me and it made me super nervous. Probably up to last year I wasn't seeing everybody on the line as a competitor, but someone I looked up to. The biggest difference from my first race to now is that I don't realize that there is 60,000 people at the race. I'm just there to ride my dirt bike and it's a lot more calming for me.
When you say you were nervous in the main event, do you get like that in the heat races as well? In the semi and LCQ you had better starts and you looked like a completely different rider.
I don't know if it's nerves. My buddy Adam Enticknap made a bet that we were going to beat each other. We had a $200 bet, which I ended up losing. Anyway, he made it in the first semi and I was just pissed and ready to go. I got a little better start and I just raced how I ride at home, which is something I haven't done until last weekend. I think it was good that I found that aggression and know that I can push the track like that and ride like I know I can. Hopefully that helps me out in the weeks to come.
What clicked that made you ride better? It couldn't have been just because of the bet.
Yeah, honestly I just really didn't want to lose that bet.
I think it was good that I found that aggression and know that I can push the track like that and ride like I know I can. Hopefully that helps me out in the weeks to come.
[Laughs] You should make more bets!
I know, exactly. It was the perfect fuel for the time. The first lap of the LCQ I rode really aggressive. I always tend to start slow. But I passed as many guys as I could and that set me up for the rest of the race.
On your Instagram we saw that you got to go ride James Stewart's track before Daytona. How was that experience?
That was badass. Adam [Enticknap] set that up. Of course I jumped at the chance to go. I got to ride SX there and I got to ride his outdoor track. It was sick and it's something I'll never forget.
For Detroit you are probably expecting the same performance. Do you have another bet going?
We don't have a bet, but I'm probably going to make one. I think I'm going to. I'm probably going to hit him up after this. My plan for Detroit is to finish one position better. If I do that then I get new basketball shoes. I play a lot of basketball, like three to four times a week, and before the season started my shoes were blown out. I told myself that I wasn't going to get new shoes until I made a main. Unfortunately it took way longer than I thought it would. I've been in these ragged-out shoes, but the day after Indy I went and got some. Then before the end of the season, if I beat my best position by two spots, I will get another pair and then I'm done buying. I balled last night, the night before, and I'm going to ball again tonight. I'm putting them to good use.
Your mechanic, Snuffy, has been with you your entire pro career. He was probably really excited. You guys have been traveling around the country together for years and you accomplished this goal together.
Honestly, it was so awesome and my dad was there too. Sharing that with Snuffy [Rydane Dixon], man he was so pumped. To see all of the hard work he puts in for me to do well, it was awesome to see us get in the main event together.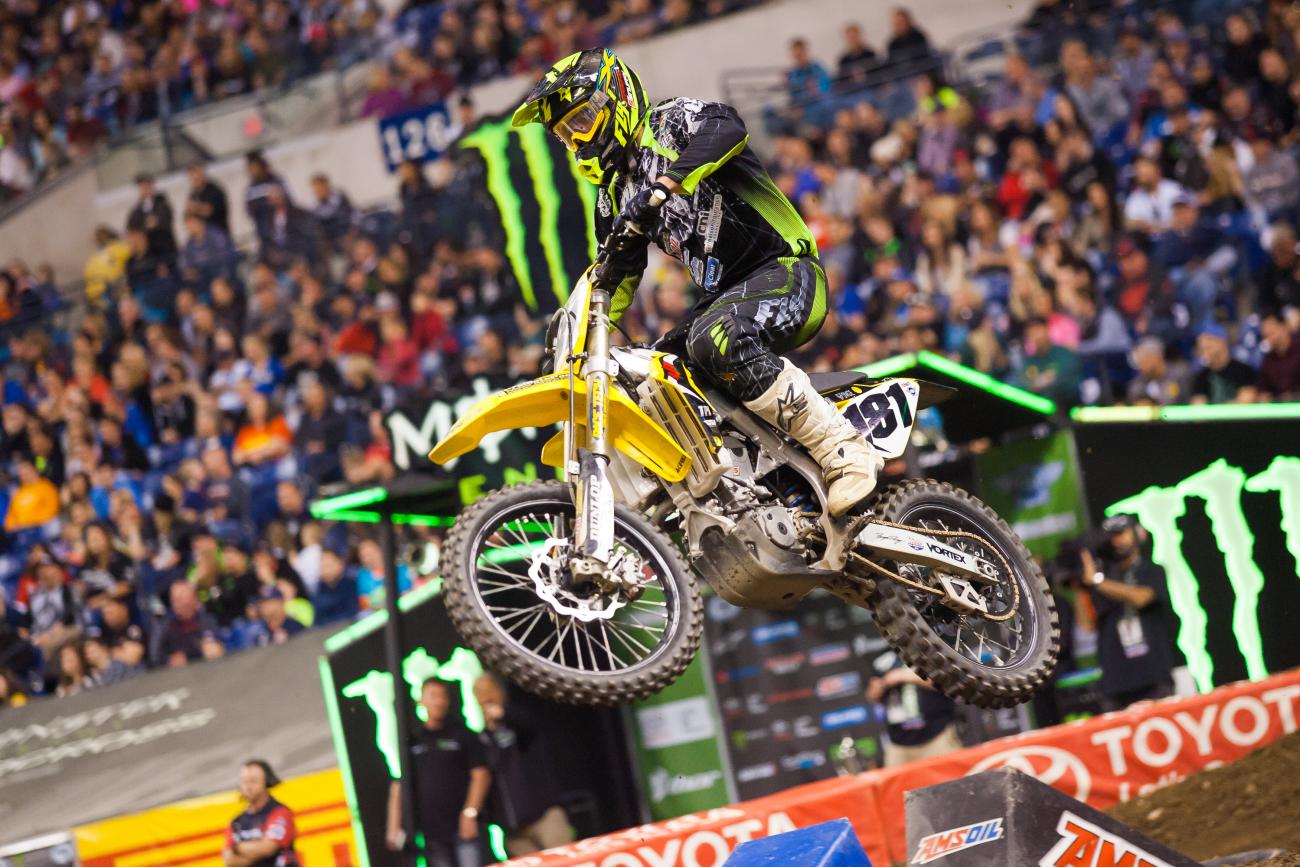 Did you see The List that we put together if you ever win a race from a few years back?
Yeah, I thought it was cool. It made me think that I needed to win a race. The headlines were sick. I need to win something though now.
So, to sum all of this up: You are the same old Dustin Pipes from Madeira, this main event stuff hasn't gone to your head, and you are one of the few guys out there on a Suzuki.
I am, which is weird because they are hands down the best bikes out there. I have been on them for six years now and I can't imagine riding another brand.
Who do you want to thank for helping you out?
First and foremost, I'd like to thank my mom and dad, my sister Hayley, my brother Charlie, and my aunt Dana. They have always stood behind my racing 100 percent. I also want to thank my mechanic Rydane from Snuffy Racing and my friend Gary Peterson for sacrificing so much of their time to help me get better. Ted Parks from TPJ, Max from Fly Racing, Todd from Carl Nelson Insurance, Suzuki, Race Tech, Yoshimura, Rekluse, MHS, Lucas Oil, Guts Factory Seats, Motorcycle Superstore, ODI, DT1, EKS Brand Goggles, Boyce Excavating, promotofan.com, Works Connection, Bolt, Dunlop, VP Racing Fuels, Vortex, Moto Blanket, the Silveria family, Acerbis, and Engine Ice.