Indianapolis, IN
Indianapolis
Monster Energy AMA Supercross Championship
Dirty Little Secrets
Indianapolis is one of the races that can range from one end of the spectrum to the other. Back in the McGrath era, the dirt would be incredibly soft and rutty. Many times Indianapolis would be the first East Region round, which means a February race date. That February date is significant because Indiana would still be virtually frozen and the dirt would literally be thawing inside the old RCA Dome (or, the Hoosier Dome as those with really good memories will recall) over the course of the weekend. Nowadays, though, the date is pushed back into March, and even more importantly, the dirt is more protected from the harsh Midwest winter. The result is a more consistent soil, even bordering on too hard at times. This winter has been wet and harsh, so I wouldn't be surprised to see a rutty 2015 version. It was pretty tough last year, too but in any case it won't be anywhere near as soft and treacherous as those 1990s era Indy tracks. One thing to note here: If the dirt is soft and rutty, look for Tomac to be up front. Every track with plus traction and deteriorating conditions due to ruts has favored Tomac, including last year's Indy race, which was one of his best during a rough season.
The track has a very straightforward layout. In fact, it's incredibly similar to both Dallas and the Atlanta 1 track maps. The first turn and corresponding lanes, triple, and whoops locations are almost identical. The rhythm sections will unfold a bit differently—which is a plus—but it's a bit discouraging to see a lack of creativity. I can only imagine the struggle to constantly innovate new track ideas, but I do think it could be a little more "outside the box" than these three maps running over the course of four stadium races.
Who's Hot
Ryan Dungey, to say the least. He's coming into Indy with two straight wins and was the 2014 winner of this event. He's riding flawlessly and his starts are the best they've ever been. In short, he's doing everything right.
Eli Tomac has two straight runner-up finishes and was also your runner-up at Indy in 2014 as well. He is looking strong each and every week but hasn't had the little details perfected enough to best the Dunge. If the track is soft, look for Tomac to be on the podium again.
Blake Baggett scored his first ever 450 podium and while that was big news, he was expected to be great at Daytona. He was incredibly fast last year in his dominating 250 Daytona win and just seems to excel in that terrain.
Marvelous Marvin Musquin reeled off another win and looks ready to turn this series into a runaway. He has been the class of the 250SX East field thus far. Justin Bogle and Jeremy Martin are keeping him honest, but with each passing weekend, the points lead grows.
Cole Seely could have won Daytona. Read that again. He absolutely could have won that race if the move on Ryan Dungey had succeeded. He was arguably the fastest rider on the track and was actually able to pass riders when others couldn't. Eye opening ride from Honda's rookie. He was also on the podium at this race last year while in a part-time 450SX role.
Who's Not
Mike Alessi has had a rough-and-tumble series after suffering a knee injury in California. His starts have been great as usual, but he's struggled to put in solid main event results. I've been down this road with knee injuries before and it is a constant battle with pain and stability. Knocking himself silly last weekend in Daytona couldn't have helped matters.
Andrew Short has had a great season, but the last two weekends haven't gone to plan. After a food-poisoned weekend at Atlanta 2, he barely made the trip to Daytona with airline problems. He arrived at 3:30 a.m. in Daytona on a chartered propeller plane and had to be mentally drained from the ordeal. Although he did lead both the heat and the main event, I am sure he hoped for better than a twelfth.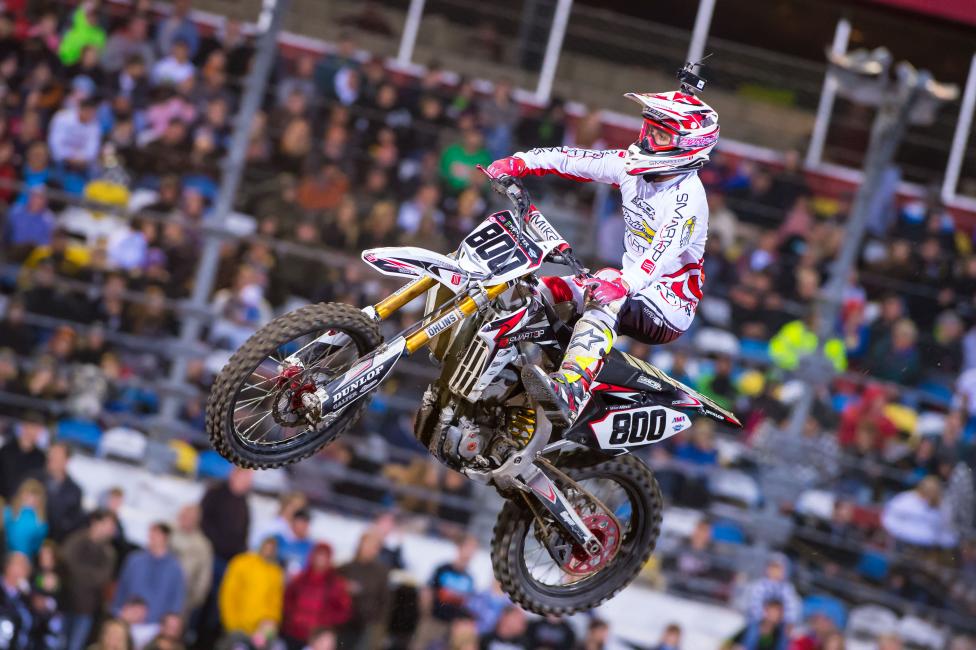 Bold Predictions
Ryan Dungey makes it three wins in a row, backing up his 2014 Indianapolis win.
Eli Tomac backs up his 2014 runner-up finish with another second place behind Dungey, making that three in a row as well.
Soaring Eagle/Jimmy John's RCH Suzuki, in a move to replace Kenny Roczen, puts Kenny Watson on the #94 Suzuki. Things go terribly as Watson tries to re-enact his Moto XXX riding days and enters the track sans clothing. When pressed for a statement, RCH spokespeople release the following: "Losing Roczen for a few weeks was tough on the team. We had a back-up Kenny to offer and figured we would give him a shot. In hindsight, this was a poor decision."
Chad Reed gets onto the podium in a birthday present to himself.
My Picks
450
Ryan Dungey
Eli Tomac
Chad Reed
250
Marvin Musquin
Justin Bogle
Jeremy Martin