Daytona, FL
Daytona
Monster Energy AMA Supercross Championship
Just two weeks ago, the first Atlanta round of Monster Energy AMA Supercross, an FIM World Championship, offered up an incredible race with four different riders fighting for the lead. It signaled that this year's 250SX East fight would be fierce, but now Marvin Musquin has reeled off two straight wins and three in four races. The red hot Musquin is 12 points clear of his closest competitor—Jeremy Martin—and appears to be more comfortable than ever.
"There were some things in the rhythm that I knew I could do better so I fixed some things and then I was really happy with what I was doing," Musquin told Racer X after Daytona. "My condition was good. When I ride like that you know I'm not getting tired because I'm trying to be smooth and calm and really focused on my lines."
One rider hoping to stop Musquin's streak is GEICO Honda's Justin Bogle. The defending champion may not be happy in his current position—13 back of Musquin—but he can't complain either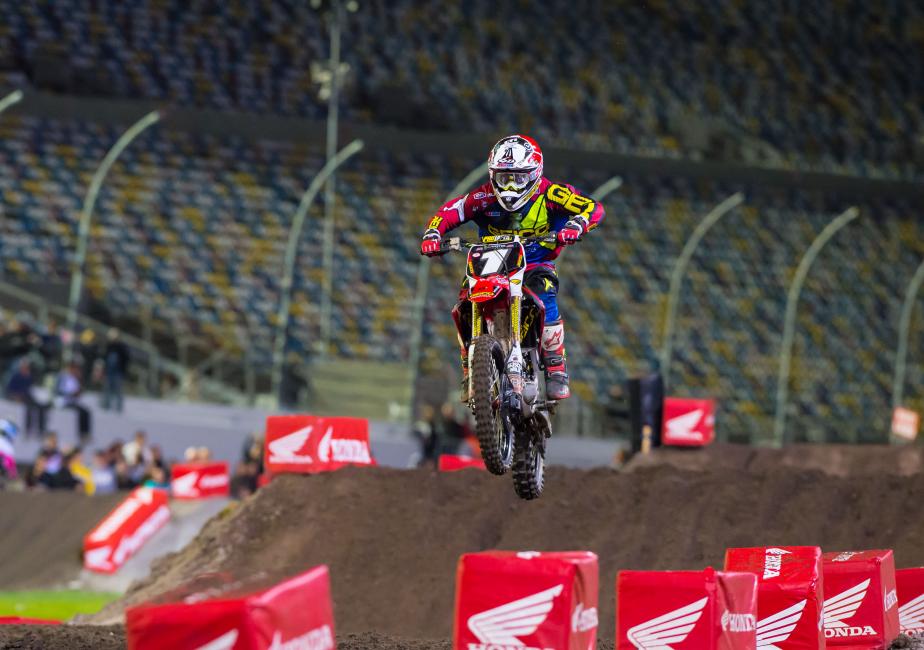 "I'm never going to complain about a podium," said Bogle, who has four straight podiums, in a team statement. "Obviously, I'd love to be winning. There's no better feeling and we're working every week to get that. We're making progress every week and I'm getting closer, so I'm happy."
Winning is the ultimate goal, but it has taken time for Bogle to recover from off-season surgery. "Bogle, he's actually doing a lot of things right. He's getting good starts. He's riding very well. He went with the surgery pre-season and I just don't think he's fit enough to give what he has the whole race," GEICO Honda team manger Mike LaRocco told Steve Matthes after Atlanta 2. "I know that's going to be hopefully progressive and comes better at the end of the season."
For Bogle, 2015 is practically a mirror image of last season. Coming back from off-season surgery a year ago, Bogle went 5-3-3-5 to begin the season. It wasn't until Detroit (Round 5) that he started to get his fitness back. He proceeded to win two of the next four rounds and claim his first title.
If Bogle were to make another run this year, he'll also have to go through the man that was chasing him Saturday night at Daytona—reigning 250MX Champion Jeremy Martin. Martin already has a win this year, and was a favorite at the outdoor-sy Daytona race Saturday night. Admittedly, he didn't have quite the speed needed to overtake Musquin or Bogle.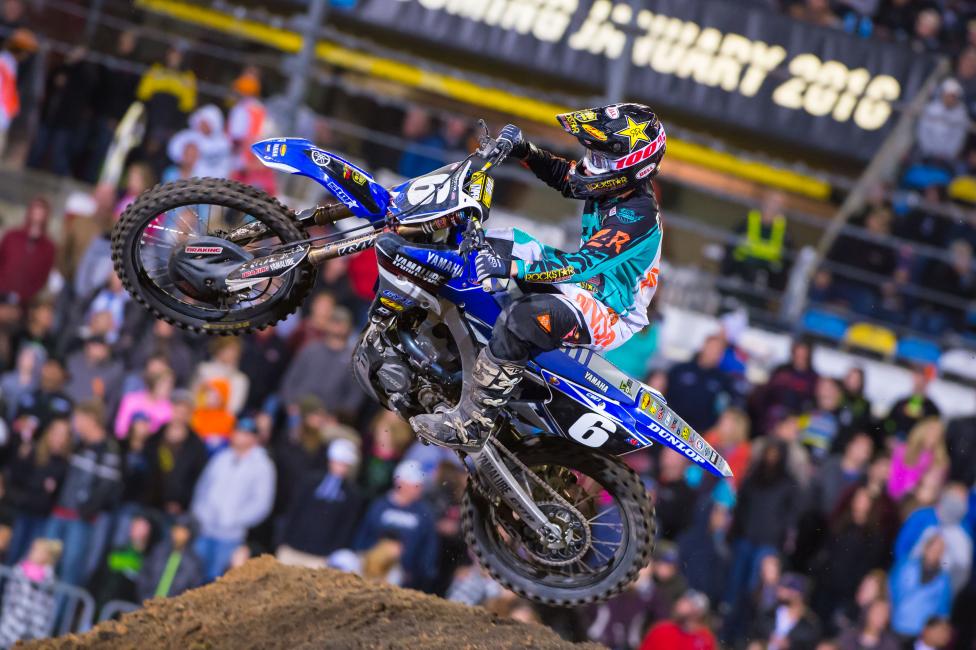 "The main event, just struggled out of the gate, popped a little wheelie, and then dropped the front wheel in a hole and the holeshot device came unlocked," he told Steve Matthes. "But no excuses. Bogle and Marvin have been on it on the starts this year. I'm just putting myself at a deficit. We need to make some changes and look and see what we did wrong so we can move forward."
At times, it looked like Martin was going to catch Bogle, but uncharacteristic mistakes late the race cost him. "It was all me. I saw him, I was starting to reel him in. I was feeling good and then made a few mistakes. Made a few changes and then I just threw it away," he said.
A shortened schedule in 2015 (just eight rounds) has placed added weight on these past champions. These three are close and capable. With this championship run about to hit the second half, it's time for someone to make a move.