Daytona, FL
Daytona
Monster Energy AMA Supercross Championship
When the year started for Jason Anderson, longevity was the issue. We knew the 2014 250SX West Region Champion would be fast, but rookies usually have trouble with the long game. Just to pound those fears home, he blitzed to the fastest qualifying time at the Monster Energy Cup, the US debut on the new Rockstar Energy Racing Husqvarna 450. But when the mains came around, he was nowhere near the front, going 15-7-4 for seventh overall. As it is with rookies, there are ups and there are downs.
That's just at the races too. Anderson has stacked on more change, uprooting from the West Coast to Florida, to join Aldon Baker's grueling training program. More than a few people thought he wouldn't last.
"I heard a lot of people say that," Anderson told me on Saturday. "Maybe it's just the image I put out there. I like to have fun, but it seems like people think I don't like to do the hard work. It's not like I haven't trained before."
Anderson is playing the long game quite well now. The Rockstar man is a rock solid fifth in Monster Energy AMA Supercross points, and has finished in the top ten every race this season—Ryan Dungey is the only other rider to do that. All in all, good stuff, but Anderson set the bar awfully high with an impressive runner-up finish at the Anaheim opener. He hasn't been on the podium since, he's right in the middle of the grind that often eats rookies alive, and he's got to maintain that training schedule.
Is he getting worked? Is he tired?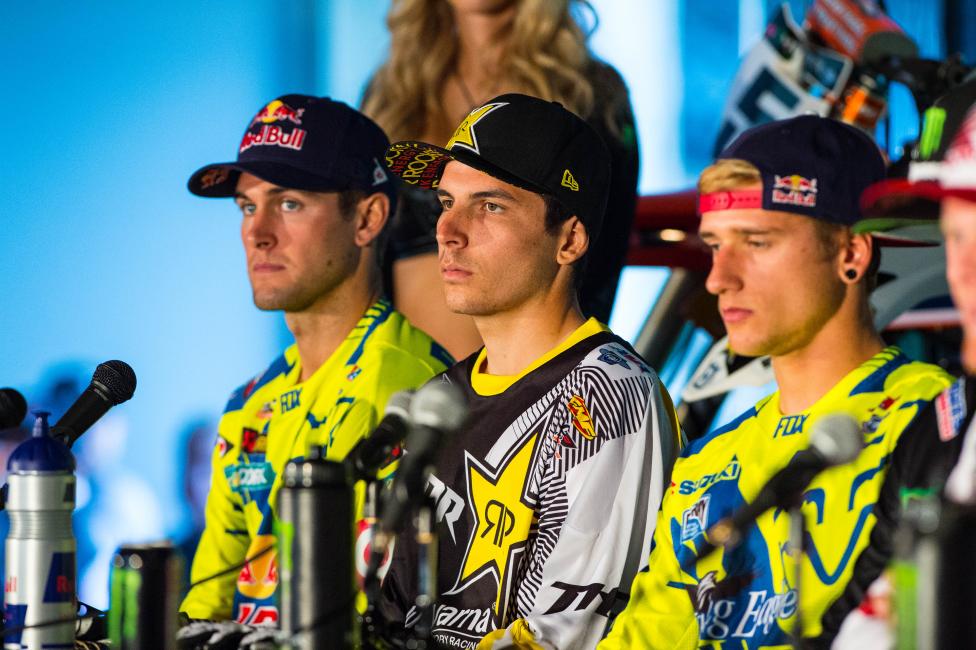 "No, I mean at any point in someone's season they're going to be tired at a race," he says. "You've just got to fight through it. You've got to make the best of every day. I'd rather be tired at one race than feeling good at one and tired at three. All around you may feel flat one race but you feel good the rest of them."
Anderson actually looked sharper over the weekend in Atlanta than he has in awhile. He was fighting for position and moving up, until he went too far and clipped a jump and went barreling straight into Weston Peick. Both riders would hit the ground and go backwards. Late in the race, Anderson was eleventh, but he maneuvered past Davi Millsaps and Peick to get into ninth, keeping that top-ten streak alive. The previous weekend, he was seventh, but he liked this performance better. He said he was happier getting a ninth while fighting than just finishing ninth and riding "like a puto." That's Spanish slang, by the way, and we'll leave it there.
So, signs of progress. But still, that Anaheim podium set a high standard. Is the same Jason Anderson, the podium guy, still here? Maybe. Jason actually thinks the Anaheim 1 track made a bigger difference than anything else. The opener track is usually tamer than the rest, and that made it easy on him. As the tracks have grown more technical, Anderson and his team have had to go to work on bike setup.
"I don't want to say it was a fluke, but it [Anaheim 1] wasn't a supercross track. I think it was mellow," he said. "Now I think there's some things as far as getting my bike set up for these tracks, and for me riding a 450, that take time to come around. It's something that, I think we figured out a lot about this weekend, and I felt a lot better. I think going into Daytona and the rest of the rounds, I'll have that fight that I've always had. I feel like I've kind of lost that a little bit. I've been searching, just the typical struggles that you sometimes have mid season. I think by the time we get around to Vegas, I'll be back up there."
That seems like a long time to rebuild, but Anderson points out how different the races are on the East. He was born and raised in New Mexico, and lived in California and raced 250SX West for most of his pro career. (He raced East Region his rookie year in 2011.) Now he's adjusting not only to eastern dirt, but even more basic things than that. Most of the western tracks (Anaheim, Oakland, San Diego, Phoenix) are baseball stadiums with diamond-shaped floors, much different than the eastern domes, which are rectangular football stadiums.
"This is the first time I've raced a lot of these venues on the East Coast," he says. "For sure [it's a factor]. I'd be racing in Angel Stadium and San Diego; then I'd be going out and doing motos at Pala. It is different riding in these football stadiums, but all in all we're going to keep learning and getting better. Anaheim 1, I think I was riding good then, but I think I'm riding good now."
There will be much more to adjust to. Summer heat and humidity will surely be a big adjustment too, so dealing with the grueling schedule during the Lucas Oil Pro Motocross Championship could be even harder. "Humidity's new to me; Florida's new to me," he says. "It's definitely weird not seeing mountains and just seeing trees and swap. But it's cool."
It's cool. During this season, there will be a lot of obstacles piled in front of Anderson, but he seems to be taking them in stride. The training program hasn't broken him, moving east hasn't broken him, the long season hasn't broken him—at least not yet. He's not immune to work, as previous trainers like Coach Seiji and Randy Lawrence have never said a negative word about Jason's commitment. But maybe that persona he puts out there, the image of a guy who likes to have fun, isn't just a persona. Maybe Jason is capable of making even the hard stuff seem fun. But this daily life isn't as serious as it might seem either.
"It's not like we're going out and meeting tons of new people or anything but we have a good group around us," he says. "I get to hang out with [Adam] Cianciarulo, Marvin [Musquin], and [Ryan] Dungey. Marvin and Dungey are kind of wifed up so it's like me and AC hanging out. But it's cool. We enjoy going to the gym and messing around at the gym. It's not like we go to the gym and Aldon's just like straight-faced and not fun. I feel like everyone has this thing where it's like you go to the gym with Aldon and it's just straight business and he's mean-mugging the whole time. We joke around the whole time and we have fun on road rides. It's actually enjoyable.
"People think I'm just sitting on the couch just hanging out doing this all on talent. Yeah, I'm talented—everyone out there is talented—but for me I've definitely put in the work before. It's not like I'm new to riding bicycles and stuff. There's different things that we do a lot more of that I haven't done so much in the past. I've actually ridden a bicycle more in the past, when I was out training by myself. This year we're doing a lot more time in the gym, but all in all I've been working my butt off for a long time now. I'm cool with this. I get to ride my dirt bike every day."
Definitely going to be a lot of time on the dirt bike this year. As long as Jason thinks that's fun, he should be okay.