Ron Tichenor turned pro in 1986 at the age of 16. He quickly established himself as a serious contender by scoring consecutive 3-2-1 finishes in the 125SX Class, and displayed both a smooth and stylish riding style. Tichenor, who hails from Florida's west coast, went onto enjoy a solid career in professional racing, scoring twenty-five podium finishes between the outdoor nationals and 125 supercross events, and a 125 East Region SX Championship.

In 1993, towards the end of his American career, Ron accepted an offer to race for factory Suzuki in Japan. He went on to spend nearly four years racing—and winning—the Japanese national championship.
After one final run at the American outdoor national championship, Tichenor retired at the end of the 1997 season. He quickly went on to make a name as a riding coach, and was a regular spectator at many of the big amateur motocross events. However, over the past few years, Tichenor's presence seemed to fade from the coaching roster.
So, we looked him up to find out what is going in his life. When we did find him, he was standing on the side of a soccer field in Palm Harbor, Florida, watching his son practice his soccer game.
Racer X: Ron Tichenor, thanks for taking our call. What are you up to these days?
Ron Tichenor: Hey there. Yeah, quite a bit, thanks for asking! My son is a competitive soccer player and I am just sitting here watching him play right now. As for motocross, I have been kind of off the map here for the past few years as far as my training program goes, and dealing with some personal things. But recently, I decided to jump back in and I have picked a couple of really good riders, for which I am coaching.
That's cool. Who are some of your new guys?
Well, there are a few, but I am working a bit with Daniel Baker; he is probably the fastest right now. He is an A-level rider right on the verge of turning pro, and has been down staying by my house for a while now. There are also a couple of other kids I am working with as well. But one of my early guys was Adam Cianciarulo, and I was working with him three to four days per week. I trained him since he was 7 and pretty much up until this last year. It's a bummer he got hurt, but that comes with the sport.
Where is home base for you these days?
I live in Palm Harbor, which is the Tampa-Clearwater area. This area is my home. It's awesome and warm in the winter and really good for riding. In the summer, it's hot and nasty, which is also a great time to train for the outdoors.
Tell me a little about your training program—do you have your own facility where you base your operations?
No, I don't. That can be a double-edged sword. What I do have is about five different tracks that we use. Every day, it's something a little different. We can ride supercross; we can ride sand or hard park. It's a little more driving, but I actually think it can be better preparation to break it up and go to different types of terrain. Some of the guys stay with me at my house, and some live in a motor home. It just depends on what they want to do and what their specific program allows for.
It seems like there's no shortage of motocross trainers out there, especially trainers who had successful careers like you. I know each guy does things a little differently, but tell me about your program, and it may or may not differ from what other guys are doing?
I think for me, I get more into the mental aspect of it of the sport. My training is based on what I learned over the years, both for better and worse, and what I then incorporate into what you do day in and day out. Honestly, the mental part of the sport is so hard; that is the biggest obstacle. I teach how to be positive and confident in what you do, and focus on using that to make a difference and achieve results.
What are some of the biggest challenges the guys face nowadays and relative to when you were racing?
Its all relative, but believing in yourself, and assuming the speed is all the same, you have to be willing to do the work and master your craft. If you are not doing the work for the right reasons, you are not going to get a lot out of it. It's also really important to master the craft as an amateur, once you turn pro it is much harder to make improvements. How you view yourself at the top, that really determines who you are. The battle in motocross is so mental, and if you have what it takes and you can back it up, and you can get good results.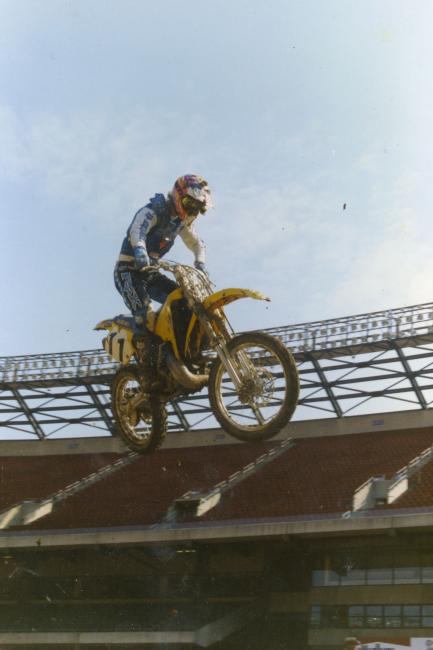 Speaking of training and results, what is your viewpoint on Kenny Roczen and his recent string of setbacks?
You know, I am really surprised that he parted ways with Aldon [Baker] when he did. In my viewpoint, Kenny has always made really good moves and good calls during his career. I don't know what all went down, but I think the move was maybe at the wrong time for him. Aldon, he does more than train; he gets in the rider's head, and that is perhaps something that makes him so good. The strange thing is that with Kenny leaving, that allowed Aldon to go full time with [Ryan] Dungey. I can see making that move after the season is over, but when he did it a few weeks back, I was puzzled by the timing. But like I said, he has always made all the right moves at the right times, so I don't know. But I do know that it has to be hard seeing your ex-coach with your top competitor, and knowing that he is no longer in your camp. But I am sure he had his own reasons.
Tell me about your personal life—does your son also ride?
Well, I recently got divorced, and it was a tough time, honestly. That's one of the reasons I stepped away from the sport for a bit; I needed to get through that. It really took some wind out of my sails for a bit there. But that's now behind me, and it's my son Axl and I. He is 10 years old, is really focused on playing socce, and going to school. He's in the fifth grade. I live down by the beach and honestly live a pretty simple life these days! I do some cycling, but most of my free time is spent meditating and reading.
Really? That's cool, what is on your reading list?
Well, lately, it has been a lot spiritual teachings—some pretty deep stuff. Stuff by Eckhart Tolle and Deepack Chopra. I have always had an interest in the subject, but got more focused on learning about it through my divorce. But it also comes into the mental side of my coaching as well.
I know Ryno's always posting some motivational stuff on his social media; is it along those same lines?
Yes, very much. I actually talked to him about it, and we're both into the same stuff. It really teaches you about being in touch inside your head, and I've found that it is really empowering.
Does your son have any interest in the sport?
You know, he had a PW50 but never was really into it. But that's totally cool with me. He did just about every other sport out there, but just never got the motocross bug. But whatever he wants to do, I am good with it. He is a really smart little guy, so whatever path he chooses he will be fine. But right now, soccer is really his deal.
As a motocross coach, do you see similarities in the teaching?
You know, I'm a terrible soccer player and certainly am not a good soccer coach. And since he's at the competitive level, I stay out of it. But yeah, his coach reminds me of where I am on the motocross side, as he was a former professional soccer player. I like that, and it works out well. I can hear him in the background pushing on the kids right now, actually.
Let's talk about your career. You turned pro in 1986, right? You had some good results right away.
Yup. I moved up in '86 and had some results in the 125 Supercross Class. But then I pointed out my second year, in 1987. Back then it was really easy to point out and land in the 250 class. But I can't complain, I had a really good career, and looking back, I think some of my problems, some of the things that held me back were self-confidence, and perhaps not believing in myself as much as I needed to. That's one of the reasons why I push the mental side so hard with my students.
You always seemed like a stronger 125 guy. Why do you think that was?
I think I was always more comfortable on a 125. I was light and not a big muscle guy, and it seemed like I was always getting injured when I rode a 250. But I was also a better outdoor rider for whatever reason, and my results were always stronger in that series. Also, when I had to move up to the big bike class in 1988, I was also pretty young. And to be that young and racing against guys like Jeff Ward and Ricky Johnson, well that was another thing that played into my head. Those guys were hard to beat and I told myself that. So I never beat them.
You spent several years chasing the dream as a privateer after your ride with American Suzuki; how was it back in the early 1990s with that Tuf Racing Suzuki?
It was hard. And as you said, I rode for Tuf Racing, and there really wasn't a lot of rides back then. I think my last year as privateer in America, I think I finished third overall in the [125cc] nationals, and I think I only made around $40,000 for that entire season. At the end of the year, I knew I was in a jam, and then suddenly my phone rang and it was Suzuki of Japan. So I jumped at that.
That was a pretty cool deal. Tell me about that experience.
Well, we had a ten-race outdoor series. And for me, coming from Florida, the trip was tough and long. It was about a twenty-two-hour deal, so I arranged things so that I could stay over there for two months at a time. And the series ran over the course of eight months of the year. So at first, there was a real steep learning curve. And complicating things was that I was there by myself, so I had to grow up a lot. But looking back, it was really good for me. The one really cool thing is that I got to ride real works bikes, as well as some really cool development and test stuff.
Yeah, I guess Japan is certainly the place to be for the R&D side of the sport. What was some of the coolest stuff you rode?
Well, there was a test bike that had what was basically a leaf spring rear shock. It was totally crazy. It never made it beyond the test stages, but I rode it. I think Honda also had some automatic transmission bikes as well. It was just stuff that was totally out the normal box that we live in day in and day out. And for me, it was cool as I was really into the testing and was able to put feedback from the bike into words, which was helpful to the engineers. Also, testing over there kept me busy, as there was not much else for me to do. But overall, I did four years racing for Factory Suzuki and it was a good time.
Tell me about the money during your career. That time in Japan was good for you in that sense, right?
Yeah, for sure. But you know, I never really made that much—during my time we really didn't get paid that much compared to today. I was also a second-tier guy. Guys like Johnson, Wardy, and Stanton were on the top level of the pay grade. But I was lucky in that all the money I made, my dad handled it for me and invested in real estate. That has really worked out well for us. So while my total earnings were not that big, the money has done well for me.
Hey, I've met your dad and he is a funny guy. He's been around the sport a long time, right?
Oh yeah. My dad is old school, but he was really good with my money. He has a knack for just finding the right deals. But yeah, he's been around and played a big role in my career. Back in the day he owned a Yamaha dealership in Palm Harbor. And get this—Ricky Carmichael got his very first bikes from my dad. It was a Yamaha Tri-Zinger three-wheeler. Sometimes some funny pictures pop up on the Internet of that bike. And to this day, my dad is still friends with Big Rick, so the sport runs deep for him. And actually, my dad just showed up here at Axl's soccer practice, so we are still very close.