Don't look now but the big red machine might just be back. With three Honda riders in the top six in the 450SX Class points and three wins on the year Honda's fighting back. And the manager of Honda, Dan Betley, might just be the guy who turns this title drought around for the red riders. Betley, Jeff Stanton's mechanic in the glory days, took over the team manager role a couple of years ago and is determined to get Honda back to the top of the sport. Making hard decisions and thinking outside the box, Betley's got things going on over there. After practice in Dallas, I sat down with Dan to talk about this season and his outlook on his team in general.
Racer X: We're six rounds down. You've got wins from Trey [Canard] and Eli [Tomac] and Cole's [Seely] doing pretty well. What are your thoughts early on?
Dan Betley: Overall I'm really happy with the way the team is, the way they're working together, their performance. We pretty much have won 50 percent of the races [before Dallas] so I can't complain too much. And I'm really happy with Cole, too. I think he's doing as well as I was expecting, probably even a little better at this point in the season.
It seems like it's a happier group of people around the truck this year.
First of all, when you start winning races it's a happier environment in general. But all in all, I've learned a lot. This is my third year starting as team manager and I learned a lot in the last two seasons, and especially last year, with team chemistry and how everything works and flows. It's huge. It's such a difference from the way it's been the last couple years and I couldn't be happier.
Winning doesn't hurt, but at the same time even going into the season everybody was working well together, I thought. You can see it. The mechanics were hanging out together and going to dinner, and just the interaction with everybody and how everybody communicates is definitely better.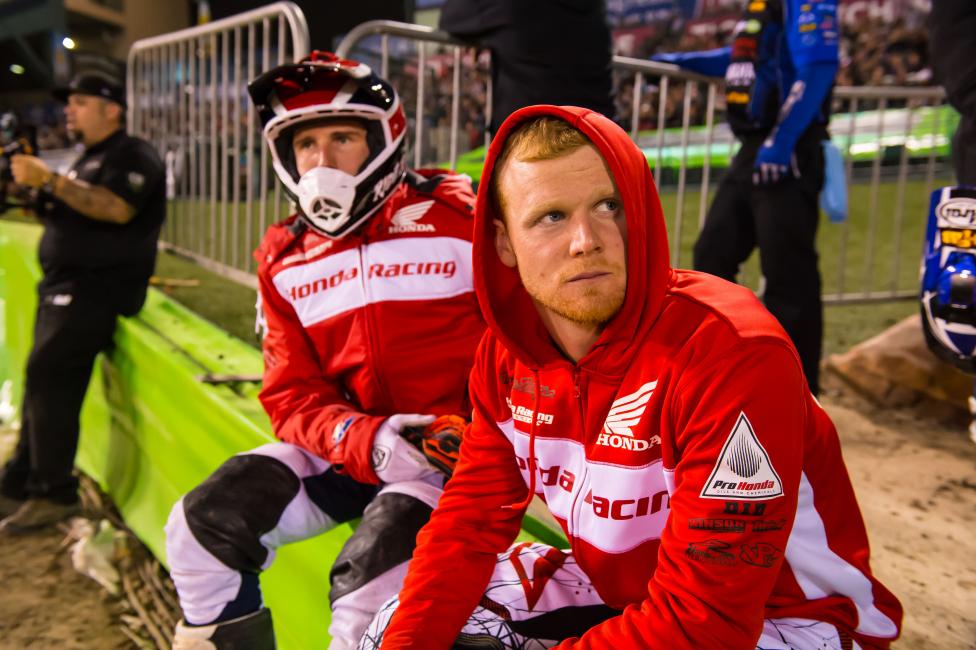 The switch to being more HRC-oriented, you've obviously let some longtime people go and HRC is more involved than ever. Is that a Dan Betley call? And the next question is: How's it working?
I did have something to do with those decisions that were made. These meetings were going on pre-season. It was no secret we really had an idea where we were lacking and where it needed to be improved on the team. I think all the changes that we made were a positive going forward. Not that I have anything negative to say about the people that left, but again just the way everything works and flows and chemistry of the team and how the team communicates with one another, it just is working right now.
So HRC, the racing department of Honda, has obviously been around forever. They kind of went away from moto for a bit; they're back. Is this a case where they've always been helping Japan and it was like a break glass, in-case-of-emergency for you?
I don't remember exactly the year when they kind of pulled back, but their focus was on MotoGP and they put all their resources into MotoGP. They decided it was time to get back in and make a statement. They never really went away. They first started in the GP series and started working with them again. What they bring is just engineering support as a whole. At any given race we have minimum three engineers here. At times we have six or seven. Basically it's teaching them racing in the US. There's nothing at this level over in Japan.
Supercross is pretty much an American sport. So they're learning as well as we are, and what they bring to the table is engineering support that really helps us. When we have an issue or a problem you now can look at it from three different angles, where before you were just going, well the rider says this and we think this.
So I don't know how you would control that, especially in a development testing, unless you want to be like NASCAR and say you only get so many test days and everybody has to show up at a certain… It's crazy.
Does it remind you at all back to your day where HRC was omnipotent?
Yes. But I look at this too as a work in progress. We've only begun the process and we're going to continue trying to develop the relationship as we move forward.
I was talking to a team that isn't a factory team and they're a little upset at the way the sport is going with you guys, not just Honda, but everybody's doing all this data. Everybody's so involved. Is it a good thing or a bad thing? Obviously you're just doing what the teams are doing, but we're getting pretty high-tech here.
What we acquire at the race is mostly engine parameters. This environment does not bode well for data acquisition at the racetrack. The stuff that we do on the testing, it's going to be done regardless. They can't control us in a test environment. Unfortunately, motorsports has evolved and any form of motorsports continues to evolve. That's just the way it goes. You look at F1 and where they were and where they are today, it's crazy. They're in a different world.
It's not looking at a main jet anymore and telling Stanton, "Hey, I'm going to go to 175."
Exactly. So I don't know how you would control that, especially in a development testing, unless you want to be like NASCAR and say you only get so many test days and everybody has to show up at a certain… It's crazy.
But it's crazy how far we're coming now.
Yeah, but all in all, it kind of goes back to the same thing with works bikes and production bikes. We already have a production bike rule, and I feel that the riders that have the most talent, the cream rises to the top, and those are the guys that are going to end up on works equipment. It doesn't mean that we don't look at the privateers. When a privateer is doing really well on a privateer-backed machine, believe me he's noticed, and believe me we're looking for him to move along if that's the case. Look where Freddy [Noren] is right now. He's come a long way and he's done a great job for us.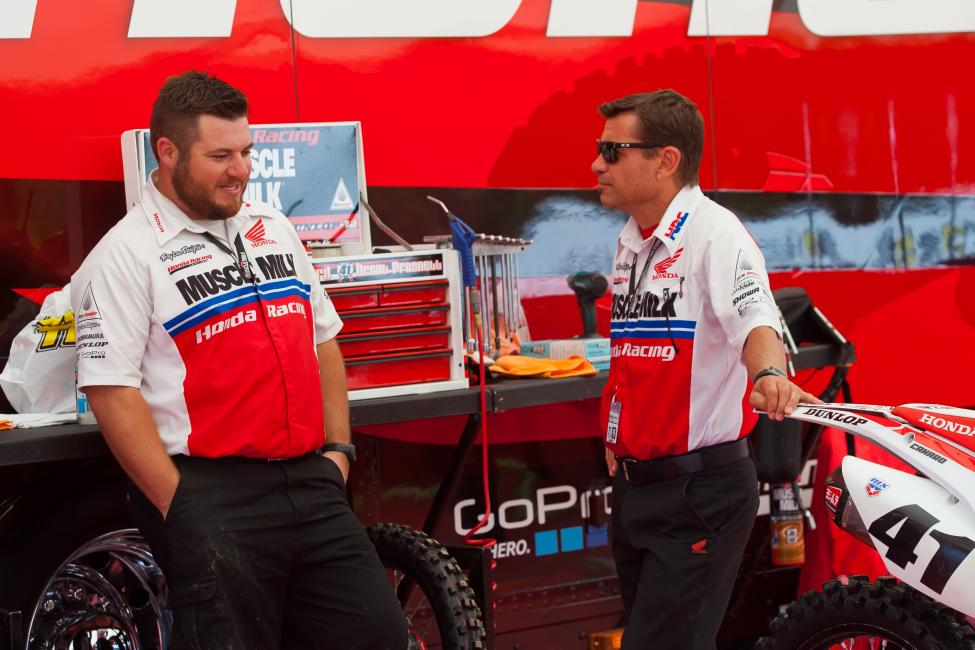 Talking about Noren, was it always the plan to pull him off so early as it seems outdoors is a ways away?
I understand that, but we also want to keep him healthy and safe. We wanted to get his feet wet and we wanted to see how he'd do. Honestly he didn't have a lot of time to prepare going into the season. Everything came together really late. We just wanted him to be healthy and safe and get through it and then jump on the outdoors and start working on that.
He's perfect as he's a little bit of everything. My plan for Freddy is just to evaluate possibly some evaluation but kind of more do endurance testing on some parts that we have. Make sure that it's going to live in an outdoor setting and put a bunch of hours on it. By the time these guys are ready to get on that thing we're going to make sure that these parts are going to be good.
How is it, with this is a very competitive business, dealing with KYB people and Showa people to make sure that their paths don't cross and you're running both suspension companies on the bike? How is that?
Better than I expected. Each company is in a separate truck, so their paths don't cross too much. And it's not like they hate each other, but it's a competition between them as well. But then it also raises the game a little bit.
How happy are you for Trey? I didn't realize it had been that long since his last win. You've been there the whole time.
I try not to show any favoritism within the team and I try to help everybody equally, but I've worked with him, been around him for a long time. He's had so much hardship in his career, so when he succeeds and wins a race it just makes me feel good to see him overcoming that. I have a little soft spot in my heart for him, but other than that everybody's treated the same and equally. I don't care at this point who wins, I just want Honda at the top of the box.
I can't help but notice the Honda renewed commitment here. We may see a Honda title here coming up.
I hope so. That's the plan. That's what we're here for. Like I said at the beginning, we're all tired of losing and it's time to change.