San Diego, CA
San Diego
Monster Energy AMA Supercross Championship
Back in 2012, factory-supported heavy hitters Matt Bisceglia and Cooper Webb squared off for B class supremacy at the AMA Amateur National at Loretta Lynn's. They found a surprise third challenger in North Carolina's Shane McElrath, an unknown who had only one top-five Loretta's moto in seven years of trying. This time, McElrath had been putting in the work down in South Carolina's Club MX facility, and showed up much faster and fitter than ever before.
He started the week with his first-ever national moto win, and chased Webb for the 250 B stock crown. Ultimately, Webb's 2-1-1 finishes would edge out his 1-2-2 scores, but McElrath had logged the fastest lap time of the entire week. By the end of the week, Troy Lee Designs team manager Tyler Keefe approached him. Although Webb had edged McElrath for the class win, he'd scored something much more significant. An offer from Keefe turned McElrath from an unknown amateur to a support rider with eyes on the pros .
It's a refreshing rags-to-riches tale in a sport infused with riders who win early and often as kids, and pick up factory support by age 12. But McElrath had to do his part, too, and after two close second-place finishes at Loretta's as an A rider in 2013 (behind Bisceglia, both times), he'd earned a spot in the TLD pro semi. His rookie year last year featured the standard ups and downs, but he's looked like a totally different rider this time. Qualifying speed and heat race wins were on display, but it took until last Saturday night, round six of the Monster Energy AMA Supercross 250SX West Region, for McElrath to finally land on the podium.
Ironically, he spent most of the main event chasing Webb around, again, and finished a close second, again. But just like those days three years ago, this podium performance feels much like a victory. McElrath just proved he belongs.
After the race, Racer X's Holly Wingler caught up to Shane to see what it was like.
Racer X: Your first podium in your career. How does that feel?
Shane McElrath: It feels like it's about time, but it's like, that really just happened? The team's been working really hard and that's where I felt like I should have been at A1. To do that here, before the break especially, it's a big relief off my shoulders. Now I can go in with peace and ready to build off that. I want to win.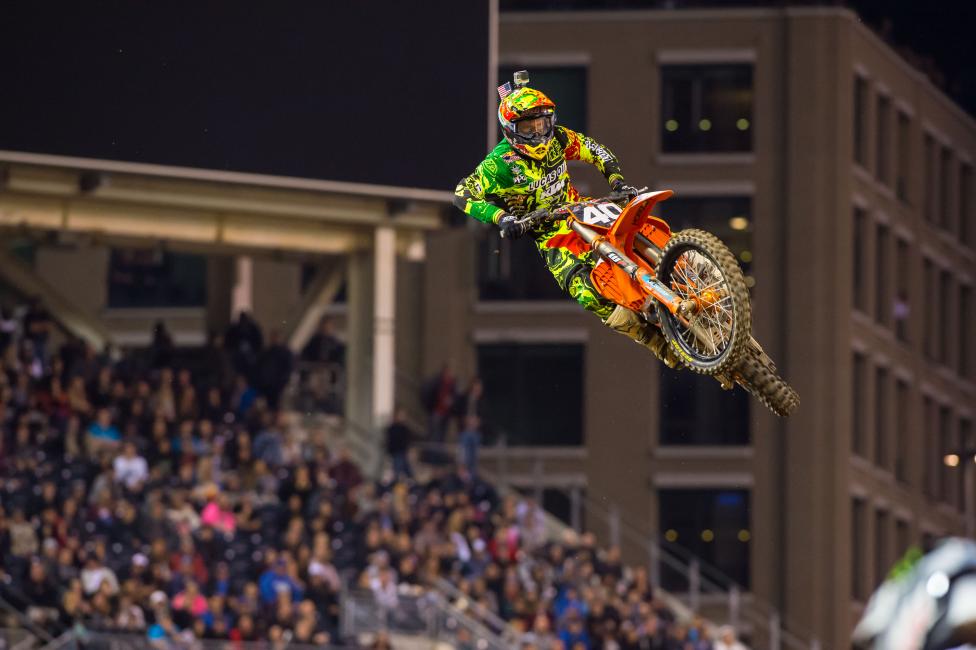 We see you win these heat races and obviously you're improving—you just podiumed. What's been your improvement? What have you been doing?
Really just being comfortable. Getting up front and being used to riding up there. This is only my second year so it's time to get it down. I got my feet wet last year, so I'm ready to be a top contender. This year we just moved up to fifth. The last three rounds, we'll just come in swinging and see if we can maybe get on the podium for the overall points.
How is it on the new bike versus being on Honda for so many years?
It's actually really good. KTM has helped us out so much. And WP, we made the suspension switch. Just everything is working so good. Really happy with the team, and everybody's happy and loving the bike. It's a good environment.
Do you have any plans for the break?
Tomorrow we're going snowboarding and then Tuesday I get to go home to North Carolina for a week. That'll be fun; I'm really looking forward to it. Then getting back out here and riding some outdoors.