Chad Reed, Discount Tire/TwoTwo Motorsports, Fourth in 450SX
Racer X: You've won a lot here in San Diego. Maybe the change in venue was what we blame it on. I think it was the same dirt.
Chad Reed: Honestly I felt good all day.
You were on the board. It looked like one of your better practices.
On the board, off the board. We had a good solid day. Honestly the night program wasn't terrible. I made a mistake in the heat and threw it away. Had to go to the semi, which kind of sucked because I ruined my streak of not having to go to the semi. I think the last time I went to a semi was, I think you were on the team. Was that 2003 or '04 when I broke a tranny in San Diego? I think that was the last time I went to a semi. So that was a bit of a bummer.
Can we talk about you hitting your teammate [Josh Grant] off the track?
That sucked.
There's some angry people on Twitter again. It wasn't dirty; it was a total accident and you barely touched him and it sucks, but you know how these things go.
Does it not seem like they react to things with me more than others?
Well, you've been doing this for fifteen years.
I just have people that are going to love me or hate me. It is what it is. I haven't been on Twitter yet, not that I care to be honest.
People want the black flag; they want this and that.
I think in any normal case you don't feel that bad about getting to the inside and making a little contact and coming out the better end, but when it's your teammate and you're both in position…
The best one I heard was that your nac-nac over the finish that you won was because you were celebrating that you knocked him off the track.
That fool wins I guess. Obviously Josh and I talked about it. He's bummed but he wasn't mad at me. From my side, obviously I triple, triple, tripled and he missed the last triple, and I was committed. And he protected his line. He did everything he could or should do and unfortunately we just met. I had momentum on my side, so it was a bit of a bummer. He made some pretty big adjustments today bike-wise, so he was pretty positive about. He was like, "Hey, my bike's way better, but I'm still getting used to it." So maybe going and doing more laps [helped him] [laughs]. But I can honestly say I've never watched a last chance and just wishing and hoping that JG got the holeshot and was clean. I was like, please JG get a holeshot and make this happen. All in all I was fourth and JG got his best position tonight. Did every lap, crashed in the first turn out here, and came back to twelfth, so that's good. We made progress today.
For your race, you lost the tail of Dungey, and you had a big gap to the guys behind you, so it was probably hard to put in a big charge.
The track started going away from me a little bit. It was getting rough, and I felt like I didn't adjust to that. I had three or four laps where I was just banging out the laps, and I felt good. Dunge and I were taking some time out of Kenny. Then I made a mistake and I kind of didn't adapt. It got to the point where the gap with Dungey was too big. Then I took a peek and saw Eli there, so I just kind of used up that time. He took three seconds out of me on one lap; I got held up by [Jimmy] Albertson pretty good. Eli [Tomac] tried to hook me up pretty good tonight! My $3,500 footpeg, he broke that.
I thought it was a little early for a move like that.
He was mad, I think, because, I want to say that someone if front of me, held him up on the berm, and that allowed me to get in there and make a pass. I obviously tried to make the pass happen, and I don't think he appreciated me trying to get in. Yeah, it's funny. It's getting to the fun part of the season. Guys that want to be in the championship hunt, and are not really in it, they're starting to show their frustration. I think you could see it. He's a long way up there and has a good shot at this thing, and threw himself on the ground with a dumbass pass. To me it just proves again that you have to be up there at the beginning, and no matter how talented these guys you've got to push them around. Twitter guys probably won't be happy with me when I make passes that I gotta make, but they're not afraid to make passed like that on me. But I don't care. I've been black-flagged once and I'll be black-flagged more! Championship is over for me! – Steve Matthes
Cole Seely, American Honda, Sixth in 450SX
Racer X: You looked good in practice, won a heat. How'd the main go?
Cole Seely: It was okay. I got a great jump actually and then I hit a hole probably like five feet out of the gate and I slid back and kind of did a wheelie. Recovered pretty well though. Then got into it with a rider before the triple and I had to roll the triple, which I hate doing on the first lap. Very scary. And then it was kind of downhill from there. I started kind of picking guys off that whole next lap, and then I had a huge one, a really close call in the section before the finish and took one hard to the hard from the bar pad. I landed like right on a Tuff block and it just stopped me. So that kind of set the tone for the rest of the race. But I'm kind of trying to see the bright side of things because I still got sixth, which is great, but obviously the way the day was going on I was hoping for more.
You had to feel on this track and the way you were going that it could have been a big night.
Definitely. Just the whole mojo of the team. It's obviously awesome to be pitting next to Trey [Canard] and all that stuff. He's always putting positive thoughts in my head and all that stuff. Just really good morale around the team. We were like, "It'd be awesome to podium sweep tonight." It kind of had that feeling to it when we had it up there, but just a few little errors. And I know Eli went down too. A few errors from us kept us from doing that, but Trey had an awesome night. Still a good night; sixth is still good. – Jason Weigandt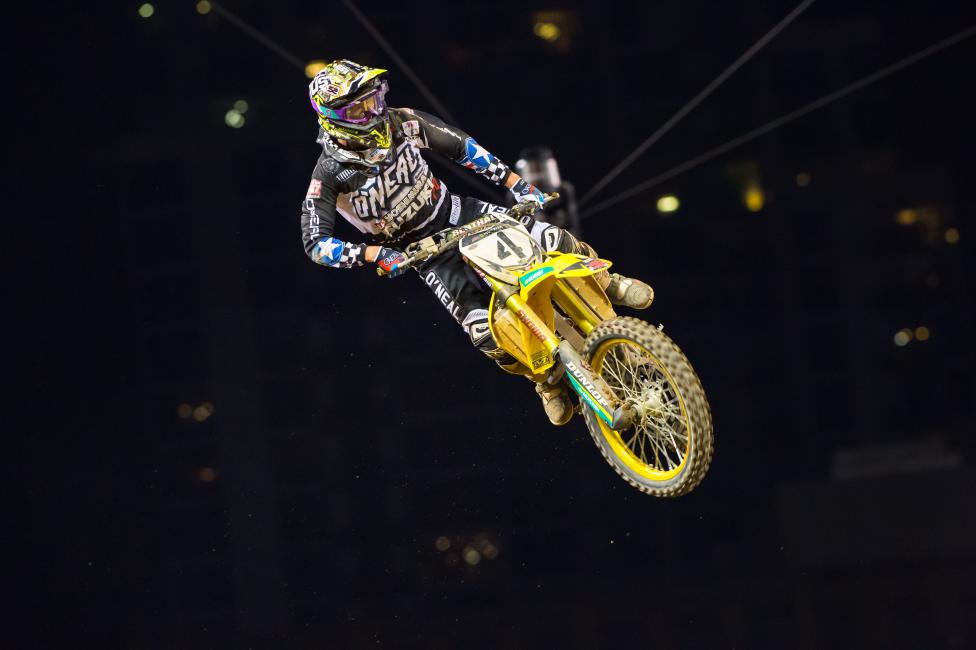 Blake Baggett, Yoshimura Suzuki, Seventh in 450SX
Racer X: I was going to say this was a really awesome ride, but I didn't even know you had an issue here?
Blake Baggett: I got into the Tuff blocks after I crashed and then was stuck in first gear. I got it to shift once up to second but the shifter was touching the foot peg, so as soon as you jumped in a rhythm lane, boom, back down to first.
And you had a really good one going.
I rode every lap tonight. I was the last one into the main event. I had last gate pick in the LCQ and the main event. I came around the first turn in last. And I had an epic night. It was fun; it was good.
But you rallied way up there. You made it to fifth.
Up to fifth and then crashed, from dead last.
So you were in dead last in the first turn?
Yeah, there was nobody behind me. I was going to look back, but I would have just seen the doghouse guy standing there.
How did you make these moves?
Probably the most amount of people I've ever passed in supercross in my life. I don't know, things are getting better each week and we're working hard. The team's really believing in me and doing everything they can with all the manpower they have to make things better each weekend.
Are you exceeding your expectations?
No, I want to be in the top five but now we have two sevens in a row, three counting the one we got docked. But maybe this was a second or third one; maybe can break into the top five next weekend.
You had top-five speed though. You were there.
It's just some things take longer to accomplish.
But I thought you weren't good at supercross?
That's what everybody says but apparently tonight I was, even in first gear the last four laps.
What jumps can you do on a 450 in first gear?
Everything. You just hold it wide open.
It's enough to get over everything?
It's enough…but barely [laughs]. – Weigandt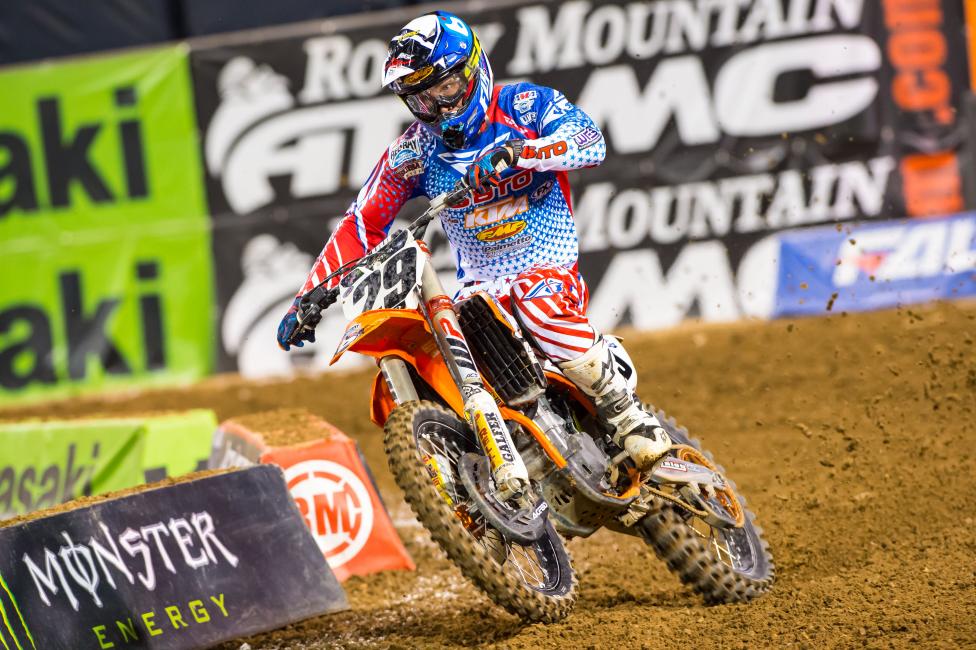 Andrew Short, BTOSports.com KTM, Eighth in 450SX
Racer X: Starts again, dialed, bro. What is the deal?
Andrew Short: My starts are really good—that's the best part right now. Normally you have this thing where you can't get the starts but you have speed, but I think I have the opposite problem! Every since I crashed [Anaheim 2] I feel like I lost a little bit of an edge. It seems to be coming back a little bit, but I'm trying ride at a pace where I'm a bit uncomfortable, which is also fun, but I make a lot of mistakes and then eventually get tight. I pushed as hard as I could for twenty laps and finished eighth. That's not so bad for how everything was going.
When you're running the point position with this pack, how gnarly is that? It's pretty crazy I would imagine.
Well, it's different when your mentality is you're just trying to survive when you're hurting. I wasn't feeling that good. You're not riding, you're not in your top shape, but you just go for it anyway. To answer your question, to ride with those guys and to be at this level is really cool and to see everything first-hand like that. Hopefully I can get back up there like I was for the first couple races and be a little more in the mix, but considering, it wasn't that bad.
So that Anaheim crash took a toll?
Yeah, mentally, physically, everything. But we're getting back there. – Weigandt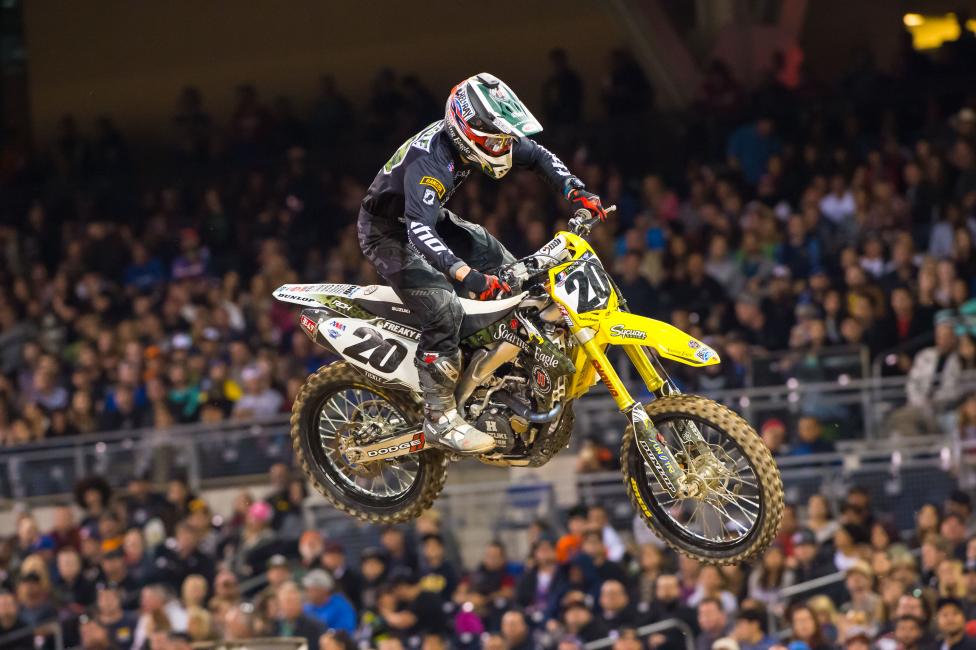 Broc Tickle, RCH/Soaring Eagle/Jimmy John's Suzuki, Twelfth in 450SX
Racer X: Welcome back after missing a race. It's tough to jump in even missing just one race, but still not a bad night.
Broc Tickle: I'm actually pretty stoked with the main event. Heat race, practice, I just never really had that flow and never felt 100 percent comfortable. I don't know what it was. The track was a bit difficult tonight somewhat. Stoked with how it turned out. We changed some stuff before the main event and it actually was in the right direction, so I was stoked. I got out on the first lap and felt more comfortable than I did all day. Props to all the guys here for making that happen.
What'd you change?
We changed something on the shock and then a little bit in the forks, just to get some more comfort there. Kind of struggled in the whoops and a little bit with those triples out of the corner. For me it was a step in the right direction. I honestly just didn't have the speed tonight to be better than what I was, I don't think. – Matthes