O.co Coliseum
Oakland

,

CA
Oakland
Monster Energy AMA Supercross Championship
When we saw Trey Canard last week, his brow was furrowed. This time, he was smiling. A pair of run-ins with Chad Reed last week at Anaheim left him in a disappointing eleventh place, and this time he was battling Reed again, but for the lead. The American Honda rider then went on to win his first Monster Energy AMA Supercross, an FIM World Championship, since 2011.
Racer X: How was it?
Trey Canard: It was a little rough there, all the way to the end. I made a bunch of mistakes. I'm so grateful; last week wasn't much fun with all the drama. I'm glad that Chad [Reed] and I were both able to get on the podium. Man, I'm just so happy with the way that things worked out.
You guys had a conversation up on the podium.
Yeah, I said, 'I apologize for jumping into you; that was a dumb race move. I just hope there aren't any hard feelings.' He said there weren't any hard feelings; he was just upset about the flag. I just want to make sure things are good between us. I really respect him as an athlete and I want to keep peace.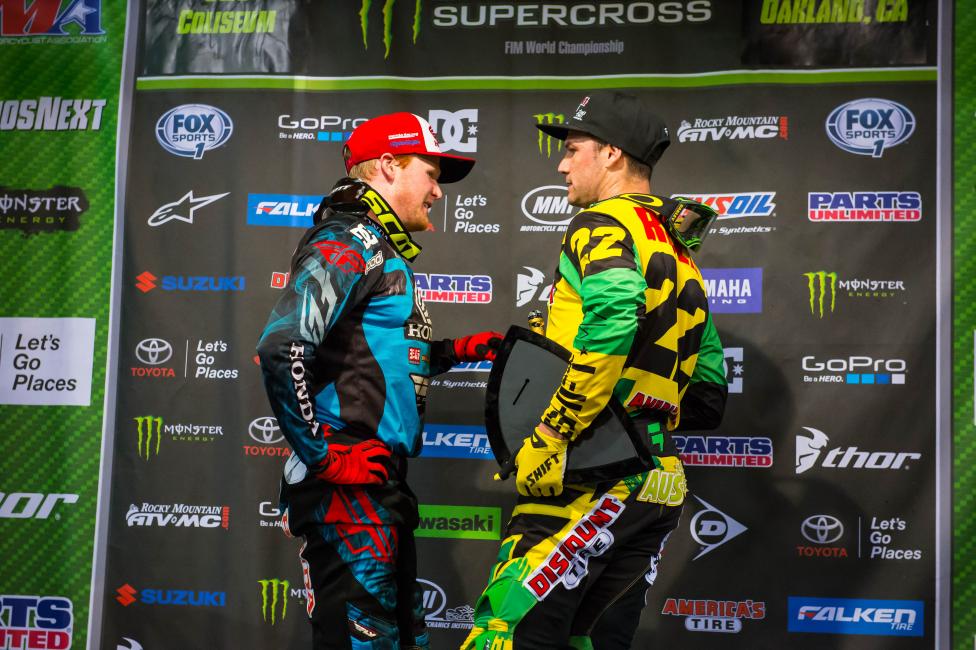 Does it feel good to clear that stuff up?
Absolutely. You never want to have confrontation. Me, I don't like to have enemies, especially Chad. I watched him race when I was on 80s and he's been a hero of mine. I want to make things good.
Was it tense at all when the two of you were battling for the lead?
It's a little nerve-racking just because you don't know what feelings are there. We hadn't really talked since then so I was a little nervous. I just wanted to make a quick pass, move forward, and not do anything stupid.
Where did you charge from? You were back there a little bit, right?
I don't even know. I've been so frustrated with the starts. I think they got better, and the heat race was better, and in the main event I jumped out great and something happened in the beginning right out in front of the gate. I just have to keep working on those. I got lucky tonight with [Ken] Roczen tonight having a malfunction. I don't want these types of things to happen; it's really hard to do anything from the back.
Where did you pass Chad?
Honestly, I don't even remember. I had a good spot before that back triple over there.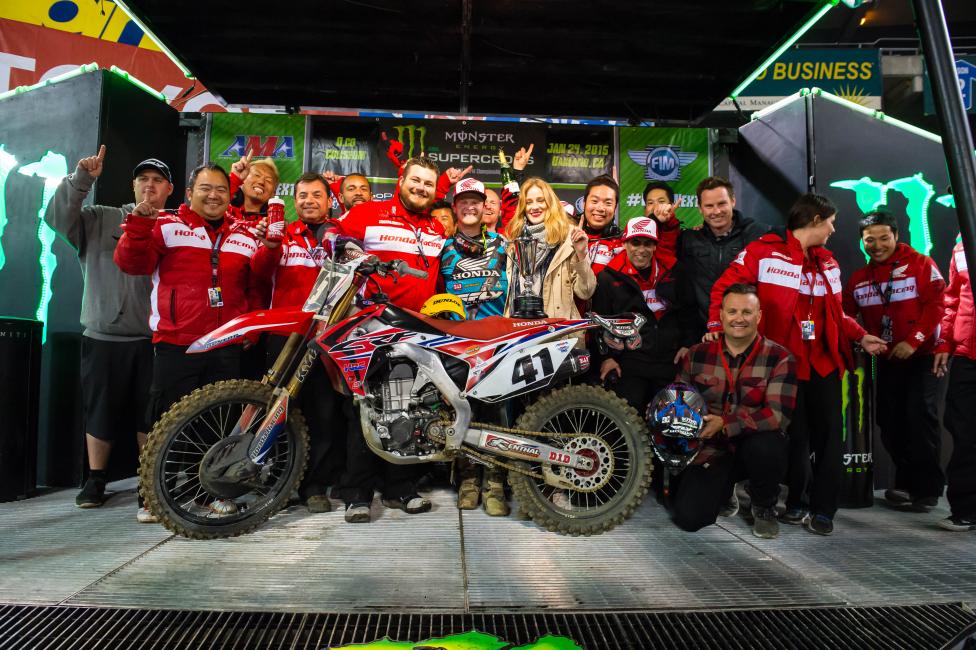 The amount of info that you process and reject instantly is pretty amazing.
I don't know. I think in this sport you have to have a short memory and you have to be focused on the task at hand. You can't be in the past at all, and that's what I tried to do. I was grateful to come out with a good race tonight.
Honda has to be happy with this win, with all the people that are here.
Oh, man, it was so great to be able to give that to them. They're in the shop till midnight sometimes. It's probably against the law or something. I'm just grateful for the work they put in, and hopefully I can continue to reward their efforts.
Does it put pressure on you knowing how much Honda is putting into this?
Not really. There's a really good vibe right now with the team, the best I've known in the last few years. I'm happy. It's not pressure; it's just that I want to go make those guys happy.
How was the track, and how did it affect your racing near the end?
I just tried to keep my eyes on the prize and move forward. It was definitely sketchy. Lots of ruts and tricky sections.
Was there anything that you did or changed during the week that you can credit for this win?
No. The riding has been going good; my starts have just been terrible. Hopefully I can improve on those and come back with better starts next week.