O.co Coliseum
Oakland

,

CA
Oakland
Monster Energy AMA Supercross Championship
By Holly Wingler and Aaron Hansel
GEICO Honda's Malcolm Stewart has become the third first-time 250SX winner in four races this year, holding off Cooper Webb to snag the win in Oakland. We chatted with him in the pits after the race.
Racer X: First supercross win. How does it feel?
Malcolm Stewart: It feels good. It's an amazing feeling, but not having my brother here is definitely kind of devastating a little bit. I miss him. When I won and I'm looking at the gate and I just wanted to hug somebody down at the gate, but there was nobody there. I miss him and he definitely kind of got on my butt this week telling me you need to go back and do it. So we put a lot of work in and it paid off. Even though I got my win, coming in, getting this win, looking at the past like me not having a ride and scrambling and trying to figure out what I'm going to do, racing Monster Cup on my own dime and everything, and getting this opportunity that GEICO believed in me, Jeff Majkrzak, it's an amazing feeling. This win goes to my brother and [GEICO Honda's] Jeff Majkrzak, hands down.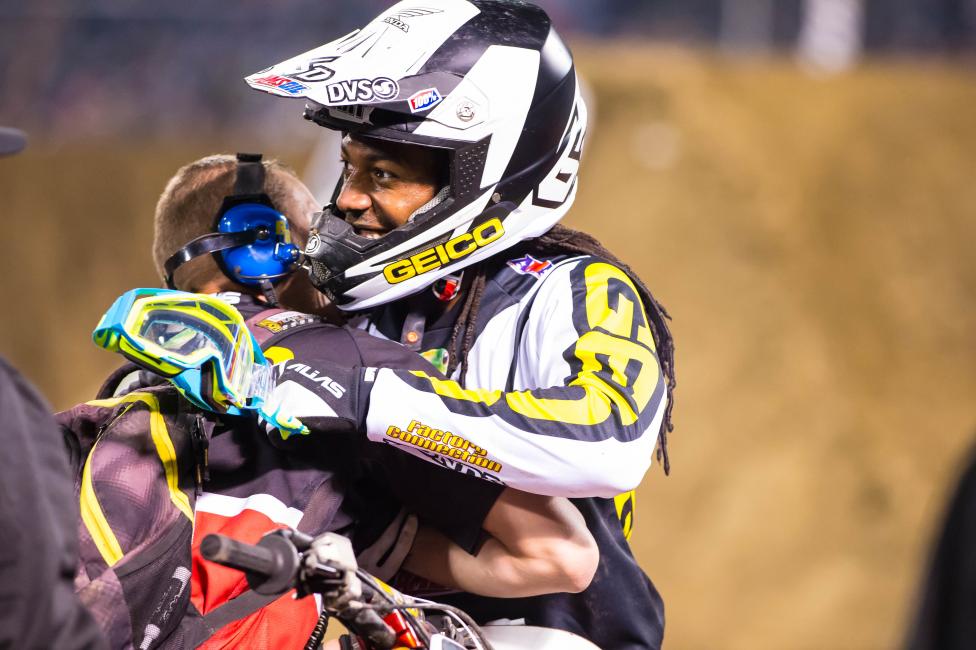 Winning's a lot, but winning's not everything if you don't have the people who mean most to you to share it with.
That's totally true. Like I said, Majkrzak called me and he believed in me. He stuck with it. He said, "Keep your head up no matter what. You're going to get the win." Like I said, definitely hats off to Jeff Majkrzak. I'm kind of speechless still. I still don't believe that I won yet. I have to wait for it to sink in a little bit.
Did you know Cooper Webb was there on that last lap? Did you know he was inches from you?
I could feel the crowd. I could definitely feel the crowd. I could hear him coming, but it was like no matter what, Malcolm, just stay focused and believe in yourself. If I was going to throw the race away I should have thrown it away a couple laps before. I didn't know I was even up front until lap thirteen. I looked at the board and I thought after [Justin] Hill fell there was still somebody else. I was like, "Whoever this guy is out front, he is gone." I look up on lap thirteen, that guy's me! I'm like, "All right." Nerves started getting in and I took it really, really slow that last lap. I probably should have never did that, but when it's your first win you don't really know what you're thinking. I'm still kind of speechless right now. Your thoughts and nerves and everything is running through your mind. Getting this first one, it means a lot to me and hopefully we keep ticking them off.
What was going through your mind when you saw Hill down?
When I saw his bike flip I wasn't sure if he saved it or not, and I still went inside and almost hit him! I was like, "Okay, Hill's down, another spot, awesome!" Like I said, I didn't know I was in first until I looked on the board on lap thirteen and saw 34 in first, and that's when my heart started pumping. Those last two laps, I don't know what I was thinking! I was over-jumping the triples, under-jumping, double clutching in corners, but hey, if that's what it means to be up front and get your first win I'll take it all day long.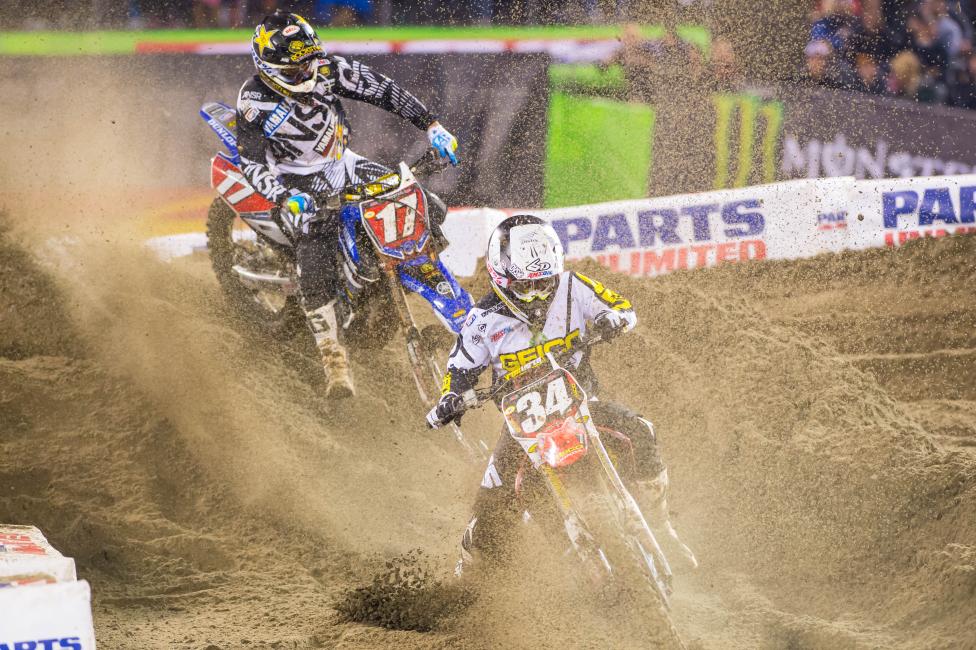 Earlier in the week you said you were working on balancing your intensity. Was there some of that going on tonight?
Yeah. There was definitely some intensity happening tonight. I always had it in me, but A1 kind of knocked me down and I was struggling a little bit. But my brother is the one who got it back out of me. He told me, "If you believe and you want to do this, there's no reason why you can't win. There's no reason why you can't be on the box. There's no reason why you can't be a competitor." He was up my ass the whole week and I can't thank him enough! Sometimes the truth hurts. The big brother has been doing this a long time and he knows what I'm capable of and it's starting to pay off.
Was this the first of many?
Definitely! Like I said, good starts and believe in yourself that you can do it. That's what it is.