Earlier this week Tyla Rattray, of the Monster Energy Kawasaki Racing Team, swung through Corona, California, one last time before heading to LAX for a flight to France. The 2008 MX2 World Champion will put stakes in the ground and begin final preparations for his upcoming run at the 2015 FIM World Motocross Championship. As has now been well documented, the South African racer is back in the spotlight after he was tapped by Ryan Villopoto to be his teammate this coming season. Kawasaki hasn't won a premier-class Grand Prix title since 1998, when Sebastien Tortelli became 250cc World Champion. That was long before what we now know as the MXGP class took shape.
While Rattray ran a very abbreviated season for the Red Bull Ice One Factory Husqvarna outfit last season, injuries blighted his efforts. Going into the GPs healthy, this upcoming season marks his best chance in years to challenge again for a major title.
Racer X: Tyla, we watched you and Ryan Villopoto ride out at Glen Helen last week. You both looked extremely fast and confident. How do you feel right now?
Tyla Rattray: Yeah, that was my last day of riding in America before I leave for Europe tomorrow. I've had a great three months riding and testing here. We also made a couple of trips over to Europe to do some testing and everything has been going good. My fitness is feeling good. I've had a lot of time to prepare coming into this season and I've had no injuries. So now it is time to get on the plane and go over to Europe and get the season rolling. It's definitely something I'm looking forward to. We've got a great group of guys at the KRT team, and everyone from Monster to Thor to all of my sponsors have been very supportive. I'm looking forward to going race at Qatar.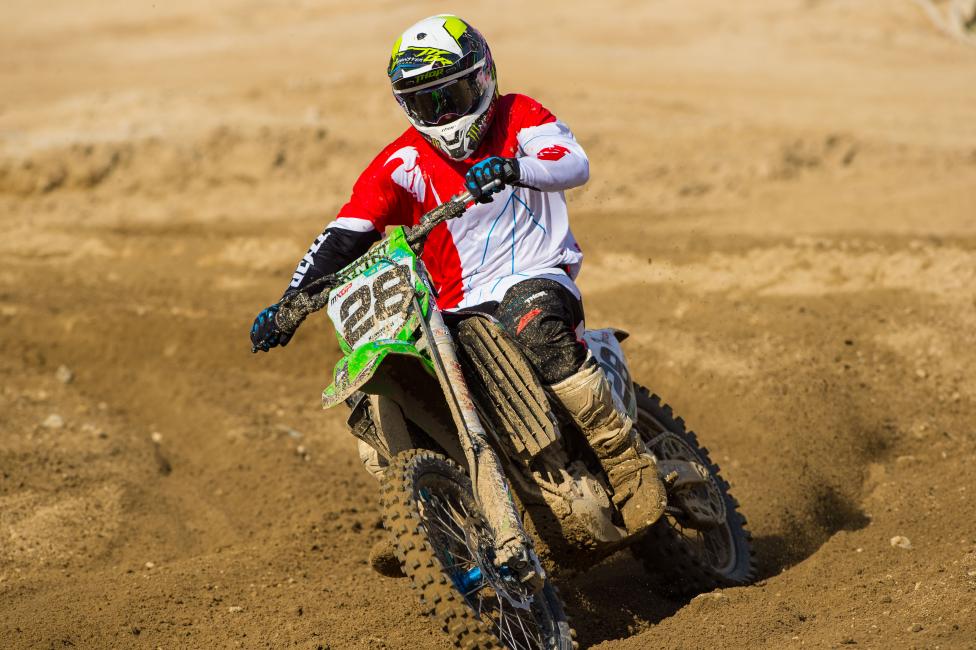 Everyone affiliated with the team seems to be very pleased with where everything is at right now.
Definitely. We've got a great team behind us, and they really want to do everything it takes to win a championship and me, and Ryan have been putting the work in and outing our heads down. We've done everything we can coming into the season. We've done all the work and the motos. Aldon Baker has been out here to check on us, and he's happy with where we are at and how everything has been going. Obviously, we can still improve in some areas and there is always room for improvement, but like I said, we've got a great base with the bike and a good set-up now to go racing.
Upon landing in Europe in a few days, what will be the plan for you guys as Qatar draws nearer?
We're going to head down to the south of France first and do some testing. We will then go to Sardinia and stay there until Qatar. I'll do maybe one or two warm up races. We'll be based in Sardinia and go from there. I went to Sardinia last year, and the weather is good down there. And one of the tracks is basically beach sand, and you can ride when it's pouring rain and it won't hurt the track at all.
You and Ryan have practiced and tested together for three months now. Has doing all that and constantly pushing one another helped both of you?
It definitely helps me with my riding and it helps him to try and catch me. We'll start a moto and he'll give me a little bit of a gap and he'll try and close down the gap and I'll have to try and let him not close down the gap. It's kind of like a racing situation, which is good because you're pushing and you're focusing, and when you've got someone you can ride and train with that's kind of on the same level, you're always pushing each other. It definitely helps me as Ryan has never had a problem with speed.
On Saturday night at Angel Stadium I ran into a person who is very involved with the MXGP series. It was his opinion that you guys should have been riding and training a lot more in Europe this winter because the tracks are so different from what we have here. What do you say to that?
I mean, obviously the tracks are a lot different. Especially riding in the sand—especially that wet sand. The tracks get chewed up way worse with the tracks being so soft. It's different than before, though. The first couple rounds we race in 2015 are flyaway races. Before, a couple years back, we would have the GP at Valkenswaard in March. Valkenswaard is now the end of April. At the first three flyaway races the tracks are going to be more US-style tracks, so it was an advantage for us to train and ride here in California. Obviously, when we go to back to Europe for round four [at Trentino, Italy], it's going to be a lot different, more Euro-style. That's why we're going to Europe now; we're going to ride Euro-style tracks. If the weather is good in Belgium, yes we'll be in Belgium and riding there in the sand. That's why we're going to the South of France, to ride on Euro tracks. Here, you're not going to get messed up with weather. Here, we had good weather and we're able to stick to our program 100 percent for three straight months. Like I said, everyone has got their input. I've been in Europe and lived there eight straight years and raced those tracks, and I know what to expect going there. Now we know we need to be in Europe and be with the team and be riding and testing on Europe tracks. That's why we're going over six weeks early now.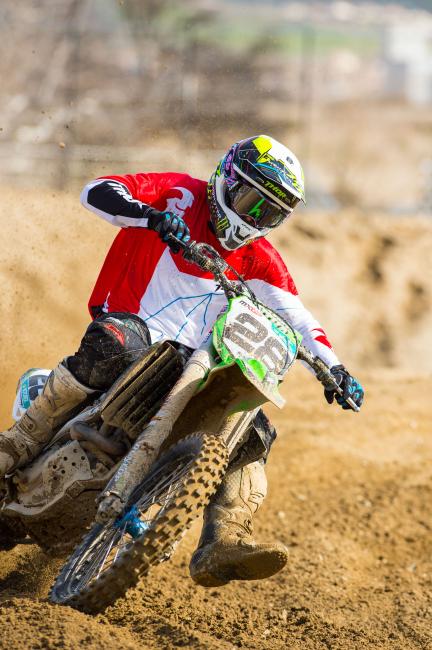 At Glen Helen, Aldon Baker mentioned that he believes it will be a big plus for you to start the season healthy. He also mentioned that you're the kind of racer that starts off a new season a little bit slower than other riders, and that the first three rounds will really set the tempo for you. Agreed?
It's definitely something I'm looking forward to the start of the season. You're going to have to put your heard down for each GP. It's a long series—it's eighteen rounds. It's going to be tough. Some races are going to be mentally hard and some races will be physically hard, and you're going to have good races and you're going to have crashes. It's all part of the sport. Like I said, the main goal for every motocross athlete is to stay healthy. That's the key.
As you well know, when it comes time to get ready and prepare for supercross, all the major teams test and sort everything out here on the test tracks in Southern California. To that end, everyone has some kind of an idea of where most everyone else is. In Europe, though, do you have any sort of idea of where the Grand Prix riders and teams are? Or is it a total mystery?
[Laughs] Yeah, you never know over there, man. As of now I haven't really seen anyone. At the end of the day, you're finally going to show up in Qatar and it's time to go racing. We'll see there who's been putting in their off-season work and putting in the motos and the time and the training in the off-season. Qatar's basically the first time when we all come together, so it's going to be good to see. We all come together there and that's where we'll go to battle.
If you had to look into a crystal ball, how do you think it's going to go for you this season?
I think it's going to go good. Both me and Ryan want to have a healthy season. I definitely think there can be two Kawasakis standing on the podium. I think that's going to be the goal for the team and for myself and Ryan and everyone. I can see myself being on the podium, for sure. I've won a World Championship and raced with Cairoli and all those guys before. Last year was my first season back in Europe and things didn't go the way I wanted them to, but that's all behind me now. Kawasaki has done a great job on the 450 and I'm really looking forward to getting out there in Qatar and going racing.