Anaheim, CA
Anaheim 2 (A2)
Monster Energy AMA Supercross Championship
RCH/Soaring Eagle/Jimmy John's Suzuki rider Ken Roczen won the 450SX Class at Anaheim from the front. Yamalube/Star Racing Yamaha's Cooper Webb won the 250SX Class from the back. Here's how they described their wins, which are the second this year for both.
Ken Roczen
Racer X: Were you physically ill at Phoenix?
Ken Roczen: Well, I wasn't ill but my body just wasn't feeling that great and I felt a bit tired. But when you don't feel great and you get a second place, I can be happy with that.
First two-time winner of the season.
Yeah, it feels good. Hopefully win Anaheim 3 too.
Talk about the difference between this track and the first Anaheim track.
The dirt's a lot different. The first Anaheim was really tacky, and you can see it's very rocky and very hard. Anaheim 1 was really easy track-wise, so they definitely built everything up and made it steep and sharp, and made it tricky.
How do you feel about next weekend?
I feel great about next weekend. I'm going to keep doing what I'm doing and working on getting my body even better. It's still not 100 percent. It just feels great to have another win, and I'm going to fight back hard again next week.
They're never easy, but this was good for you. You got up front early and kind of looked like you rode your own race. It was a little bit like A1 where Dungey was catching you but you probably weren't worried.
Yeah, he was riding great. I feel like we were pushing the whole time. We were riding a good pace. But I do feel like, because the track was just slippery and kind of weird, I was just making sure that I'm not losing the front end. I think I could have put on another level, but what for? You've got to ride smart and he rode a great race. We get good starts when we need to and make it happen in the beginning, get up front, and that's exactly what we did. So it was all about smart racing. My bike feels honestly unbelievable. Super happy with how the team and I have made it, with all our testing and stuff. It's just working great right now.
What do you like about it better than your KTM? Obviously your KTM worked great; you won a lot of races. What really do you like about the RM-Z?
It's just that thing has so nice a turn, and it doesn't have too much power. It's just a perfect bike for me. I rode it for a long time and it's so much fun, just in the turns. I always like to lean into it, get low and stuff. I finally have that feeling back and just have so much fun out there. I think that's what it's all about and that's what makes me go good.
Does it matter to you if you have the top qualifying time?
I don't care at all. Especially on this track, when I saw the track this morning, I'm like, geez, everything looks super peaky. I didn't even feel that great in the practices, but as soon as the racing starts everything will be a little bit more mellow. I'm a better racer anyway, so I never worry about lap times. I'm happy when I'm up there somewhere.
What were they doing with that split lane? What was going on? No one took that lane.
They just need to make it to where they are similarly fast. The inside was just so sh---y. Nobody took it. They just need to make it maybe a little bit smarter. But it was good. It was a technical track and a long lap time, so they did a good job.
Over-under bridge good?
Yeah, I like that stuff, especially coming out of that bridge with the triple was pretty sick. The dirt just got super hard and rocky and slippery. It was crazy.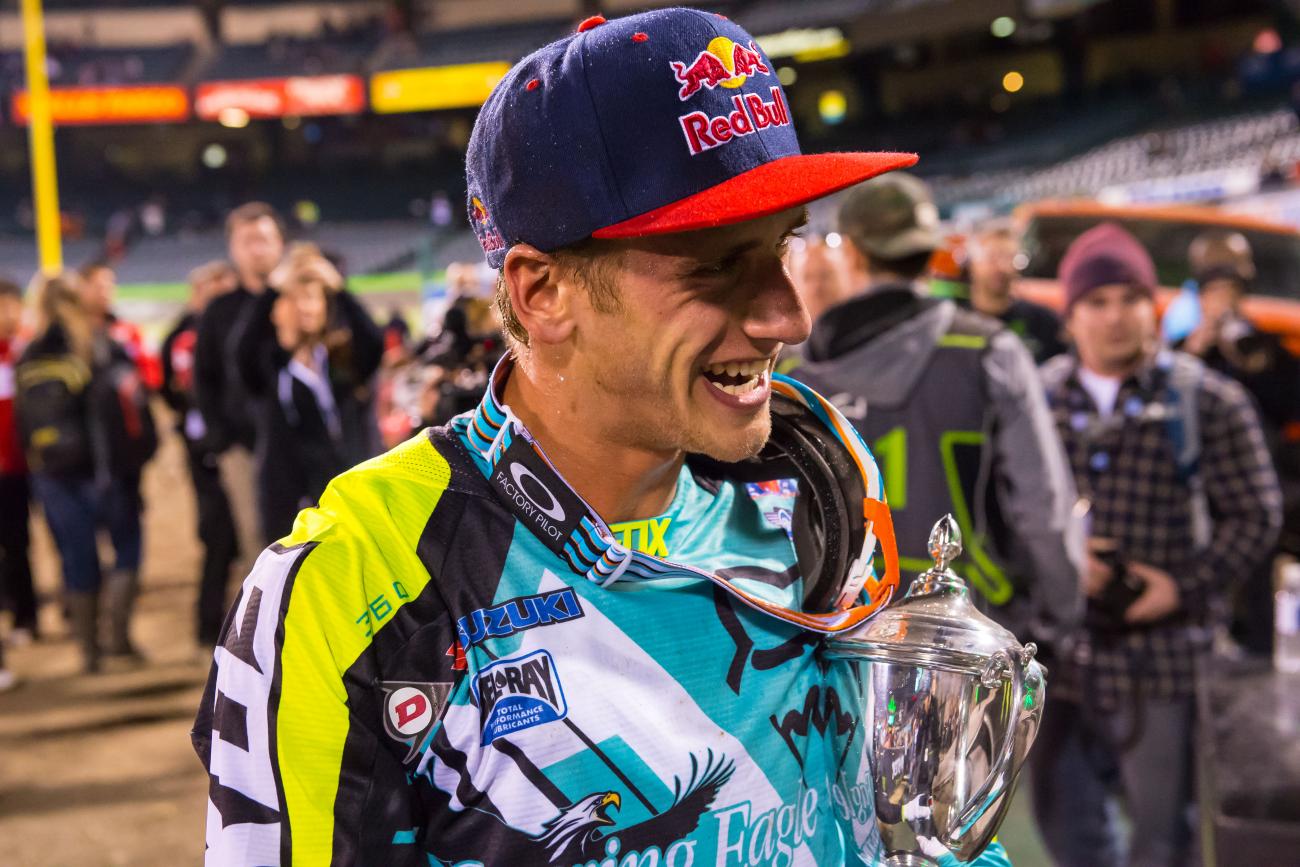 Cooper Webb
Racer X: That's a race, man. You got your first one last week, and I think you came from back in fourteenth to the front. You've got to be super pumped. Even if you got second, that would have been great. To do that on the last lap you've got to be stoked.
Cooper Webb: Yeah, I'm pumped. To come from way back like you said, at first I was just hoping to try to get on the podium. Just put on a fight for fifteen laps and just put my head down. I knew Jessy [Nelson] was out front and [Tyler] Bowers was second. Those are the guys that are in the points battle, so I knew this was the night to make it happen and was able to do it. Jessy went down and I just put my head down. Came into that last lap, knew I had to get it done. Pretty sweet.
Bowers was kind of screwed because he's got to go outside to triple, which you knew. That was kind of your spot. He was a little screwed and you were like, I'm just going to jab it in there. Were you planning that the whole time?
Yeah, I planned that on the last lap. I knew he was going to be fast through those whoops.
You actually were pretty good through those!
That's the fastest I went through them all night. And I knew if he went outside I could slam him, and if he went inside he wasn't going to be able to make the triple. It was like a chess match I guess you could say.
Any words by him after the race?
Just good job. We're cool. I actually don't think I made contact at all. Obviously I ran it in, but we're cool. We were longtime buddies and actually train together with [Gareth] Swanepoel. Like he said, he would have done the same thing. It's cool to be able to race somebody like that.
The only negative to your night is your two starts—heat and main. Not good. What was going on?
Heat wasn't bad. I got second in the heat. I think I've had problems wheelie-ing and I spun tonight. Just figuring it out. Try not to put too much pressure on it.
You've got to be stoked though, two wins in a row, your first two. That kind of win just boosts your confidence up I imagine. You're feeling like, hey, why not three in a row, right?
Yeah, exactly. Like you said, to come from way back and do it is pretty bad-ass.