Chase Field
Phoenix

,

AZ
Phoenix
Monster Energy AMA Supercross Championship
The last two weekends we have seen great racing throughout the field. The battles at the very front may have ended sooner than we would all like, but with a field this deep, there is always an interesting storyline somewhere if you pay attention. One of the biggest side effects I have noticed from such depth is how important passing efficiency has become. For the second straight weekend, I saw riders struggle to make passes, which has had a huge impact on their final result. With so many elite-level riders, making a pass quickly and making it stick can make all the difference.
At Anaheim, Ryan Dungey was directly behind Andrew Short for a total of eight laps en route to a fourth-place finish. This has been a familiar pattern for Dungey in his career, and one he has taken endless flack for. There have been many races where this has been very evident. His battle with and subsequent inability to pass Chad Reed at Indianapolis in 2011 was a great example. Saturday night in Phoenix was another glimpse at this ongoing struggle.
He followed Weston Peick for sixteen laps, and for many of those it looked as though a pass could come at any time. While Dungey ended up in third place—which is nothing to whine about—I really think he could have made a charge at runner-up Ken Roczen. Once Dungey moved into third, he wasn't far behind the German, but he simply didn't have enough time to make anything happen. Ideally, he should have made a move on Peick sooner, even if it was at the halfway mark, leaving ten full laps to chase Roczen.
Whether he would have been able to get around Kenny is another story altogether, but the point remains the same: Every time that Dungey gets stuck for several laps, he's losing an opportunity to gain more points. At the end of the season, a championship may come down to just a handful of points, and looking back at the individual races and battles, one can see just how crucial making a timely pass can be.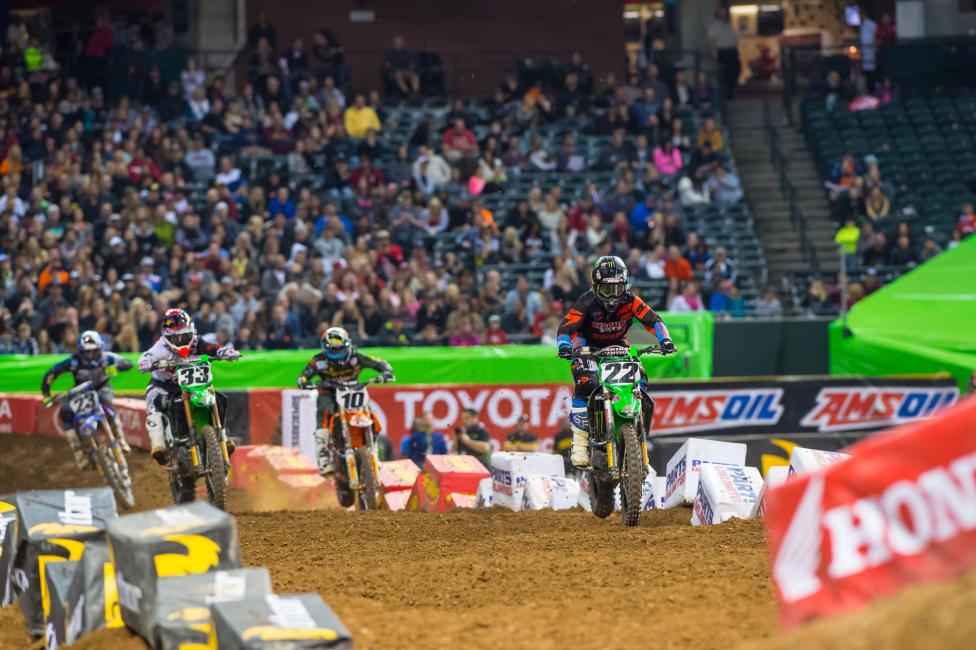 Another sample of the passing dilemma was Chad Reed in Phoenix. Reed was moving up after a poor start and got to the rear tire of Justin Brayton on lap three. Brayton had lost one spot to Dean Wilson and was under fire by others including Reed. It appeared as though Reed would quickly move past Brayton and continue his momentum towards the top five. Alas, just as Reed was making a few pass attempts, Brayton countered each and every time, slowing the pair's progress.
Of course this is expected by Brayton, and no one would fault him for fighting for his position. That is racing, pure and simple. The real problem for Reed, however, is that in his struggle to find a way around Justin, he opened the door for riders behind him. Both Cole Seely and Jason Anderson capitalized on the cat and mouse game that slowed both Reed and Brayton. That is where an inability to pass quickly can truly leave its mark. Not only did Reed lose a chance to move into eighth on lap three and continue moving forward, he found himself in eleventh because of it. One mistake can mean the difference between a good charge towards the front and being mired mid-pack. Strike or be stricken.
Passing efficiency is a talent often overlooked. Ryan Villopoto and James Stewart are experts at it. Ken Roczen is also great in this area. They waste no time in getting around riders and think outside the box when it comes to outwitting opponents. As the field has gotten deeper, with four extremely capable rookies joining the fray just this year, it has become even more important to execute passes immediately. So, the next time you see a big bottleneck in the pack, watch closely and see who can weasel their way through the madness and who gets shuffled back. When it comes to passing, some riders are Pablo Picasso and some riders are body painting with watercolors. The riders who can figure out how to make quick passes will be standing on the podium with their masterpiece while those who can't will be standing in the pits covered in paint.