Sometimes a first win is so shocking and sudden—or rare—that it's memorable forever. This is not the case for Eli Tomac, one of the strongest, fastest, and most talented riders of his generation. We all knew his first 450SX win in Monster Energy AMA Supercross, an FIM World Championship was coming, and it just so happened to come Saturday night in Phoenix. But that doesn't mean Eli himself wasn't stoked—it's probably the first of many, but the first one is always a good one. Tomac spoke to the media after the race.
Racer X: Your first 450 win. Obviously you're proud about that.
Eli Tomac: Yeah, and the way it happened too was, I would say, one of the best ways. Me and Kenny [Roczen] went back and forth multiple times. Honestly, it was just super fun. I don't know how many laps it lasted, but somewhere around the middle of the race I ended up getting in front, making a little bit of a push there. Got a little bit of a gap and kind of settled in. But after that battle, I kind of think both of us were a little bit tight and a little bit gassed out. Those last five laps I was just kind of putting it on cruise control.
The track looked pretty technical, and the transitions were tight. Was that part of it?
Yeah. When you're at home on the practice track twenty laps is no big deal now, but when you're out here on this track racing guys, battling guys back and forth and the way this track was—it was tight, a little bit rutty, bumpy… Even the whoops section was really technical. You had to be on your toes here all night.
How about the style of that race, though? It didn't turn into a brake-checking duel, no chopping on each other it didn't look like.
No, that's one good thing me and Kenny have going. We have respect between each other. I think we kind of both have the same mindset. We look towards the future, and not just this one race like it's the end of the world. This was fun.
Talk about the places where you were catching him and then the actual pass that stuck.
The best part for me was right before the finish line. I was doing a little triple and then we went over the dragon's back and I would kind of manual there and get some momentum on him. We actually both passed each other in that corner once or twice, two or three times, and then down into the next 180 after the start. That was the action on the track.
Compare this to last week. Last week was a rough start.
In comparison, I was fastest in practice [last week]. Today I barely was fastest, a tenth, so we were close again. It was just a mistake on the track, went over the bars. It's one of those racing incidents.
How about the ability to make forward progress after last week too?
Lucky for me I didn't really bang myself up too bad. I had a sore calf, a little bit of a stiff finger, but nothing that was going to hinder me for my performance here.
Were you surprised that you pulled away there quite a bit?
No, when I was behind him I had a couple spots where I was getting some time on Kenny. I thought if I did pass him I would make a good push in those spots and hopefully get out to a little bit of a gap. It was a gnarly race. I was huffing and puffing at the end of that twenty.
Sort of a hometown race for you too.
This is as close as it gets for me. My home in Colorado's a five and a half, six hours of a drive. We literally had twenty-five people here that I know really well, so it's cool to do it in front of them.
Does this make last week feel worse or better? You've obviously fixed it, but now you know you're in the hunt, but you've got this points' hole to get out of. How do you feel about last week now?
Just the way it [last week] happened, it's something I can't really believe right now. But it did happen. I can't dwell on it because it's such a big hole. It's not worth worrying about considering how long the series is.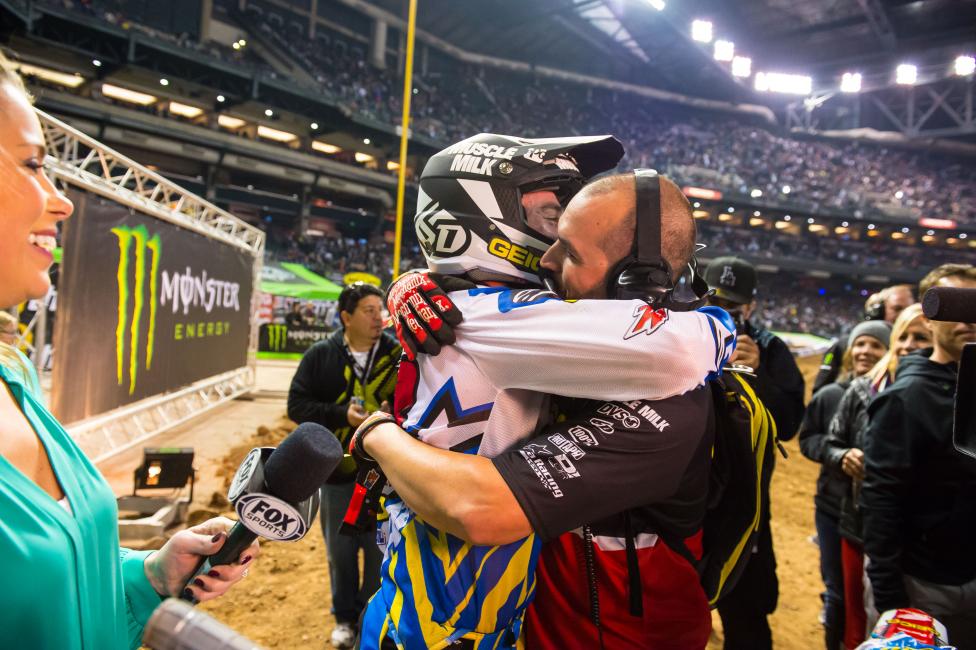 Let's go back to this: It's your first 450 supercross win! You won a national last year and you won some titles on 250s, so maybe we're overlooking this fact, but this is a big deal.
It's a huge deal! I wanted a bigger celebration, but I just didn't do it yet. Huge weight off my shoulders there. I got second twice last year. I was just getting straight-up beaten by the best guys in the world. I don't even know what to say. Just the way it happened too was really cool.
When did you understand that you could win the race?
Early on. I was staying right there with Kenny, so I knew he wasn't way faster than me. I was riding a comfortable pace with him, and there were spots where I was making big time, like on the dragon back there. So I thought that was the place it was going to happen. I got close enough. I didn't want to wait around because our class is so gnarly you never know when third or fourth is going to creep up on you too. We were having our little dog fight, a little scrap, and honestly I thought someone was going to kind of get close to us.
Where did he get you after your holeshot?
It was in the switchbacks. In the first 90 or whatever you want to call it, and you do the whoops, the triple, that next left. I don't know what I did.
He pulled away pretty quick that first lap. Were you worried about that? Were you just trying to get your lines in order and things like that?
No, I wasn't really worried. I think the way it happened, I wasn't really expecting that pass so maybe that kind of got me out of my rhythm.
I think when he made the pass and squirted out maybe everybody thought, it's over, he's going to run away, and then you came back hard.
I don't really know what to say. Maybe some people thought it was over but I sure didn't!