Yamalube/Star Racing Yamaha's Cooper Webb collected his first 250SX win in Monster Energy AMA Supercross, an FIM World Championship, in Phoenix, but like Eli Tomac's 450SX triumph, this one felt inevitable. Webb is just too fast and too talented to wait too long, and in the second race of his second SX season, he made it happen. He talked to the media after the race.
Racer X: Go through your race a little bit.
Cooper Webb: The race was awesome. I was actually second on the start behind Zach [Osborne] and then Malcolm [Stewart] passed us in the whoops, and I just went out and Malcolm got a little bit of a lead. But I went out there and just caught him and passed him, just a nice, clean pass. Just kind of rode my own race and pulled away inch by inch. Just a nice solid race for me. To get my first win ever is awesome. Second in points, couldn't be more stoked.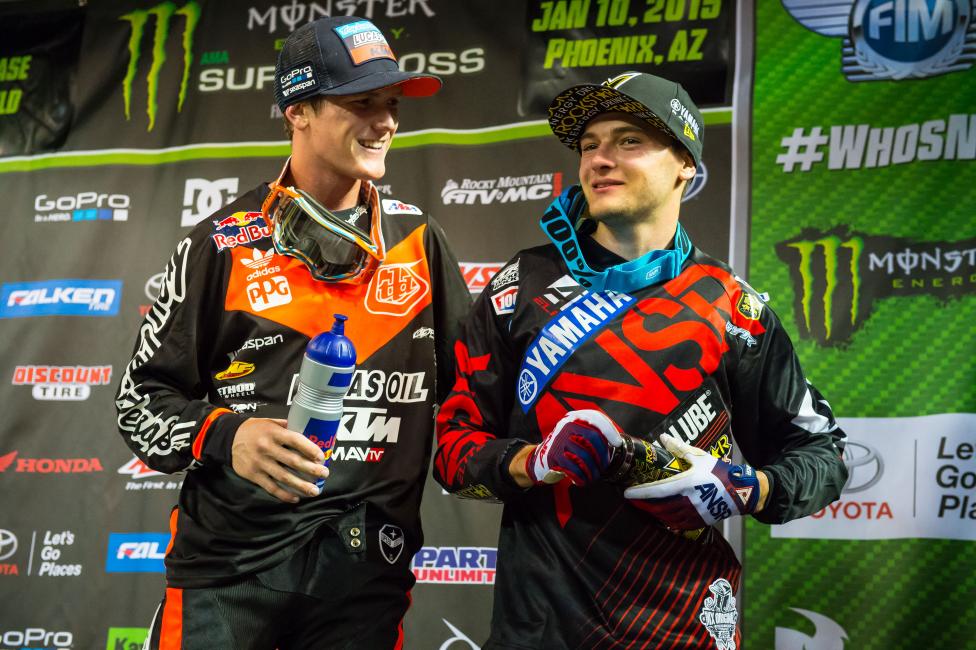 Compare this race to last week's.
Night and day. Everything was kind of set up the same. I was first in practice and in my heat; I actually struggled here as well. Got into a pileup again and ended up getting third in that. So we just turned it around. Really focused on the start. It's amazing what that will do for you.
How different were the two tracks?
I was a fan of this track. It was pretty hard and technical. Last week I thought was really easy. To have a track that was good for racing and had some obstacles that you actually have to put in effort to make makes for good racing. I was a big fan. Big whoops. It was a nice track.
Another first-time winner tonight.
The first win in supercross is pretty badass. Obviously to do it in front of all the screaming fans is pretty surreal. I'll remember this one forever.
Were the last few laps different because it was your first win? Were you thinking about that, or did you manage to just do your laps?
Yeah, I was thinking about it a little bit. It was actually weird because after about lap ten I backed my pace down quite a bit and was still actually kind of pulling away, so it was like, man, it almost felt like it was coming to me. It was nice, though. I made just one mistake [with] I think three to go, but other than that I just kept up with my laps. I think the next ones will come easier. I was thinking, don't mess up, don't mess up, you're getting the win. I think now we'll be more relaxed.
Where did you pass Malcolm?
Actually right after the finish line. I just went into the inside rut; he went on the outside. Got a nice pass there and made sure he couldn't retaliate in the next turn.
Last year did you sort of figure out, "Hey, I can win one of these things," and then pull it off this year?
Yeah, that was our whole goal this year. Our goal right now is to get that championship. I think just the mindset coming in more prepared, more knowledgeable second year. I guess the cards just all lined up. That's why I was pretty disappointed after last weekend. That's not how you want to start, but it's a young group of guys [in this class] and I think consistency will pay off.